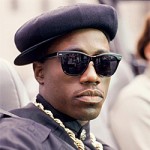 Earlier this week I saw a highly anticipated sequel, based on an old comic book character, a half man/half vampire who has become the best vampire killer there is. He travels the world, even during sunlight, cloaked in black, wielding a sword, slaying vampires. This time around he is after the same prey as a macho team of fighters who are both his rivals and reluctant allies. Their quest takes them to the seat of vampire royalty, and along the way – against his nature – he forms a tender friendship with a female on the rival team of fighters, and stays with her until the end.
That wasn't Blade II though, it was some cartoon called Vampire Hunter D: Bloodlust. Actually that's what it says on the box, but the title screen just calls it Vampire Hunter D. (Just like the ticket stub for Blade II called it Blade II: Bloodhunt, but the title screen just called it Blade II.) This movie has rightfully been praised for its cartoon drawing, which is very detailed and elegant. Much more interesting than that blue hair, big eye japanese stuff certain musty smelling individuals can't get enough of. But what surprised me though, I thought the story was real good.
It's got kind of a Hong Kong feel because none of the characters are really the good guys or the bad guys. At first you have to side with D, because he's hired to save this girl who's been kidnapped by a vampire. But later you learn that she's actually in love with the vampire, and went willingly. D's quest starts to become morally questionable, especially since he's doing it for the money. At first he convinces himself that the girl doesn't know what she's doing, she's been seduced, whatever. But the vampire really seems to like her – I mean, he walks into sunlight, his skin boiling, screaming in pain, just to embrace her. How many cartoons have art this good, characters this ambiguous, full of this much violence and monsters AND emotion? Definitely one of the best cartoons of last year, it pees all over those movies that were nominated for the cartoon oscar. Even the monsters one.
My one complaint is the voices. I thought the dvd was just cheap because it only has an english track. But my anime correspondent tells me it was made in english. Anyway the guy who plays D sounds like Daria from that mtv cartoon that girls watch. At least he doesn't talk much. And at least there aren't any celebrity voices. I thought a couple guys sounded like Roddy McDowall, but they turned out to be the dude that played "Murdock" on the A-Team, so that doesn't count as a celebrity.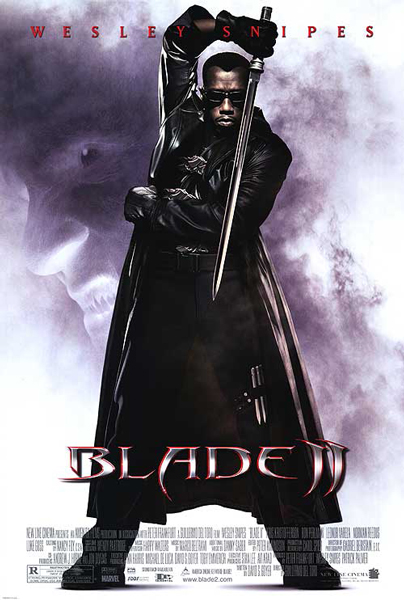 Anyway Vampire Hunter D was great but it could hardly prepare me for BLADE II, which is about pretty much the same exact crap and somehow manages to be every bit as good as the original BLADE. And how is that possible when BLADE wasn't even possible? A vampire movie, starring wesley snipes, based on a marvel comic, with martial arts and techno music, and GOOD? In the eloquent words of Blade himself, "Some motherfuckers always tryin to ice skate uphill," but they did it – not once, but twice now! In a row! What in christ's lord and name of god and the bible is going on? How did we, as a movie-going society and culture, get so god damn lucky?
I guess I never reviewed BLADE so let me have a paragraph about what a great movie that is. Which is kind of like having one sentence to describe the contributions of Miles Davis to american music. BLADE is a Badass action movie, with perfectly choreographed comic book ludicrousness, hilarious macho one-liners, thrilling fight scenes with effective use of electronic music, original vampire ideas, all brought together with elegant lighting, a rare instance of effective "MTV style editing", a moody John Carpenter heartbeat type score, and perfectly iconic acting performances by Kris Kristofferson, Stephen Dorff and especially Wesley Snipes. Forget the miracle of a good marvel comics techno kung fu vampire movie – what about the miracle of Wesley Snipes? Here's a guy known for actual acting, like in Spike Lee movies and shit. Dramas. Then he tries a few weak action movies like PASSENGER 57 and US MARSHALLS, and pisses his career away on crap like "1600 PENNSYLVANIA AVENUE: AN ADRESS THAT CHANGES ALL THE RULES." Suddenly, out of nowhere, he is an actual action hero, like Shaft reinvented as Batman meets Van Helsing. Completely ripped, mostly stoic, covered in tattoos without looking silly, and doing much of the fighting himself. Turns out he does some African martial art you've never heard of that looks pretty fuckin good on screen. He did some of the choreography, even produced the film himself. Suddenly Wesley Snipes is cool again! I love BLADE.
So I was pretty fuckin anxious for BLADE II, especially when I heard the directionist was Guillermo Del Toro. His first movie was CHRONOS so you knew the occasional brilliant touches in MIMIC weren't a fluke. And you know how I felt about THE DEVIL'S BACKBONE. BLADE II seals it, this guy knows what the fuck he's doin. He's captured the tone and texture of BLADE but injected it with some kind of weird Del Toro serum. The look is more gothic, the monsters are weirder, the villains are more sympathetic and mythic. It's gorier and more brutal and not always in the phoney video game kind of way of the first picture. It feels faster and more action packed than BLADE but has more moments of tragedy and beauty. Blade spends the movie inside the vampire underground, so you don't get the culture clash comedy of him walking around town with a sword on his back, shooting at a cop in broad daylight in front of a crowd of witnesses, etc. The emphasis is on Blade the samurai, with his code of his honor, and the start of his acceptance of being half-vampire.
(Did you ever notice in BLADE how before the final battle he does a little samurai ritual, burning incense at an altar to his dead mother – not realizing that his mother is actually a vampire, and that she's one of the enemies who he'll be fighting? OH JESUS the irony. There's another, less ironic but equally great samurai moment in BLADE PART II where he poses in front of Japanese windows, holding a gun like it's a sword.)
Though Del Toro has perfectly captured the tone and character of BLADE the movie is far from a rehash. He's thrown into a whole different world, the vampire society in Prague, this time not a lone avenger with a couple of allies, but a member of a team of colorful characters. BLADE had Udo Kier (Andy Warhol's Dracula) as a vampire leader. Now we go to the top of the totem pole to find a Nosferatu-like king who bathes in blood like Vlad the Impaler or Elizabeth Bathory, but probaly doesn't get a boner from it because he's so old his skin is practically see-through.
There are homages to other sequels: Whistler's fate in the first film is treated like Hans Solo at the end of Star Trek 2, and now Blade has to track him down. Soon after the Blood Pack, a team of highly trained vampire fighters shows up for a truce with Blade to fight a mutant vampire strain called the reapers, you know you've got ALIENS with a bunch of tough guys wading through sewer water looking for monsters in the dark – you even got a reaper autopsy that's more disgusting than the alien autopsy in that movie. But just about the very moment when the ALIENS shtick gets old, the story suddenly changes gears and you get something else you didn't expect.
It's the story that makes this movie great, but it's still an action movie. Now first off let me say this, BLADE invented bullet time. I don't care that the technology in the Matrix was much more elaborate, that the technique was used in the gap commercial, that the animator from Oregon did it years before that. The point is, BLADE already had a scene where Stephen Dorff dodged a bullet in slow motion. Same thing that happened in the matrix. I think THE MATRIX is a great movie and it was obviously a huge influence on every other american movie in the years since but BLADE was there first, combining comic book ideas and computer animation techniques with asian action movie influences.
That being a true and inarguable scientific fact of law set in stone and backed up on disc, it would be understandable if the fight scenes in BLADE PART II: THE GODFATHER 2 OF COMIC BOOK MOVIES seemed a bit, you know, matrixy. But they don't. I didn't notice anything that seemed to involve wires. Donny the from Iron Monkey Yen has a small role as one of the Blood Pack, and even did some of the choreography, but most of the fighting is more Japanese swordplay or more grounded, street fight type kung fu. When they do get acrobatic, Mr. Del Toro is doing something I've never seen before: replacing actors with computer generated fight doubles, even within the same shot. So for example Wesley Snipes will jump, his computer double will do a bunch of ridiculous flips, and then Wesley Snipes will land in that cool pose from the last fight scene in BLADE, all in the same shot. It takes a bit to get used to, and a couple times it seems mortal-kombat-the-video-game-not-the-movie-like, or like that part in BLADE when Stephen Dorff started zipping around in fast speed. But mostly it works and I guarantee you they'll be borrowing this idea for the next Batman movie. How come nobody ever thought to use animation for live action comic books?
The filmatism in the fight scenes is very slick and high tech, lots of flashy camera moves and motion control type crap and that doesn't sound like something I'd agree with but this time it works. In the last, best fight scene the camera throws your head around and disorients you so much you feel like you're getting your ass beat along with Blade (just like in DEVIL'S BACKBONE when you felt like you really were in the explosion, battered and tossed and filled with shrapnel). But this being GUILLERMO DEL TORO'S BLADE 2, the highlight of the scene is not any of the fighting, or even a Blade one-liner, but a sad line of dialogue from the villain.
The feeling of going to see BLADE II – that's enough to keep me out of trouble for life, if I can have some more of that. That feeling of looking forward to something for so long, and when you finally see it it is even better than you were hoping, and you can't stop thinking about it. That's why individuals like us love movies, isn't it? The only thing better is when you don't expect anything, and the movie still hits you that hard. A surprise. But come on, what kind of a fuckwad didn't see Blade II coming? It's BLADE II, for crying out loud!