May 19, 1998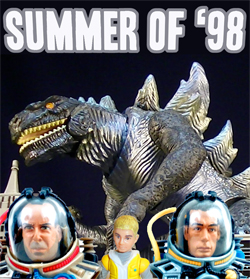 Fresh off of the hard-hitting journalism of Tea Leoni in DEEP IMPACT and Maria Pitillo in GODZILLA, summer of '98 offered an alternative approach. Johnny Depp (A NIGHTMARE ON ELM STREET) plays Raoul Duke and/or Hunter S. Thompson in Terry Gilliam's adaptation of Thompson's 1971 Rolling-Stone-two-parter-turned-book about covering the Mint 400 desert motorcycle race for Sports Illustrated. You do see a glimpse of dirt bikes (well, mostly dirt), but the real story is his crazed debauchery while "searching for the American Dream" with his lawyer (who we never once see doing legal work) Dr. Gonzo (Benicio del Toro, SICARIO), ingesting much of the contents of a briefcase containing "a serious drug collection," turning hotel rooms into Vietnam War movies and barely avoiding death or prison like some silent film clown accidentally dodging a series of falling objects.
And the movie itself keeps ducking dangers with miraculous precision. This is 118 minutes of what mostly feels like aimless madness, depraved variations on bad behavior and hallucinations, but to me it never gets old. I actually feel more exhausted at the end of Gilliam's more polite movies like BRAZIL, THE ADVENTURES OF BARON MUNCHAUSEN or TWELVE MONKEYS. Somehow I'm endlessly amused by Duke and Gonzo's deadpan craziness as they live out the type of lifestyle where you'd only be a little surprised to wake up with an alligator tail growing out of you, a microphone taped to your face and a giant smoking hole in your hotel bed.
There's a line where Duke says "But we had trouble on the road when a stingray in front of us killed a pedestrian," and the camera rises over the traffic jam, across a horrific Ralph-Steadman splatter of blood on the concrete before we can glimpse that oh, the car that did it must be a Stingray. I assumed he was talking about the aquatic creature, which would fit so well into his world that it took me a couple viewings to pick up that this was the joke.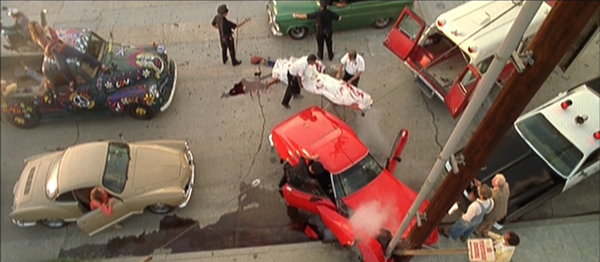 Duke can go through this and still pretend to be the reasonable one since he sounds smart and sane when he's narrating and is too with it to grant Gonzo's request to throw the radio into his filthy bath just when "White Rabbit" peaks. I would not have known to solve the problem by playing along and then beaning Gonzo hard in the skull with a grapefruit.
Gilliam brings all his visual invention to hippie era L.A., Las Vegas, and drug trips, the obvious joke being that it's hard to know the difference. I think the ape that Duke tries to buy is real, but what about the angel with the flaming sword? I honestly don't know.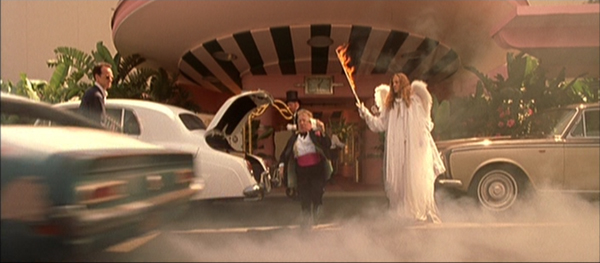 Somehow this intoxicated bull-in-a-china-shop barrage keeps on working. There's so much comical detail to these performances, dumb little things that make me laugh like when they're trying to fit in at the D.A. convention and Duke says "Good question!" to some angry cop's paranoid marijuana query. Or language choices, like when Gonzo tries to get into a sold out Debbie Reynolds show by saying "Fuck seats. We're friends with Debbie. I used ta romp wit her." Or the recurring joke of pretending that any of this has anything to do with his law practice: "Well, as your attorney I advise you to buy a motorcycle." (Must be trying to get some of that sweet attorney-client privilege.) Or that right after Gonzo terrifies the hitchhiker (Tobey Maguire, SPIDER-MAN 3 , MOLLY'S GAME) by pretending to pass out and wake up disoriented, muttering "What the– what the fuck are we doing out here in the middle of the desert? Somebody call the police, we need help, we need help, need help, need help," he reaches back and gets him to shake hands.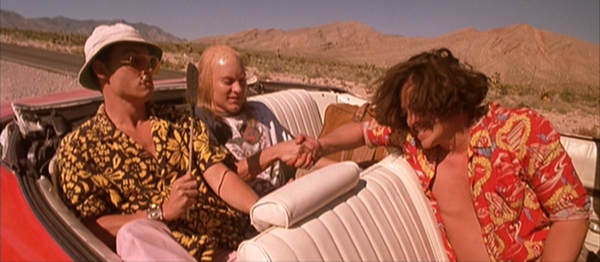 Or the way Gonzo, decked in robes like some guru, gets offended by Duke's sick joke about pimping out the teenage Barbra Streisand fan (Christina Ricci, CASPER) that he picked up and brought to his hotel room for no doubt not-innocent reasons. When a movie opens with the main character getting a flyswatter out of the trunk of his convertible to fight off imagined animated bats and only gets more trippy from there, it makes it possible to laugh at the simmering menace of Gonzo almost starting an elevator knife fight with Cameron Diaz's photographer and later delusionally grunting "She's in love with me, man. Eye contact, man." At least for awhile.
But things get uglier and more feverish and the buzz or the spell has definitely worn off by the time the trip is almost over and they stop at a little cafe in North Vegas. Gonzo passes the dog-tired waitress (Ellen Barkin, BROOKLYN'S FINEST) an obscene note, and she rightfully flips out on him. Even after it escalates it's probly not the worst thing they've done on this trip (and being casually rude or threatening to waiters, valets, hotel clerks, doormen, cocktail waitresses, bellboys and other service people has been a theme throughout the movie), but it feels like the haze is lifting to reveal the dark reality out here away from the neon lights, and it's clear that Duke recognizes the evil here. He feels uncomfortable with it, but he doesn't have the balls to do anything but smile and pretend everything's fine. He starts to walk out with his plate of food, but looks back at the waitress and, probly for the first time in the whole movie, feels guilty and doesn't go through with it.
The scene now has an extra layer of uncomfortable-ness after Gilliam grumbled about the #MeToo movement in an interview and Barkin tweeted a response:


But in his capacity as director Gilliam understood that this was the crucial breaking point in the story. He once said it "may be the best scene in the film, it's certainly the most powerful," largely because "It's an intriguing reaction to the violation of Ellen that he's witnessed (and obliquely participated in)."
As a young man I once had a really scary roommate, the son of a Navy SEAL, who according to legend had been normal until a brain-damaging acid experience. He painted crude portraits of Kurt Cobain and Martin Luther King and hung a battle ax on his wall ("just sharpened it" he said when first moving in). He got in trouble for painting stripes on someone's parakeet, for slapping our neighbor's ass in the hallway and yes, for passing cryptic sex notes to women he didn't know. He had a vibe like Gonzo in his darker moments, and only seemed funny in retrospect, when everyone was out of harm's way.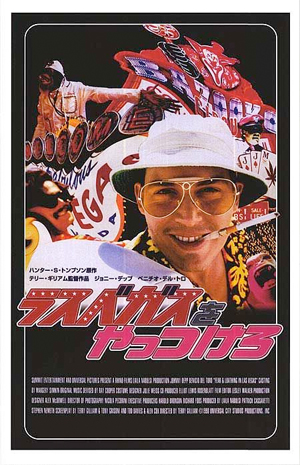 FEAR AND LOATHING works as a sort of wake and/or requiem for this type of toxic cultural residue, the broken people left over after the dreams and ideals have been given up on. Nixon and those mean cops were still on top, the war was still going, and Thompson lamented "a generation of permanent cripples, failed seekers who never understood the essential old mystic fallacy of the acid culture, the desperate assumption that somebody, or at least some force, is tending the light at the end of the tunnel."
The movie was birthed into a very different era, but one with a sense of naive optimism which would soon suffer its own ugly crash. The Clinton years made many of us comfortable – there were military conflicts, but no full-on wars, the economy was strong and seemingly stable, we were able to worry about stupid shit like "we can't make Al Gore president, his wife censored rock music in the '80s." The internet was changing everything – and only in good ways, it seemed like. I remember how it felt, and it didn't feel like the contentious election of 2000, the 9-11 terrorist attack, the Afghanistan War, the Iraq War or the "with us or against us" division of the American people were on the horizon. We wouldn't have guessed that Thompson would see a president he hated more than Nixon, write a weekly column for ESPN.com, then blow his own head off.
I'm not a drug person, so forgive me for not being able to understand this on a drug culture level. I'm sure there's something to compare and contrast between the summer of love and, say, the rave or alternative music cultures of the '90s. I can say that the surviving popular music of the '60s is more appealing to me than the late '90s music that shows up in most of these movies. Don't get me wrong – 1998 brought us Lyricist Lounge Volume One, the HE GOT GAME soundtrack, It's Dark and Hell Is Hot, Hello Nasty, 40 Dayz & 40 Nightz, The Love Movement, Tical 2000: Judgment Day, Vol. 2… Hard Knock Life, Extinction Level Event and of course The Miseducation of Lauryn Hill, to name a few of the albums I've continued to enjoy over the years. But as I realized when I revisited THE BIG HIT, there was also this pop-punk, white ska thing going on at the time that I don't really understand or relate to. So it makes sense that one of the better soundtracks of the summer (for my tastes) was a period piece.
And it might not have been! The most befuddling thing I learned while researching this movie is that the studio at first wanted Gilliam to update the story for the '90s. I can't even picture how that would work. Would they be burnt out boomers stuck in their old ways like the guys in that other '98 masterpiece, THE BIG LEBOWSKI? Or would it drop the themes of the book and they'd be, like, young hackers or something? I guess we can speculate it would be "Insane in the Membrane" playing on the radio instead of "One Toke Over the Line." Jesus, I'm glad they didn't go that direction.
Instead they have songs capturing the culture of the 1960s wiping out in the '70s: Big Brother & the Holding Company, The Yardbirds, Three Dog Night, Bob Dylan, Buffalo Springfield, obviously Jefferson Airplane… I don't remember which ones, but I know some of the songs are even mentioned in the book. And then there's the older, squarer stuff leaking out of Vegas: Tom Jones singing "She's a Lady," Perry Como singing "Magic Moments," Debbie Reynolds singing "Tammy."
The score, when necessary, is by English percussionist Ray Cooper, who had worked on the music of Gilliam's films in various capacities since TIME BANDITS. According to Gilliam, Cooper's cues are "not written; they're created by hitting things, making noises, playing, and then combining it all."
In 1996, Gilliam's usual composer Michael Kamen had composed an Olympics closing ceremony song called "On Wings of Victory," performed by Atlanta Symphony Youth Orchestra featuring the Japanese guitarist Tomoyasu Hotei…
…so maybe that's the connection that explains how Hotei (the star of SAMURAI FICTION) ended up providing some psychedelic fuzz for Cooper's score here. He can be heard on tracks #6, #12 and #14 on the soundtrack CD – "A Drug Score-Part 1 (Acid Spill)," "A Drug Score-Part 2 (Adrenocrhrome, the Devil's Dance)" and "A Drug Score-Part 3 (Flashbacks). I just want to mention Hotei because he became a little more relevant to our lives about five years later when Quentin Tarantino made us aware of one of his songs:
The excellent adaptation is credited to Gilliam & Tony Grisoni (BROTHERS OF THE HEAD, RED RIDING) and Alex Cox (REPO MAN) & Tod Davies (THREE BUSINESSMEN). Gilliam, who had completely thrown out the Cox/Davies script developed for Cox to direct, quit the WGA in protest of the credit. I highly recommend the documentary BREAKFAST WITH HUNTER for incredible footage of real live creative differences between Thompson and Cox. The writer seems like a very difficult person to work with, and the director seems unaware of how much he's rubbing him the wrong way by trying to sell him on using animated sequences in the movie. The director of the documentary says he was genuinely worried that Cox was going to get shot.
It was not always clear that Fear and Loathing could be made into a movie at all, much less a good one. Many filmmakers (including Martin Scorsese and Oliver Stone) had tried since the '70s, with star pairings including Jack Nicholson & Marlon Brando and Dan Aykroyd & John Belushi. When Thompson optioned the rights to his obituary of Oscar Zeta Acosta (the inspiration for Dr. Gonzo) he assumed it wouldn't really get made, but in 1980 it became WHERE THE BUFFALO ROAM starring Bill Murray and Peter Boyle as Thompson and Acosta. It went over poorly, especially with Thompson, though he thought Murray (who he had tied to a chair and thrown into a swimming pool during production) was good in it. Murray got so into living as Hunter that his Saturday Night Live castmates said he hadn't dropped it when he came back for the next season.
It was Thompson who chose Depp, and let him live in his basement, and loaned him some of the clothes and props he uses in the movie. They remained so close that after Thompson's death Depp fulfilled his wish of having his ashes blasted out of a cannon on top of a giant tower shaped like his double-thumbed fist symbol. A later legal battle between Depp and his management revealed that he spent $3 million on the ceremony. One-sixth the budget of the movie.
I think this is still one of the best performances by Depp, who had already been amazing in EDWARD SCISSORHANDS and ED WOOD, among other things, but never received an Oscar nomination until the first PIRATES OF THE CARIBBEAN (well deserved and unusually comedic for the Academy) and then a couple of "oh, what the hell, we nominated him before and I can't think of anybody else"es for FINDING NEVERLAND and SWEENEY TODD. Depp is tainted now because of domestic abuse reports, but let's take a moment to admire that after this most supremely drug-crazed role he was able to star in eight Disney movies. It usually goes the other way. Del Toro would win best supporting actor for TRAFFIC in 2001, and be in a STAR WARS movie and some Marvels and shit. So I guess FEAR AND LOATHING wasn't big enough to typecast them. Or they were too powerful for it to hold them back.
Since FEAR AND LOATHING was released as sort of counter-programming to GODZILLA, it's fun to compare them to each other. It's Sony vs. Universal, corporate licensing product vs. adaptation of counterculture literary classic, crass director of INDEPENDENCE DAY vs. respected director of BRAZIL, toy commercial vs. drug orgy, cgi monster attack vs. animatronic vision of rich people morphing into grotesque lizards (designed, by the way, by Rob Bottin of THE THING fame).
My favorite comparison is in the choice of end credits music. GODZILLA manufactured a putrid hit single with "Come with Me," the Jimmy Page and Puff Daddy remake of Led Zeppelin's "Kashmir." FEAR AND LOATHING made perfect use of the Dead Kennedys cover of "Viva Las Vegas." I remember it, sitting in the smaller theater, not very many people there, hearing the Dead Kennedys in THX. And then the Universal logo comes up.
You gotta respect the studio for putting out something like this. Some of the other 1998 Universal Pictures releases included OUT OF SIGHT, BRIDE OF CHUCKY, BABE: PIG IN THE CITY, and Gus Van Sant's PSYCHO. So, yeah, their parent company, Seagram's (!), fired the chairman of the film division at the end of the year.
If Raoul Duke had stumbled across the Godzilla or ELE stories I can't imagine he would've zeroed in on them like our previous journalist heroes of summer '98. I mean, you saw what he did with the Mint 400. He just wouldn't care. But having read Fear and Loathing on the Campaign Trail 1972 I am positive he'd write the most entertaining and artful book about it. And if he had to do broadcasts they would've been funnier than what those ladies came up with. Though he might've walked out in the middle, as Thompson does on the great DVD commentary track for this.
FEAR AND LOATHING made about $10 million in American theaters, less than a quarter what GODZILLA made in just its opening weekend. In the intervening decades, though, GODZILLA has been replaced by a better remake, murdered by his Japanese predecessor, disavowed by at least half of the filmmaking team and loved by no one, while FEAR AND LOATHING is a legitimate classic, known by all and even re-released by the Criterion Collection. What was that you said about size again, motherfucker?
P.S. As evidence of how much people love this movie, here's a guy who made a realistic sculpture of the stretched out Depp head from the poster.
This entry was posted on Wednesday, May 23rd, 2018 at 10:54 am and is filed under
Comedy/Laffs
,
Reviews
. You can follow any responses to this entry through the
RSS 2.0
feed. You can skip to the end and leave a response. Pinging is currently not allowed.