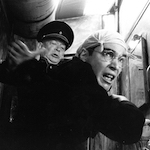 "But I haven't done anything. I'm not working for either side."
"Exactly."

It was May 22nd. The day Ripley died in ALIEN 3. The day they found ENCINO MAN. The day FAR AND AWAY came out but I can't review everything man, I'm already way behind on this summer series. The day of Johnny Carson's last Tonight Show. Also it was the day Miramax released ZENTROPA in North America, according to various sources.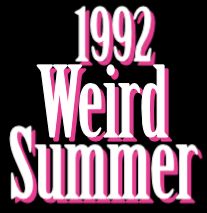 But I found a poster that says May 5th (maybe for video?) and Roger Ebert's reviewed of it is dated July 3rd. I guess the relevant thing here is that, like other limited releases such as DELICATESSEN and ONE FALSE MOVE, it was playing various theaters at various points during the summer. That's how it worked back then.
ZENTROPA is really called EUROPA – that's the original title and what it's now called on video (like THE PLAYER and NIGHT ON EARTH this has a Criterion Edition). But the North American theatrical release was retitled ZENTROPA for the honestly reasonable purpose of avoiding confusion with Agnieszka Holland's EUROPA EUROPA. I distinctly remember going to see NIGHT ON EARTH and seeing a literally hypnotic trailer that I think was probly the same as the one I've found on Youtube except it was "LARS VON TRIER – ZENTROPA" that kept appearing on screen instead of LARS VON TRIER – EUROPA." So for historical accuracy I'm labelling this review ZENTROPA. (read the rest of this shit…)