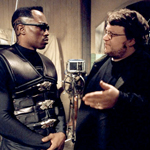 "You obviously do not know who you are fucking with!"
On one hand, it's hard to believe that BLADE II was fifteen damn years ago. I mean – I reviewed it when it came out. And I'd already been around for a few years. Am I really that old? On the other hand, an awful lot has changed since the movie came out.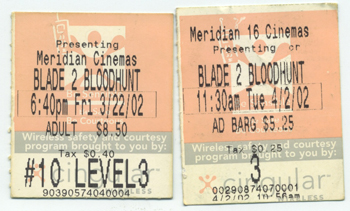 Let's start with Wesley Snipes ("Blade"). He made a part 3, had a falling out with the writer, they made a Blade TV show without him, he got relegated to DTV, got busted for tax evasion, did time, got out, now is sort of back and still the Man and hopefully will achieve more greatness. Guillermo del Toro (director) became better known and beloved for his specific visual style and obsessions, was nominated for a best screenplay Oscar for PAN'S LABYRINTH, continued to alternate between Spanish language art films and Hollywood productions, but never did a for-hire gig again, unless you count THE HOBBIT, which he toiled on for a few years before quitting. David S. Goyer (writer) directed part 3, co-wrote Christopher Nolan's DARK KNIGHT trilogy and went on to mastermind the DC movie universe, as if trying to earn the extreme hatred many comic fans had long held for him for some reason. Donnie Yen (martial arts choreographer, "Snowman") had a huge career resurgence at home in Hong Kong, particularly with the IP MAN series, and recently finally had success in English language movies playing the best characters in ROGUE ONE and xXx: RETURN OF XANDER CAGE. Norman Reedus ("Scud") also became a geek icon by playing Daryl on The Walking Dead, as did Ron Perlman ("Reinhardt") by reteaming with del Toro to play Hellboy in two live action films and two animated (plus starring in many seasons of Sons of Anarchy). Luke Goss ("Jared Nomak") was a former pop star from the boy band Bros who had been in a few movies. This breakthrough role led to playing the elf equivalent of Nomak in del Toro's HELLBOY 2 and eventually being a frequent face of DTV, including starring as Frankenstein in DEATH RACE 2 and 3. Matt Schulze ("Chupa") – okay, he didn't become a big thing, but to me he's an icon because he's the villain in Seagal's OUT OF REACH and Vince in THE FAST AND THE FURIOUS and FAST FIVE.
Maybe more notably than any of this, the techniques del Toro pioneered to combine live action stunts with animated doubles for super-powered fights and camera moves evolved into the modern style of comic book action (and blockbusters in general). His smart ways of adding digital effects to practical ones have also been influential. Getting a genuine visionary to do the sequel to a movie like BLADE is one of those things you always wish for as a movie fan but shouldn't hold your breath for. This time you could've, though. It happened. (read the rest of this shit…)