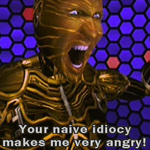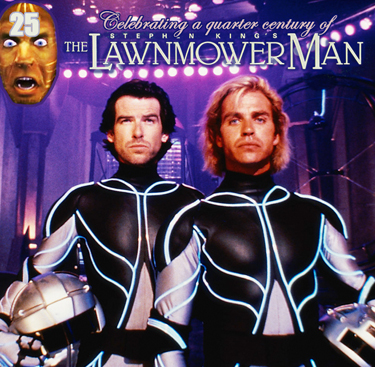 I know you guys probly already have huge parties planned, but in case you're in a part of the world that doesn't celebrate, today is the 25th anniversary of STEPHEN KING'S THE LAWNMOWER MAN. And in March of 1994 we'll be able to celebrate the anniversary of THE LAWNMOWER MAN, after King's lawsuit made New Line Cinema remove his name from it.
(Weird detail from an Entertainment Weekly article at the time: King "hired a team of private investigators to check out video-store copies in five cities" to prove they were violating an injunction against using his name. Did he worry if he brought in four tapes from four cities New Line would say "Nah, it's only the copies in those four cities, the rest of the ones we made don't say Stephen King"?)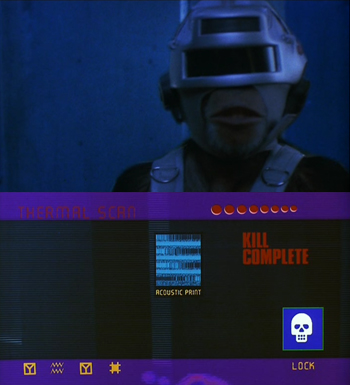 The short story takes place entirely at the home of Harold Parkette as he tries to get his lawn mowed. The movie opens in a high tech laboratory, with a chimp playing a virtual reality shooting game, then escaping the facility wearing a Robocop type visor that helps him steal a security guard's gun and tells him when he's successfully killed people with it. That's some artistic license right there.
King was right. The movie has very little to do with the short story from his Night Shift collection that it claims to be based on. Director Brett Leonard (THE DEAD PIT, SIEGFRID & ROY: THE MAGIC BOX) was hired to adapt, but he didn't see much of a movie there, and wanted to do something about virtual reality. So he figured out how to fit a tiny chunk of something vaguely related to the short story in the middle of this completely unrelated cyberthriller from back when the prefix cyber was first catching on.
The lab is secretly being manipulated by The Shop, the nefarious paranormal-exploiting organization of King's FIRESTARTER (not in the short story). They have not been respectful of their pioneering virtual reality scientist Dr. Lawrence Angelo (Pierce Brosnan, three years before GOLDENEYE), who did not want his ideas to be used to militarize chimps. He thought it would help with Alzheimers and aid human communication, whatever that means.
The Parkette family are in the movie, but they're Dr. Angelo's neighbors. Harold (stuntman Ray Lykins) is the abusive father of Peter (Austin O'Brien, LAST ACTION HERO). Peter is good friends with Jobe (Jeff Fahey, DARKMAN III: DIE DARKMAN DIE), the mentally challenged man from the landscaping company who brings him comic books whenever he comes over to mow the lawn. (It seems weird to me that he's been over enough to develop the best pals relationship they seem to have. How fast does that fuckin grass grow?)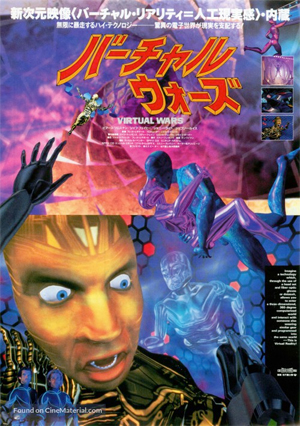 Landscaping boss Terry (the great Geoffrey Lewis [EVERY WHICH WAY BUT LOOSE, DOUBLE IMPACT], doing an Irish accent for some reason) is really nice to Jobe, but Terry's brother Father Francis (Jeremy Slate [BORN LOSERS, TRUE GRIT] in his last movie) torments him. Jobe (who looks like Simple Jack from TROPIC THUNDER) lives in a shack next to the church, and Father Francis comes over and yells at him about picky judgmental religious shit so he can whip his bare back with a belt. Terry is sad when he comes over and sees that his brother has had Jobe doing penances all night, but he's excited to see that "You finished Big Red!", his custom hot rod of a lawnmower.
The town looks like nostalgic old time Americana – Jobe spends much of his time at a gas station folksily called Harley's Gas 'Er Up – but I think it's supposed to take place in the future. The opening text says that "By the turn of the millenium [sic] a technology known as VIRTUAL REALITY will be in widespread use." Although VR does not seem to be in widespread use in the movie I suspect that this was meant to indicate that it takes place 8 or 9 years into the future when the movie came out. One hint is the boardroom where "The Director" (Dean Norris, LETHAL WEAPON 2, HARD TO KILL, TOTAL RECALL, T2, FULL ECLIPSE, MONEY TRAIN, STARSHIP TROOPERS, GET THE GRINGO) talks to his lackey (Mark Bringelson, DOLLMAN, DEAD MAN, SOLDIER) in the form of a giant closeup of his face on a giant screen. On the director's commentary Leonard says it's an homage to Kubrick, but it looks like Max Headroom to me.
Dr. Angelo is forced to do experiments at his house, not because they're too dangerous to be funded, but because they're not evil enough for The Shop. This basically means he lives in his basement relaxing in a VR chair or smoking and drinking bourbon when not luring in the neighbor kid and the lawnmower man to test out video games.
He figures out he can use VR programs, combined with "smart drugs" (the #2 topic in circa-1992 Mondo Magazine after VR), to teach Jobe. It goes really well and he sneaks him into the Shop lab to get the better equipment. Not only does Jobe become de-challenged, he starts taking care of his hair and getting buff and walking around shirtless with jeans and a western belt buckle to the point that his lawn client Marnie (Jenny Wright, NEAR DARK) is super hot for him and invites him in to teach him sex. That goes so well that Jobe brings her to the lab to experience VR sex in the movie's weirdest and most famous scene.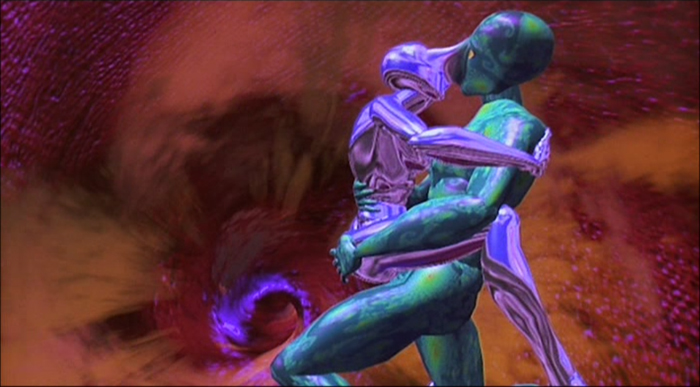 So, they put on these bodysuits and get in gyrospheres and spin around and their melty metallic avatars straddle and kiss and melt together and turn into a dragonfly and when they separate she's stuck in crudely animated goo and gets upset but he laughs and, uh… morphs into a, uh… I have no idea what this is.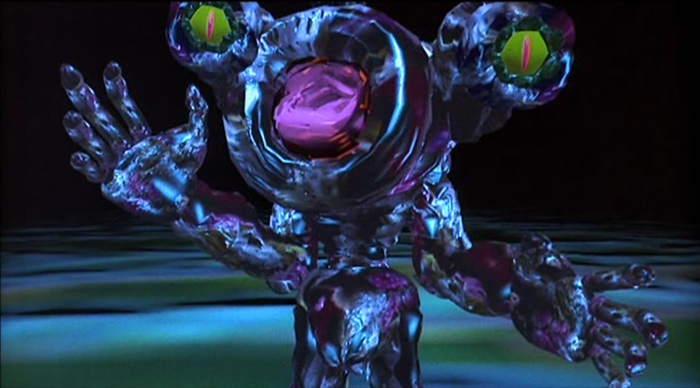 And he spits some kind of digital blood or something onto her and she almost dies but he apologizes. I guess in VR you need a safe word.
By the way, it's never really addressed if the suits are, you know, stimulating their or parts, or even where his boner goes inside there, or that VR would have to be planned and programmed by somebody, that you couldn't just turn yourself into whatever you want. In this movie it's less a program and more like psychedelic dreams that flow out of you into the type of shiny ugly shit that was all you could really do with computer animation back then. (In my opinion this style has not aged as well as the TRON animation ten years earlier. Or JOHNNY MNEMONIC three years later.)
I guess maybe this could be explained by the fact that some guy from The Shop switched out Jobe's drugs, and now he has telepathic powers. Maybe he can program new animation with his mind, the way he can open doors and stuff. Also he's starting to go crazy, so 2/3 or more into the movie, he goes on his telepathic rampage against people who were mean to him before he turned cyber. He goes after this bully guy from the gas station (John Laughlin, THE HILLS HAVE EYES PART II) and SCANNERSes him in the funniest way. A goofy image of his avatar's face with pushmower mouth comes out of his eyes and then an animation shows us that he, uh, mentally mows the guy's brain?
And then we finally get to Peter's asshole dad paying the piper. Harold is in a tank top drinking Budweiser with his workboots kicked up watching WWF and all the sudden Big Red explodes through the door and chases him around, chewing up the carpet and furniture and then flying off the porch at him, apparently mowing him to shreds, as represented by lawnmower-POV-shot cutting to black.
This whole time Jobe stands outside in his glowing Tron suit CARRIE-ing the thing to life, so I guess this 2 minute scene is supposed to represent the short story, where Harold is surprised to hire a lawnmowing service where the mower drives around by itself. The memorable part of that though was the titleistical lawnmower man crawling around naked eating the grass and the chopped up mole it ran over and stuff. I didn't catch if he was telepathic or not, I guess I was distracted. But in the story it's revealed that the lawnmower man has cloven feet and some customers get mowed as a ritualistic sacrifice to the owner of the landscaping company, the mythological figure Pan. Sadly, Pan is not in the movie. Why couldn't they at least have had Geoffrey Lewis playing a flute?
Since this is the godfather of cyberthrillers (not to be confused with the THE GODFATHER of cyberthrillers) of course he has to try to become a being of pure information. He does this by going into virtual reality and then fighting with virtual Dr. Angelo and pushing a bunch of animated buttons and stuff. Due to his upbringing in the shack he crucifies cyberBrosnan on an animated cross and sees himself as a resurrected God. His plan is to oh who am I fooling I have no idea what his plan it is but it involves the cyber. Just like GHOST IN THE MACHINE and TRON LEGACY he figures out how to turn pixels into physical matter, which in my opinion is not supported by science. But it does allow for this part where cops fire guns at the giant floating head of a limited edition gold plated REVENGE OF THE SITH action figure: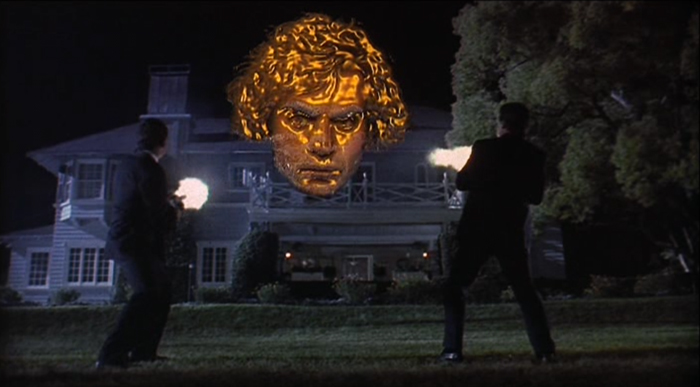 Why the hell wouldn't Stephen King want his name on that shit?
* * *
Side note: Mike de Luca – the eventual head of production at New Line Cinema, but I think he was still working his way up the ladder at that point – had, back in 1985, written a more faithful adaptation of the story for a low budget short film.
That version's director Jim Gonis went on to work at Playboy, it seems, and didn't direct again. But cinematographer Ethan Reiff became a successful screenwriter who wrote MEN OF WAR and TALES FROM THE CRYPT: DEMON KNIGHT, and has a story credit on KUNG FU PANDA, among other things.
* * *
STEPHEN KING'S THE LAWNMOWER MAN WRITTEN AND FULLY AUTHORIZED BY STEPHEN KING NO TAKEBACKS was a completely ridiculous movie at the time and has of course been made much more ridiculous as its ideas about the future have not panned out. I'm not clear why VR is supposed to evolve brains and make people smart, and in the 25 years since I haven't ever heard that mentioned as a possible use.
I guess we can give it this, though: there was a good 15+ years when it seemed like virtual reality had been a dumb idea that came and went, and now all the sudden it's here again. It's clear that computer graphics (done in the same year that T2 really kickstarted the age of CGI) were not even close to being ready to support the technology in any half-way reasonable way. It was like trying to do Halo or whatever on an old Atari. Now it might work.
In 1993, Leonard had some better looking computer animation in the Peter Gabriel video "Kiss That Frog."
And he got to explore the intersection between humanity and technology a couple more times. In 1993 he directed the Billy Idol video "Shock to the System" from his album Cyberpunk. It has some cool effects of Billy turning into a cyborg.
He used VR again in 1995's VIRTUOSITY, which was… arguably a little better than THE LAWNMOWER MAN? Yeah, I guess I'd argue that. Not very forcefully, though. And 2005's FEED I haven't seen but the plot summary on IMDb begins with the phrase "A cybercrime investigator…"
Anyway, happy silver anniversary Cyberjobe, you shiny golden computer god.
This entry was posted on Monday, March 6th, 2017 at 10:40 am and is filed under
Reviews
,
Science Fiction and Space Shit
. You can follow any responses to this entry through the
RSS 2.0
feed. You can skip to the end and leave a response. Pinging is currently not allowed.