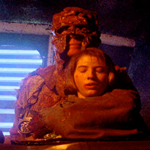 Fangoria Magazine is important to me. I've been reading it since some time in the '80s. It covered not only all the great horror movies that have come out during all those years, but also the less great ones. I like that you could read detailed coverage of, like, DOLLY DEAREST or some shit when it came out. I have boxes of old issues and sometimes I'll remember to go back and see their interviews about, say, HELLRAISER: BLOODLINE, or something and find more details than I could find browsing the internet. It's great.
Back when people read magazines and loved horror movies enough to read about how they were made, Fangoria had enough money to try crossing over and making some movies of their own, including MINDWARP. To be honest I  don't remember ever hearing of it until I came across it recently on a nice Twilight Time blu-ray. I remember Fangoria Films as a distributor of low budget movies (don't think I ever watched any of them) but I didn't realize that before that they had tried to finance one movie per year, starting with this in 1990 (not released until '92 though), followed by CHILDREN OF THE NIGHT (vampire movie from HELLRAISER II director Tony Randel) and SEVERED TIES (horror comedy with Oliver Reed, Elke Sommer and Garrett Morris in the cast). (read the rest of this shit…)
VERN has a new action-horror novel out called WORM ON A HOOK! He has been reviewing movies since 1999 and is the author of the film criticism books Seagalogy: A Study of the Ass-Kicking Films of Steven Seagal and Yippee Ki-Yay Moviegoer!: Writings on Bruce Willis, Badass Cinema and Other Important Topics as well as the crime novel Niketown.