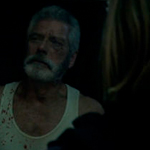 DON'T BREATHE is the new film by EVIL DEAD remake director Fede Alvarez, and the most up-my-alley new horror movie I've seen in at least a couple years. Once it really got going I found myself alternating between wincing and having a big smile that I couldn't get off my face. It's produced by Sam Raimi, and I daresay it is almost a non-supernatural spookablast™. I'm not gonna say it's as good as DRAG ME TO HELL, but that might be the last time I had this much fun watching a horror movie in a theater.
Now, keep in mind, I also liked EVIL DEAD. I had a great experience with some friends who all got a big kick out of its eviscerating-all-previous-standards-of-what-can-be-done-in-an-R-rated-movie audacity. Then almost everybody else I knew, both in life and in the comments here, seemed genuinely offended that I found any redeeming quality of any kind in that movie. It might be the most backlash I ever got for a positive review.
But I think this is different! It's dark, and it definitely Goes Too Far at one point, but I think it's more of a crowdpleaser. I think some of you guys will love it?
If I saw the opening without knowing anything else I would think it's the American remake of LIVID. Three young burglars – Rocky (Jane Levy, also the lead of EVIL DEAD), her douchebag boyfriend Money (Daniel Zovatto, IT FOLLOWS, LAGGIES) and their more reasonable friend Alex (Dylan Minnette, PRISONERS, LET ME IN) – want a big score so they can get the fuck out of Detroit, and they decide to rob a blind veteran who they believe has a bunch of cash from a well publicized court settlement.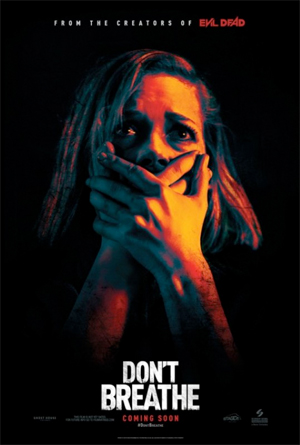 Bad decision, young people. They get into this place, they creep around, making us nervous, but of course they're hugely underestimating the guy who lives here, credited as "The Blind Man" and played by Stephen Lang (BAND OF THE HAND, AVATAR). They fail to knock him out, and he comes after them. So there are many sequences where they really do have to try not to breathe, to not gasp, to not step on a creaky board, so he doesn't know where to aim his gun, or where a neck is to strangle.
It's a great role for Lang. He's old enough that they have to say he's a veteran of the Gulf War, not anything of more recent vintage, yet he's a musclebound badass who you have no question will pound the living shit out of these fucking people that he can't even see. For most of the movie he doesn't talk, just makes weird grunts, and when he does talk it's an unexpectedly croaky voice. The voice of a broken weirdo who never leaves his house.
But wait a minute, how are we supposed to root for these kids to get away? Good question.
These are not heroes, they are bad people, so they make one of them way worse so the other two will seem more likable. Money is a douchebag who wears cornrows, has a dollar sign tattoo on his neck and likes to pee in the houses they rob. Fuck that guy. But Rocky is trying to get her little sister away from their shitty alcoholic mom, and Alex looks after his dad and has more moral qualms than the others, so they're easier to have sympathy for. I like the way the movie kept messing with me. My thoughts went from "I don't know about these assholes" and "I can't disagree with this poor guy beating the shit out of people who broke into his house" to a much more complex scenario. It's not a total surprise to find that he has some bad shit going on in there, but they have to keep revealing worse and worse to try to get us completely on the side of the young people. And meanwhile his skills seem to increase. You do not want to fuck with this guy!
It sort of paints a portrait of our times, at least in that vague way that so many good horror movies do. There are no real good guys here, just shitty situations. The kids are bad people, doing an immoral thing. The old man fought for his country, he suffered a tragedy, and an injustice due to economic inequality, at least the way he tells it, and now he's being victimized by these kids. But also he's a total psycho who has victimized someone else. And these people are fighting over money that came out of a tragic death, within an economically depressed part of Detroit that has practically become a ghost town. I love how they set up that the neighborhood is abandoned for four blocks around. On a practical level it establishes their isolation, that there is no neighbor to run to for help, or to hear the gunshots. On another level it shows us the hopelessness that they're trying to get away from in the first place.
But within all this bleakness, and underneath this pile of bad decisions they've buried themselves in, they have choices to make. Do I take this chance to get away, or do I try to help an innocent person? Is it more important to stop this guy or to get his money? Can I save my sister and start over and maybe she'll be a better person than me? And there's a moment where it becomes clear that what Rocky wants to do has major implications, and a male character tells her that he will support whatever decision she makes. Good man.
It's a dark movie, but it's not a rubbing-your-nose-in-the-dog-shit movie. There's a light to run toward.
So there's themes 'n shit, but what it has over many of the fine arthouse horror movies we've had in the last few years is some seriously effective thrill ride chops. EVIL DEAD had amazing cinematography and special effects, but here Alvarez displays a new level of filmatistic mastery. I love the way the camera floats in and establishes important geography and props: here is a hammer hanging on the wall. Here is a gun hidden under the bed. Here's what the upstairs looks like. Here's the door to the cellar. The vicious dog they drugged is sleeping right there.
Within this space and using these elements he builds a series of increasingly complex set pieces, masterfully revealing new threats and complications, or bringing back old ones just when you had forgotten about them.
One clever scene has the lights go out, and then it slowly fades up so that we can see them, but we can tell they're in pitch blackness by the way they stumble and by their hugely dilated eyes. And the blind man just stands there and she's slowly moving toward him with her hand out in front of her…
There's a moment when I realized I loved this movie. A convoluted series of dangers and responses to the danger had found two of the protagonists in simultaneous cliffhanger predicaments. One was wedged into a small place about to either fall face first or be horribly mutilated. The other had fallen and we didn't know if they were dead or unconscious, and we're looking at them knowing that if they wake up it will likely cause a chain reaction involving another fall directly onto the blind man. And Alvarez gleefully draws it out, dangling them there, letting us imagine and fret about what's going to happen, knowing that it would be delightfully awful whether we got what we expected or something else entirely. All this mayhem has actually been meticulously orchestrated to come together and create this feeling, a high similar to what I get from a beautiful DePalma suspense sequence.
In all the great minimalistic horror movies with their existentialist dread I've missed that feeling, that knot-in-the-stomach, oh-shit-hold-on-you're-about-to-fall, can-she-survive-by-the-skin-of-her-teeth excitement of good cat and mouse type of horror. Not enough of that these days.
If he has any interest in it I think Alvarez could do a great action movie. Think of the things this one has in common with DIE HARD. It's an intense chase in a confined space, constantly escalating, twisting, inventing new things to do within the setting, with different dangers and tools. The geography and things contained within the space are established early on and elegantly communicated through visuals. Nobody gets off easy; the protagonists are slammed, stabbed, smashed, dropped and shot, in serious pain, and have to keep going. It's brutal and intense but with room to be fun. It was great to see with a crowd to hear gasps and nervous titters and eventually cathartic laughs when you realize that this shit is just gonna keep getting worse and worse.
All I can say is don't miss DON'T BREATHE unless you don't like movies that don't disappoint!