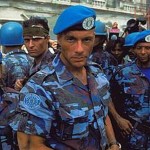 LIONHEART is Van Damme circa 1991, and his best up to that point if you ask me, which by reading this you agree to do. As a matter of personal taste I think competitive fighting is one of the squarest action subgenres. You got less room for chase scenes and explosions, the rules and locales of the fights are too rigid. I mean nothing against a good pre-fight jitters locker room scene or a spooky ancient temple with torches and mystical snake statues, but I prefer a more urban style of action movie. One with crooks and creeps, alleys, fire escapes, car windshields.
LIONHEART is a smart compromise because it continues the competitive fighting of BLOODSPORT and KICKBOXER but in a cartoonish underground fighting circuit in New York and Los Angeles. This is another subgenre that gets old fast, usually because you get sick of looking at the same dimly lit arena with a fence or barbwire, maybe a strobelight. This one avoids that pitfall by having a new location and crowd for each fight: a circle of cars (with people rollerskating around), a swimming pool with all but the deep end drained (crowd in bikinis like it's a pool party), inside somebody's mansion (a black tie event) and (my favorite) a racquetball court. Brian Thompson is there but never fights. The real villain is Cynthia (could've sworn the credits just called her "The Lady," but maybe I imagined that) the stereotypical L.A. rich bitch of the '80s: short hair, expensive clothes, sexually and capitalistically aggressive.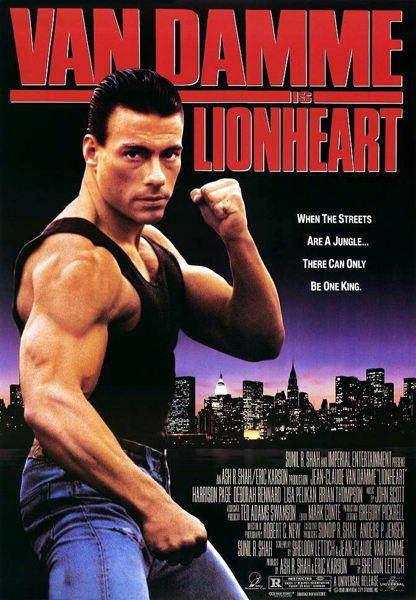 The story begins with brother Francois set on fire during a weird West Side Story style drug deal. He survives, but burnt to a crisp, and cries out for his brother Lyon (Belgian actor Jean-Claude Van Damme). Lyon doesn't get word for weeks because he's in Djibouti doing forced labor for the French Foreign Legion. He escapes, stows away on a boat, gets money fighting in a parking garage, goes with his new self-proclaimed manager to L.A. to find his brother. Of course he gets there right after Francois dies. The widow blames Lyon for Francois's drug problem so she won't accept any help from him. So he does more fights and gets the money he wins to her, pretending it's from some non-existent life insurance policy.
Van Damme seems way grittier in this one, way less boyish and more intense. He has that forehead bump now but maybe I just missed it in the last one. He wears jeans and a blue work shirt for most of the movie, he's literally blue collar. Then The Lady burns his clothes while he's passed out drunk, so he's forced to go suit shopping with her. (We can only assume he walked into the store wearing only a hotel bathrobe.)
He has many scary opponents. The last one is Attilla, a bushy-sideburned dude who gets out of a limo sporting a black suit and white cat (bad combo if you think about it). During the fight he reaches into the crowd to pet his cat. Also he borrows a dude's pocket square to wipe blood off his mouth (you know what, just keep that). So he's a pretty good character.
By the way, remember Tong Po, who was such a scary Muay Thai fighter in KICKBOXER? He's actually Moroccan and was made up to look Asian in that one. Here he has a less menacing part as one of two guys from the French Foreign Legion trying to catch Van Damme.
This is a better character than the previous Van Dammes because he's a fugitive, but he really took a fall for his brother, he's homeless, and he's only trying to get money to get his sister-in-law out of debt from hospital bills. (If we had universal health care LIONHEART would never happen.) The cool thing is he's not even trying to get revenge! Just trying to make up for his failure to escape from custody and travel around the world fast enough to see his Darkman-looking brother one last time. He feels like he blew it so he wants to help the widow and daughter.
By the way if you're wondering where the hell you've seen that niece before I'll save you the trip to IMDb. Turns out she was the little sister they added in the later seasons of Growing Pains.
The director is Sheldon Lettich, co-writer of KICKBOXER. I think he did a great job on this one, which I never would've expected. One thing I noticed in particular was a wide shot of sister-in-law and niece coming out of their apartment and walking down the street. They move into the distance as the camera very slowly pulls back, showing you the neighborhood. Doesn't seem like the shot has any other purpose than that… but then suddenly it hits the apartments on the other side of the street and looming in the foreground is one of the trackers from the French Foreign Legion, hanging out of the window, spying on them. It's like a Brian De Palma shot! Remember that when shots used to be designed to look careful and deliberate instead of shaky and unplanned? Those were the good old days. But even then you didn't expect a shot like this in a Van Damme movie. I'm about 17 years late here, but I'm gonna keep an eye on this Sheldon Lettich.
This entry was posted on Sunday, December 7th, 2008 at 4:16 am and is filed under
Action
,
Martial Arts
,
Reviews
. You can follow any responses to this entry through the
RSS 2.0
feed. You can skip to the end and leave a response. Pinging is currently not allowed.