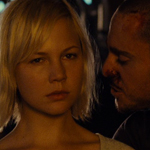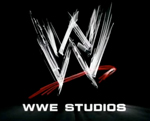 I'm not gonna try to convince you that NO ONE LIVES is a new horror classic or anything, but I enjoyed it. It's from the prestigious WWE Studios and it has a level of absurdity and audacity that makes it a worthy successor to their first horror production, SEE NO EVIL. The British advertising even uses an Empire quote calling it a "guilty pleasure." They're not trying to fool anybody.
This one has an obvious SAW influence, but it's not a so-called torture porno. It's kind of a horror-formula moosh-up, combining the super-genius-psycho-with-ridiculous-death-contraptions with more of a traditional slasher movie formula (people in cabin being picked off one-by-one) as well as a little LAST HOUSE ON THE LEFT (class tensions and abduction courtesy of a family/gang of greaser reprobates).
It's got one of these prologues that begins mid-terror, a screaming blond named Emma (Adelaide Clemens) chased through some woods, captured by booby traps. Turns out later she's from a rich family, but judging by these traps the kidnapper is not in it for the money. He just likes hanging girls upside down and stuff.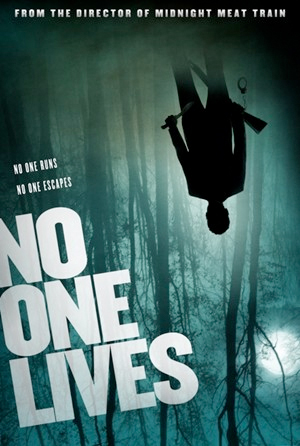 Then we meet a couple (Luke Evans from FURIOUS 6, Laura Ramsey from KILL THE IRISHMAN) who are having relationship troubles as they move across the country with all their belongings in a trailer and stop at a random motel out in the boonies. Out to get something to eat they get harassed by Flynn (Derek Magyar, who looks like an evil Elijah Wood, but not the same one that was in MANIAC), a young thug whose family of criminals yank him away, already annoyed because the dumb motherfucker just shot up an entire family during a burglary. Later that night, stubborn Flynn decides to show everybody what's what by abducting the couple and their trailer, tying them up, trying to get their pin numbers and shit.
BIG SPOILER COMING UP
But things are not as they seem… unless you saw the DVD cover where Luke Evans seems to be the bad guy,  in which case things are as they seem. Yeah, I saw it coming, but still really like the twist that the family finds Emma, the missing heiress, in the couple's trailer, meaning that Luke Evans is the Jigsaw-esque brai/ma-niac and they are totally fucked now because he's gotten loose and he will not stop until he has used fancy weapons on all of them. They of course have good reason not to call the cops and are greedy enough to not let the girl loose, thinking they can claim a reward or better yet a ransom. So it's super-maniac vs. thugs with the kidnapee stuck in the middle.
Sometimes it's a problem for a horror movie when you hate all the characters, whether you're supposed to or not. For me it works in this one, because you have Emma to root for, and she's a little different version of the Final Girl, being completely jaded from her experiences. She has trouble convincing these idiots how much danger they're in, and there's a great moment where she's about to make a run out the front door. I'm not sure whether or not she sees the killer standing in the distance naked and covered head to toe in blood, but she decides to stop and tell the family that her best chance is to wait for him to start killing them before she tries to escape.
And throughout the ordeal she always looks unimpressed – or maybe just kinda annoyed – while the hardened criminals around her react like your usual horrified slasher movie victims. It's a nice image.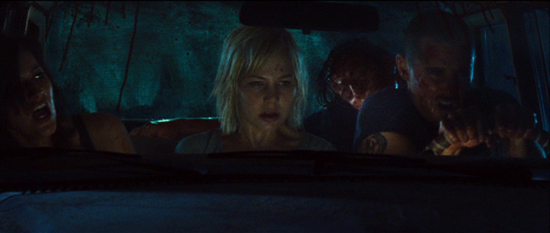 It's the section just after the twist that won me over to the movie, because there's a high concentration of crazy shit there. One part I love involves the reveal of an extreme method that the killer uses to hide. The only hint I'll give is that it is possibly an homage to a STAR WARS movie. Another is (SPOILER) when the gang's leader Hoag (Lee Tergesen) is right in the middle of saying "I want this motherfucker DEAD!" and a big ass spear with a cable on it shoots right through his back and then yanks him up into the trees like a yoyo. See, there was another hidden compartment in that trailer, and this guy has some serious equipment with him.
To be fair not all of the good ideas are ludicrous, over-the-top ones. There's actually some subtlety here and there. For example the movie never comes out and explains what's up with the killer and the girlfriend he has at the beginning, but you can piece it together.
The most SAW-like parts are the various depraved ways the killer messes with Emma's mind (for example slitting his own throat so that she'll have to save her tormenter's life if she wants to escape him). Luckily these are done in quick flashbacks, giving it an atypical structure and not dwelling on them enough to bog things down. The movie's only about 80 minutes, a good length for a movie like this.
Unfortunately NO ONE LIVES follows the current WWE model of just having one wrestler I never heard of (Brodus Clay) in a supporting role, but at least it was easy to figure out which one was him. The big guy. The WWE spirit does come through though in a couple of non-wrestler scenes. Out of the blue the killer starts doing martial arts on a guy, and then a big suplex type move. There's also a sudden furniture-smashing woman-on-woman fight that forced me to look up if any of these actresses are "WWE Divas." They're not, but they do a good job. It's ridiculous, and it's not something you usually see in a horror movie, and that partly makes up for the way the camera jerks up and down during these scenes.
I guess this actually did get a theatrical release, but it was from Anchor Bay, which explains why you never heard  of it. I don't know why they even bother with theatrical releases, since they've never known how to do it. I do remember seeing a trailer for this a long time ago and they must've done a shitty job transferring it because I remember it  looking cheap and ugly. On DVD it actually looks pretty slick. In fact the cinematographer is Daniel Pearl, who did both the original and remake of THE TEXAS CHAIN SAW MASSACRE.
I didn't realize it while watching it, but the director is Ryuhei Kitamura, the Japanese director who used to be known for the samurai/zombie cult movie VERSUS and later did AZUMI and GODZILLA'S FINAL WARS with Don "The Predator" Frye. This is his second English language film, the first being BRADLEY COOPER IS MIDNIGHT MEAT TRAIN. This has a similar brew of okay movie infused with inspired weirdness and violence. I like it.
My one major complaint is BIG ASS SPOILERS about the ending. I still maintain that in a slasher movie it is crucial to see the Final Girl victorious. In the case of TEXAS CHAIN SAW that just means she survives by the skin of her teeth, but in a more silly movie like this you want to see her really give it to the killer. I mean, this poor girl has been locked up and tormented for who knows how long, almost escaping at least once, tricked into having this connection with the guy, then she gets tossed around by the gang of thieves, navigates her way through this minefield of mutilation, she gets cut open and (I think) left for dead, but she survives… I'm glad for that, but I think she earned the right to shoot some harpoons into the guy and draw and quarter him or something. Her survival is tarnished by this asshole not only getting away, but smiling and taunting her. I guess hopes for a franchise (or the urge to copy SAW) take precedence over the needs of the audience. And the accuracy of the title.
Why would they feel that was necessary, though? The killer in SEE NO EVIL was last seen dead with a dog peeing in his eye sockets, and they're still bringing him back for a part 2. I would've watched the sequel anyway. But they gotta be better to these Final Girls, treat 'em like champs.