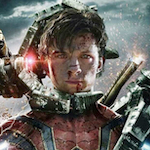 Contains explicit spoilers. Reader discretion advised.

SPIDER-MAN: NO WAY HOME is a gimmicky MCU multiverse extravaganza, pulling out all the stops, all the comical riffs and all the ideas from the brainstorming session to achieve a rough live action equivalent to in my opinion the best Spider-Man picture by far, INTO THE SPIDER-VERSE. It inevitably lacks the newness and artistic precision of the animated version (not to mention the multi-culturalism) but it is its own type of ambitious fan-pleasing accomplishment. If you haven't heard, it treats the two previous Spider-Man movie series – Sam Raimi's SPIDER-MAN 1-3 (2002-2007) and Mark Webb's THE AMAZING SPIDER-MAN 1-2 (2012-2014) – as alternate dimensions, and pulls those two Spider-Men and five of their villains into the Marvel Corporate Unification to bounce off the current Spider-Man (played by Tom Holland, voice of "Eddie," LOCKE) and his adult wizard friend Dr. Stephen Strange (Benedict Cumberbatch, WAR HORSE), compare web-shooters, etc.
With great power comes almost unfathomably bad judgment, so fucking Dr. Strange actually agrees to do a spell for Peter to erase the entire world's memory that his secret identity was exposed at the end of part 2. And then Peter keeps talking while he does the spell and he fucks it up, decides to cancel it, but has already caused a tear in reality or whatever so people who know Spider-Man's identity in other dimensions start appearing in MCU reality looking for Spider-Man.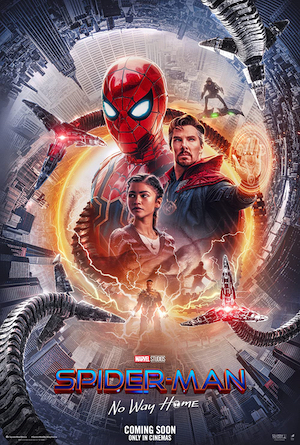 I'm not talking just cameos. Andrew Garfield as Peter "Spider-Man" Parker, Tobey Maguire as another Peter "Spider-Man" Parker, Alfred Molina as Otto "Doctor Octopus" Octavius and Willem Dafoe as Norman "Green Goblin" Osborn are full-on supporting characters, and Jamie Foxx as Max "Electro" Dillon and Thomas Haden Church as Flint "Sandman" Marko have pretty big parts too. (Rhys Ifans also appears as Curt "Lizard" Connors – not sure if he did the mo-cap or not.) So Strange starts locking these guys in his dungeon/rec room and sends Peter to catch the other ones, and he recruits his girlfriend M.J. (Zendaya, voice of "Lollipop," SUPER BUDDIES) and best friend Ned (Jacob Batalon, BLOOD FEST) to help.
Some of the antics can be a little forced at times (the scene where a room full of super geniuses can't figure out that when MCU Peter's friend Ned says "Peter" he's referring to the one that's his friend), and occasionally it felt a little bit like a Ben Stiller era MTV Movie Awards sketch. But for me the movie works because of the positive values behind its concepts.
I'll give you an example. Garfield's Peter Parker from THE AMAZING SPIDER-MAN 1&2 seems sometimes out of character just so he can be the funny gun in the scene. But there's a part where the three of them are comparing super villains they've fought and he laments that he's the only one who never fought an alien. "I'm lame," he says, so Maguire's pioneering Peter Parker from SPIDER-MAN 1-3 tells him no, he's amazing, reassurance he says he really needed.
Obviously it's a meta thing about Garfield's series being received poorly compared to the others, and about it ending after only two movies before he could fight as many villains, and also about it having the word "amazing" in the title. But the sentiment behind this scene is really nice in an increasingly shiny-new-thing oriented entertainment culture. It's saying (within the limits of corporate i.p. mega-entertainment) that it's not all about the newest, youngest, expensivest, rebootiest version, that there is value in the old version, and even the unpopular abandoned version.
(Surprisingly there are no jokes about SPIDER-MAN 3's controversial evil jazz club dancing. Maybe they weren't willing to stand up for that. I am!)
Garfield's is the series I'm not all the way up on. I still haven't seen part 2 of 2, which introduced Jamie Foxx's Electro. Even so, I knew (and NO WAY HOME tells us this) that it used the famous comic book tragedy of Spider-Man failing to save his girlfriend Gwen from a fall. I found it very effective when he swoops in to prevent the same thing from happening to the MCU Gwen equivalent M.J., and is overwhelmed with emotion.
I recently rewatched Raimi's trilogy for the first time since some time before the MCU, and one of the things I really enjoyed about it was the way Osborn and Octavius, before they become super villains, can be nice, and have actual friendships with Peter, and that you see flashes of their old selves even after they're flying around terrorizing the city with mechanical things. And Marko takes that even further – he's a low level criminal with mostly good intentions who apologizes and is forgiven by Peter at the end. So I really appreciated how dedicated NO WAY HOME is to giving each of them a happy ending.
And that's in the premise too. Strange builds a Cube of Magical Bullshit to send the villains back to where they're supposed to be. To make things right. But when Peter (the MCU one, before the other ones show up) figures out that they were all zapped right before they were about to die in their universes, he actually steals the cube from Strange and makes a run for it. Not because he's copying Shia Labeouf in TRANSFORMERS (which came out when he was 3 years old, please note, my fellow olds) but because he doesn't believe it's right to send them back without trying to help them figure out how to survive.
It's like the teens are running around causing mischief, except the mischief is trying to save these peoples' lives. It's that very real dynamic of the young generation having different, more caring values than their jaded parents or sorcerer associates.
So yes, I absolutely love that this is about Peter and his friends, including his two new alternate universe Spider-Man associates, pooling all of their collective genius to look at the accidents that ruined these guys' lives and see what they can do to reverse them. I really felt on my recent viewing of SPIDER-MAN 2 that Dr. Octavius's issues came from rejecting professional medical/technological help (which, in his defense, happens because the tentacles sort of take over his mind). It was amazing to see the Peters actually address that and then to find that the doctor really appreciates the help!
It's kind of meta about comic book movies too, because in the days of Tim Burton and Sam Raimi comic book movies they weren't planned to go on forever, so when they made new ones they just picked which famous villains they wanted to use this time, had them turn from a regular person into a freak/villain, then had them die in battle at the end. That's not the formula anymore and it's cool that MCU Peter wasn't willing to send these guys back to a world where it was.
It's also great to see Dafoe (AQUAMAN) and especially Molina (voice of "Fairy King," STRANGE MAGIC) improbably returning to these great, previously dead characters 17 years after the fact, and getting to play both the cackling villain and the good guy sides. One thing I wondered though was if Molina got all suited up and bowl-cut, had a chuckle at how silly he looked, knowing that was the job, but then turned around and saw that Jamie Foxx got to ditch his character's combover, fake teeth and nerd glasses and just look like Jamie Foxx.
Oh – I could've had demands?
In addition to all this crossover and throwback business, NO WAY HOME also works as the continued teen soap opera of MCU Peter Parker and friends. I have always enjoyed how much these movies are about friendship, which continues into this one, so it's very dramatic when it ends in a new status quo (the rules of which I don't understand) in which that seems to have been taken away from them. It also stings (intentionally so) because this movie so effectively establishes that feeling of Peter and M.J. freshly enamored of each other and just getting into the groove of being a couple. If I may have one nitpick, I miss M.J.'s sardonic humor now that she can't hide being happy, but the two are still charming together. And that's exactly why it fits into my understanding of Spider-Man that he can't live like that forever. Things are never too easy for him, but he keeps going.
I suppose I should discuss the other major event of this chapter, which is that the fuckin first cinematic Spider-Man villain accidentally kills Aunt May. At first I was a little too "Oh, maybe she only wanted to contract for a certain number of movies?" detached to feel the gravity of it, but I like how they are both remixing the famous Uncle Ben "with great responsibility" origin of Spider-Man and telling us that that's what they're doing. In the MCU it's Aunt May who gives Peter an ideal to live up to, and we got to see it with her charity work in previous movies. Like other Peters before him, this Peter seeks revenge for his guardian's death. It's really cool when the other Peters see this, recognize what's going on and know that their job is to help him understand why it's a mistake.
That's another nice layer of symbolism to this thing: whatever you're going through, it's good to know other people have been through similar things, and it's nice when you can get support or guidance from them. Or when you can be that person seeing someone else going through it and try to help.
And for larger MCU symbolism it's kind of cool that the ill-judged duel of vengeance happens on top of a giant Captain America shield which has fallen and broken. A reminder that this also goes against the standards set up by another New York super hero he has met and looked up to. But also I like that despite the massive multi-dimensional consequences of these events, it shows the Spider-Men as three small timers working out their problems in the shadow of the more worshipped heroes (within the story, if not at the box office).
By the way, I was so happy that shield fell off the Statue of Liberty. That was such a creepy dystopian idea that America would change the symbolic beacon welcoming immigrants to our shores to a fuckin shield! Fuck every person involved in that project. Another depressing feature of MCU reality is that J.K. Simmons (voice of "The Warden," THE EMOJI MOVIE) reprises his role as J. Jonah Jameson, but in this reality he's the host of a paranoid internet show instead of the editor of a newspaper, and you see how much his yelling sounds like Alex Jones (or Rush Limbaugh). It's not just depressing because it's true that this sort of disinformation entertainment celebrity host is a more powerful figure than a newspaper editor in the modern world, but because the character is so god damn funny when he's the guy yelling at people in the newspaper office and he just makes you sad every time you see him in this version.
I also need to talk about the crossover character I may have been most excited for (besides Macy Gray, who does not show). Although I never reviewed it, I saw VENOM: LET THERE BE CARNAGE, which is not great but I got a kick out of Hardy's one man comedy duo and that it has kind of a '90s throwback feel at times (he even poses on top of a spooky gargoyle church like it's THE CROW or something). If you haven't seen it, it has an end credits scene where he's at a resort in Mexico when suddenly there's a shift in the reality around him and then on TV he sees the thing from the end of FAR FROM HOME where Jameson outs Peter Parker as Spider-Man.
So of course, throughout watching NO WAY HOME I would occasionally remember that and wonder when and how Venom would show up. I was prepared to be excited to see him share the scene with Spider-Man(s), and the more it seemed clear that this was not gonna happen I was thinking maybe it would be funny if he didn't show up at all – like they made that scene presumptuously and then got ditched.
Ultimately what happens is that Hardy appears as Eddie Brock in a mid-credits scene. I love that this character has gone from being a semi-normal human with Hardy's weird touches to mostly just being Hardy being a goofball in whatever manner he sees fit. So it amuses me to no end that he finally got his chance to be in the MCU but he spent the entire time at a bar annoying the bartender with questions about the MCU. (Also, if you don't follow the Venom movies I'm sure that scene would be as befuddling to you as the thing was in ETERNALS where I didn't recognize the celebrity you were supposed to be excited about.)
The other great thing about the end credits is that I feel very confident that somewhere right now there are some MCU-loving young people looking up De La Soul and listening to them because of the prominent placement of "The Magic Number" on the end credits. In that sense this movie can't help but have a positive effect on the world.
One missed opportunity involves the first big screen appearance of Charlie Cox (Caligula from DRACULA UNTOLD) as the Netflix version of Matt Murdoch, the lawyer who secretly moonlights as the brooding leather vigilante Daredevil. (An accident with radiation gave him sonar powers that are meant to balance out his blindness and lack of charisma or screen presence.) It would've been a good chance to send him permanently into another dimension, or at least have him disbarred. Okay, sorry, I know I was the only one who found that show torturously awful, and I should take a cue from Spider-Man and believe that he deserves a second chance.
That's what makes Spider-Man a hero, though. I'm not Spider-Man. I'm not watching that shit again.

SPIDER-MAN: NO WAY, HOLMES is a pretty un-reviewable movie in the consumer reports sense. If you like it or not just depends on your investment in related super hero movies and your interest in either these gimmicks, corny old fashioned Spider-Man values, or both. I check most of those boxes, so I enjoyed this. I personally wish Marvel didn't dominate entertainment culture to such a degree, but I'm glad that it's at least an ambitious and well made movie and TV series and that in this case it makes such a strong case for things like forgiveness and rehabilitation, which were pretty unusual in Raimi's movies and even moreso now, I think.
So anyway I think they did it, I think I'm pretty sold on Spider-Man now.
This entry was posted on Wednesday, December 22nd, 2021 at 10:33 am and is filed under
Comic strips/Super heroes
,
Reviews
. You can follow any responses to this entry through the
RSS 2.0
feed. You can skip to the end and leave a response. Pinging is currently not allowed.