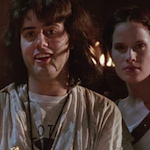 "Eh, waxworks are out of date. This is the video age."

WAXWORK (1988) is an American movie, but it's the debut of English writer/director Anthony Hickox, the son of legendary editor Anne V. Coates (LAWRENCE OF ARABIA, OUT OF SIGHT) and director Douglas Hickox (who directed one of my favorite Vincent Prince movies, THEATRE OF BLOOD).
My first association for the younger Hickox is always HELLRAISER III: HELL ON EARTH, but WAXWORK is what put him on the horror/cult movie map. A very small, light dot on the map, but it's on there if you squint. WAXWORK is not quite an anthology, but it's an odd mix of different types of movies, using the characters in a wax museum as excuses to visit different dated horror subgenres.
College students China (Michelle Johnson, BEAKS: THE MOVIE) and Sarah (Deborah Foreman, REAL GENIUS) notice a wax museum in a residential area ("Kind of a weird place to have a waxwork" – I like how this movie acts like "waxwork" is a totally normal word everybody knows and uses casually.) A strange man (David Warner, TRON) appears and invites them to return at midnight with no more than six people for "a private showing." So they convinced their friends Gemma (Clare Carey, ZOMBIE HIGH), James (Eric Brown, Mama's Family), Tony (Dana Ashbrook, RETURN OF THE LIVING DEAD PART II) and Mark (Zach Galligan, who had only done GREMLINS and NOTHING LASTS FOREVER) to come with them. (read the rest of this shit…)