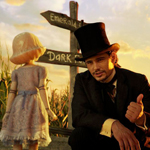 OZ THE GREAT AND POWERFUL could also be called WALT DISNEY'S SAM RAIMI 3D. That's what I was hoping to see, and that's what I got. If it had been a WIZARD OF OZ prequel movie made by somebody not as exciting as Raimi I don't know that I would've even bothered, and it's not my first choice of what he should be doing now that he's stopped being a captive of SPIDER-MAN. But it turns out to be a better-than-expected use of Raimi's time and mine.
Before we get into that I'm gonna say what we're all thinking: let's call it quits on these revisionist fantasy and fairy tale type movies now. "What if Alice in Alice in Wonderland was really the chosen one and she puts on armor and leads an army against the jabberwocky" made literally a billion dollars, but it was a moronic idea that was not rescued by Tim Burton's imaginative visuals. I'll give the Hansel and Gretel one and the Jack and the Beanstalk one a shot on video, but after that maybe it's enough now, eh fellas? But they're into this idea now of the recognizable name that's not copyrighted.
Do you guys know about that thing The Black List, where every years hundreds of Hollywood people are invited to vote on their favorite unproduced screenplays of the year? I think at first it was to bring attention to great scripts that were having trouble getting made, now days it seems like alot of them are already filming when they're on the list (for example DJANGO UNCHAINED was on last year's). But they list all these screenplays and they have a little blurb with the premise and you're supposed to think "oh, that's interesting, I wonder how that works as a movie?" But as they're actually made into movies you start seeing that sometimes the answer is, "Oh, they don't really."
The 2009 list included a murderer's row of scripts that became poorly reviewed comedies: NEIGHBORHOOD WATCH (aka THE WATCH), THE SITTER, the ARTHUR remake, 30 MINUTES OR LESS, DUE DATE. Other trends in the last few years have been scripts about a small event in the life of a real life figure, using their last name as the title (MURDOCH, POWELL, SEUSS, RODHAM, MCCARTHY), scripts about the making of a movie (ALFRED HITCHOCK AND THE MAKING OF PSYCHO [retitled HITCHCOCK out of respect for the aforementioned trend], CHEWIE, SAVING MR. BANKS [the Mary Poppins one with Tom Hanks as Walt Disney], IF THEY MOVE… KILL 'EM! [about Peckinpah], HEY, STELLA! [Marlon Brando getting the role in A Streetcar Named Desire]) and now it's twists on fairy tales and old timey literature. SNOW WHITE AND THE HUNTSMAN was on the list, believe it or not. There's one called HYDE on the list. There's a fuckin Pinocchio prequel called THE THREE MISFORTUNES OF GEPETTO on the list. (That's always been the problem with PINOCCHIO – too much puppet, not enough old man who made the puppet!) There's this one:
THE EVER AFTER MURDERS by Ian Fried
"In a dark metropolis populated with characters from classical folklore, detectives Tom Thumb and Rachel Riding investigate a murder that brings them into contact with the city's most dangerous inhabitants."
That sounds like a joke I would make, but it's real. And yes, the list had OZ THE GREAT AND POWERFUL:
"Based on the books of L. Frank Baum. The story of how a con artist from Kansas became the Wizard behind the curtain."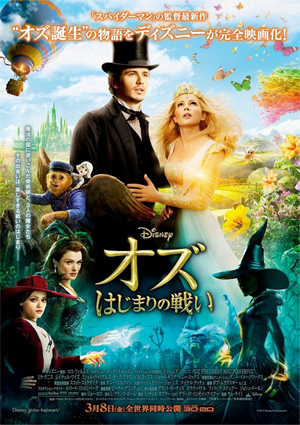 Like so many prequels, this doesn't sound that appealing to me. Why do we need to see how he got there? If you gotta do an Oz movie, couldn't you just do a story that takes place in Oz, and not have to set up who the damn wizard is? Well, yes. And this is not a necessary movie. But it's an enjoyable one that does have some fun with a protagonist who's not pure of heart and is not destined for greatness, exactly. The bigger thing he's working toward is to be a total phony who ends up cracking under the pressure of a lost farm girl.
Since Disney wanted to get into the Oz business again they could've tied this in to their creepy '80s cult classic RETURN TO OZ. Instead they made a LEGEND IS BORN: IP MAN style officially-unrelated-but-suspiciously-similar prequel to the more famous 1939 MGM musical. Raimi pays tribute to THE WIZARD OF OZ with an extended black-and-white, cropped-frame opening in Kansas (not sepia tone, so don't worry lawyers, it's totally different) and with a scene where the Munchkins burst into a musical number (but the Wizard asks them to please stop). It sets up the existence of the Wizard and three of the witches, who we can imagine could age into the ones from the old movie, but then there's a cameo by a realistic CGI lion instead of a guy in a costume. Hmmm.
Academy Award nominee/YOUR HIGHNESS star James Franco plays Oz, a magician and con man in a traveling circus who tries to steal the strongman (Tim Holmes)'s woman and gets chased out of camp in a hot air balloon he half owns when a tornado brings him to the magic land of Oz. Which is in color and Cinemascope. It looks gorgeous but as we drifted through the flowers that chime like bells and the carnivorous sea monkey fairies I realized that I don't really know what makes Oz different from Wonderland. Both have whimsical shit and political turmoil. Both, in some versions, are only a dream. In this version I think it's a real place, although some of the people he knows in Kansas play different characters in Oz (and you were there, and you were there…)
Oz has a weakness for the honeypot, and sure enough he meets Mila Kunis when he's fresh off the balloon, so it's gonna be trouble. She thinks he's the wizard who a king said would come save everybody, so he pulls a Nicolas-Cage-in-RED-ROCK-WEST and says yeah, uh, that's me. This leads to a number of close scrapes as he uses pathetic lies and basic magic tricks to fend off monsters and magic spells. He meets that good witch Glenda (Michelle Williams, playing the old timey wholesomeness straight), flies around in a bubble, gets chased by flying baboons. Like Dorothy he travels the yellow brick road and adds new members to his party, in this case a nice flying monkey dressed like a bellhop (voiced by Zach Braff) and a living china doll (Joey King – young Tali Al Ghul from THE DARK KNIGHT RISES!). Other Ozians include Rachel Weisz (another witch, hard to say if she's gonna be bad), Tony Cox (BAD SANTA) as a guy who always wants to perform some trumpet fanfare but nobody will let him, and Bill Cobbs as the Master Tinker (the Q or Lucius Fox of Oz).
One thing that surprised me, this might be the first Oz movie besides THE WIZ that has alot of black people in it. That's pretty cool. Not sure if I saw any Asians there, though.
There are a bunch of funny lines in the movie. I think Finley the Zach Braff monkey gets the best one. He's a funny character, and kinda sweet too, although I think the animators overdid the sad eyes he seems to have in every serious scene he's involved in. Kinda made me want to feed him to a bunch of lions, tigers and/or bears. The china doll (who I don't think has a name) gets some really funny parts too. She's this sad, tragic character who he helps and then you start to find out she's kind of a nut. And she carries a doll-sized butcher knife for protection.
I believe they tried to get Johnny Depp to play the wizard at first, and then Robert Downey Jr. was attached for a while, and James Franco was a weird choice to fill in, but I think he makes it more interesting, funny in a way we haven't seen in this type of movie before. Some people see Franco and his little art projects as a huckster anyway, so why not have him as a sideshow magician trying to survive on cheap tricks in a real magical world?
I assumed they'd just pretend like this wizard guy was a total sweetheart, despite his behavior in the later story where he's the man behind the curtain. But what makes the movie fun is that the guy is kind of an asshole and a loser. He leaves a trail of broken hearts and disappointed friends, is chased away by angry audiences and angrier boyfriends of his girlfriends. When a little girl in a wheelchair believes he's magic and wants him to heal her he waves her off with, "Uh, not now little girl." In Oz he lies to almost everyone and never bothers to learn anybody's names (repeatedly calling Glenda the Good Witch "Wanda"). Of course he's sympathetic and does do some good things and learn some lessons, but even late in the movie he checks to make sure he still gets to keep the room full of golden treasure if he saves the Emerald City.
Believe it or not he's kind of like Ash, with all kinds of ARMY OF DARKNESS parallels. He falls from the sky, they think he's the chosen one, he's in way over his head but is willing to lie to take in unearned power and glory. By the way, I guess Glenda is actually the Machiavellian Witch. She's the one who pushes this whole idea that he can lie as long as everybody believes in him. And you know the Wicked Witch of the West? Turns out she was pushed over the edge into wickedness by Oz leading her on. Great job, Mr. Wonderful Wizard. You see what thinkin with your dick does?
Raimi's been the SPIDER-MAN guy for years now, but everything else he's done is pretty low budget. When he did DARKMAN that was like his chance to play with the big boys, and it only cost about $16 million. I still see him as that guy, so when he signs on to a big expensive special effects family movie I expect his style and personality to be smothered by all the money and studio politics. But OZ seems more like a Raimi movie than the SPIDER-MANs do. The opening tracking shot of circus folk, the "preparing for the big battle" montage that's straight out of DARKMAN, THE QUICK AND THE DEAD or ARMY OF DARKNESS (but upgraded to 3D), the goofball sense of humor. And yes, Bruce Campbell has a cameo. I don't know how he gets his name in the credits for that walk-on as "Winkie Gate Keeper," but that probly means they paid him well. Good job.
Of course one difference from Raimi Classic is that it's a very digital movie. Apparently they built real sets and everything, but the most eye-catching stuff is obviously animation. There's a really cool physical comedy bit that looks almost real but I think is animation. I noticed Kurtzman and Nicotero (or was it Nicotero and Bergman? Somebody from KNB) got a big credit, but I'm not sure which parts of the movie they would've done. Some of the other Raimi cohorts are there too: editor Bob Murawski (ARMY OF DARKNESS), cinematographer Peter Deming (EVIL DEAD 2), even composer Danny Elfman (DARKMAN), who last I heard would never work with Raimi again after a falling out on SPIDER-MAN 2.
One thing I was interested to see was Sam Raimi in 3D. He's always been all about the aggressive camera moves, and sure enough he has some fun with the 3D. The amount of depth varies in different scenes. I wondered if this meant it was a really well done convert, but realorfake3d.com classifies it as "Real 3D" and an interview with Raimi reveals that he tried to dial the stereoscopicity down for dialogue scenes and up for action. It's used really well, particularly for flying creatures and in some of the more show-offy set pieces like the bubble ride down a waterfall, which gave me an authentic rollercoaster feeling (wish he didn't cut away).
The only minor issue I had with the 3D is a problem with some digital projection. When the camera pans sideways it can cause a jitter that fucks with the 3D, which is bad because this movie uses alot of those type of moves to show off all the Oz scenery. I know in the old days that problem happened on film prints when the shutter wasn't aligned properly, but I'm not sure why it can happen on digital projection and HDTVs. They need to do something about that.
I hope Raimi doesn't give up on the more modest movies like DRAG ME TO HELL, but he's good at these big ass ones too.
This entry was posted on Tuesday, March 12th, 2013 at 1:04 pm and is filed under
Family
,
Fantasy/Swords
,
Reviews
. You can follow any responses to this entry through the
RSS 2.0
feed. You can skip to the end and leave a response. Pinging is currently not allowed.