I didn't know much about THE COVE (out on DVD today) except that it wasn't the type of movie I go out of my way to see. Sorry, I'll do it for ninjas, I'll do it for bad lieutenants, but for some reason not for dolphins. That doesn't speak well for my humanity or my enlightenment, I guess. But I'm a pretty nice guy in my opinion. Not to brag or nothin. I would be nice to dolphins if I met any. I'm sure we would get along because we're both pretty laid back.
I knew that lefties and environmentalists and stuff were interested in this documentary, what I didn't know until I saw it was that it really is fascinating. This is a great story and document of people setting their mind on achieving a difficult task and then doing it. It opened my eyes to some gruesome shit I never heard of before, but instead of preaching to me it kept me on the edge of my seat with a crazy suspense story. Sonofabitch, they entertained me into caring about dolphins.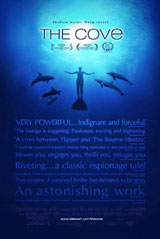 Check out this poster – it could be for an Imax sea life documentary or something. But I gotta warn you, this gets pretty vicious. That's why I chose that bloody thumbnail picture, in the interest of honesty. It probly oughta be called BLOOD COVE or LAGOON HOLOCAUST. There's some upsetting shit in this one.
The central character is almost too good not to be fiction: Ric O'Barry was the head dolphin trainer on FLIPPER and is now a radical dolphin activist. I mean he really was the main trainer for Flipper – they show footage of him in episodes and he says the house that the family lived in in the show was the house he actually lived in at the time. He explains with regret how the popularity of the show gave birth to the entire industry of performing dolphins, causing water theme parks to sprout up all over the place and everybody wanted bottle-nosed dolphins like Flipper.
He went where the work was and he believed in it, but he saw all these dolphins dying in captivity because they couldn't take the noise, the stress, the depression. The turning point was when the main dolphin who played Flipper consciously stopped her breathing – committed suicide, he says – in his arms. The next day he was arrested for trying to free somebody's dolphins, and that's what he's been doing for the 35 years since.
So now he's found out about "the cove" in Taiji, Japan, a city that makes a huge tourism industry out of its dolphins. What is less known is the cruelty that goes on there – they herd hundreds of dolphins into this cove, pick out the ones that look like Flipper to sell to parks, then stab the rest of them to death and sell them for meat. The entire area turns dark red with their blood. There's some pretty upsetting footage of dolphins trying to get away. But the fishermen there know it's ugly so they block and intimidate O'Barry and anyone else who comes there and tries to take footage.
So the other main characters are the Oceanic Preservation Society, the makers of the movie. They met O'Barry, found out he was trying to expose this place, and decided to do it in this movie. It's about them trying to get the footage, so in a way the movie is its own mcmuffin.
What makes it awesome is they decide to put together an elite team of specialists to pull this off. They have O'Barry as the guide, an "adrenaline junkie" to lead the missions, expert freedivers for underwater activities, a concert organizer in charge of transporting equipment (thermal goggles, various cameras and microphones, a miniature blimp), they even recruit a guy from Industrial Light and Magic to build fake rocks with HD cameras hidden inside. It really is dangerous because it requires trespassing, stealth, and good judgment (they have to plan for a place they haven't been able to see yet) and they have to evade angry fishermen, security guards, police, the mayor, they even worry that Yakuza could come after them (since there's alot of money in this industry they're trying to take a shot at).
One disappointment: they didn't recruit any of the military dolphins who are trained to fire darts from their heads. Usually if you're rescuing a minority you should have one member of that minority on your team. Still, it's pretty cool. It could be called OCEANIC 11.
Of course, in between these really tense and enjoyable scenes you learn about why they're so passionate about this issue. They all have a great respect for the intelligence of dolphins. You know how some people say dolphins might be more intelligent than humans (it is said once in this movie)? I always wonder what that means. I mean how do you measure that? Obviously they haven't built all the technology we have. They don't seem to have changed much over the years, they don't seem to progress. And we learn in this movie that they've used the same migration routes for thousands of years and still do even though assholes like this keep attacking them. They do communicate, but we don't know what they're saying. It might just be stupid shit. But it could be real deep and poetic type shit too, you never know. Whatever it is I guess it's gotta at least tie with the bullshit I hear people blathering on their cell phones about every day. So I guess I can buy that dolphins are of equal or greater intelligence than man. (Plus remember in ORCA they explained how to an orca humans seem retarded.)
Some of these people love dolphins for a cool movie type reason: a dolphin saved their life. I can get behind that.
But there's more to it than wanting to save dolphins. The fishermen argue that it's a cultural thing, Americans eat cows, Japanese eat dolphins. But the filmatists go into the city and talk to Japanese people and prove that most are shocked to hear about dolphin meat. The movie explains that because of how high they are on the food chain dolphins have poisonous levels of mercury in their meat. Therefore the only way to sell much of the meat is to mislabel it. Even if a dolphin never saved your life, in fact if they murdered your twin brother, you still shouldn't eat them because they could end up murdering you too, from the inside. That's why the butchers at the cove want to keep it a secret and why it must be exposed. It's not just being humane, it's self-preservation.
The confrontation is very dramatic, because you have one side passionate in their beliefs (and visibly horrified by the sights), another side stubbornly protecting their business, but also you have this cultural rift. It does feel weird to have Americans and Australians facing off against Japanese and neither knows each other's language very well. And these are working men, I always feel bad about people just doing their jobs getting hassled. But then again there's the crack dealer argument. Selling crack is a job too, doesn't mean I gotta respect the guy who does it. You have to draw a line somewhere.
I thought the arguments were persuasive, but even if I didn't the movie would've still been interesting, just because of the characters involved (a young Australian surfer who seems to have a spiritual connection to dolphins, a belligerent Japanese guy they call "Private Space" because that's what he grunts while standing in front of their cameras) and the suspense of watching them try to sneak in and set up their cameras. It's a small place, a small conflict between fairly small groups of people, but they believe if they focus on this one small thing it will have larger repercussions. The way the movie ends, with a stunt to try to get people to see the footage, is almost like the first MATRIX. They've achieved what they wanted, now the real battle begins.
Now I leave you with the top 2 all time greatest Prince songs about dolphins.
2. Animal Kingdom
1. Dolphin
http://youtu.be/rY_tAyrQYJM
(sorry, I couldn't find the album version, but he's singing a hypothetical question about being reincarnated as a dolphin)
This entry was posted on Tuesday, December 8th, 2009 at 2:02 pm and is filed under
Documentary
,
Reviews
. You can follow any responses to this entry through the
RSS 2.0
feed. You can skip to the end and leave a response. Pinging is currently not allowed.