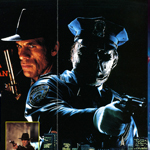 Bruce Campbell and Laurene Landon return for the bigger, I think better MANIAC COP 2. I guess it had a bigger budget than the first one and it has a more confident, cinematic feel. Hats off to cinematographer James Lemmo (who also did the first one, MS. 45, VIGILANTE and THE GLADIATOR) for his deliberate, ominous pans through New York City locations. There's even a great opening credits sequence designed by Pablo Ferro (DR. STRANGELOVE) that really establishes the mood as the camera glides across a police impound lot and the remains of the vehicle involved in the climax of part 1.
This is maybe 2 weeks later, when Jack (Campbell) has been cleared of the murders but is trying to get back on the force. I'm a little confused because there's a new captain and reference to the previous one being dead, but for some reason the commissioner, played by Michael Lerner (BARTON FINK) instead of Richard Roundtree, and given a different name, is treated as the guy who's always been there. He sends Jack and Theresa (Landon) to police psychologist Susan Riley (Claudia Christian, HALF PAST DEAD), which is also where a new character, Detective Sean "Mac" McKinney, ends up after shooting a suspect. (He didn't kill him, but only because he says it's too much paperwork.)

But they never found Cordell. He's still out there, now with a skeleton nose hole and a billy club that turns into a sword. And [well, time for SPOILERS already] all the sudden Jack is reading about himself in the newspaper and is surprised to discover that blade poking out of his neck. So he's been Janet Leighed. And just like Jack when his wife got killed, suspicion falls on Theresa, and nobody believes her it was that famous dead supercop that did it. She somehow convinces Riley to come with her to reveal the truth on a TV show and they get attacked on the way there.
There's a great stunt sequence with a tire-less cab spraying sparks everywhere and Theresa getting thrown through a store window. Theresa doesn't survive this sequence, but it's Riley that gets the real showstopper: she's handcuffed to the steering wheel of a moving, driverless car. We see this thing swerving through traffic, catching air etc. with a stuntwoman hanging on the side. In a Q&A on the blu-ray Lustig says it was inspired by a scene in POLICE STORY when somebody was handcuffed to a steering wheel and he thought that was gonna happen, but it didn't. So he did it.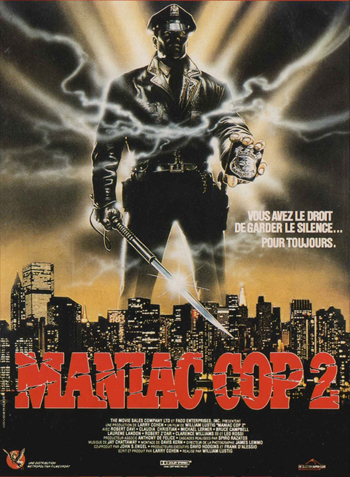 It becomes Mac and Riley's movie, and both Davi and Christian are excellent in it, the type of understated, believable acting performances that can really elevate a movie like this in the rare occasions when they appear. Mac has a macho attitude but is very calm and soft spoken, Riley is self-conscious and vulnerable and allergic to bullshit. They both seem a little sad, and once they start to get along they clearly like being together, maybe more out of friendship than attraction. It's sweet.
Cordell gets up to some pretty funny shit in this one. Mac claims that everything he does is for a reason, but sometimes it seems like the reason is just to fuck with people. You know how in action movies the hero often happens to come across a robbery of a convenience or liquor store and intervenes? For example HARD TO KILL. That happens in this one except instead of beating up or shooting the robber, the Maniac Cop just shoots the clerk. He does, however, hand the gun over to the robber, tricking him into walking out with it and getting shot by other cops who have arrived on the scene.
The movie takes another tangent when it goes to the Club 69 strip club where the sleazy, bearded, panty-clutching weirdo Turkell (Leo Rossi, RIVER'S EDGE, THE ACCUSED, HIT LIST) takes a liking to new dancer Cheryl (Paula Trickey, BLACK SCORPION). This is actually the serial killer and rapist that Mac has been after. He's like a more social MANIAC, a big, gross predator who follows Cheryl to her apartment and attacks her. Suddenly Cordell bursts in like a vigilante… except he doesn't vigilantilize. And Cheryl knows it too, she immediately screams when she sees him. He tosses her around, and then tosses the actual police who show up to help her, and then takes Turkell out the window.
Come to think of it I'm not sure why he was there or what he was trying to do, but Turkell ends up recognizing him as the Maniac Cop and inviting him to his place to hang out as buds. Turkell idolizes him for making people hate cops with his murder spree. So you got a giant zombie cop hunched over in a cramped apartment listening to a creepo ramble on. Turkell decides they have a mental connection and that they're on a crusade together. Even rapists think they can make the world a better place.
Luckily Cheryl goes to the police and is even brave enough to go with them to look for her attacker at other strip clubs. They find him and arrest him.
This is where it gets real good: Turkell starts bragging to his cellmates (who include Danny Trejo and Clarence Williams III) that his buddy Cordell is gonna bust him out. And sure enough Cordell shows up on the gun range, standing by the targets, unaffected by the bullets and shooting all six cops who are practicing. Then he plows through the headquarters, walking right through multiple glass doors, shooting out windows, shooting cop after cop after cop, picking one up and throwing him, causing him to break through several office dividers, just tearing the whole place up single-handedly. And it's beautifully shot action. It's like Jason Voorhees by way of John Woo.
Then Maniac Cop and Rapist Sidekick take a couple of the prisoners (not Trejo, for some reason) and hostage Riley and head for Sing Sing to, at least according to Turkell, free the death row inmates. I was sure he was misinterpreting things and was in for trouble, but I don't know, the telepathy claims seem to pan out. But also he's in for trouble.
What makes this one kinda special is that Mac's plan for combating Cordell is not to do some spell or use a secret weapon or anything, it's to get to the bottom of the corruption, have his conviction overturned and clear his name. To seek truth and justice and not the American way of killing him, though that happens too. He also has to fight a whole bunch of inmates while on fire. It's kind of easy though, he just hugs a guy until the guy is on fire and then throws him to the next floor up. Spiro Razatos returns on the stunts and makes sure to have a part where two guys on fire simultaneously crash through a window and plummet a couple stories onto a bus and break through and then the bus blows up.
(END SPOILER) I love that Cordell gets a police burial with honor guard and the folded flag and everything. It's an attempt to undo the injustice that happened to him. It's very honorable and forgiving and just. Or it's totally fucked up, because he was the Maniac Cop, after all. How many people did this guy kill, even if you only count today? Jesus, he was a total monster, both literally and figuratively, but he gets a hero's burial. The system is okay with it. I'm not sure if it's meant to be taken as nice or terrible, but I like that it works as both.
(I don't believe they would ever do this for a guy that killed dozens of cops, but just go with it. Poetic license.)
Mac says that "there's only that much difference between a cop and a maniac cop." I hope he's wrong, whichever way he meant it.
MANIAC COP 2 is the crown jewel of the MANIAC COP trilogy. It really fulfills part 1's ambition to combine conventions from horror and from New York cop movies in cool and unpredictable ways. It has another good cast and a more interesting set of characters and crazier action. It deserves to be promoted to captain.