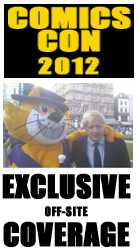 When last I saw Garfield and friends, I was in a Bush-re-election-induced mania, the type that would cause a man to watch the movie GARFIELD. Now I decided to watch part 2 as part of our nation's celebration of the comic strip going on in San Diego. That shows you how tolerant we, as a society, have grown toward Garfield. It's like the whole thing about a lobster in a pot and the burner turns on and it gets slowly hotter and the fuckin thing doesn't notice 'til it's too late because it's so gradual. Somehow I went from being horrified by the bizarre digital abomination that stars in this movie to not really being that bothered by it when I choose to watch part 2 of my own free will.

Joel "Not Joel Coen" Cohen and Alec Sokolow, the writers of MONEY TALKS, adapted GARFIELD A TALE OF TWO KITTIES from the character by Jim Davis, the premise of The Prince and the Pauper by Mark Twain, a title by Charles Dickens, and maybe a dash of KING RALPH for color. In this episode John (Breckin Meyer) wants to propose to his girlfriend Liz (Jennifer Love Hewitt) but she's a veterinarian, so she gets called to an English castle to do a big fundraiser speech when Jane Goodall has to cancel at the last minute. John decides to romantically follow her there, and Garfield (Bill Murray) and Odie (a dog) decide to hide in his luggage.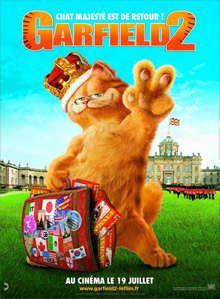 None of these naive Americans understand that they're stepping into the maw of a dangerous power struggle. The matron or whatever of the castle has just died and willed the entire estate to her cat Prince (voice of Tim Curry) instead of her asshole nephew Dargis (Billy Connelly from BOONDOCK SAINTS 1-2). So Dargis schemes to get rid of the cat, hoping he will be next in line. There's also a parrot who believes he would be the legal successor. Lots of confusion.
This is one of those CITIZENS ON PATROL type cases where even though the bad guy is a huge asshole you gotta admit he's kinda right. Say what you will about Dargis' worthiness to run the estate, he is a human, which would give him huge advantages over the cat when it comes to… well, every single responsibility that could ever be involved in running a large, historically significant, heavily staffed property that houses major charity events, tours and a farm. And I'm sure we're probly not supposed to think the aunt is mentally ill, but she must be if she willed everything to a damn cat. I mean, if you want to make a statement give it to one of the maids or something. Come on, lady.
But it would be pretty cool if they made a children's movie about Caligula's horse Incitatus trying to retain his status as consul even though the mean humans are scheming to take it away from him. Unfortunately the cowards in Hollywood would never make this movie because of questions about the historical accuracy of that "Caligula made his horse a consul" story.
Get this, though: this cat Prince looks exactly like Garfield. This is a really big coincidence because what are the chances that there would be two bizarre looking obese cats with giant eyeballs in the same place at the same time, and also what are the chances that they could budget for two main characters using one computer model left over from the first movie? It's a miracle!
Of course the two cats switch places by accident, so Prince has to adjust to living in a hotel and Garfield takes advantage of being waited on by a royal staff and shit. This is also a good way to give Bill Murray some time off. I kinda wondered if all his lines were gonna be outtakes from the first one. They seem too plot-specific for that, but there are alot of scenes where the Garfield cat gets to dance around and do the same stupid shit but it's the voice of Curry as Prince. Also they got a whole barnyard of geese and ferrets and what not that they can cut away to sometimes. I bet Murray got out of there before dinner time.
Meyer plays a funny lovable idiot in CLUELESS, but here he has to be a chump and not play it for laughs. It must be difficult to tune in this precise frequency of blandness, and honestly it's preferable to him being some kind of slapstick character.
Hewitt would be so hot if she seemed smarter, but I guess she must have a brain if she's second in line to Jane Goodall. That means she's way out of this guy's league, so their love must be based on sharing a bizarre leniency toward pets. One of the aspects of part 1 that I found fascinating was how much abuse John put up with from this horrible, horrible pet, and still seemed to entirely base his life around their uneven human-animal relationship. Part 2 opens with a joke about that: his first line is telling Garfield, "I want you to know you're the most important thing in my life. Before I met you life had no meaning. I was incomplete. I guess what I'm trying to say is…" but of course it turns out to be a rehearsal for proposing to Liz. Any other character in cinematic history you would know he couldn't possibly be saying that to his cat, but it is completely in line with his behavior in part 1, so it's easy to fall for.
He still puts up with an awful lot: Garfield throws away all of the clothes he packed and comes on the trip with him, and John seems surprised but in no way inconvenienced or annoyed. The couple even bring the animals with them on their romantic tourism. In one scene they go to a pub to enjoy the rowdy football-watching crowd. A waitress walks up with a plate of lasagna.
"Who ordered the pasta?"
"Oh, it's for the kitty!" Liz says. The waitress doesn't even roll her eyes. Tip her well.
Liz almost seems to consider the pets to be equal to humans. When she leaves John in the hotel room alone with the animals she says, "You hang out with the guys." Who calls their dog and cat "the guys"? It's weird, right?
Speaking of lasagna, I gotta call bullshit on the scene where Garfield leads the farm animals in cooking some from scratch. I know that one of his only character traits is that he eats lasagna (because why would a cat specifically love lasagna? That's why it's funny) but it simply does not fit the established character that he would actually know how to cook it. I don't mean because he's a cat, I mean because he's a fat lazy asshole who expects the humans to make it for him while he belittles them in a secret cat language.
That's the problem with part 2. Part 1 was interestingly bad because it was based around this just despicable piece of shit character being obnoxious and cruel, with the filmatists hoping it would come across as sort of cute because it's supposed to look like an animal. In part 2 I think their Hollywood instincts kicked in and they thought they had to make it that he is not always a bile-spewing, self-centered pile of feline garbage. It's much more plot-oriented, with an evil scheme to foil from the beginning instead of just being tacked on at the end. And Garfield is supposed to learn a lesson and also help the sheltered royal animals to learn a lesson. Sellout.
The funny-weirdest part of the movie is when Garfield overhears some animals calling him a "house cat" and a "buffoon," and his feelings are hurt. Then there's a no-punchline sad montage with shots like this: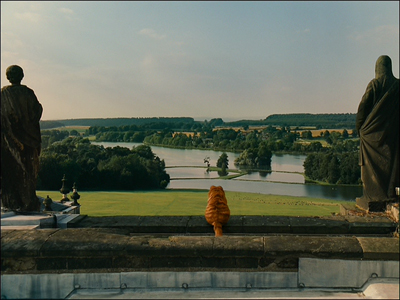 Like we're supposed to feel sorry for the cat who intentionally ruined his owner's marriage proposal, then ate his entire turkey, threw away his luggage, was pampered for days by a staff of humans and animals and said insulting things to all of them, but now he's sad because one dog talked bad about him behind his back? I love it.
As is standard in low quality children's entertainment they put a number of questionable things in there "for the adults." Dargis' attack dog (voiced by Vinnie Jones) is named Rommel. Unfortunately he doesn't ignore orders or plot to kill Dargis like Rommel did to Hitler. The analogy doesn't really work. Garfield quotes Hannibal Lecter. A really shitty cover of "Miserlou" is supposed to represent edginess in one scene. The most uncomfortable part is this exchange between Dargis and Liz:
"What would you say if I were to donate one of my priceless oil paintings to your conservancy?"
"Um… thank you?"
"But how would you say it?"
So there you have it, Garfield is called into action to prevent his owner's girlfriend from having to give a blowjob to a guy to support a cause she believes in. But don't worry, the movie ends with a bunch of farm animals having a pool party.
I get the idea they were trying to class this one up by trying to make it like a BABE movie. They actually hired Roscoe Lee Brown, the narrator from BABE, to do the same here. (Don't worry, it wasn't his last movie – he also did EPIC MOVIE and some other thing that hasn't been released.) Garfield is still the same hideous CGI creation (as far as I could tell they didn't tweak or improve it at all) but he's interacting with all kinds of live action animals with digitally animated mouths, as pioneered in BABE. I wonder what it was like for all those dogs to have to act against nothing? They probly got sick of getting asked about that at the junket.
Somewhere on the very, very long list of why this is not as good as the BABE movies is the shitty character animation. The animals in BABE (whether live action or puppet) have such personality. It seems like the dogs are giving real acting performances, for example. Of course there was alot of difficult animal training and special effects work here, and also I will say that when Garfield is walking around on all four they do a good job of making him move like a real cat. But then they got all these scenes (see the thumbnail at the top of the review for example) where Garfield and Prince dance around and do weird weightless flips and shit, and they just put them in the weirdest, stupidest looking poses. It's just not good for eyes. I'm against it.
Murray if anything contributes even less humor than in the first one. A sample line is when he eats the entire turkey he says to its skeleton, "You have made me so very, very, cat-happy." I guess the idea is that he's a cat so if he uses 'cat' as a prefix that's funny for a cat to do.
It does seem like they mostly just let him riff, but it must not have been an inspiring environment for him. About the best he came up with (that they used anyway) was "For those of you keeping score at home that's 18 lives." Because of the two kitties.
Well, I guess I liked when he got locked in a cell and said "I'm gonna write that novel I've been putting off." It makes you wonder, what would that cat's novel be about? Does he have enough of an imagination to make up for his lack of life experience outside of John's house? Maybe it would just be the novelization of part 1. He better be careful about calling it a memoir though so he doesn't get in hot water like James Frey did.
In case you were worried that John doesn't experience any character growth, here's how they make him a more active character:

That's where they copied HUNGER GAMES, BRAVE and WE NEED TO TALK ABOUT KEVIN from. G2:T2K really doesn't get the credit it deserves for its massive influence on popular culture.
Anyway, if you're looking for a "thumbs up or thumbs down" type of review then no, I would not really recommend this particular movie. Thanks for considering what I have to say.
p.s. Oh shit, it's a TAIL of two kitties. Not a tale. I get it.
p.p.s. Wait a minute, no, I don't get it. Why do they only have one tail?
This entry was posted on Saturday, July 14th, 2012 at 11:18 pm and is filed under
Comic strips/Super heroes
,
Reviews
. You can follow any responses to this entry through the
RSS 2.0
feed. You can skip to the end and leave a response. Pinging is currently not allowed.