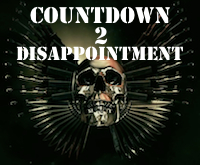 When we think of Arnold Schwarzenegger we think of the TERMINATOR movies, PREDATOR, the CONAN movies, COMMANDO… movies that came out in years before, say, 1995. I don't know if the crazy action/sexism combo of TRUE LIES used up everything he had, or if it was playing a pregnant man in JUNIOR that pushed him over, but by the time he made ERASER in '96 the salad days were over. There was only some slimy lettuce left.
But I kinda enjoyed watching this one again. I'd say I like it better than THE SIXTH DAY, COLLATERAL DAMAGE and END OF DAYS (although that last one has more distinctive weirdness in it).
Schwarzenegger plays Detective John Eraser (actually, they call him "John Kruger," but he's credited just as "Eraser"), a U.S. Marshal who's "the best there is" at hiding and protecting high value witnesses. In the opening scene a mob witness and his family are about to be executed when Eraser shows up, kills the attackers, makes the victims put their clothes on some dead bodies he stole from the morgue and blows up the house.
The first sign of his arrival at the house is like a slasher movie: one of the hitmen goes to the door, doesn't see anything, then a cable comes down from above, loops around his neck and yanks him to the sky. Yep, this is from Chuck Russell, director of A NIGHTMARE ON ELM STREET PART 3: DREAM WARRIORS. Once he steps into the light we can see his eyes and know it's Arnold, but he's wearing a ninja mask, which seems to have the power to keep him from making wise cracks. A guy even asks him who he is and he doesn't answer. Showing restraint (verbally only).
Then he whisks the witnesses out of there, leaving only a little trail of rubber flecks, like an eraser.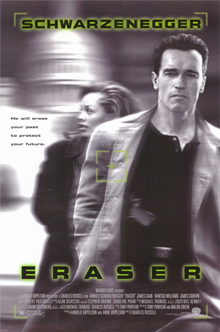 I never saw that Whitney Houston movie THE BODYGUARD, but I wonder if this is sort of the Arnold-ized version of that story. Eraser's mission for the movie is to protect not the usual scumbag but Vanessa Williams, some kind of corporate computer lady who's acquired proof that her boss (James Cromwell) is selling high tech superguns to terrorists. Nobody can be trusted, corporate or feds, because these superguns are awesome. So Eraser has to protect her from everybody who's fighting over "10 tons of assault weaponry that aren't supposed to exist."
Eraser has two older mentor figures: James Caan and James Coburn, so I'm guessing one of them is actually gonna betray him. You know how these older mentor figures are. Just ask Ethan Hunt.
There's a little moment of camaraderie I liked where they're going into a house with gunmen in it and Caan shoots a guy that's coming up behind Eraser. Eraser doesn't say "I owe you one," he just nods. Code for "I owe you one."
These guns are described as "rail guns" that were previously cannon sized monsters on a battleship, now available in a convenient handheld model. They're supposed to shoot really fast but they look cool because they leave a trail of CGI smoke rings. Their coolest feature is their x-ray vision scope. The bad guys watch skeletons walking through houses and can see their beating hearts to aim at. Not that precise aim is necessary with these motherfuckers.
Yeah, don't sell these to terrorists, please. Or anyone.
The most spectacular action scene would have to be when shit goes bad on a private jet and Eraser's parachute goes out the door. So he has to jump out of a plane, dodge a flaming engine, and chase after the parachute in mid-air. After accomplishing that unlikely task the bad guy points a gun at the pilot's head and forces him to try to splatter Eraser on the windshield. This is just not a good day.
(what's he gonna do, though, shoot the pilot?)
The scene has alot of phony looking digital effects, but it looks like there is some real skydiving footage mixed in there, so even though it looks faker than it would now it feels a little more organic than it might.
But everything feels a little small scale after that, and all of the action is weak compared to TRUE LIES. The other most memorable scene is when some alligators get loose during a shootout at the zoo. The CGI is better than I remembered, but it's kinda silly how fast and hungry those bastards are.
I noticed something in this movie. While many action heroes have pets (McQuade and his lone wolf, The Specialist and his cat) Arnold only respects animals as much as he respects Richter, or anybody else he'd kill and make a joke to. Ninja mask rules don't apply in this scene. He shoots the gator in the mouth and says, "You're luggage."
And later, as if to karmically repay him on behalf of the animal kingdom, some seagulls give away his location while he's climbing above the docks where the weapons shipment is arriving or something. He has to do a flip, land behind two guys and grab them before they shoot him.
Perhaps feeling bad about what the seagulls did, a cat later distracts the x-ray scope and saves him. And some rats crawl by him while he's sneaking under some floorboards, but they don't do anything to him, signaling a new animal neutrality toward Eraser.
That scene actually has the greatest action scene moment. Eraser hides under the floor until some of his enemies stand above him, then he shoots them through the floor. The bullet holes weaken it enough that he can then tear through and emerge like a monster, pick up two of the rail guns (he's Schwarzenegger, so he only needs one hand for each) and starts shooting all the other dudes. Doesn't even need the x-ray.
The attempts to add quirky humor to the movie are not very strong. He disguises himself as a guy delivering balloons, it kinda felt like that part made more sense in an earlier draft. Later he gets a wacky sidekick in the form of a mobster he protected, played by Robert Pastorelli. (I kept thinking this guy was gonna betray him, then I remembered that was STRIKING DISTANCE.) This character and his mobster cousins seem more like criminals from a CROCODILE DUNDEE sequel than a real mob movie, and it's corny how they're just supposed to be lovable stereotypes who are willing to risk their lives to help the government out of machismo.
I kinda like Williams, but I don't know why. She's probly kinda bland in this movie, but I don't know if it's her fault or the character's. She's got a decent screen presence, but there have been better.
The music by Alan Silvestri is overdoing it sometimes. I mean, I appreciate the effort, but sometimes I wished the music would quit telling me what to do.
Russell is another one of these directors who showed some promise but didn't do too much or get much credit. He was Frank Darabont's writing partner turned director. He wrote DREAMSCAPE, directed the very influential DREAM WARRIORS, the underrated remake of THE BLOB, his last one was THE SCORPION KING, but that was 10 years ago. He did THE MASK also. I kinda doubt that holds up, but who knows.
ERASER sorta shows that maybe he should've stuck with lower budgets. He brings a little bit of wit to it but couldn't match the spectacle makers Schwarzenegger had worked with like James Cameron, John McTiernan or Paul Verhoeven. Or maybe he just should've written it. But co-writer Walon Green had done some good ones: SORCERER, ROBOCOP… well, part 2. He wrote ZERO EFFECT and L.A. CONFIDENTIAL. The TV pilot versions.
Okay, he wrote SORCERER though, that's a good movie.
Anyway, ERASER's okay. Perhaps wikipedia summed it up best: "The film was nominated for the Academy Award for Sound Effects Editing in 1996, but lost to THE GHOST AND THE DARKNESS."