AIR FORCE ONE is a good example of the '90s style of studio prestige action movies, along with THE FUGITIVE and EXECUTIVE DECISION. They feel almost exactly like an UNDER SIEGE movie (this one is DIE HARD on a plane, if John McClane was the president of the United States) but by using respected actors (Harrison Ford, Glenn Close, William H. Macey, Gary Oldman) and dressing it up with lots of effects shots of jets taking off and lots of talk about military and White House protocol they make sure mainstream audiences don't get embarrassed. Nobody has to know they're watching an action movie.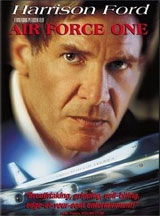 Harrison Ford plays President Marshall, who has just helped the Russians to capture a Kazhakstani tyrant and then made an unplanned speech about how the U.S. will no longer waste time with diplomacy or sanctions. Instead they'll do the other thing, the awesome thing that is the other choice that the speech will not describe in detail so that nobody thinks about any specifics so it seems like something awesome he just said and we can all get behind it.
Flying home on Air Force One, the president is in for some shit: turns out Xander Berkley is not playing a rare good guy role as head of the secret service – he's actually a traitor. And they didn't hire Gary Oldman just to play a reporter on the plane – he's actually a terrorist and he hijacks the plane. The president seemingly gets away in an escape pod (ESCAPE FROM NEW YORK was right!) but little do they know he actually stayed on board, because these colors don't escape.
That's because this is no ordinary president. He gets his own Just How Badass Is He? scene – turns out he's a medal of honor winner, flew more missions in Vietnam than etc. etc. Like John McClane he sneaks around, gets mistaken for a security guard, finds a way to call outside, has to convince a rude operator that he's not making a prank phone call, has to deal with assholes in authority who don't like his methods (the Secretary of Defense in this case), has one person who believes in him (Vice President Glenn Close). Oldman isn't like Hans Grueber though. He really believes in his cause and doesn't ask for money. He makes a comment about all the Iraqis killed in the Gulf War, which was unusual to discuss in the US in 1997. But other than that he's not that complex of a character.
It's a pretty effective movie, with lots of escalating mayhem and plenty of danger every time they think they're home free. But I don't know, sometimes it rubs me the wrong way when somebody's trying to push my buttons that hard. It doesn't seem like the asskicking president who risks his life to save hostages is supposed to be absurd. It seems like you're supposed to think, "Yes, of course! Because we're AMERICA!" The music is so majestic it would make John Walker Lindh spontaneously recite the Pledge of Allegiance. Over and over again the president saves others before himself, risks his life unnecessarily and against the wishes of his security team, just to show he's not a chickenhawk. And because he's a micromanager. He engages in shootouts, fisticuffs, sabotage, piloting, rappelling. His wife and even his 12 year old daughter are too tough to crack even at gunpoint. They talk tough to the terrorist and say things like "My father is a great man!" and "He will NEVER negotiate!"
Of course it's a nice fantasy, we like to think we're that tough. It's what would happen if Jesse Ventura was president. But it's hard not to wince at that foreign policy speech:
"The truth is, we acted too late. Only when our own national security was threatened, did we act. Never again will I allow our political self-interest to deter us from doing what we know to be morally right. Atrocity and terror are not political weapons. And to those who would use them, your day is over. We will never negotiate. We will no longer tolerate and we will no longer be afraid. It's your turn to be afraid. "
Yeah, must've sounded real nice before pre-emptive war and "Axis of Evil" and "with us or against us" and all that shit. This is actually more extreme than Bush, he at least pretended there were national security reasons. President Marshall says national security concerns are selfish.
I mean, I wish it was that easy. Obviously in the movie you're supposed to accept it as a serious and good idea that he's gonna follow through on. But that means he's gonna be running all over the world stopping terrorists in Pakistan, Afghanistan, Iraq, Israel and Palestine, not to mention the countries of the former Soviet Union this movie is concerned with, plus all the atrocities going on all over Africa. And I bet he could find some work in South America. Remember, no negotiating. We will never negotiate. We said so. It would look bad.
To be fair, this is a president with a hands-on approach. He didn't dodge the draft and even if it turned out his war record was trumped up it wouldn't matter because his post-war record is even more impressive. Maybe when he makes that speech he's talking about what he personally is gonna do. He's gonna fly in there and hit somebody with a stool.
In this type of movie you don't get many quirky touches. There is a kind of funny part where the president gets the idea to dump Air Force One's fuel because he sees a milk carton leaking. I don't know, maybe it doesn't sound that funny, but I get a kick out of watching Harrison Ford stare thoughtfully at leaking milk. That's it! I'll pour milk on them.
The director is Wolfgang Peterson, 2 years after he did IN THE LINE OF FIRE. I guess Clint's secret service agent character must've been retired by '97 so it's a good thing we have a president who can take care of himself. Of course, Clint would've known that Xander Berkley was a Judas and would've snapped his little legs. The whole thing never would've happened.
I guess the other item of note is Glenn Close as the vice president. This was the year before Morgan Freeman was a black president in DEEP IMPACT (and same year as Tiny Lister in THE FIFTH ELEMENT). Casting like that was kind of a novelty and seemed sort of progressive. The idea is just because we haven't had a woman vice president doesn't mean we can't. And when you see it in a movie you see that there's nothing weird about it. You get used to the idea, maybe.
But they're not as gender-blind as they think they are. Close is a very confident and intimidating ballbuster, but right before she goes on the phone with the terrorists she has a timid little moment to take a deep breath, like the whole thing is an act and she really is "sweating in her silk blouse" as Gary Oldman taunts. I mean, it adds a layer to the character, but I'm just saying, they'd never do that with a male character. So even if they're saying that a woman can do the job the same they're also showing that they can't quite.
I mean, she's the heroic one on the outside of the plane but when it comes down to it her whole success is to avoid making a tough decision and just assume the president will save the day. I think she got lucky more than did the right thing.
By the way, I'm pretty sure the president keeps his tie on for the entire movie. I kept wanting him to use it to strangle somebody, but he didn't. I guess to take it off would be undignified and give comfort to America's enemies in addition to giving comfort to America's president's neck. Plus, if the Transporter wears a tie then so can the asskicking president.
According to IMDb trivia, the script was written for Kevin Costner, who suggested Harrison Ford, and if he had turned it down the other choices would've been Schwarzenegger, Keanu Reeves, and Dennis Quaid. That might be bullshit but it's funny to think about either Arnold or Keanu as president. Actually, that might've made it more memorable.