I've finally seen NINJA ASSASSIN, produced by the Wachowskis, directed by James McTeigue, their second unit director and the director of V FOR VENDETTA. The bad news is it's not the instant classic or genre reviver I figured it would be when I first heard they were making it, the good news is it's not the unwatchable trash most of the reviews have told me it was. The Scott Adkins movie NINJA could top it (I just ordered a Thai DVD of it) but that's okay, I still had a fun time at the movies. Here is the ticket stub:
Get it? Ass.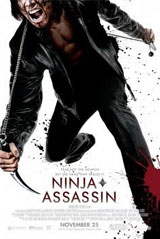 Rain (SPEED RACER) plays Raizo, a ninja in present day Berlin. (Should this be called A KOREAN NINJA IN BERLIN?) Due to our prejudices against ninjas we first assume he's up to no good, but flashbacks spread throughout the movie slowly unfold his story, how he was an orphan cruelly raised by the great Sho Kosugi to give his life for a ninja clan, and why he decided to rebel against that. Meanwhile Naomie Harris who plays the witch in the PIRATES OF THE CARIBBEAN sequels (I didn't even recognize her because her American accent is so good) plays a lowly forensic analyst for Europol who uncovers proof that ninja clans exist and still carry out assassinations. Of course, trying to prove the existence of ninjas is like taking a bite out of a hornet's nest, so when the ninjas come after her Raizo comes to protect her.
So no, NINJA ASSASSIN is not really a redundant title, because he actually is assassinating ninjas. And NINJA ASSASSIN sounds better than ASSASSINATOR OF NINJAS.
It's the most violent movie I've seen since PUNISHER WAR ZONE, but unfortunately the gore is all digital. It's still kind of funny, and I didn't mind the onslaught of CGI ninja stars and flailing chain blades and what not, but for some reason a guy getting the entire top of his head sliced off is not nearly as gratifying when it's a computer graphic as when it's a rubber creation. I really couldn't tell you why, but if they'd built dummies for those shots it would've been thrilling. When it's clearly just pixels it's kind of amusing but it doesn't have much of a punch.
But there are plenty of cool ideas and stagings for ninja action. There are lots of visual tricks for ninjas to be nearly invisible in the shadows or to literally just be shadows climbing through windows. There's a ninja-on-ninja fight in Harris's dark apartment where she's shining a flashlight around trying to watch the whole thing. There's ninja vs. SWAT team battles with helmets exploding. My favorite bit of action is the ninjas fighting through traffic, jumping over cars, between them, and getting run over. And then later on there's a quick, hilarious shot of Harris's car parked at a hotel with about 50 ninja stars stuck all over the front of it. I guess I'd leave em too, it would make me feel pretty cool. "What are you staring at? Oh, the ninja stars? Yeah, I had a little run-in earlier. No big deal." Plus if you need them later, like you're pulled over changing a tire and you need a ninja star for some reason, you can pull one out.
Not used as far as I remember: arrows, smoke bombs, blowdarts, grappling hooks. Come on, ninjas, what the fuck? You should be proud of your ninja tools and use them all constantly.
The powers of the ninja are so built up that they seem almost supernatural, like vampires or something. Europol knows that when you capture a ninja what you do is you shine bright lights on him, so he has no chance of hiding in a shadow. In the movie you hear stories about how the power goes out and then a ninja gets you, and then later the power goes out, so you know what's gonna happen.
Like Batman or Blade, Raizo can always see through any bullshit and nobody can trick him. So when a ninja tries to approach him as an ordinary stranger he asks her, "What clan are you from? Why are you in Berlin?" When he goes to meet someone and they're about to spring a trap he says, "Why are you doing this? People will be killed."
The Wachowskis are the producers, but they didn't write it. So you miss out on whatever cool touches they would've come up with, but you're also spared the philosophical speeches. The script was originally by a guy called Matthew Sand, but I just read that the Wachowskis weren't happy with it so at the last minute they hired J. Michael Straczynski (Eastwood's CHANGELING, various nerd TV shows) and he wrote a new script in 53 hours.
I'm surprised to learn that though. Unless you're expecting some bold reinvention of the ninja movie it's not bad. The best thing it does is create good build ups to the ninja attacks. People forget that if it's just 90 minutes straight of ninjas it would get boring. They're smart enough to leave them circling out of sight for a while but with their presence always felt, like the shark in JAWS. The opening scene has Han from TOKYO DRIFT as a brash gangster suddenly receiving a letter full of black sand while in the middle of getting a new tattoo. The old tattoo artist is terrified, and tells him basically a ghost story about the time years ago when he saw one of those, and how everyone there except him was killed by a ninja. I was hoping this character would stick around, because he could be the Dr. Loomis of NINJA ASSASSIN. Of course his story leads up to a massacre of everyone in the room, and the gimmick is that you just hear sounds and see weapons and gore but you never see any attackers until it's all over and one ninja slowly steps out of the shadows. It's a great opening and in retrospect it makes you realize that at the end a certain character has the same fate as the tattoo artist, living to tell the story of the ninjas until one day, hopefully in a sequel, he or she will face them again.
The one moment that made me think of the Wachowskis and their usual themes (SPOILER) is when young Raizo's friend conscientiously objects from one of her ninja tasks and gets put in a small cage. Raizo sneaks water to her and asks her "Why?" and she asks, "Why am I in here, or why are you out there?" She teaches him about freedom. The ninja clan is like the matrix, it makes them do cool shit but it enslaves them. And actually it's meaner than the matrix because the matrix doesn't slash your feet for making the floorboards creak during your ninja stealth test. I can't remember if any of the '80s ninja movies preached a strong moral objective to not be a ninja, but this one does. So Raizo gets to have his cake and eat it too, being a ninja who kills ninjas. He's like Blade!
Unfortunately, having Sho Kosugi play the mentor to Rain in a ninja movie is a good symbol for the current state of action cinema. The old generation is represented by a guy who was All Japan Karate Champion at the age of 18, competed in hundreds of martial arts tournaments and demonstrations, won the L.A. Open in '72, '73 and '74, and became the biggest star of ninja movies. And he's passing the torch to Rain, a Korean pop singer and star of TV dramas who trained with a stunt team for 6 months to look like a fighter in the movie.
I mean it's fine – Rain did a fantastic job. He's absolutely ripped, he does the fights convincingly and he's charismatic in his purposely limited characterization. I liked him and would never have guessed there'd be pictures of him on the web wearing one of those Britney Spears headset microphones. (Although there is a joke in the movie about him looking like he'd be in a boy band.) But still, it shows you where we're at now. You don't have action stars, you coach people to seem like them.
In the movie Rain's character also represents a new generation that breaks away from the abusive thousand year old traditions of his ninja clan, but I think James McTeigue could stand to be a little more Sho Kosugi and follow some old traditions. I know he's got great fighting going on (I've seen the stunt teams training videos on Youtube) but he sure could stand to pull the camera back a little and show it off more. That alone could've taken the whole movie up one (1) notch.
This entry was posted on Saturday, December 5th, 2009 at 8:39 pm and is filed under
Martial Arts
,
Reviews
. You can follow any responses to this entry through the
RSS 2.0
feed. You can skip to the end and leave a response. Pinging is currently not allowed.