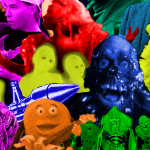 As September 1985 began, summer movies were still in the public consciousness. Turn on the radio and you were likely to hear Pat Benetar's "Invincible (Theme From The Legend of Billie Jean)" (#12 on the Biilboard charts), Tina Turner's "We Don't Need Another Hero (Thunderdome)" (#4), John Parr's "St. Elmo's Fire (Man in Motion)" (#2) or Huey Lewis and the News's "The Power of Love" (#1). August 30th had seen the release of AMERICAN NINJA, a culturally important b-movie and perfect bookend to a season that had started with GYMKATA. Unfortunately I really can't get away with doing another review of it, because I've a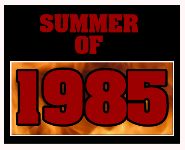 lready done it twice; for my definitive take, read this review of THE 400 BLOWS and click through as I alternate between the five Antoine Doinels and the five AMERICAN NINJAs (a series I retroactively call The 400 Death Blows).
After AMERICAN NINJA, the summer movie season disappeared into the fall like a ninja into a puff of smoke. I know technically I could keep going until September 22nd, but I'm gonna guess nobody's waiting for me to review PLENTY or SMOOTH TALK. So it's time for a wrapup.
Pacman2.0 was kind enough to point me to the Siskel & Ebert "Worst Movies of the Summer" episode for evidence of contemporary opinions of the season. I don't know if this was a representative view, but Gene Siskel says, with disgust, that it "happened to be one of the dullest, most juvenile, most homogenized summer movie seasons in recent memory… we just want to send this one message through this show to corporate Hollywood: no more of this junk, please."
That's funny because 35 years later it seems like such an amazing bounty of unusual entertainment! We could guess that just means movies have gotten much worse over the decades, but for comparison I looked at the previous couple of summers to see if they seemed more exciting, adult and diverse. It could be argued that '84 was better for having grown up movies like THE NATURAL, ONCE UPON A TIME IN AMERICA and THE POPE OF GREENWICH VILLAGE to go with INDIANA JONES AND THE TEMPLE OF DOOM, STAR TREK III, GHOSTBUSTERS and GREMLINS, plus some interesting hip ones like STREETS OF FIRE and PURPLE RAIN. But Siskel gave thumbs down to ONCE UPON A TIME IN AMERICA and STREETS OF FIRE, so scratch those from the list.
He must've forgotten about '83, though. RETURN OF THE JEDI is a bonafide blockbuster classic, and there was NATIONAL LAMPOON'S VACATION and STRANGE BREW, but otherwise you had, like, OCTOPUSSY, SUPERMAN III: THE SEARCH FOR SPOCK, PORKY'S II: THE NEXT DAY and TWILIGHT ZONE: THE MOVIE. In their "Stinkers of 1983" special they listed the summer releases KRULL, STROKER ACE and JAWS 3-D, and Siskel said not to ever see a sequel or 3D movie unless someone you trust tells you it's good. So clearly he wasn't happy with that summer. If he was comparing it to '82 (CONAN THE BARBARIAN, ROCKY III, POLTERGEIST, STAR TREK II, E.T., BLADE RUNNER, THE THING, THE SECRET OF NIMH, TRON, FAST TIMES AT RIDGEMONT HIGH, FRIDAY THE 13TH 3D, THE BEASTMASTER), he was setting himself up for disappointment, since it crushes any summer movie season ever.
For my tastes there's a great variety of the good shit in '85, so let me make the case. I was able to enjoy the mainstream family ones, both Spielberg produced (BACK TO THE FUTURE, GOONIES) and Spielberg inspired (COCOON, EXPLORERS). But I'm much more into MAD MAX: BEYOND THUNDERDOME – a movie with a STAR WARS level of imagination and world building, several iconic characters and locations, an inventive new type of fight scene, a knockout chase scene, layers of meaning that I continue to decode to this day, and even two good Tina Turner songs! None of that is a given in any summer before or since.
I like this trend of kinda dark kid's fantasy movies: RETURN TO OZ, THE BLACK CAULDRON, you could throw in WARRIORS OF THE WIND maybe. Shooting us with those gloomy early '80s magic sorcery beams. If you're a little older and your standards are a little lower, RED SONJA gave you a decent Saturday afternoon matinee. Or maybe even THE BRIDE.
In the horror department '85 is hard to deny. DAY OF THE DEAD and RETURN OF THE LIVING DEAD are, in my view, masterpieces. Also I still like THE STUFF and THE LIFT was at least unique. And there are other important ones I regrettably didn't revisit (sorry). FRIGHT NIGHT is a classic. I love Tobe Hooper's LIFEFORCE. And apparently Dario Argento's PHENOMENA came out in the U.S. in August (though it was the shortened version called CREEPERS).
I wouldn't mind more straight ahead action on the menu, but RAMBO: FIRST BLOOD PART II is certainly not nothing, AMERICAN NINJA is something of a b-movie classic, CODE OF SILENCE is quite good, I kinda like THE PROTECTOR, GYMKATA gave us some laughs, and PALE RIDER and SILVERADO are good westerns. And then whatever YEAR OF THE DRAGON is – that's certainly a memorable movie.
I already told you PEE-WEE'S BIG ADVENTURE is my favorite comedy of the '80s, and REAL GENIUS and BETTER OFF DEAD are worthwhile comedies as well. And we had a Godzilla movie and a Big Bird movie and some other stuff. I'm not the guy to judge what is and isn't juvenile, but I absolutely don't consider this selection here dull or homogenized. In an alternate dimension where the world didn't get knocked on its ass by a virus and all the 2020 movies came out on schedule, I don't think the new shit could've competed with all this. So I want to send this one message through this post to corporate Hollywood: Send. More. Junk. And thank you, Summer of 1985, for being there for me when I needed you.
Before we take off our 1985 Ray Bans and return to the wasteland of contemporary life, let's honor a few of that summer's special achievements.
Star of the summer:
Chevy Chase starring in FLETCH and NATIONAL LAMPOON'S EUROPEAN VACATION plus having a cameo in FOLLOW THAT BIRD makes him arguably the most prominent figure. Michael J. Fox and Tom Hanks both starred in two movies, minus the bonus cameo, and Fox got the most attention, being in the biggest hit of the year. But I gotta give it to John Candy for starring in SUMMER RENTAL, being a sidekick in both BREWSTER'S MILLIONS and VOLUNTEERS, and having his own cameo in FOLLOW THAT BIRD. I think overall he contributes more laughs even if none of his movies are as good as FLETCH.
Best FX movie:
I'm surprised there's not more competition, but it's definitely RETURN TO OZ. The combination of animatronics, suits and puppets used to create Tic Tock, the Gump, Henrietta, Jack Pumpkinhead, etc., plus the Claymation, makeup, stop motion and all that is unmatched. But I have to give honorable mention to the much lower budget RETURN OF THE LIVING DEAD (despite the worst efforts of that one guy) and DAY OF THE DEAD (Savini's best zombie makeup). Special award for most impact in the shortest amount of screen time: the Large Marge shot in PEE-WEE'S BIG ADVENTURE.
Most influential movie:
I think it's gotta be RAMBO: FIRST BLOOD PART II. I don't think it's very influential anymore, but it was the most popular action movie to imitate all around the world for the rest of the '80s (eventually surpassed by DIE HARD). The name "Rambo" is still associated with heavily armed or survivalist type people, and the image of a shirtless person with a headband and/or machine gun is still associated with the name "Rambo." If you had to pick one movie character most associated with the Reagan era, it would be Part-II-era Rambo, right? For better or worse.
Thanks for following along with this, everybody. It gave me a little bit of summer where there might not have been any, and gave me some weird obsessions (for example, I ended up buying the weird WARRIORS OF THE WIND poster where most of the characters depicted are not from the movie).
Below are links to the complete series for anyone who might've missed any.
THE COMPLETE SUMMER OF 1985 SERIES
May
prologue:GOTCHA!
GYMKATA
CODE OF SILENCE
RAPPIN'
RAMBO: FIRST BLOOD PART II
BREWSTER'S MILLIONS
A VIEW TO A KILL
FLETCH
June

THE GOONIES
WARRIORS OF THE WIND
D.A.R.Y.L.
THE STUFF
COCOON
LIFEFORCE (old review)
RETURN TO OZ
PALE RIDER
July
BACK TO THE FUTURE
(flashback: THE LAST STARFIGHTER)
THE LIFT
RED SONJA (old review)
MAD MAX: BEYOND THUNDERDOME
SILVERADO (old review)
EXPLORERS
DAY OF THE DEAD
THE LEGEND OF BILLIE JEAN (old review)
THE BLACK CAULDRON
THE HEAVENLY KID
NATIONAL LAMPOON'S EUROPEAN VACATION
August
FRIGHT NIGHT (old review)
PHENOMENA (old review)
FOLLOW THAT BIRD
REAL GENIUS
WEIRD SCIENCE
MY SCIENCE PROJECT
(flashback: FRANKENWEENIE)
PEE-WEE'S BIG ADVENTURE
SUMMER RENTAL
VOLUNTEERS
THE BRIDE
YEAR OF THE DRAGON
RETURN OF THE LIVING DEAD
BETTER OFF DEAD
TEEN WOLF
THE PROTECTOR
GODZILLA 1985
AMERICAN NINJA (old review)
This entry was posted on Wednesday, September 2nd, 2020 at 5:12 pm and is filed under
Blog Post (short for weblog)
. You can follow any responses to this entry through the
RSS 2.0
feed. You can skip to the end and leave a response. Pinging is currently not allowed.