July 26, 1985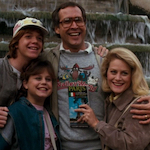 NATIONAL LAMPOON'S EUROPEAN VACATION is one of the Summer of 1985 movies I actually did see in the theater. I was young and I'm sure I thought it was funny enough at the time, but I doubt I ever rewatched it before now, and I did not feel any nostalgia for it.
While the first VACATION was directed by Harold Ramis, this one was Amy Heckerling, following FAST TIMES AT RIDGEMONT HIGH and JOHNNY DANGEROUSLY. She occasionally brings what probly were considered "MTV style" flourishes to montages and stuff, but is fairly anonymous. John Hughes returned as writer/producer, but for the first one he'd been able to adapt a short story he'd already written for National Lampoon. This one had no such basis, so he had to bring in a serious, heavy hitter, not fuckin around super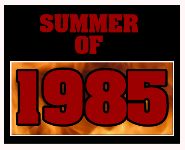 star pinch hitter of a co-writer to carry his dead weight and turn this into something truly special. But that person must've been busy so he got Robert Klane, writer/director of the disco movie THANK GOD IT'S FRIDAY (1978). Klane had previously been a novelist, but in 1970 adapted his book WHERE'S POPPA? into a movie, which led to writing some episodes of M*A*S*H, an unproduced GREASE sequel called GREASIER, the Summer of 1985 movie that I skipped THE MAN WITH ONE RED SHOE, etc.
Coming two years after VACATION had proven Chevy Chase could be a movie star, EUROPEAN VACATION does little to disprove the conventional wisdom that comedy sequels aren't a good idea. And it has an extra obstacle in that Hughes stole Anthony Michael Hall for his other Summer of '85 movie WEIRD SCIENCE. Jason Lively (before NIGHT OF THE CREEPS) takes on the role of Rusty Griswold, and Heckerling decided that if one kid was different then both should be, so the part of Audrey is now played by Dana Hill (The Two of Us). Also apparently they changed their last name from Griswold to Griswald? But only for this installment? That might be the straw that broke the camel's back. That spelling is just not funny. It throws the whole thing out of wack. With an 'a'? Are you fucking kidding me?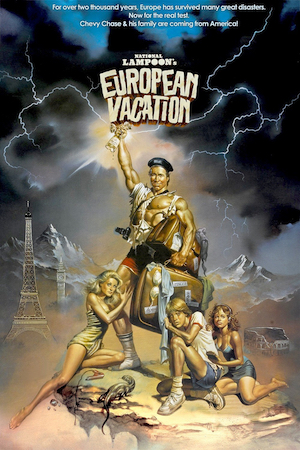 In this episode, we find The Griswalds with an 'a' as contestants on a silly game show called Pig in a Poke, where families compete together while wearing pig costumes. They win by accident – Ellen (Beverly D'Angelo, THE SENTINEL, EVERY WHICH WAY BUT LOOSE) whines at Clark because they don't know the answer, which is in fact Clark (as in Lewis &) – so they get an all expenses paid trip to Europe. Once again Hughes pokes fun at family dynamics and stresses during travel, but this time they're visiting London, Paris, a West German village and Rome, rather than taking a road trip across America. And of course this also means humor about "ugly American" tourists annoying or amusing the locals.
I don't think this movie is very funny, but it's not entirely unfunny. Much of the humor is based around politeness, for example the over-politeness of a bicyclist (Eric Idle) who gets run over and mangled by Clark, and insists he shouldn't feel bad about it. Or the family being delighted by what they think is a very friendly waiter because they don't understand enough French to know that he thinks they're morons and is making fun of them to their faces.
A pretty typical example of the broader style of humor here is that they visit Stonehenge, and as they're leaving they obliviously back their car into it and it falls down like dominoes. They don't even notice. I'm sure I loved that as a youth, but as an old now I laugh at Rusty asking "What the hell is this?" Visiting a world famous ancient wonder and just scoffing at it like it's some boring bullshit. Or when Audrey says, "This must be where they sacrificed virgins," and then, thinking about it: "God, I miss Jack."
(William Zabka plays her asshole boyfriend back at home. He doesn't give a shit about her, but she can't think of anything else. She also brings him up while being served German sausage.)
It's a PG-13 movie, which in those days didn't mean it was trying to be less than R – it meant it was trying to be more than PG. So in many ways it's a sex comedy. A major plot point involves Clark getting Ellen to make a sex tape with him, using his giant 1985 camcorder. He says he'll erase the tape, but I think you can guess whether or not he follows through with that before a guy on the street steals the camera with the tape still in it. To me the big laugh that comes out of that subplot is not anything raunchy. It's that the foreplay involves her teasing him by doing a number from Chicago, and when the tape has been stolen and she's tearfully confiding in someone about her humiliation she can't help but do little parts of the song again.
At times it seems like there's a theme of male shittiness, starting with the game show. The host (John Astin, father of that kid from THE GOONIES) greets Ellen by kissing her on the mouth, and later does the same to Audrey for so long she has to physically pry herself away from him. This would seem random if I hadn't been watching reruns of The Match Game lately. At least in the '70s the female contestants really did have to put up with the host kissing them. Here it's clearly portrayed as a disgusting thing that people are too uncomfortable to acknowledge.
Also during the game, Clark – who the host refers to as "the king of the family" – and the father from the competing family (inexplicable Paul Bartel cameo) both ask their wife's opinion and then immediately dismiss it. Clark, though, is rewarded for his pigheadedness when they accidentally win the big prize.
Jack definitely does not represent well for the males. He treats Audrey so bad that when each of the family members has a dream about what Europe will be like, hers is a stress dream about being force fed and turning fat. Her dad gets to do a SOUND OF MUSIC parody and she has to predict one of the dream deaths in A NIGHTMARE ON ELM STREET 5.
Whatever interesting things they might be going for, though, are outnumbered by jokes such as "there is a montage where they try on different funny hats" or "there is a car chase and they scream and crash into a fountain." I was pretty tired of it by the time it wrapped up.
The very existence of EUROPEAN VACATION is a pretty good reminder of what a huge comedy star Chase was at the time. FLETCH had still been playing in theaters at the end of July, and here he is with a new movie opening at #1. It's not as good as FLETCH, not as well received, not as well remembered, and didn't make as much money, either. So it was just a victory lap. Showing off, doing wheelies. Small ones. Kind of dumb ones. Not very cool ones. But wheelies, nonetheless.
NOTES:
Summer of 1985 connections:
The end credits are over a tongue-in-cheek montage about the greatness of America, mixing patriotic imagery (flags, Uncle Sam, national monuments) with, like, hot dogs, gridlock and roller derby. And they include a picture of Clint Eastwood on the poster for Summer of 1985's PALE RIDER.
This is a different take on the "naive and/or horny American tourists try to have a fun time in Europe and get into some shit" genre than GOTCHA!.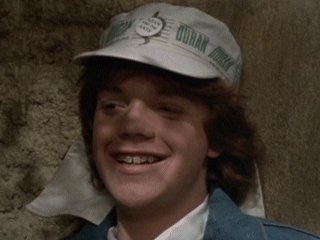 Pop culture:
Rusty and Audrey are teens, so they like the rock 'n roll. I noticed Rolling Stones and Stray Cats pins, and a Gumby. Rusty wears a hilariously only-in-the-'80s Duran Duran painters cap with, like… a tail on the back? A cape? I don't know what it would be called. But it's impressive. (Related: "Some Like It Hot" by Duran Duran spinoff group Power Station plays in the cool dance club that Rusty dreams about.)
Legacy:
After their scenes together in the movie, Chase and Idle collaborated on a script for NATIONAL LAMPOON'S AUSTRALIAN VACATION. Man, that would've synced right up with CROCODILE DUNDEE and the ensuing Aussiemania, but it was never made. Instead there were sequels without that sort of direct connection to this one: NATIONAL LAMPOON'S CHRISTMAS VACATION (1989), VEGAS VACATION (1997) and VACATION (2015) with Ed Helms playing grownup Rusty. VEGAS is the only one that didn't make more than this one. There was also a made for television NATIONAL LAMPOON'S CHRISTMAS VACATION 2: COUSIN EDDIE'S ISLAND ADVENTURE starring Randy Quaid. All are by different directors, and have different actors playing Rusty and Audrey, which Chase apparently thought would be funny. Only CHRISTMAS VACATION is written by Hughes. None are written by Robert Klane, who instead sealed his legacy as the man who wrote WEEKEND AT BERNIE'S and wrote and directed WEEKEND AT BERNIE'S II.
Heckerling went in sort of the opposite direction – instead of making movies about a dead body, she directed two about babies (LOOK WHO'S TALKING and LOOK WHO'S TALKING TOO). I don't know what to say about that, but she will always have my respect for her 1995 teen movie classic CLUELESS.
This entry was posted on Tuesday, July 28th, 2020 at 9:51 am and is filed under
Comedy/Laffs
,
Reviews
. You can follow any responses to this entry through the
RSS 2.0
feed. You can skip to the end and leave a response. Pinging is currently not allowed.