June 26, 1985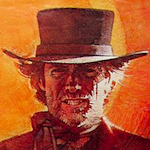 PALE RIDER is a solid, well made, mostly traditional western starring, produced and directed by Clint Eastwood, from a script by Michael Butler & Dennis Shryack (THE GAUNTLET, TURNER & HOOCH). Clint stars as a mysterious drifter only referred to as "Preacher," because when he takes off his stylish trenchcoat he reveals a priestly collar. But this is only after we've seen him stick fight a gang of bullies to unconsciousness and comment, "There's nothin like a nice piece of hickory." So there are reasons to question whether that's his true occupation.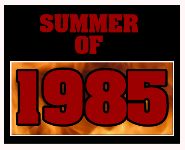 The Preacher wanders into a small California mountain town called LaHood, destination unknown. When asked if he's just passing through he says he hadn't really thought about it. The man he saved from a beatdown, Hull Barret (Michael Moriarty, Q), invites him to stay for a while.
Hull lives in a camp of gold prospectors with his sort-of-fiance Sarah Wheeler (Carrie Snodgress, TRICK OR TREATS, later WILD THINGS and ED GEIN) and her 14-year-old daughter Megan Wheeler (Sydney Penny, GETTING PHYSICAL). Many of their neighbors have given up and left after repeated, deadly raids by thugs working for greedy mining boss Coy LaHood (Richard Dysart, THE LOST MAN, THE THING, later J. Edgar Hoover in PANTHER), who can legally reclaim their land if he can get them to abandon it. Hull is too stubborn to leave and so is Megan, because those motherfuckers killed her dog. Some JOHN WICK shit.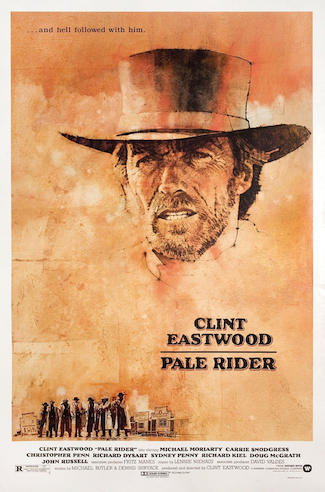 Okay, they killed her grandpa too, but in the opening scene they kill her dog, and as she buries him she prays to God for help. It seems to work, because we get our first glimpse of Preacher riding in superimposed over Megan's face as she says "Please? Just one miracle?" But the first time she sees him she's reading that Bible verse about "Behold a pale horse." So she and her mom assume he's bad news and want him gone until they see that collar. Then they're literally pulling out his chair and asking him to say grace.
I think my favorite scene is when Hull jokes about a boulder in the middle of the stream, how either it'll be the death of him or vice versa. He's not fishing for help, but Preacher figures this is a problem he can help with, finds a sledge hammer and starts pounding. So Hull gets his hammer and they alternate strikes, as everyone in town starts to watch.
Suddenly LaHood's punk son Josh (future BEST OF THE BEST star Chris Penn after FOOTLOOSE and THE WILD LIFE) and 7' 2" henchman Club (Richard Kiel, FORCE 10 FROM NAVARONE, MOONRAKER, MAD MISSION 3, CANNONBALL RUN II) ride in to threaten Preacher. Club walks over, takes one of the hammers and splits the boulder in half with one hit. I think the plan is for everybody to be too scared to do anything, but instead Preacher bashes Club in the nose and the balls with his hammer. Then he leads him over to his horse and helps him get back on. Like a true gentleman.
As soon as Josh and Club leave, the boys go back to pounding the rocks down, and this time all the miners who were watching come over to help. Leadership.
So LaHood knows he can't scare Preacher away, but he doesn't want to make him a martyr either, so he tries to bribe him. Sorry bud – no deal. Preacher negotiates an offer to pay the "tin pans" $1,000 to relocate. That would be better than nothing, and if they don't take it LaHood plans to send in an infamous marshal named Stockburn (John Russell, RIO BRAVO) and his six deputies (one of them played by Billy Drago, soon to be in INVASION U.S.A.). Law enforcement as hired guns of the rich. Hmm.
Preacher and Stockburn have a past, of course. That much is clear, but thankfully the details are left to the imagination. The beautiful thing is that Stockburn asks LaHood what this preacher looks like and he says, "Tall. He has eyes – somethin strange about 'em. That mean anything to you?" And it does mean something to him. He knows who he's talking about just based on that vague description and sense of awe! Can't be who he's thinking of, though, can it? The guy he's thinking of is dead. Not saying who did it, but he's dead, I swear!
Classic legendary badass stuff. Perfect.
Hull, bless his heart, makes a rousing campfire speech that convinces everybody to turn down the money, stay and fight for their homes and their dignity, not to mention the gold nuggets that must be around somewhere if LaHood is willing to pay that much. And you can pretty much guess the steps from there.
One weird thing about Preacher is that two generations of Wheeler fall madly in love with him. It's super uncomfortable when teenage Megan takes her shot and then flips out, yelling "I hope you die and I hope you go to Hell!" when he turns her down. He gives her many reasons and nice affirmations but his best explanation is just the look on his face: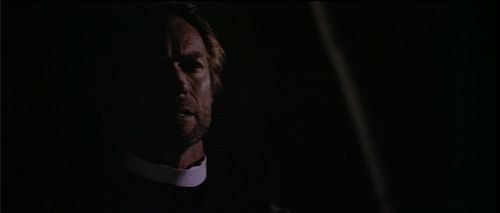 He's clearly horrified by the idea, and Megan argues that she's about to turn the same age her mom was when she got married, so it's a historical thing. But it's still a little odd for Clint (who is four years older than COCOON's Wilford Brimley, incidentally) to put his character in that position and make it a big part of the story. (Similarly, the thing where she forgives him because he rescues her from being gang raped. That was sort of like a "save the cat" of the era.)
Megan assumes he says no because he's in love with her mom. Nope, but sure enough mom is ready to throw herself at him too. That scene is pretty funny because he just stands there while she talks herself through why she loves him but shouldn't love him and should marry Hull instead.
Yep, yeah… what you just said. Do that.
Clint is exactly as cool as Clint always is, and it's a big strength to have Moriarty playing the second lead. Exactly as in THE STUFF, it's easy to picture another actor playing the same character and falling kind of flat. It's a straighter character than in the Larry Cohen movies, but he has some of that dry, humorous tone that makes people wonder if he's fucking with them. It's a perfect vibe for the guy who stubbornly stands up for what he wants, befuddling the rest of the town.
There's one little buddy moment that seemed improvised to me, but either way it's beautifully executed. Preacher and Hull go to LaHood's part of town to blow up some cabins and tents. Preacher tries to do a little hand flip with a stick of dynamite, but he fumbles it. Hull goes over (not in a hurry), picks it up and fearlessly tosses it down the hill right on time for it to explode.
This scene also has the great moment when Club stops Josh from shooting Preacher, and Preacher tips his hat to him. I'm not sure I follow – does he like Preacher because he helped him get on his horse? That didn't seem sincere to me, so maybe I missed something. Doesn't matter. I like this fight brotherhood.
I want to mention how much I like the staging of the climax. Preacher does this cat and mouse thing where the deputies look for him and we don't know where he is until he pops out from behind some crates or inside a horse trough to shoot them. At the beginning of the sequence, they come out and see his hat sitting on the ground. Stockburn stands back while his guys go to look for him, and we keep seeing him standing back watching them…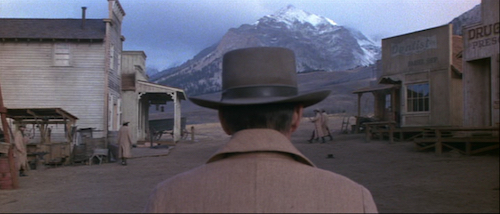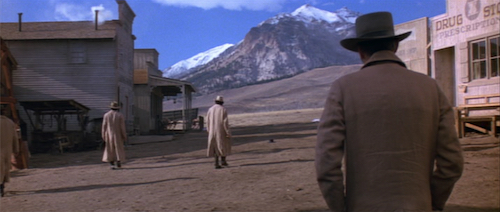 And then we see him in the distance, like in the upper left corner here.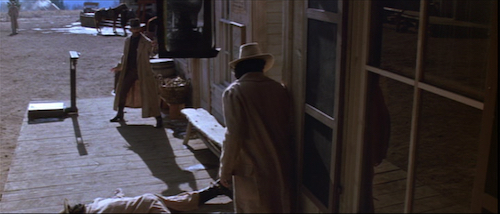 But after Preacher has picked off the six henchmen we get him in the foreground, picking up his hat…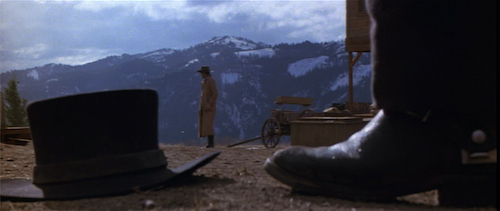 And then in the distance, watching Stockburn.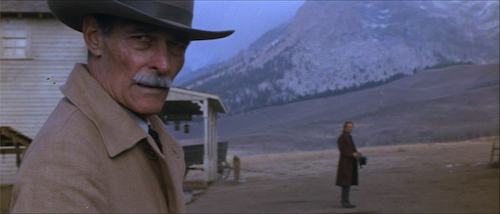 The way he kills him (SPOILER) is so impressive, considering it's a standard one-on-one quick draw duel: he shoots him six times in the chest, and you see the bullet holes pop out the back of his jacket! It's so cool it didn't occur to me until later that it mirrored Preacher's scars seen near the beginning. And he still pulls out a tiny second gun and shoots Stockburn in the forehead. Gratuitous bonus wound.
This brings up something that didn't occur to me while watching: apparently Preacher is a ghost? Clint said so in an interview, and I think he was being literal. This would explain the spooky horror movie music that often plays for him, and it fits with the scars on his back, and Stockburn believing he's dead. On the other hand, surviving six bullets would be enough of an explanation for why somebody would believe he was dead. Still, this is the rare time when the "you may not have picked up on this, but he's a ghost" thing seems pretty cool to me. (I don't like it for POINT BLANK, personally.)
Clint was working with his regular crew: cinematographer Bruce Surtrees, editor Joel Cox, production designer Edward Carfagno, stunt coordinator Buddy Van Horn. It was the first movie Lenny Niehaus scored for Eastwood as director, though he had done TIGHTROPE and CITY HEAT. Before his death in May of this year, Niehaus scored a dozen more movies for Clint.
The distinctive poster was painted by C. Michael Dudash, a freelance illustrator and painter who has since become a fine art painter specializing in depicting the old west. He also did a poster for that summer's SILVERADO (not the main one with them all riding the horses towards us – the one used in Australia).
Let's consider where Clint was in his career at this time. In the last few years he'd done the super-jet movie FIREFOX, the Depression-era drama HONKYTONK MAN, his fourth DIRTY HARRY movie SUDDEN IMPACT, the thriller TIGHTROPE, and the buddy comedy with Burt Reynolds CITY HEAT. He hadn't done a western since THE OUTLAW JOSEY WALES in 1976, so this was kind of a return to his roots during a summer when Chuck Norris was doing a cop movie (from a rejected DIRTY HARRY script!) and Sylvester Stallone was kicking off the genre's musclebound jungle commando period. Perhaps more important, it was the first big Hollywood western since the financial disaster of HEAVEN'S GATE five years earlier.
The risk paid off. It opened at #1 (with ST. ELMO'S FIRE as its new release competition) and went on to earn $41 million, making it the #14 movie at the U.S. box office in 1985 and ultimately the highest grossing western of the '80s. But it should be noted that just the first POLICE ACADEMY movie made about twice as much as that. So you can see why westerns became less common. Clint waited until the '90s to do one more – UNFORGIVEN.
I think you know I agree with the conventional wisdom on that best picture winner. That one takes it to the next level. It's probly his masterpiece, and definitely the perfect last western for him. But PALE RIDER's a pretty strong next-to-last one. I like it.
Summer of 1985 connections:
As mentioned, Michael Moriarty also starred in THE STUFF.
Screenwriters Michael Butler & Dennis Shryack also wrote CODE OF SILENCE – originally intended as a DIRTY HARRY sequel.