Okay, good. If you're gonna be an asshole and make a sequel to JAWS, I figure this is more how you should do it. You're never gonna match the achievement of the first one, so you should zig where that one zags.
First you acknowledge that the directors you hired won't have the skills to fill Spielberg's filmatic shoes. You put director Joe Alves into the shoes and fill the extra toe-space with credit-flying, severed-limb-and-head-floating, dolphin-and-orca-jumping, water-splashing-in-the-camera, slow-motion-water-ski-jumping, harpoon-firing-just-like-FRIDAY-THE-13TH-3D-but-what're-you-gonna-do-you're-fighting-a-shark, fake-dragons-and-snakes-popping-out, shark-exploding-and-spraying-goo-all-over-the-audience 3-D. I mean, not on video, but that's what it was originally, and I would've enjoyed that.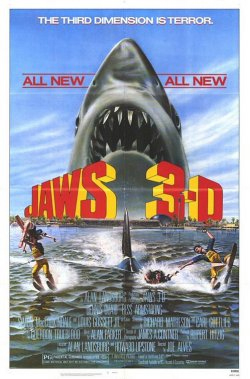 Second, you come up with more of a gimmick than "shark shows up at Amity Island for the third time." This one (with a script co-written by Richard Matheson of I AM LEGEND: THE BOOK fame [note: he wasn't happy with the movie, though]) is about now-adult-and-played-by-Dennis-Quaid Michael Brody on opening day of a new Sea World park he built. (Quaid is another 4 year age jump from JAWS 2, for a grand total of 9 years older than original actor Chris Rebello would've been if he was still playing Michael.) Funded by the eccentric millionaire Calvin Bouchard (Louis Gossett Jr.) it's a fancy "Underwater Kingdom" with a whole exhibit, restaurant and control room complex submerged in and looking out into a man-made lagoon. Pretty cool idea, but I'll be god damned if a young up-and-comer shark named Jaws 3 doesn't gate crash into that lagoon for some snacks.
Brody's girlfriend Katherine (Bess Armstrong) is the dolphin trainer. His little brother Sean (John Putch – 7 year age jump from part 1 actor) comes to visit on a break from college, where he majors in staying the fuck away from water. He's been afraid of water since shark attack #2, but is lured in by top-of-the-pyramid water-skiier Lea Thompson.
The director of part 3-D was Joe Alves, production designer and storyboard artist for part 1, second unit director for parts 1 and 2. This was his only directorial work that got off the ground, although I have learned from interviews that are online that he almost directed a whole bunch of things including CONAN THE BARBARIAN. He was also production designer for CLOSE ENCOUNTERS, ESCAPE FROM NEW YORK and FIRE DOWN BELOW.
Apparently the 3-D was his idea. Scouting Sea World type parks for locations he happened to see a 3-D underwater wildlife documentary. He had been kind of embarrassed about the idea of doing a Part 3 and thought it would be cool to call it "Part 3-D" instead. I don't know if he knew FRIDAY THE 13TH had already done this, or was working on one anyway.
I don't know why Sea World let them film there, and even call it Sea World. Maybe they forgot what happened in JAWS 1-2. Or maybe they figured it couldn't possibly happen a third time, so everything would be peaceful in this one. But it makes for a pretty impressive production, showing all kinds of flying dolphins, orcas and water skiiers that must've looked great in the 3-D. Of course the undersea complex is not part of the real park, so that and alot of the underwater shark shots have really fake looking composite deals.
Hats off for the long shots of floating body parts, though. I'm pretty sure those things should have clouds of blood around them, but maybe not. I'm no doctor.
There's not as much suspense and tension as there could be with the shark attacks. And they flirt with having the dolphins help the humans, but I think it could've been funnier and cooler if they went further with it. I think we all would enjoy a couple of dolphins heroically attacking a giant shark, or luring it into a trap or something. I'm not saying they have to have guns attached to their heads, although I wouldn't be against that. I'm just saying since they set them up they oughta use them.
There's a scene where they have to make the decision to close the gate even though the dolphins are out there, and say that "they're on their own." But then they don't try to get much tension out of those little guys being in peril. Shit, I would've switched to their point-of-view for ten minutes. And there would be a part where one of them first sees the shark and it would zoom in on the dolphin's face the same way it did Roy Scheider's in the first JAWS. Or I would have a part where the two dolphins are chirping at each other and if you pay attention you can tell they're showing their scars to each other, and then the music gets real tense and it slowly closes in on one of them and he's doing a real low, slow type of dolphin noise and it wouldn't be subtitled or anything but you would get the sense he was telling his dolphin equivalent of the Indianapolis story.
They didn't do that. But there are two little twists that help make it more dramatic, and that I'm about to give away:
1. The Sea World peopl decide to capture the shark and put it on display, the first great white in captivity. So there's some JURASSIC PARK/WESTWORLD type potential there.
B. They figure out the one they have is only a baby, and like Louis Gossett Jr. himself there is presumably a Jaws 3 Sr. out there. Or at least a mama. And that's the one that was eating their employees so that one's also in the lagoon somewhere. Oh shit.
The problem with the movie is that it has the setting and the characters and the plot developments of a good monster movie, it has all the machinery there, but then it doesn't really deliver as well as it could. If there were a couple real good and suspenseful shark attack set pieces in the last third this would be a legitimately good movie, in my opinion. Not JAWS good, but cheesy sequel good at least.
But that's coming from the point of view of looking at these movies many years later, having lived in a world where there were a bunch of JAWS sequels. I'm not saying it was a good idea to do them and that it's okay to not aim for the sky like Spielberg did. But having accepted that that's what happened, that they made it into a series of lowbrow exploitation movies, I thought this was an enjoyable almost. I would go see this if they were showing it somewhere in 3-D. In addition to being no doctor I'm no engineer either so I'm just guessing here but I bet it would be possible to remaster movies like this, FRIDAY THE 13TH 3-D, HOUSE OF WAX, and the 3-D version of DIAL M FOR MURDER for digital projection and show them in modern multiplexes. Some enterprising fan that works at a studio with rights to a few of those ought to get the ball rolling and then show them for special limited engagements like they do with After Dark Horror Fest and shit like that. Put together a little 3-D festival but accessible to anyone in a major city.
And as long as I'm throwing out million dollar ideas, how 'bout some enterprising software billionaire movie buff building a drive-in theater for the future? Retro design but modern technology. Figure out a way to make better sound systems that can plug into modern car stereos, with state of the art digital projection but also equipped with an old 35 mm for revivals and vintage trailers and shit. Come on rich people, you should do this. It would be fun. Sink your money into that, please. I don't even have a car but I'll endorse it, especially if you show JAWS 3-D.
It seems like movie fans right now either have to hate 3-D as a cynical ploy to raise ticket prices or they have to think it's the future of all movies. Personally I love 3-D and don't necessarily want it to be the future. I mean James Cameron did do a pretty good job of using it to pull you into his artifical world, and I'm sure there will be some really smart uses of it if the trend continues for a while. But personally I love it as a gimmick. I like it for slasher movies and monster movies and movies that have little guys who fly out of the screen and float around in front of your face making eye contact with you like the thing in CAPTAIN EO. I think it should call attention to itself. I want to see harpoons flying. I want to see limbs floating. This is a legitimate use of the medium, especially when saved for special occasions, like part threes.