August 2, 1985
THE MUPPET MOVIE (1979) is a one-of-a-kind American family film masterpiece, followed by several enjoyable sequels. FOLLOW THAT BIRD (a.k.a. SESAME STREET PRESENTS FOLLOW THAT BIRD) is sort of the younger kids' version of that, and it never quite caught on the same, but it's worthy of sitting on the same shelf. It depicts Sesame Street (the street) on film, in cinematic terms, and takes some of its Muppet inhabitants out into the real world for adventures both goofy and heartfelt, with guest appearances by a few Canadian comedy stars.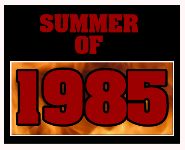 It all happens because of a well-meaning but clueless all-bird organization called The Society of Feathered Friends, whose mission is "to place stray birds with nice bird families." Somehow they receive a dossier about Big Bird living on a vacant lot with no bird friends, and decide to "help." As they discuss how sad he looks in a photo an owl comments, "That's funny, he looks happy to me," causing outrage, because, according to Miss Finch (voice of Sally Kellerman, M*A*S*H), "We all know he can't be happy. He needs to be with his own kind. A bird family."
It never occurs to Miss Finch that Big Bird might want to live on Sesame Street, and she seems to know what she's doing, so he naively goes along with her, fantasizing in animation about how fun it would be to have a family that looks like him. Maria (Sonia Manzano, FIREPOWER), Gordon (Roscoe Orman, WILLIE DYNAMITE) and the others think he should stay, but respect his wishes, and say their goodbyes before he's flown on a plane to his foster family, the Dodos of Ocean View, Illinois.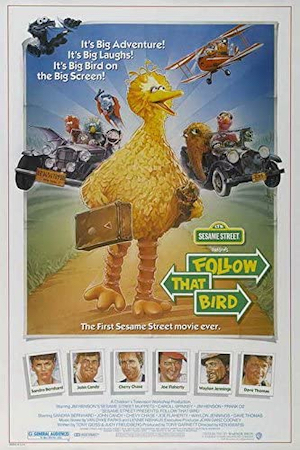 The Dodos are nice, but stupid, and not the greatest of Muppets – they made them full body costumes so they could walk around with Big Bird, but their mask heads can't be puppeted with nearly as much expression or personality. I didn't recognize Laraine Newman as the voice of Mommy Dodo, but I did recognize Eddie Deezen as her son Donnie Dodo.
Writing to his friends back at Sesame Street, Big Bird tries to sound enthusiastic about the Dodos' suburban "birdhouse with a big lawn" and the "lots of great things" that they own, but ends his letter, "So that's my new home. I should be happy here. What's wrong with me?"
Heartbreaking! The music here reminded me of UNFORGIVEN, and I later realized that's because the score is by Lenny Niehaus (along with Van Dyke Parks, arranger/conductor/onscreen piano player from POPEYE).
They do a really good job of making the Suburban Lifestyle Dream seem like a nightmare for somebody from the city. And being a Dodo just does not match life on Sesame Street. Big Bird seems mystified by the Dodo family's obsession with aerobics videos, that they pat him on the back instead of kiss him good night, and by how literal-minded they are; when he wants to "make believe – you know, pretend, use your imagination?" they have absolutely no idea what the fuck he's talking about. The dealbreaker is when he tells them about his best friend Mr. Snuffleupagus and they laugh. "But your best friend should a bird!" says Daddy (Brian Hohlfeld, writer of HE SAID SHE SAID and various Winnie the Pooh movies).
"Why?"
"Because you're a bird!" says Mommy. "Isn't that right, Daddy?"
"That's right, Mommy. And you should be with you own kind. Birds!"
So Big Bird says "Fuck these racist assholes" (not out loud, but implied) and runs away. When the Sesame Street gang finds out (from the news, not the Dodos) they split up and take different vehicles to try to find him. Gordon, Olivia (Alaina Reed, 227) and Linda (Linda Bove, CHILDREN OF A LESSER GOD) take a yellow VW bug with Cookie Monster, but he keeps eating parts of it as they drive.
Oscar's vehicle, the Sloppy Jalopy, is an impressive heap of junk. But The Count clearly has the coolest car. You don't have to be part goth to respect this one.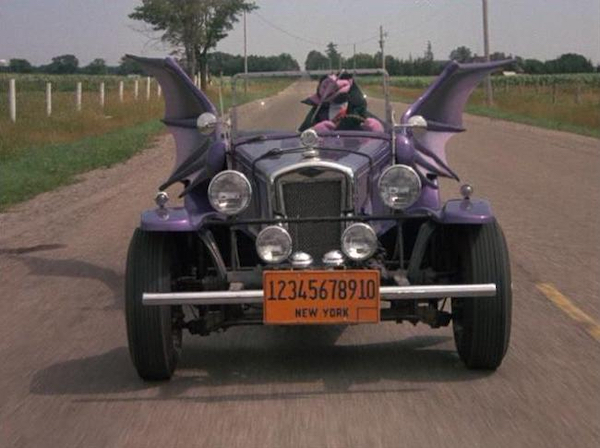 We also get to see his apartment. Check out his TV!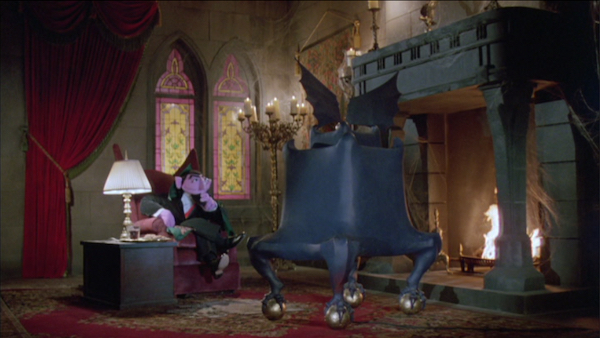 And Bert and Ernie take a biplane. This leads to a NORTH BY NORTHWEST homage when they spot Big Bird. He doesn't realize it's them and makes a run for it. Also they sing a song while flying the plane upside down. Everything written about the movie seems to mention Jim Henson and Frank Oz puppeteering from a plane that was really hung upside down, 18 feet above the ground. That's cool, but I'm more impressed by the shots of a weird looking Bert and Ernie clearly in an actual, flying plane, including while doing a barrel roll! I don't know if the real pilot is wearing a mask or ducking beneath a puppet or what, but it's amazing.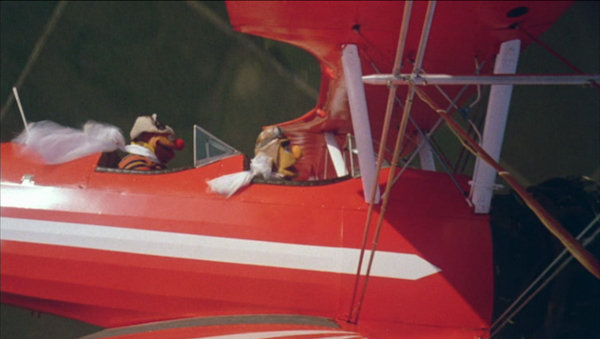 At one point everybody stops at a place called the Don't Drop Inn that serves spaghetti with maple syrup and meat loaf with marshmallow sauce. Oscar is thrilled that they're going to not enjoy some "real Grouch dining." Representation matters. Sandra Bernhard is the waitress and Paul Bartel is the cook.
In the tradition of THE MUPPET MOVIE's villain Doc Hopper, this one has small time carnival scammers The Sleaze Brothers (SCTV's Dave Thomas and Joe Flaherty). Rather than cook Big Bird up with some waffles they kidnap him to make him a carnival attraction. But they don't want anybody to recognize him so they paint him blue. He sings a sad song about it. To an audience made up largely of twins for some reason?
It culminates in a car chase with Big Bird locked in a cage on the back of the Sleaze Brothers' truck, and I swear to Christ it turns into some FAST & FURIOUS shit. Just a little bit, but still… did you expect any FAST & FURIOUS shit in a Big Bird movie? Personally I did not.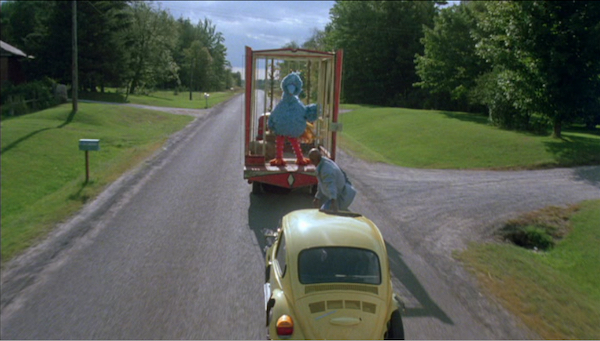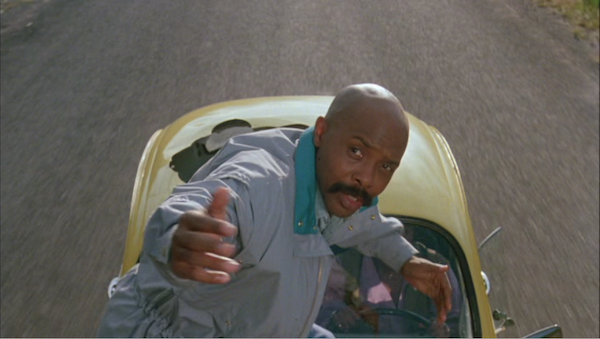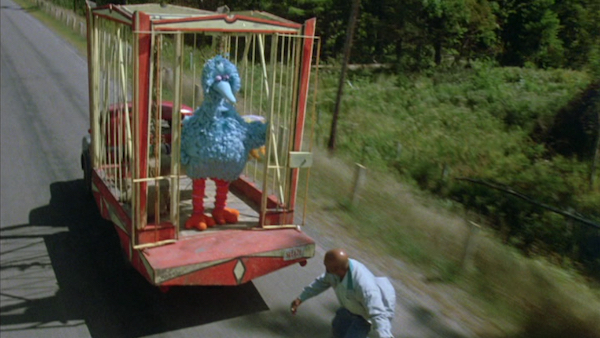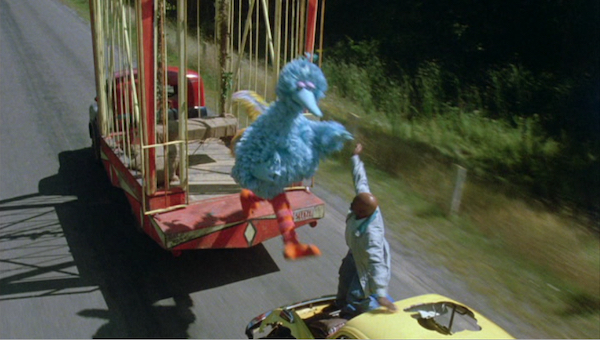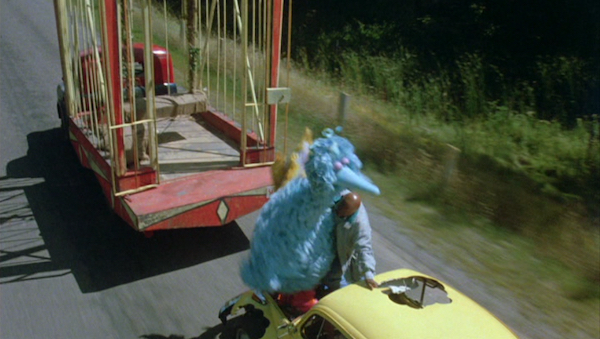 Big Bird has a good line: "Gordon, I'm not supposed to do this. Why, you should never jump from a moving truck! Why, I shouldn't even be standing up!"
I can't believe they really had somebody jump from one moving vehicle to another in a Big Bird suit! The specific double is not credited. It would be amazing if Spiro Razatos was the stunt coordinator but no, it's Ted Hanlan (Friday the 13th: The Series, La Femme Nikita, CRASH).
This is a musical, and the songs (by Jeff Pennig & Jeff Harrington & Steve Pippin, Jeff Moss, and Randy Sharp & Karen Brooks) are pleasant and catchy, if not on the level of Paul Williams. Waylon Jennings, playing a turkey truck driver who gives Big Bird a ride, sings an inspirational country tune called "Ain't No Road Too Long" (with some parts sung by Gordon, Olivia, Cookie Monster, Grover, The Count and Big Bird). The sweetest one is "Easy Goin' Day," by Big Bird and two little kids he meets on a farm. In the ballad/lullabye "One Little Star" he sings about missing his friends, while Olivia and Mr. Snuffleupagus join in from other locations, unaware that they're all looking up at the same star in the sky while thinking of each other.
Does that sound familiar to you? It's the exact same concept as a more famous scene and song in AN AMERICAN TAIL, which came out a year later. Turns out both movies were written by Judy Freudberg and Tony Geiss, who were writers from the show. AMERICAN TAIL's version of the concept, "Somewhere Out There," became a #2 single in its end credits pop version by Linda Ronstadt and James Ingram. It was also nominated for the best song Oscar and Golden Globe, but lost both to "Take My Breath Away" from TOP GUN. If they had won and didn't immediately hand the trophy over to Big Bird they would've gone to Hell, guaranteed. It's in the Bible. Page 54. Look it up.
Wikipedia claims that John Landis almost directed, but chose to do INTO THE NIGHT instead. (There's no citation and I couldn't find a source for that, but Jim Henson does make a cameo in INTO THE NIGHT, in addition to Landis regular Frank Oz.) Instead the director is Ken Kwapis, who was a recent USC School of Cinema-Television graduate who had only done two after-school specials, Revenge of the Nerd and Summer Switch.
One reason FOLLOW THAT BIRD is fun is that you can sense how excited they are to expand into a movie. I appreciate the ways they play with the format. For example, it cold opens in a parody of PATTON – a tiny Oscar the Grouch in the bottom corner of an American-flag-filled screen, as if standing at the front of your theater – as a narrator says, "Ladies and gentlemen, would you please rise for the Grouch Anthem?"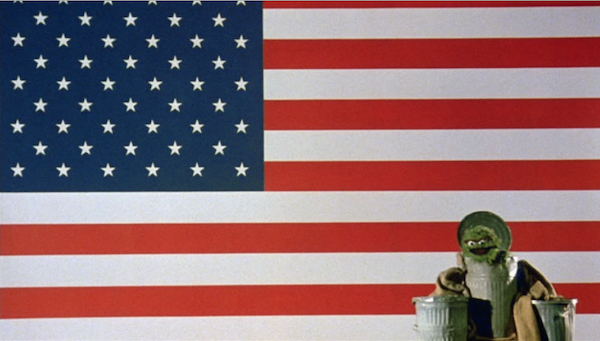 "No no no," grunts Oscar. "For the Grouch Anthem you stay seated." (Arguably all movies should start with the Grouch Anthem.) An animated Big Bird inflates the studio logo and says, "Sesame Street is brought to you today by the letters 'W' and 'B.'" An early scene finds a way for outsider Miss Finch to ask, in all seriousness, "Can you tell me how to get to Sesame Street?" During the end credits, The Count counts how many people are credited.
And of course they jump at the opportunity to make a more cinematic version of the neighborhood. A bigger and more realistic version of the original Sesame Street set was built in Toronto. That partly explains how they got art director Carol Spier, who had already done David Cronenberg's FAST COMPANY, THE BROOD, SCANNERS and VIDEODROME (later production designer of THE FLY, DEAD RINGERS, NAKED LUNCH, CRASH, eXistenZ, BLADE II, SILENT HILL and many more). And Kwapis chose director of photography Curtis Clark because of his work on Peter Greenaway's THE DRAUGHTSMAN'S CONTRACT. "It just felt very important to take those characters and present them, literally, in a new light," Kwapis told IndieWire a few years ago.
I love seeing this world that's familiar from video, but on film, with more natural lighting, crane shots, and wider frames populated with way more extras (both puppets and people). There's often somebody doing something in the background. Check out this shot that the title goes over: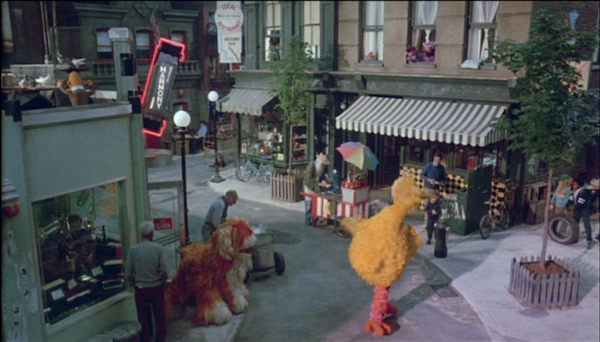 Your eye first goes to Barkley, then Big Bird as he roller skates into the frame, but there's all kinds of other activity going on, including monsters in the window above and Bert tending to his pigeons on the roof in the upper left.
They add all kinds of visual depth by having familiar characters in the background, sometimes outside or inside windows.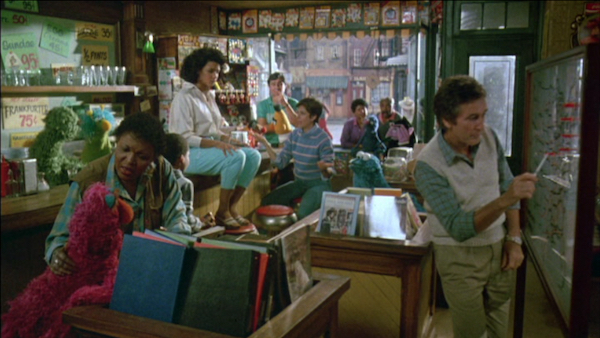 The tone of the movie is very in keeping with the Muppets tradition. It's not educational like Sesame Street, unless you count a little part where Big Bird watches with fascination as some kids use a water pump. But of course it has a moral that underlines one of the central themes of the show. I'm hesitant to consider Big Bird as being coded as a specific race, so I don't know if his situation should be taken as a direct analogy about interracial adoption. But for sure it's a message in favor of multi-culturalism. The Feathered Friends assume Big Bird would have to be, as Miss Finch says at the end, "happier with his own kind."
But Maria politely debunks that. "Well, we're all happy here on Sesame Street, and we've got all kinds. We've got people, and we've got cows, we've got Bert and Ernie. And there's dogs, and birds. We've got monsters. And kids. And- and there's Honkers. Why, we've even got Grouches!"
"So you have. And you're all… happy?"
I like monsters and shit, and they can be a good symbol for having "all kinds" in your life, but this is also a deliberately diverse cast race-wise. All of the human cast from the show are present except David, whose portrayer was banned from entering Canada due to a violent bipolar incident. Of that cast there are two white people – Bob (Bob McGrath), who doesn't go on the trip, and Linda, who represents for the deaf community. Those two and Maria and Gordon and Olivia and Luis and Oscar and the rest make up Big Bird's family. They don' t have to be related to him or similar to him for that. They just have to care about him.
Actually, maybe there's more than a little bit of FAST & FURIOUS shit here. Maybe this is a FAST & FURIOUS movie.
FAST & FURIOUS SESAME STREET PRESENTS FOLLOW THAT BIRD got decent reviews – Walter Goodman in The New York Times praised its "tone of kindly kidding" – but at the box office it couldn't compete with BACK TO THE FUTURE, THE BLACK CAULDRON, the re-release of E.T., COCOON and all that shit, and was considered a box office flop. They didn't make another Sesame Street movie until THE ADVENTURES OF ELMO IN GROUCHLAND 14 years later, and that made even less money. I guess not enough people want to come to a movie theater to watch Sesame Street. In this case they were missing out.
NOTES:
Summer of 1985 connections:
One week after NATIONAL LAMPOON'S EUROPEAN VACATION, which had followed FLETCH by a few months, Chevy Chase had a cameo in this as a TV newscaster. Paul Bartel, who had a cameo in EUROPEAN VACATION, cameos as the Grouch cook. John Candy of BREWSTER'S MILLIONS cameos as a state trooper.
Co-composer Lenny Niehaus also did PALE RIDER.
Sam Sleaze steals a bite out of a kid's apple, just as Gurgi did to Taran in THE BLACK CAULDRON. Except they don't become friends.
The poster was by Drew Struzan, who already did RETURN TO OZ, THE GOONIES and BACK TO THE FUTURE this summer.
Pop culture:
There's a Wile E. Coyote doll at the carnival (WB in-joke/product placement). There's an Archies lunch box. The Sleaze Brothers talk about teaching Big Bird to breakdance and having him wear a white glove.
Tie-ins: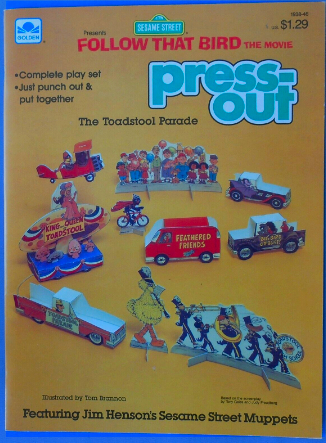 Appropriately, most of the merchandising I could find evidence of was either reading or arts & crafts related. There was a storybook adaptation and five related storybooks: Big Bird's Day on the Farm, Big Bird Visits the Dodos, Big Bird Joins the Carnival, Count All the Way to Sesame Street, and Welcome Home, Big Bird (a sequel, hopefully not inspired by WELCOME HOME BROTHER CHARLES). There were also coloring and activity type books, and a set of cut-outs (pictured) based on the Toadstool parade scene, plus Bert and Ernie's bi-plane, the Sloppy Jalopy and the Countmobile. There were also Viewmaster reels from the movie.
Legacy:
Director Ken Kwapis directed a few more movies, including the semi-culty VIBES (1988), the monkey movie DUNSTON CHECKS IN (1996), and, uh, THE BEAUTICIAN AND THE BEAST (1997). But he really made his mark in TV, with an impressive track record of cool and/or influential shows including Amazing Stories, Eerie, Indiana, The Larry Sanders Show, Bakersfield P.D., Freaks and Geeks, Malcolm in the Middle, The Bernie Mac Show, Parks and Recreation and The Office.
Writers Judith Freudberg & Tony Geiss later wrote AN AMERICAN TAIL and THE LAND BEFORE TIME, in addition to continuing to write for Sesame Street and various spin-offs for many years.
First time editor Evan Landis followed this gig with CARE BEARS MOVIE II: A NEW GENERATION. He went on to do b-action movies like VIRUS (1996) starring Brian Bosworth, SANCTUARY (1998) starring Mark Dacascos, and ABSOLON (2003) starring Christopher Lambert.
Alyson Court, who played the little farm girl Ruthie, became a prolific voice actor. Her work includes the Ewoks cartoon, Care Bears, Garbage Pail Kids, Bill and Ted's Excellent Adventures, Free Willy, and much more. She was Jubilee on the '90s X-Men cartoon, Lydia on Beetlejuice, and Claire Redfield in the Resident Evil video games. And she was in ROLLING VENGEANCE!