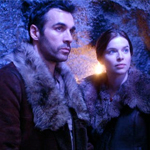 I don't know if HIGHLANDER: ENDGAME was ever supposed to be the end of the series, but it didn't turn out that way. Since it lost money, obviously Miramax/Dimension didn't want to be in the Highlander business anymore, and they sold the rights back to Davis-Panzer, who probly didn't want to work with those shitheads again anyway. They weren't making TV shows anymore and they wanted to keep their baby alive, so seven years later they figured out a way to make the fifth in the HIGHLANDER movie series, just without releasing it to theaters.

HIGHLANDER: THE SOURCE arrived in 2007 and is – at least for the foreseeable future – the final Highlander movie. It's the only one that's about Duncan MacLeod (Adrian Paul) without Connor MacLeod, and therefore the only live action one without Christopher Lambert. It's filmed in Lithuania with exaggerated digital colors and green screen FX, giving it a cheap but distinct look and feel. It's not technically post-apocalyptic like the two animated spin-offs, but it does not depict civilization as doing great. The opening tells us "The world has fallen into chaos and decay. There is no law, no justice, only death and destruction. Some say it's a sign of the coming of the apocalypse, a time that even Immortals fear." This is illustrated by an alley where some barrels are burning and a guy is getting stabbed. I think another guy is buying drugs (gasp!).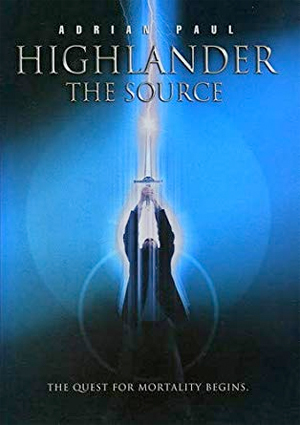 Being in production at the same time, the anime spin-off THE SEARCH FOR VENGEANCE also opened by saying that the world "has fallen into chaos and decay." I suppose the difference in levels of chaos and decay can be measured in their stadium scenes: THE SOURCE has an abandoned stadium used as a refugee camp, THE SEARCH FOR VENGEANCE has one that's completely flooded. As far as societal collapses go, this seems a little further along than the first MAD MAX. The city is dangerous, but the rural and wooded areas are worse. Much of the movie involves driving on empty roads, hiding in abandoned cabins and trying to escape from roving cannibal gangs.
It takes place in "Central Europe," and is narrated by Duncan's ex-girlfriend Anna (Thekla Reuten, IN BRUGES, THE AMERICAN, RED SPARROW). She's a mortal who he seems to have met since the last time we saw him – no romantic period flashbacks this time – and she's unusual in that she has psychic visions. She's just returned from "Eastern Europe," where she's found new clues in the search for The Source, not the influential hip hop magazine, but "a holy grail of peace and salvation to some Immortals." Anna knows from her visions that The Source really exists, but Duncan believes it's "a fairy tale, an illusion created to give hope where there is none." Though they haven't spoken in months, Duncan seems to spend all his time gargoyling around on top of buildings, waiting to leap in and kick ass whenever a woman who looks like Anna gets jumped by some leather jacket dudes in an alley.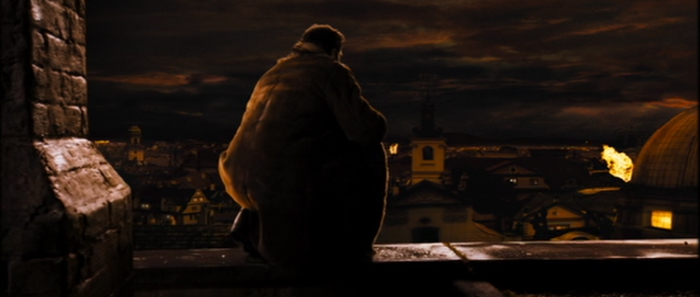 Near the beginning I couldn't remember if I'd ever known who directed this installment, so I checked. I learned it was Brett Leonard (STEPHEN KING'S THE LAWNMOWER MAN, VIRTUOSITY, MAN THING), and that this wasn't a DTV sequel like I thought – it debuted on the then-correctly-spelled Sci-Fi Channel. Obviously I adjusted my expectations accordingly, but even if this is the weakest of the HIGHLANDER joints I don't consider it a pathetic petering out. (I seem to be alone in this belief.) It has its own dreamy feel and weird new mythology to stand on its own and not feel repetitive. It also serves as a followup to the series, not only centering on Duncan but featuring the Immortal Methos (Peter Wingfield, CATWOMAN) and the watcher Joe Dawson (Jim Byrnes, MY BOSS'S DAUGHTER). We've already established what a dedicated fanbase the show had, which accounts for the impressive extras even on this DVD, including a feature length making-of doc with footage and interviews from pre-production in London through filming in Lithuania.
Despite all the chaos and decay, some of the Immortals stay organized. Methos talks via Immortal Skype with computer expert or whatever Reggie Weller (Stephen Wight, MEN IN BLACK INTERNATIONAL), sword guy Zae Jie (Stephen Rahman Hughes, Eastenders) and Cardinal Giovanni (Thom Fell, AN AMERICAN HAUNTING).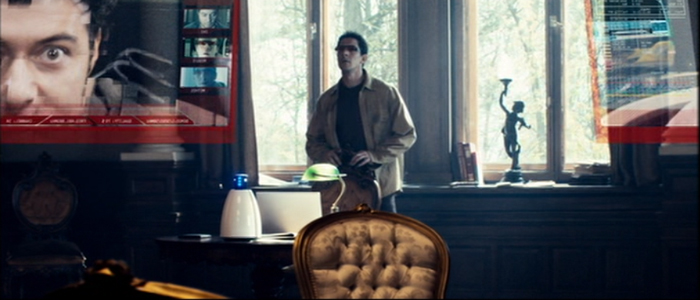 No joke, the password to the network is "There can be only one." Reggie has noticed that all the planets are impossibly lining up and will kill everybody with radiation unless they find The Source. It's a celestial doom prophecy type thing, not an environmental catastrophe, but it still reminds me of the sun situation in THE QUICKENING.
Zae Jie knows he's gotten close to The Source, because he's being followed by The Guardian (Cristian Solimeno, UNSTOPPABLE, MOTHER OF TEARS), a big guy in S&M gear who zips around like The Flash and rips people's heads off with his bare hands. He uses a sword for Zae Ji, though, first saying "There can be only me!" I guess he's an Immortal, because it explodes the glass and gives him the Quickening lightning and everything. And he yells "THE QUICKENING!"
(Note: Since his goal is to protect The Source, not to be the last Immortal and win The Prize, and the rest of the Immortals are working together, I would argue that ENDGAME really was the end of The Game and therefore not a misnomer like if it was called "THE FINAL CHAPTER" or something.)
The Guardian really doesn't seem like a character that's gonna turn out to be wacky, but later on there's a scene where he's perched up in a tree watching the other characters and laughing like he's the farting demon clown in SPAWN or somebody.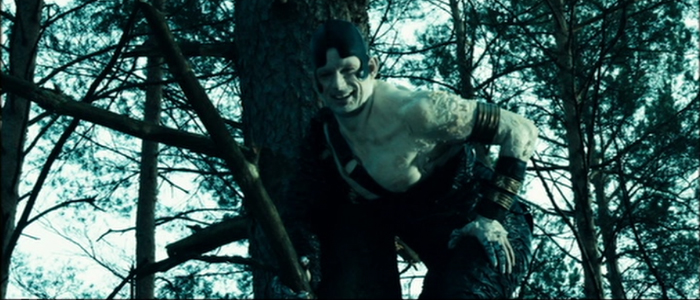 Methos says that Duncan is "not the man he once was," I guess because he doesn't have any hope and spends his time brooding about Anna. But Methos still sends Joe to go convince Duncan to help. That turns out to be kind of redundant, because The Guardian (not the newspaper, but the character in this movie) has already found him and piqued his interest by for some reason saying "The female, Anna – she doesn't belong to you." But Joe finds Duncan and doesn't "have time for this bullshit," so he just shoots him and puts him in the car.
Both Anna's visions and the combined wisdom of the Immortal computer pals network lead them to go talk to some ancient Roman guy called The Elder (Patrice Naiambana, "Head of Nation," SPECTRE). He's made up to be obese like Pearl from BLADE, but with rotten monster flesh. He explains that long ago he and a group of Immortals from different tribes found The Source. But "You cannot hide your heart from The Source," and it cursed him to decay like this forever and his friend to be The Guardian.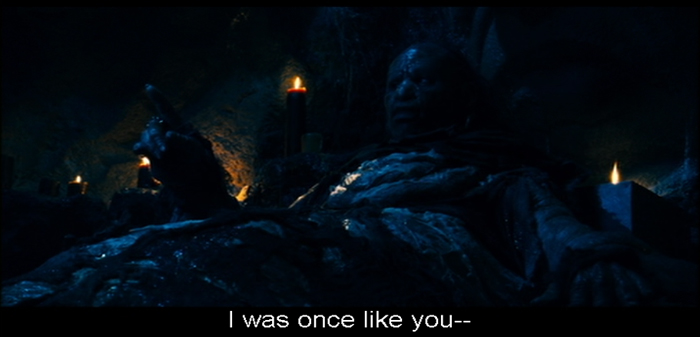 He won't tell them where The Source is, but he tells Anna to "follow the signs," and the others to "follow the woman." (Not the excellent 2011 horror movie by Lucky McKee, but the lady in this movie.) He also warns that they will lose their immortality as they get closer to The Source. Which is convenient for The Guardian because then he could kill them without even bothering with decapitation.
For a while it seems like he's gonna zip around picking them off like it's a slasher movie. There's a part where they're staying at a cabin and Duncan and Anna are up against a tree getting it on, in the tradition of Connor and Louise up against a brick wall in II. But instead of going after them The Guardian sneaks up on Reggie, who's nearby standing watch. He doesn't realize there's someone behind him and he checks his shoes to see if he stepped in something. As far as I was able to catch this is the only indication that The Guardian smells like poo. But it's a good detail.
During their journey, Joe breaks the Prime Directive of the Watchers and interferes, blasting The Guardian with a shotgun. Joe (SPOILER) gets one of those deaths where you get to lay on the ground and say a few emotional words to your friend first. Even though I didn't watch the show and it seems weird that they have him tell Duncan he was his best friend, the performances of Byrnes and especially Paul make the scene pretty effective.
You might think this tragedy would galvanize the team to work together and win one for ol' Joe. Instead it makes Duncan and Methos blame each other, and Duncan almost fights on holy ground over it. He has such a bad attitude he seems to stop believing even the mythology of the previous movies and TV shows. "The Source, 'There can only be one,' – it's all bullshit."
When they're getting along, though, they do well. There's a scene where they spot some guys they somehow know are cannibals in a shipyard putting tires around a guy (dressed in suit and tie!) to light on fire. Our guys are responsible citizens so they intervene, which involves sword fighting and a crashing/exploding fuel truck. Then it dissolves to the five of them walking in a slo-mo badass lineup…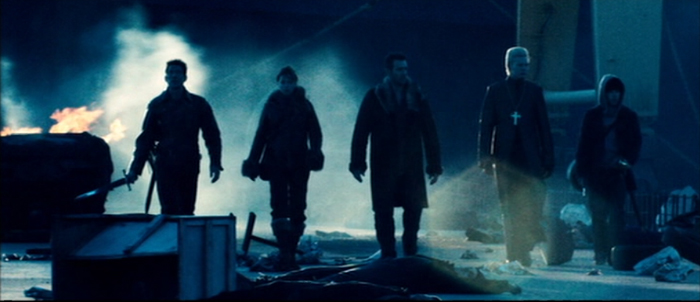 …as a not-terrible metal cover of Queen's part 1/series theme "Princes of the Universe" plays them into a travel montage. I didn't expect that kind of flair to suddenly kick in after 45 minutes, but I applaud it.
(By the way, there's also a part where The Guardian sings a little bit of "Who Wants to Live Forever." I don't know if his powers give him the ability to have heard the HIGHLANDER soundtrack, but I guess if the songs can be played on a jukebox in part II then people know them.)
The team's bravado doesn't always work out for them. In a scene that will later be mirrored in MAD MAX: FURY ROAD, they come across someone strung up on a wooden thing, recognize that it's a trap, but stop and try to help anyway.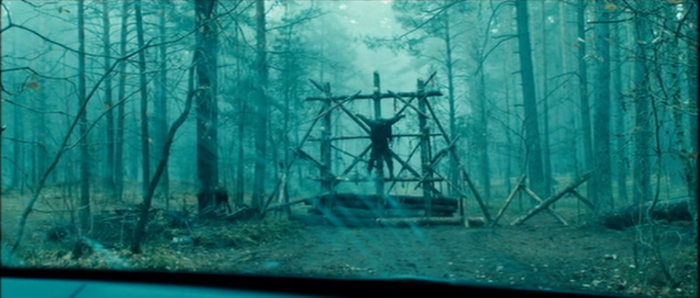 Soon they're surrounded by cannibals on motorcycles and horses who shoot them with arrows, tie them to crosses, then go have a party around nearby bonfires.
This turns out to be a good opportunity for Methos to mention that he saw Christ teach and that Giovanni is too selfish to be a real Christian. An accurate dig even if it's also a brag. #Immortalbrag. A minute or two later Giovanni manages to get one arm loose, reveals that he has a knife hidden in his crucifix, cuts his ropes and leaves the others behind to die, giggling about "there can be only one" and God choosing him and shit.
Not like I trusted him anyway. Look at this fuckin guy.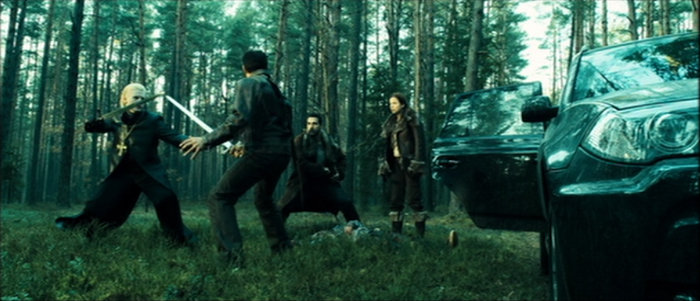 Yeah, the guy on the left. I kept forgetting there aren't vampires in the HIGHLANDER movies. This is the first ever guy to look like that and not be a vampire.
That reminds me that the frequent yellow tinting seemed like it might be intended to make this story of a team of rival magic warriors uniting for a greater cause seem a little like BLADE II. Which would be an admirable goal, at least. Either way, some of the shots are pretty cool looking.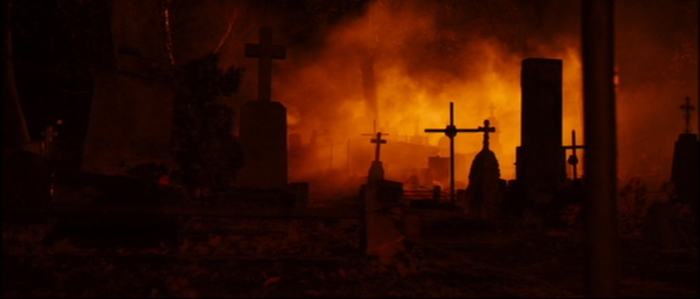 Not having ever seen him on the show, I don't feel much attachment to Methos. But I have to acknowledge that he gets the coolest action move in the movie when he throws his sword into a tree at just the right place to decapitate a cannibal driving by on a motorcycle. (I guess if you're an Immortal then beheading is gonna become your go-to, even when dealing with people who can die other ways. Just like the cannibals probly roast people they're not planning to eat.) And there is an arc to his relationship with Duncan here that works for the movie and probly better for sequelizing the show.
As you might expect, at the climax Duncan and Anna do end up at The Source, and Duncan must battle The Guardian while green-screened in front of some digital planets and magic and shit. I'm pretty fond of some of the more artificial looking FX shots in this movie because of their sci-fi paperback cover aesthetic. Here is a selection of my favorites.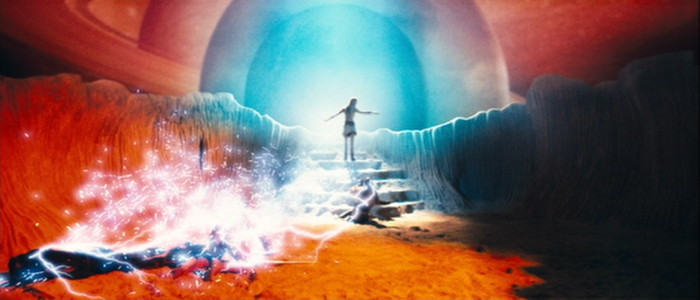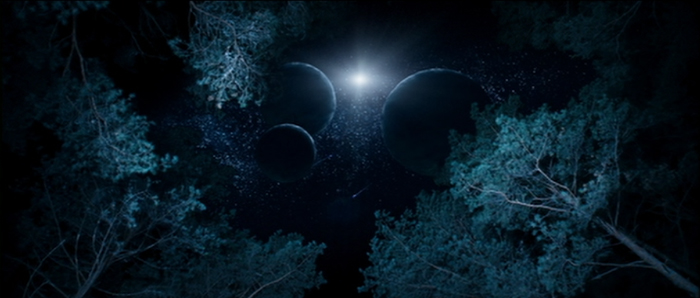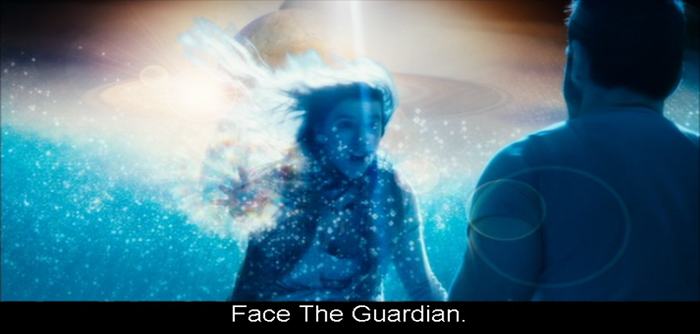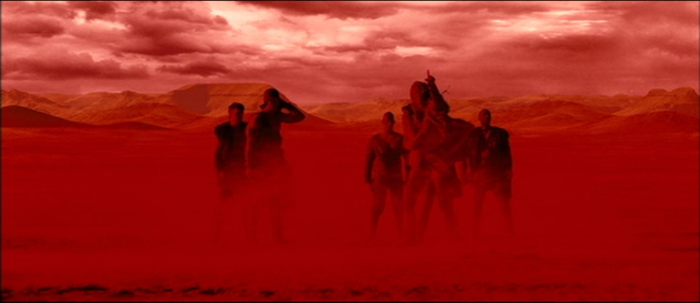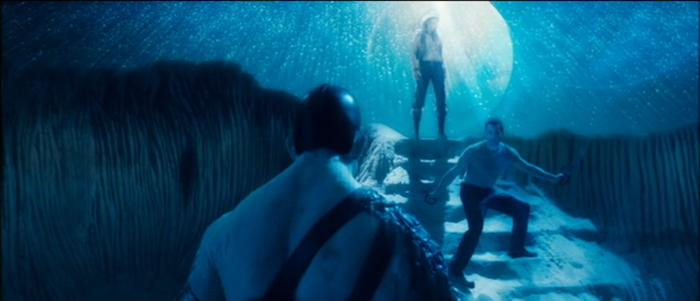 Especially that one at the top. I really think that's beautiful.
While they fight, The Guardian says stupid lines like "The Source. Intoxicating, isn't it?" I wish I could somehow convey to villains like this how much scarier they would be if they just kept their dumb corny mouths shut. But I guess why bother being embarrassed about your shitty taunts when you know what kind of silly super powers you're about to use? There's a goofy sped-up, sparky sword fight that peaks when The Guardian spins around like Taz (or THE MASK) and drills himself into the dirt until only his head and shoulders are sticking out. It's actually a really good trap because most Immortals would laugh at the dumbass and chop his head right off. But for the first time ever in a HIGHLANDER sequel he's trying to solve a riddle, not win a death match. So, in the tradition of Luke Skywalker, Duncan decides he's sick of this shit and refuses to kill him. And that's the correct answer to "the test that generations of Immortals failed." I always preferred Connor MacLeod, but I'm really proud of Duncan for this achievement.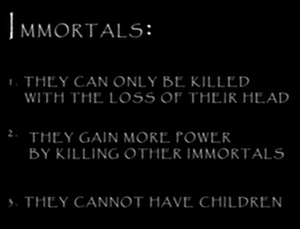 As I mentioned in the review of the original HIGHLANDER, there was an earlier draft where Connor MacLeod had many children over the years, and it dealt with the pain of watching your son die of old age while you stay young. When they decided they didn't want to go into that, it became narratively convenient to just say that Immortals can't have children. Now that little story fix is so central to THE SOURCE that it's one of the three rules of Immortals explained in the opening text/narration. It seems like a weird thing to bring up until it becomes clear that it's important to the narrator, Anna, who considers Duncan "the only man I ever loved," but left him because she wanted to have kids. She didn't want to have someone else's kids, though, so her choice doesn't make anyone happy.
Luckily Anna understands that this whole thing is about that, and that's why her visions involve a kid telling her things (shout out to Jacob in A NIGHTMARE ON ELM STREET 5: THE DREAM CHILD). "No. It's not about death. It's about life!" she says.
The Source differs from The Prize because instead of making him mortal, it gives him the ability to have children. So this is the only HIGHLANDER movie to end with conception and a computer animated fetus.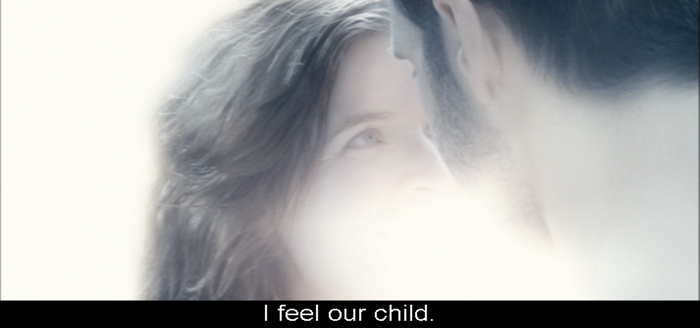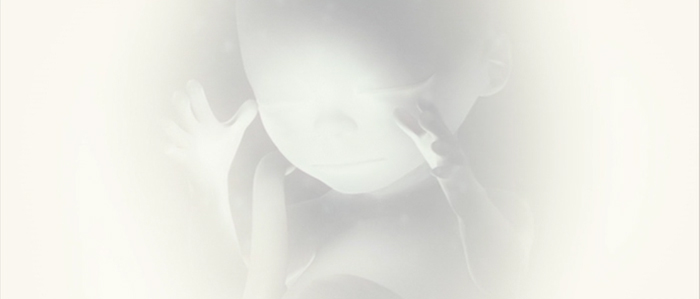 That's the tell that this wasn't designed to be the last one. If it was supposed to be a happy ending, not a cliffhanger, it would've been silent smiling couple holding baby, not CGI baby. Sure enough, the film's official websight claimed THE SOURCE would begin a new trilogy "pairing Brett and Adrian" that the producers felt would "recapture the filming glory of the original HIGHLANDER."
"THE SOURCE tells the story of Immortals as they quest to locate the Holy Grail of their world. The entire series of films will chronicle the origins of the Immortals."
Adrian Paul wasn't any more happy with ENDGAME than Miramax were, so at first he refused to do another one. When Christopher Lambert proved to be too expensive to lure back, they offered Paul more money and a producer's credit, so he agreed. The script is credited to "Mark Bradley" (a pseudonym for ENDGAME's Joel Soisson, who I must mention did not use a pseudonym for HELLRAISER: HELLWORLD) and Stephen Kelvin Watkins (his only other IMDb credit is associate producer on a movie called CLAUSTROPHOBIA – not sure if he's a pseudonym too). Lionsgate bought the movie, I think intending a theatrical release, before deciding to dump it to Sci-Fi. And I guess that's what finally chopped Highlander's head off.
I'm not sure why they never continued the series, or restarted, but I have a guess. The movie is "Dedicated in Loving Memory of Bill Panzer," who tragically died in March of 2007 after falling and hitting his head while ice skating. He was 64. Since the producer was there from the beginning, often given story credits and doing interviews for the DVD extras even on the TV shows, he seems to have been the passion behind the franchise. Maybe the plummet from beloved cult movie to little-seen TV movie was too much of an obstacle to climb over without Panzer there to keep pushing forward.
In 2008 Summit Entertainment (the studio behind TWILIGHT) bought the rights and started trying to remake HIGHLANDER. At first it was to be directed by FAST & FURIOUS guru Justin Lin. Then it was Juan Carlos Fresnadillo (28 WEEKS LATER). Then Cedric Nicolas-Troyan (THE HUNTSMAN: WINTER'S WAR). Ryan Reynolds was attached to play MacLeod. Vinnie Jones, Ray Stevenson and Dave Bautista were rumored for The Kurgan. Summit tried to get Tom Cruise to play Ramirez. Which isn't bad. He does kinda seem like an Immortal.
In 2016, JOHN WICK director Chad Stahelski took over, and as of this writing he's still trying to do it. Just recently he told our friend Fred Topel, "We get closer and closer every day. It's a very thick property and again, I love it so much that I just don't want to fuck it up, so we're just taking our time trying to get it absolutely right before we jump off and we don't corner ourselves in by doing something that doesn't justify the vastness of the project."
If it ever happens I think we can assume it will be a more carefully planned out Highlander mythos. It won't have an ending that wraps everything up in part 1, it won't kill Ramirez until they don't need to bring him back, it won't have Planet Zeist, it either won't have Duncan McLeod or will establish him from the beginning. And if it's Stahelski doing it it will probly be great and have far more spectacular sword fights.
Even so, there will never be anything quite like this original run of five movies, two syndicated TV series, one cartoon and one anime that make up the Highlander franchise. It starts with such a timeless standalone cult film and then crawls through the twists and turns caused by 21 years of shifting budgets, trends, filmmakers and mediums, an exquisite (headless) corpse creating narrative problems that are usually solved in the next one just by ignoring most of what happened before and hoping nobody cares. I love this crazy series. Heads hats off to the original Highlander franchise. THERE CAN BE ONLY ONE!
CONTEXT:
Films that Lionsgate released theatrically in 2007 rather than giving to some goofy cable channel:
HAPPILY N'EVER AFTER, DADDY'S LITTLE GIRLS, PRIDE, SLOW BURN, THE CONDEMNED, AWAY FROM HER, DELTA FARCE, BUG, HOSTEL: PART II, FIDO, SICKO, CAPTIVITY, BRATZ, SKINWALKERS, RIGHT AT YOUR DOOR, WAR, 3:10 TO YUMA, FIERCE PEOPLE, GOOD LUCK CHUCK, TRADE, WHY DID I GET MARRIED?, SAW IV
Other action-ish films of 2007:
SMOKIN' ACES, SHOOTER, DEATH PROOF, SPIDER-MAN 3, D.O.A.: DEAD OR ALIVE, FANTASTIC FOUR: RISE OF THE SILVER SURFER, LIVE FREE OR DIE HARD, TRANSFORMERS, RISE: BLOOD HUNTER, THE BOURNE ULTIMATUM, RUSH HOUR 3, WAR, DEATH SENTENCE, SHOOT 'EM UP, RESIDENT EVIL: EXTINCTION, THE KINGDOM
Other fantasy or sword films of 2007:
BRIDGE TO TERABITHIA, GHOST RIDER, 300, PATHFINDER (co-starring The Kurgan, Clancy Brown), ANGEL-A, PIRATES OF THE CARIBBEAN: AT WORLD'S END, SHREK THE THIRD, DAY WATCH, HARRY POTTER AND THE ORDER OF THE PHOENIX, STARDUST, THE LAST LEGION, DRAGON WARS
You see what happened here? LORD OF THE RINGS and HARRY POTTER happened since the last Highlander installment, so all the sudden there are several times more swords and magic wizard beams and shit than in any previous Highlander year. I think it's hard not to agree that 300 (though supposedly based on a true story) did the fantasy sword dude shit better than THE SOURCE, and PATHFINDER arguably did too. It's hard out here for a Highlander in the 21st century.
This entry was posted on Wednesday, June 5th, 2019 at 9:56 am and is filed under
Action
,
Fantasy/Swords
,
Reviews
. You can follow any responses to this entry through the
RSS 2.0
feed. You can skip to the end and leave a response. Pinging is currently not allowed.