IN BRUGES is an intimate crime story about two hitmen – I know, but hear me out – forced to stay in the titular Belgian town while things cool down after a job gone wrong. Ken (Brendan Gleeson) is the veteran who's happy to take advantage of the down time to relax and look at tourist spots, Ray (Colin Farrell) is his young partner who has no interest and pouts like a kid dragged along on the wrong vacation. He's also the one that fucked up the job and is racked with guilt and depression.

It's mostly about these two characters and their conversations, but along the way they meet various side characters and have little incidents, many of which tend to lead to other things that will eventually tie together in the end. So it feels loose but it's actually tight. All the while hanging over them is the mostly unspoken threat that their boss (Ralph Fiennes) will not in fact call for them to come home, but come to kill one or both of them. By the time we meet him he's a complex dude – a hotheaded asshole who insulted the poor lady at the front desk of the hotel, who's gonna have a character we like killed, but who has a wife and kids that it seems like he tries to be good to. More importantly he did a major life-changing solid for Ken back in the '70s that would cause him to be loyal.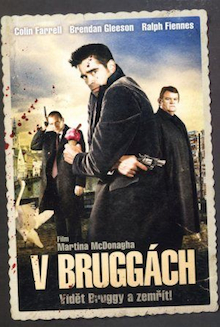 But Ray is mostly oblivious. He has alot to keep his mind off of so he concentrates on trying not to get bored. He gets out of the hotel, finds an independent film shoot, gets a date, gets some coke, makes fun of Ken for drinking "gay beer" (Stella Artois or something) but later orders one himself.
Ken isn't as interested in partying, he wants to commune with history. He brings Ray to a medieval church and explains how there's a thing that people have believed for hundreds of years contains the blood of Jesus and that you're allowed to touch it. Ray opts not to touch it, but it doesn't seem like it's out of some religious objection or worry about his worthiness as a child-killer to touch a holy object. No, it just seems like he's not interested. It's like "Hey, you wanna go get a drink?" "Nah, I'm kinda tired, I think I'm gonna go to bed." Or maybe "You want a piece of gum?" "Nah."
And of course Ken is thinking they say it's the fucking blood of Jesus. Why would you not want to touch it!? Just on the off chance? What a great way of showing a generation gap, or just a personality gap. I can relate to Ken thinking jesus, these young people today, they just don't give a shit about anything. At least he does appreciate the Hieronymous Bosch painting "The Last Judgment," which they go to see. This was filmed in the real Bruges so I'm assuming they really got to shoot the real painting. I don't think Ray really cares that it's more than 500 years old and by one of the greatest painters who ever lived, but just that it's some crazy fucked up Hell stuff and he's curious about that kind of thing, given his situation. It doesn't matter. He looks at it and he appreciates it in a personal way.
The blood of Jesus, though! The Jesus. Not interested.
So Bruges is a place that can be amazing or boring depending on the visitor. It can be a beautiful vacation spot or it can be Hell. Or at least Purgatory. There's some discussion about that.
They're interesting characters because they're all pretty much bad people, but all trying to do something out of a sense of honor. When Ken chooses his loyalty to one friend over another he doesn't just tell the other guy to go fuck himself (which would be best for self-preservation purposes), he waits to see him face to face, explains his reasoning, accepts the consequences, even says he deserves it. In a way they're trying to do the right thing, but they're all at least a little bit dumb or mistaken and that makes it harder for things to turn out well.
In some ways IN BRUGES reminds me of Mr. Tarantino's works – it's this very character-driven, dialogue-heavy story about criminals, largely in their off-time, and acting like goofy normal people who sometimes talk about stupid things or get into silly arguments, sometimes have really cool clever things to say to each other. It's a serious story but with a bunch of really big, usually dark laughs. It's not an action movie, but occasionally erupts into violence in a way that is at times shocking in its bluntness. I mean, there's a couple of real disgusting moments here. But it's not what you come away thinking about, it's just one minor ingredient in the recipe.
Also it has very solid, classical camerawork, very nice-looking but nothing hyperactive or show-offy to try to artificially elevate the energy of the thing. If I remember right the trailer might've made it seem like a Guy Ritchie type of deal. There is no Guy Ritchie in this movie. Nothing against Guy Ritchie, but he was actually locked up in a cage during the entire filming of this movie just to make sure he wouldn't show up in Belgium, that he would never come in contact with anybody who worked on it, any prop that ended up on camera, etc. Some kind of British law, they were able to get away with that I guess. Seems like a violation of human rights, as a liberal I am against it but obviously I can understand why they felt it was necessary. (source: N/A)
Anyway it's more Tarantino than Ritchie, but it's very un-Tarantino in that it's in this medieval town, pop culture rarely intrudes (I guess there's some discussion of Nicolas Roeg's DON'T LOOK NOW), all the characters are European (except some American tourists, who are made fun of), it has lots of pretty stuff in it (old churches, swans, light reflecting off castles at night) and most importantly the music is a gentle, somber score, no upbeat vintage tunes to add swagger or ironically underscore bad things that are happening.
So it reminds me of things I like about Tarantino's movies while not once reminding me of the various Tarantino knock-offs of the late '90s. I don't know if this writer/director Martin McDonagh (who was winning awards for his plays while Tarantino was becoming a phenomenon) was influenced much by Tarantino or not. It feels like they just independently came to similar conclusions about a good way to tell a story.
I just looked it up and his most recent play was A Behanding In Spokane starring Christopher Walken. When I first heard of that play the title sounded like a fictional parody play for a Walken cameo in some comedy, but I don't know. Maybe it's good. Between that and THE HIT LIST maybe Spokane, Washington is gonna take over as the state's media capital.
I know alot of people already figured out a long time ago what a good actor Farrell is, but I'm really seeing it now between this and the remake of FRIGHT NIGHT and even that comedy HORRIBLE BOSSES (where he was one of the funnier parts but wasn't in it enough). Here he has great comic timing, he's believable as a dominant physical force in the scuffles that happen, but also has this sort of boyish innocence that makes you forgive him for saying horrible things or for, you know, being a murderer.
This is also a movie that takes place around Christmas. I like adding to my Christmas crime list. Every Christmas it's good to watch some kind of a Scrooge or a Rudolph, and some Christmas horror and some Christmas crime. And also give money to the poor or whatever. Nice things.
If for some reason you put off seeing this one even longer than I did I highly recommend watching it now. You always knew you'd probly like it, and you were right.