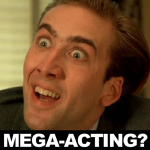 GHOST RIDER is the story of an Evil Knievel type motorcycle jumper named Johnny Blaze who accidentally drips blood on a contract with the devil so his dad is cured of cancer but then dies in a motorcycle accident the next day so he leaves his girlfriend and then about 15 or 20 years later the devil turns him into a burning magic skeleton so he has to fight some gothy monster dudes and hang out with a cowboy (Sam Elliot, obviously). If you're into bullshit like that, you might like this movie, but probaly not. I have too much respect for you to assume that.
Now, I gotta admit I went into this movie knowing I would not like it, and actually hoping it would be hilariously bad. It's not like this is a surprise – the last movie by this director is DAREDEVIL, an absolutely fucking horrible comic book movie about a chubby blind lawyer in a red gimp outfit who fights a villain whose power is that he can kill people by flicking peanuts at them. (I'm not joking.) This is basically the same type of bullshit with more uncomfortable failed attempts at humor and a bigger budget for lots of cheesy video game style effects. (Apparently this movie cost $120 million, which almost makes me cry.)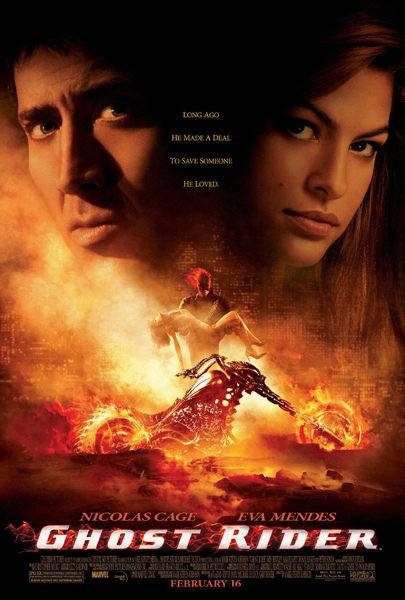 I should've known what I was in for but unfortunately the trailer was so gleefully asinine and embarassingly stupid looking that I got excited to see it. Or at least, that CGI shot of "ghost rider" swinging through the buildings like Spider-man WHILE RIDING A MOTORCYCLE made me laugh every time. I can't remember if that shot is even in the movie, if it is they don't expand on it much. Too bad.
The skeleton is played by Oscar winner and poor crazy bastard Nicolas Cage. That sucker has been trying to make a comic book movie for what seems like 50 years, now he finally gets one and it's this silly piece of garbage. And he doesn't even get to play Superman, he's only Clark Kent because whenever it's super hero time his character switches to a Freddy Krueger voice and computer animation that would've been state of the art 6 or 7 years ago. It doesn't really seem like the same guy anymore.
You know that joke about you get a fortune cookie and the fortune says "help, I'm trapped inside a fortune cookie factory?" Sometimes I get the feeling I'm getting those type of messages in movies. In this case, Nic Cage is trying to tell us what's up with his career. He must've been involved in some faustian bargain type shit because ever since he got that Oscar for LEAVING LAS VEGAS he's been cursed to roam the earth starring in horrible movies like CON AIR, 8MM, GONE IN SIXTY SECONDS, WINDTALKERS, NATIONAL TREASURE, THE ANT BULLY, THE WICKER MAN, etc. Slowly he is learning to use his powers for good, so every once in a while he pulls off a FACE/OFF or an ADAPTATION. But his main super power is a burst of explosive overacting, something he used best as Castor Troy in FACE/OFF but he even gets to use it to get laughs in trash like in 8MM when he watches a snuff movie and gets upset so he bites his fist. (I hear he uses that power in THE WICKER MAN too, but I haven't seen that yet.)
In the case of GHOST RIDER, Cage only uses his super power in the most appropriate place: the scenes where he uses his super powers. When his head catches on fire, before heading back to the trailer so the video game creators can take over, Nic explodes into full-on Castor Troy mode, his eyes popping out and the pain of the fire causing him to cackle hysterically. This little bit of craziness is the only sign of personality for any character in the movie.
The main emphasis is on the love story, which seems like it's written by a little boy who hasn't kissed a girl yet. In the early scenes a young Johnny Blaze agrees to meet his girlfriend at noon the next day so they can run away together. That night he finds out that his dad has cancer (we already knew because there was a scene where he smoked a cigarette and then coughed) and then a weird pervy dude (Peter Fonda, poor bastard) who is obviously the devil comes in and offers to cure dad's cancer if he signs a magic scroll. He doesn't sign it but looks at it and accidentally cuts himself and drips blood on it. (This might've been done in post production because, Seagal DTV style, they later talke about it as if he intentionally signed it.)
The next day the dad is completely cured, and he can't believe it. That night, he goes to see his dad's motorcycle stunt, but his dad is killed. Then he has a confrontation with Peter Fonda out on a road. THEN, after it's dark and raining, he drives by where he was supposed to meet his girl at NOON and instead of saying anything, he just drives past her.
Okay, so he's dealing with alot between cancer, the devil, and the accident. But at no point did I understand why the fuck he forgot that he was running away with his girlfriend at noon. I mean that is a pretty big decision, you would think it would be weighing on his mind too. He had plenty of time to swing by or to call her to give her a head's up if he was getting cold feet. "Sorry sugar, my dad got cancer and got cured by the devil and died, gonna have to postpone a couple days." Or whatever. The guy is set up as a complete chump from the very beginning. Then later, after he's grown into Nic Cage, he runs into her and sets up a date with her and (surprise surprise) AGAIN doesn't show up. And it's played for laughs (I think?). It's like an episode of Silver Spoons where Ricky has two dates at the same time or some shit like that. Why did they think anybody would care about this shit?
The movie also makes the same fatal mistake Nic Cage's NATIONAL TREASURE made. They have this ridiculous premise – a burning skeleton rides around on a motorcycle – and then they spend half the movie apologizing for it. So they have all these scenes played for laughs (I think, although very few laughs actually materialized in the showing I went to) where they talk about the burning skeleton and try to show how stupid it is. Like, a chubby goth girl sees the Ghost Rider and gets interviewed by the news and describes the burning skeleton, ha ha. And then Johnny Blaze tries to tell his girlfriend/stood up victim about the curse and there is more "laughs" about how stupid the whole idea is. The movie is saying isn't this stupid? Who would make a movie about this shit? Who would want to see this? Ha ha ha you are an idiot for paying and we are idiots for giving you what you want! Ha ha!
What I'm saying is you have to have the courage of your convictions. There are nerds all around the world, apparently, who like this comic strip, they take the burning skeleton stunt jumper guy with a spikey jacket seriously, and if they're gonna be filling your bank account you shouldn't make fun of them. And at the same time there are people like me who are going to the movie exactly because it looks so stupid, and we would rather see you take it seriously too because then it would be alot funnier than this bullshit. Treat it seriously and everybody wins. If you think the premise is too stupid to do with a straight face then for God's sake don't make the fucking movie, you assholes.
I can't think of anything that seemed clever or cool in the movie. The only thing that stood out as something I hadn't seen before was that the hero had a couple weird personality quirks: he likes to laugh at monkeys, and he is obsessed with jellybeans, which he eats out of champagne glasses because he doesn't drink. I mean God knows, you lose your dad at a young age and you're indebted to the devil, you're gonna come down hard on something, whether it's booze, pills, pussy, or jellybeans and monkeys. That's life. I assume Nic Cage added these touches, because he's into that type of shit, but it really did not help to make the movie seem, you know, good.
If you're wondering, the action is not very good either. There's not really much fighting, he just has powers like "look into my eye sockets and you will feel bad about being mean" or "I have a chain that swings around." Also he has magic scroll grip, so when the bad guy (Wes Bentley) has him hand over a magic scroll, he is surprised to find that Ghost Rider HOLDS ONTO IT REALLY TIGHT! Awesome.
The mcmuffin of this scenario is a scroll that is worth 1,000 souls. The whole time I kept wondering why it was such a big deal, since it took about 30 seconds to trick Johnny Blaze into signing over his soul, and I'm sure they coulda saved up way more than a thousand in the years since that happened. And sure enough when the bad guy gets the scroll it doesn't make him more powerful, it only makes him vulnerable to Ghost Rider's magic eye socket power. I definitely didn't get the impression that thought of any kind was put into the writing of this movie.
I mean, compare this movie to BLADE. That was also a Marvel Comics character, one that is more obscure than Ghost Rider I think, so it doesn't have a built in audience. And that was another movie that I went into thinking "ha ha, this will be funny." It even has a connection because both movies have Donal Logue in a supporting role and the writer and director of BLADE were gonna do this character years ago before they got dumped for this chump.
BLADE was able to take a cynic like me and convince me that not only is this Wesley-Snipes-as-leather-jacket-wearing-half-vampire-super-hero not stupid, it is in fact awesome. It was able to make me love that character and his world and even some of the secondary characters (like Whistler). It treats the whole world with dead seriousness ("The world you live in is a sugar coated topping") but finds humor in the personalities ("motherfuckers always tryin to ice skate uphill") and also finds room for several classic action scenes (the dance club massacre, the subway chase, the redonning of the sunglasses, etc.). You come away knowing exactly who that character Blade is, what he is about, and you would love to see him again. It turned me from scoffing finger pointer to 100% devotee within the span of one movie. So I don't see how there's any justification for doing such a horrible job on this one. I don't care if it's a burning skeleton on a motorcycle, make it work or don't do it. Come on people whatever happened to god damn EFFORT?
APPENDIX I: Comic strip movie ranking chart
Not as good as BLADE 1-3, BARBARELLA, BATMAN BEGINS, X-MEN 1-3, HULK, PUNISHER.
Arguably slightly less asinine than DAREDEVIL.
Longer than ELEKTRA and therefore more painful.
Not as bad as SPAWN, BATMAN AND ROBIN.
Music not as good as POPEYE.
Humor on par with GARFIELD 1.
APPENDIX II: Ghost ranking chart
1. GHOST DOG
4. GHOST DOG RESURRECTION (hypothetical DTV sequel starring RZA)
12. GHOSTS OF MARS
13. GHOST DAD
75. GHOST RIDER
This entry was posted on Saturday, February 17th, 2007 at 7:40 pm and is filed under
Action
,
Comic strips/Super heroes
,
Reviews
. You can follow any responses to this entry through the
RSS 2.0
feed. You can skip to the end and leave a response. Pinging is currently not allowed.