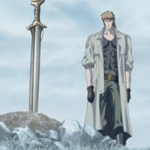 HIGHLANDER: THE SEARCH FOR VENGEANCE is by far the best animated version of Highlander that they've made. Okay, that's not saying jack shit, but I did sincerely enjoy this 2007 DTV (or OVA) anime spin-off. Like HIGHLANDER II and Highlander: The Animated Series it brings the Immortals saga into a dystopian future: "After a century of terrorism and global warming, the earth has fallen into chaos and decay," the opening text says. And I really like this line: "Life is cheap and death comes easy, save for some."

It's a well told (if simple) tale and the design and animation are legit. Director Yoshiaki Kawajiri also directed WICKED CITY, NINJA SCROLL and VAMPIRE HUNTER D: BLOODLUST, plus segments in THE ANIMATRIX and BATMAN: GOTHAM KNIGHT. Shit, I've seen some of those! He also wrote the live action AZUMI 2. But the screenwriter for this one is David Abramowitz, a writer, producer and creative consultant for Highlander: The Series and Highlander: The Raven.
Let's get this out of the way first: it does not involve any characters from any previous Highlander. It never mentions Connor or Duncan MacLeod. Instead it stars Colin MacLeod (Alistair Abell, "Officer Goodman," FREDDY VS. JASON), an Immortal who comes to the MacLeod clan a stranger but is accepted by them when he dies fighting for them in battle (and then chased off when he comes back to life).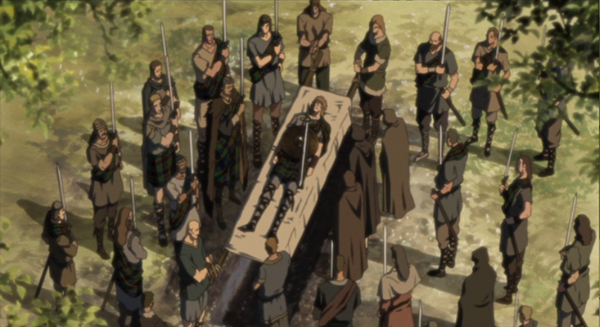 I think it would be cooler to see an anime Connor MacLeod with his white sneakers, but I guess they needed a new MacLeod because they need him to have a backstory that doesn't match up with the other two. Colin does wear a trenchcoat and use a katana. But he wears a headband tied around his head Rambo or Daniel-san style. I can't imagine Connor with that headband. That's another good reason to invent a new MacLeod.
As in HIGHLANDERs I, II, III and IV and surely episodes of the series we have a power mad Immortal villain from our hero's past. This time it's not about trying to stop him from winning The Prize – it's a personal vendetta Colin has against this guy Marcus Octavius (Nolan North, voice of Frankenstein in DEATH RACE 4: BEYOND ANARCHY) for having killed his wife during the Roman Empire. I mean, it was the Roman Empire, everybody made mistakes, but this particular one is hard to forgive. So ever since, Colin has followed him from country to country, war to war, era to era, some of them glimpsed in flashback throughout the story.
Marcus is very good at raising empires and conquering others. He has a cool Japanese-Immortal henchwoman/concubine named Kyala (Janyse Jaud, THE KARATE DOG) and he rules New York City by giving only his people the antidote to a deadly virus while the poor live literally underground trying to avoid it.
The introduction of Marcus got me primed for a great time, because it's a long zoom in across New York City to the top of his golden tower, where we discover that he is the one doing the guitar noodling we've been hearing on the soundtrack.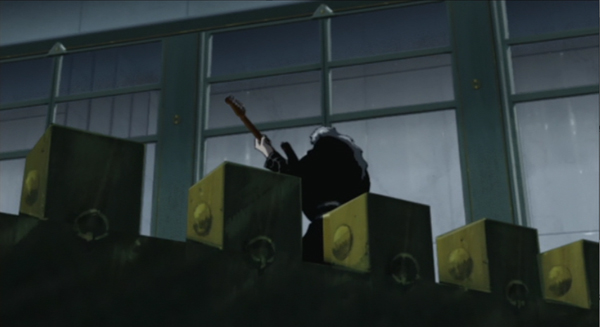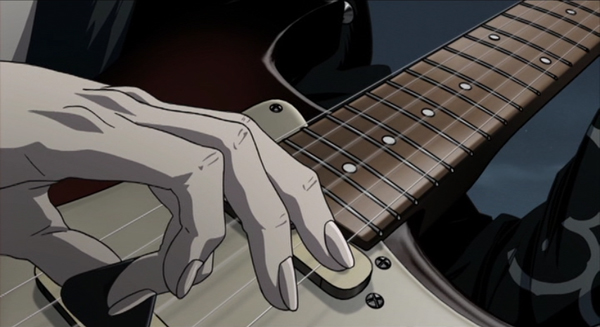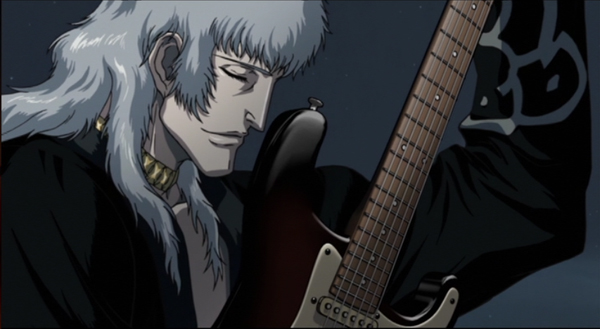 That made me laugh and I think it's very much in the corny/awesome rock 'n roll spirit of Mulcahy's original, where the Kurgan can start singing "New York, New York" and then Queen will play along on the soundtrack.
In one of the flashbacks he's playing a mandolin, so he's been playing for an awful long time. He better be good. Kyala says his playing is "Beautiful," and he says, "But not perfect. Just like this city." I guess that's why he feels the city has to be patrolled by his armies of robotic soldiers, spiders, and these, uh, pyramid tank things: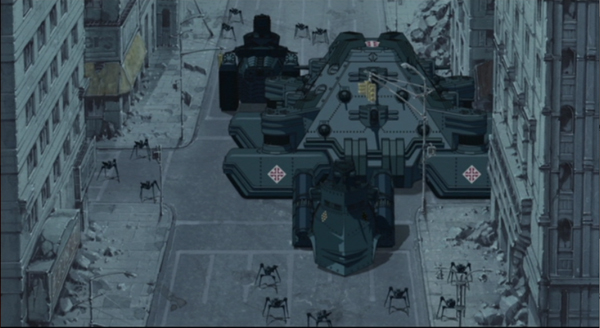 I'm not saying this is a reference, but it makes me think of the also pyramid-shaped Shield in HIGHLANDER II.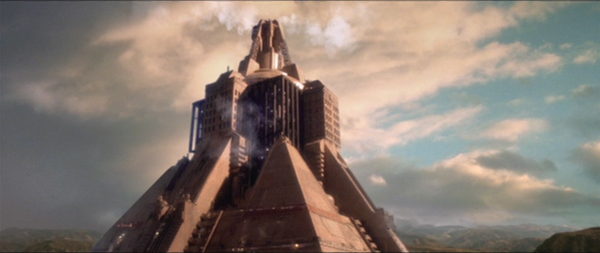 When Colin wanders into 2187 New Jersey he rides a swamp boat through the flooded Meadowlands stadium and walks under hanged corpses to face a gang of mutant cannibal cyborgs having a cookout of lizard-man arms. He senses the presence of an Immortal, but it's just some thousand year old dude with sharp teeth and a giant chainsaw, not Marcus. He doesn't give a shit about The Game, so he's gonna leave, but the guy insists on a duel. I like this guy because his severed head stays alive long enough to express surprise at his defeat. "This can't be! Who are you?" And his body takes several more steps up an escalator before the Quickening comes.
There's a great moment of melodrama when Colin realizes he's found Marcus. He sees him on a giant Big Brother style video screen, and it dissolves to a long flashback explaining who he is, before it comes back to Colin smashing the screen.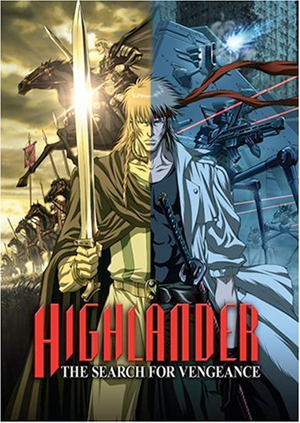 "Don't tell me you know him," says Dahlia (Debi Mae West), the prostitute/rebel trying to enlist him to help break into the tower to steal the antidote for the dying children. "He's the asshole that owns us."
Naturally the point of the movie is for Colin to go from only helping because it's a way to go after Marcus to actually caring about the cause. The titelistical search for vengeance is not portrayed as particularly healthy. Dahlia, as much as she hates Marcus, doesn't immediately accept the premise of Colin's quest.
"You expect me to believe that you ran out on us because you and Marcus are both immortal, and you've been chasing him all this time, for revenge. All this time?"
"Yeah."
"Because he killed your wife. Two thousand years ago. Two thousand years. I think you're out of your fucking mind!"
I guess she's probly saying she doesn't believe he's that old, but I first took it as disbelief that someone could hold onto a grudge that long.
In Colin's defense, Marcus has done plenty more to prove he's an asshole than just kill his wife. Throughout history you could count on him to join all the most oppressive regimes. In France during WWII he had no qualms about flying with the Nazis, and Colin had no qualms about diving onto the wing of his plane and trying to have a duel with him. So it's very clear who to side with here.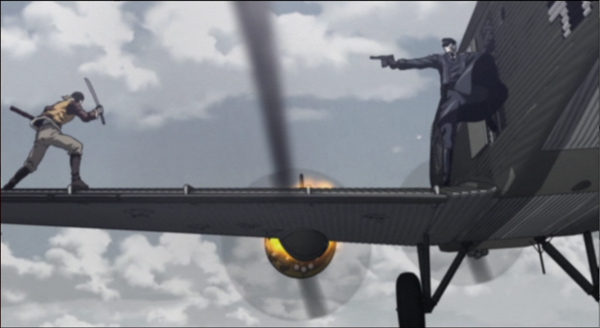 I love that we get to see these two characters facing off in a variety of cultures and eras. For example we see them in samurai armor.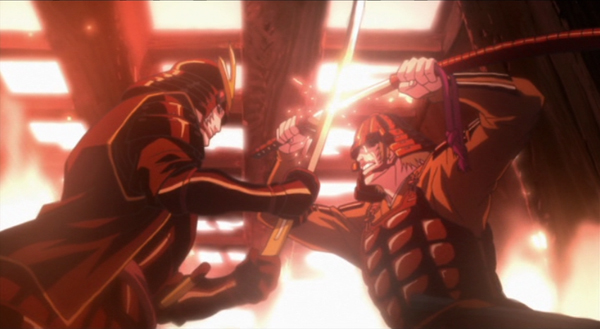 It's natural, if you have characters who live for thousands of years, to put them into different historical periods you're interested in, especially when it's animation and you can use it as an excuse to draw cool shit. But I also take it as an extension of the grand Highlander tradition of interchangeable nationality, going back to the counterintuitive casting of a Frenchman as a Scotsman and a Scotsman as an Egyptian-Spaniard.
Instead of a Ramirez type, Colin has a magical little druid named Amergan (Scott McNeil, "Crackhouse Junkie" on one episode of Street Justice) who follows him around hassling him. I guess he's a ghost, and he also turns into different animals like the lady in WILLOW.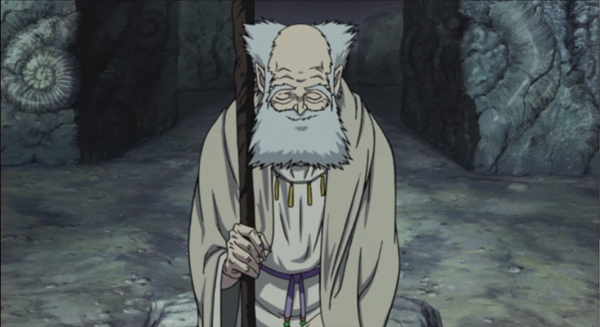 He doesn't teach him any sword tricks, but he explains the Immortal rules and stuff. He's not a very Highlandery character, but a list of Kawajiri's trademarks on his Wikipedia page includes "old men of small stature who act as wise sages." So while this takes some elements from Highlander (a favorite: Stonehenge is used as the "holy ground" where Immortals are forbidden to fight) it's very much molded for the artist and the medium.
The best thing about being animated (specifically by Madhouse, a well-regarded studio co-founded by Kawajiri) is that it allows for more action than in the live action ones. There's lots of cool slicing up of robot security goons, organic humans, even a giant sewer crocodile.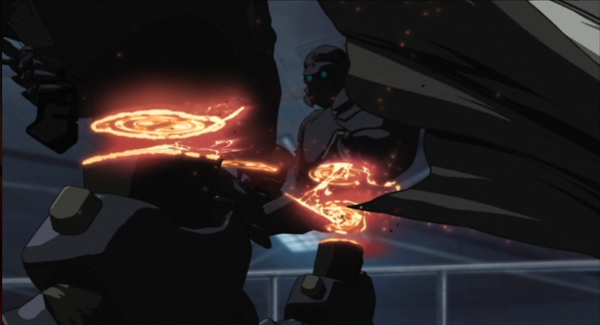 And I enjoy this movie's use of the samurai trope of swordsmen passing each other and not realizing that one made a quick, deadly slice until the delayed sliding off of a limb or head. It happens to both man and machine.
Eventually Colin embraces his destiny and leads the army of the poor in revolt. Before that he also embraces Dahlia, who had initially tried to have sex with him as a recruiting tool (he rejected) but now is actually into him, as would happen in a romantic comedy. They have a passionate sex montage full of time-jumping dissolves and spontaneously lighting candles (inside a church). Definitely Highlandery. Then when she's asleep afterwards he jams her apartment door with a wrench to try to keep her from joining the battle. That's a problem with Immortals, they're never gonna let go of that old paternalistic bullshit. But she escapes from his unlawful confinement and comes and saves his dumb ass.
I know what you're asking. Is there a giant fan with a light behind it? Or is this not a true heir to the Mulcahy/Highlander legacy? The answer is the first one – there is a giant fan that Colin has to climb through as part of the attack.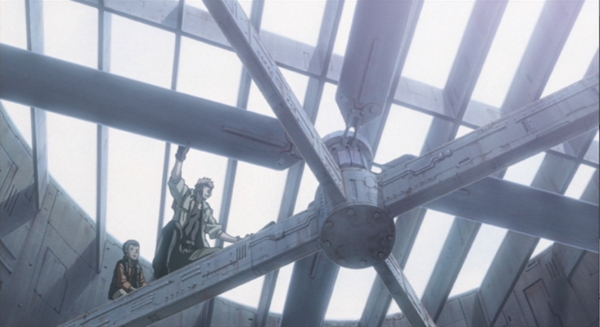 Also I want to share this cool "camera" angle that doesn't remind me of anything specific from HIGHLANDER but does seem to be in the Mulcahy tradition of dynamic visuals: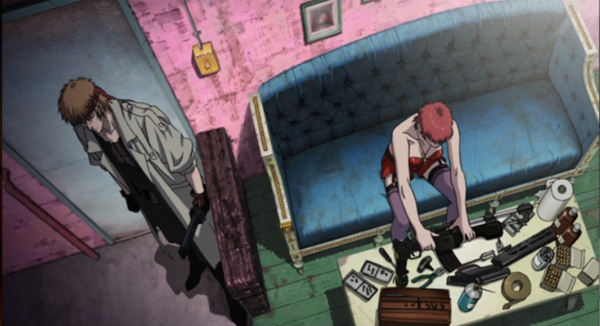 More proof that this is a true HIGHLANDER movie: there's an alternate version. The 10-minutes longer director's cut was released in Japan.
If there's anything that ties specifically to the TV series then I didn't pick up on it. There's no reference to Watchers, for example. But Jim Byrnes, who plays Joe Dawson on the show and in the two related movies, apparently voices two characters, Rudy and Doc. Since he's a prolific cartoon voice actor, though (G.I. Joe, Double Dragon, Mega Man, Transformers Beast Wars, RoboCop: Alpha Commando, X-Men: Evolution, Hot Wheels: Battle Force 5), I suspect this is closer to a coincidence than a nod to fans.
Like all Highlander motion pictures so far, I recommend this one. I actually wish they would've made more of them and explored this territory more. It would be nice to see Colin MacLeod have more adventures now that he's not burdened by a drive to search for the ol' vengeance. And we could hope that some day there'd be one that's not as good looking but that teams him with Quentin MacLeod from Highlander: The Animated Series and they eat hot dogs together.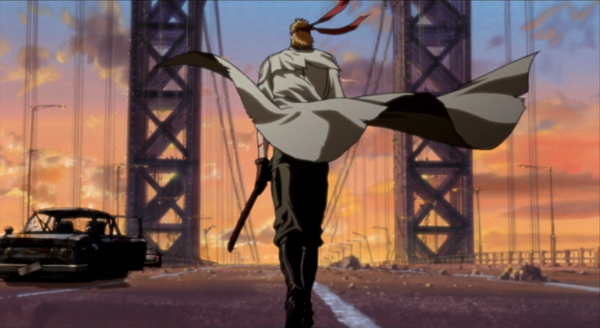 This entry was posted on Tuesday, June 4th, 2019 at 11:39 am and is filed under
Action
,
Cartoons and Shit
,
Fantasy/Swords
,
Reviews
. You can follow any responses to this entry through the
RSS 2.0
feed. You can skip to the end and leave a response. Pinging is currently not allowed.