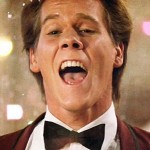 Kevin Bacon plays a regular ol' businessman guy whose son is randomly murdered in a gang initiation killing/convenience story robbery by tattoo-having, muscle car-driving, meth-dealing fantasy skinhead gangsters. When it becomes clear that the killer will only get a few years in prison he decides not to testify so that the case will be dropped and then he hunts the guy down and murders him. That is why it is called DEATH SENTENCE. The end.
Wait, no. My mistake. There's more. Even if it's obvious, even if it's corny, what makes this movie cool is the gimmick that the good guys and bad guys reflect each other. In the scene where Bacon's son is murdered, the older gangsters call the killer "my boy," like Bacon would've at his son's hockey game. They're proud of the little guy. You know what they say about gangs, even phony movie gangs like this: they're like a family. Bacon has a family member murdered, so he gets revenge. But that means the gang has their family member murdered, they must get revenge on him, so they come after him and his other son and his wife, and then he has to get revenge on them for trying to get revenge on him for getting revenge on them. So it's the endless cycle of violence, the circle of revenge, the snake biting his own tail, the 360 degrees of Kevin Bacon. Just a couple of proud papas killing each other for killing each other's boys. You know how it is. When the vengeance keeps going back and forth you can't help but think of Iraq and other endless military conflicts. A police detective does refer to Bacon's activities as "starting a war" but luckily that's their only elbow nudge as far as "get it? It's about war."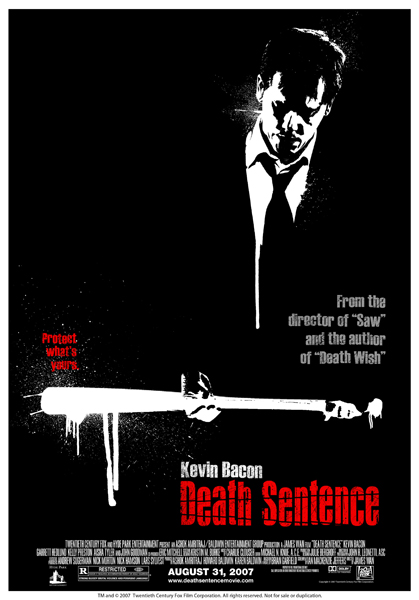 The director is James Wan who directed the first SAW and therefore is the godfather of "nu horror." But his action movie here is pretty old school. Not just because it's a Charles Bronson throwback but because it avoids all the quick cuts and other showoffy shit we hate in modern action movies. I like the action in this one, especially the extended car and foot chase in the middle. It would be a hell of a thing to do in real life but by action movie standards it's very small and down to earth. Nicely put together, you feel like you're right there with him and yet the camera doesn't have to shake.
By the end Bacon goes Travis Bickle on that ass. He wears kind of a tough guy coat (actually his dead son's – just like Punisher wearing the stupid skull t-shirt his son gave him) and he shaves his head. One nice touch I don't remember seeing in a movie before – this guy is a businessman, he's not experienced at shaving his own head, so he misses a spot on the back, and it stays that way for the rest of the movie. So instead of making him look cool or tough like your usual revenge-seeker after he gets suited up this getup makes him look legitimately crazy. It would be even better if he wore his son's childhood pajamas or something but this will do.
I thought this was a DEATH WISH ripoff but it turns out it's a blood relative. Officially it's adapted from the book by Brian Garfield, which was actually a sequel to his book Death Wish. So in that sense this is sort of to DEATH WISH as DIE HARD was to THE DETECTIVE. Apparently the movie has almost nothing to do with the book, but since Garfield wrote the book as a response to the DEATH WISH movie and this movie shares his anti-vigilante statement, he likes it.
I should mention that I saw this one under unusual circumstances. I don't think I really did anything wrong. I had a day off and I knew I could go to an early show. I looked up the movie times online, went to the earliest show, which was 1:10. At the theater I used the computer kiosk to buy tickets. When I clicked on DEATH SENTENCE there was no 1:10 showing listed. Then I noticed a separate button for OCA: DEATH SENTENCE or something like that. I couldn't figure out what the letters stood for but I figured it was digital projection or something. Shit. Wish I knew that. Oh well, I know if I don't see it now I'm never gonna get around to seeing this one. I'll stay.
I thought about asking the gal who tore my tickets what those letters stood for, but I figured it didn't matter. When the ads and trailers and shit started they were on film. So maybe it's not digital. Or maybe the digital starts after the ads. Eventually the 20th Century Fox logo comes up. Still projected from film. Except on the bottom of the screen there is a subtitle with musical notes and it says "(Triumphant music)".
Around me there is shuffling and muttering as many, if not all of the 7 or 8 of us in the theater realize "Oh shit, this is close captioned for the hearing impaired."
At first I thought it wouldn't be that bad. I just wouldn't look at them. But no matter how hard I tried not to notice them I could not not notice them. It's like a constant heartbeat in the form of a blurry white flash below my field of vision. Even in the movie's long, wordless chase scene it would flash musical notes on the screen, as if seeing that symbol would make the scene more intense for deaf people.
I considered leaving, getting a pass to come back some other time. But I knew there was no other time. My solution was to watch the movie while holding my hands up in front of my eyes to block the lower part of the screen.
Two things about the closed captioning: 1, a guy answered his cell phone during the movie. He went outside to have the conversation but he actually answered it at normal volume and talked as he walked to the exit. Usually you would figure he was a huge asshole but this time he must've assumed everybody was deaf anyway and wouldn't give a shit.
The other thing is that a couple weeks later I was in the same theater and I noticed OC: THE BRAVE ONE, which is the higher brow DEATH WISH ripoff starring Jodie Foster. So you gotta figure there must be some huge demand for vigilante movies in the hearing impaired community.
Anyway, the reason I bring up the captioning is because this movie was pretty enjoyable in a generic sort of way, but who knows, it might've been the god damn GODFATHER if I had not been so distracted and had been able to see the whole frame. It all depends on what was going on in that lower part of the screen. Or maybe the movie is actually pretty bad but all the bad stuff is in that lower part, maybe I enjoyed it more than I would have. If so I would like to thank Regal Cinemas for not using the mirror that reflects subtitles from the back of the theater like they do at Cinerama.