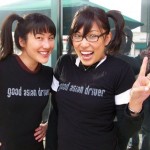 This third picture in the FAST AND THE FURIOUS trilogy saga is pretty different and at first doesn't even seem to be connected to the other ones. I never saw Academy Award nominee for best director John Singleton's 2 FAST 2 FURIOUS, but I know Paul Walker returned and Vin Diesel didn't. And I believe Tyrese showed up. This time around we lose everybody and start over with a new character played by Lucas Black (the kid from SLING BLADE who I last saw in a small role in JARHEAD).
The first section of the movie, which is also the best section, is all about Lucas Black getting into macho confrontations with dudes and then having a race. In the opening he's leaving school, getting into his junker car when he exchanges words with a rich asshole jock dickhead (HOME IMPROVEMENT's Zachary Ty Bryan, still wearing a letterman's jacket at 24). You can already tell this is gonna be a worthwhile movie when it starts playing western style music and showing closeups of their faces as they stare each other down. They're about to get in a wrench fight when the jock's girlfriend suggests a peaceful solution: a fast and/or furious race. Lucas Black says, "I only race for pink slips," (he doesn't mention whether or not he lives life a quarter mile at a time) but since the HOME IMPROVEMENT guy's Viper is worth $80,000, the bet is not agreed upon. So the girlfriend suggests herself as the prize. So you know the western music was not lying about this movie being awesome.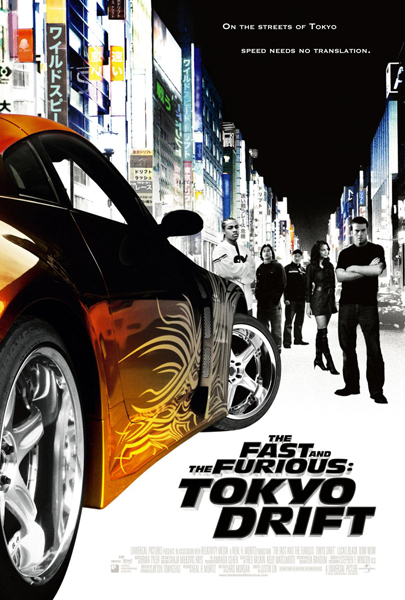 Now, maybe it's the girl who uses her bra as a starting flag, or maybe it's Lucas Black's strategic decision to crash through an unfinished house as a shortcut, or maybe it's the girlfriend turning to her boy and saying, "I thought you loved me!" when they start to lose and then the boyfriend pulling that one lever they have in cars that makes them go faster that you only think of using late in the race. It could be alot of things but something about this scene is even better than the rest of the movie. At the end of the race both cars are destroyed and all three drivers and passengers are bloody. Black smiles with bloody teeth and winks at the girl he has supposedly won in the race. What a charmer.
But it turns out this guy is a troublemaker and this is his third strike so to avoid going to jail his mom sends him to his Navy dad, who lives in Tokyo. He crashes in dad's shitty little apartment, and the next day has to go to a Japanese school where he meets another American, Twinkie, played by regular sized Bow Wow (ROLL BOUNCE). Twinkie (who drives a weird green car with three-dimensional Incredible Hulk fists coming out of the sides) introduces him to the world of underground "drift racing," which means you skid around sideways alot. And again he gets into a macho confrontation with a dude (this time a weird looking wannabe Yakuza with a flat nose named Drift King). A stranger lends him a fancy car and there is another race. And you realize wow, so far all that has happened in this movie is this guy has gone to one day of school on two different continents and both days led to a car race to prove his manhood.
Unfortunately, for the rest of the movie he is able to leave the house without getting in a race, but it's still pretty good stuff. Han, the guy who loaned him the car, is pissed because it turned out he had no idea what drifting was and scraped the car all up and down every cement surface available, completely destroying it. So he ends up doing some jobs for Han and they become buddies sort of like undercover cop Paul Walker did with street racer/armed robber Vin Diesel in the first movie. Only one never has to betray the other. He has to learn how to drift through a variety of training montages and what not. (He doesn't seem to ever have any problem adjusting to driving on the other side of the car and the street.)
The racing scenes are pretty cool. You can't always follow what's going on but they're much less artificial than the races in the first movie. This is because it's mostly real. There were two obvious digital shots but both were pretty cool, one was an overhead shot of "drifting" through hundreds of pedestrians in downtown Tokyo and the other was a fancy digital camera move over cliffs during a big race. Well, you had to be there.
But as important as the racing is the Tokyo setting. We Americans are suckers for all that Japanese shit, and they get alot of it in there. They got rotating garages, those little bunker apartments, pachinko parlors, Japanese retro garage rock, Japanese cowgirls, Yakuza pop star dudes with fancy hair and suits, etc. Pretty much everything but karate. But instead of karate they have Sonny Chiba himself in three or four scenes as the bad guy's Yakuza uncle. His way of karate has no end.
There's this new trend in movie advertising called Lambading. It's where they try to shove some fake trend down your throat and pretend that everybody is excited about it. For example the ads for DISTRICT B-13 (the American release of that old movie the rest of the world calls BANLIEUE 13) have three critical acclaim quotes that casually drop the word "parkour." The idea is that you're supposed to go, "Parkour? What's parkour? How come this critic says it and doesn't explain what it means? And this one too. Oh shit, everybody else knows what it means and I never heard of the god damn thing. Now I have to see this movie so I'll know what it is otherwise people will find out I don't know and nobody will think I'm cool anymore."
TOKYO DRIFT takes kind of the opposite approach, they pretend that "drifting" is a huge phenomenon but instead of dropping it casually they have a definition, history and glossary on the back of their promotional posters. If you read my 3,901 word review of THE FAST AND THE FURIOUS you probaly don't remember this, but I pointed out that drag races are not at all cinematic because they just go in a straight line and it's boring. I don't want to brag but let's admit it, my review was the inspiration for this movie and for the entire fictional sport of "drifting." So Vern doesn't want it in a straight line? they asked. Then we'll have 'em drive sideways and spin around in circles and shit. Also they drive on curvy roads and on parking garage ramps and various twisty things. My point is, this type of racing is a little more interesting to watch than the old "zoom down a street and pull the nitrous thing to go faster" shit.
In fact the filmatists are so confident that dipshits in the audience will be excited about "drifting" that when the movie ends the agressive techno comes on but instead of the credits right away you get a long disclaimer about how the driving in the movie was performed on closed tracks by professionals and if and when you dumb little rich brats kill yourselves trying to do it at home it will be your own god damn fault and not Hollywood's. I think JACKASS has something like this but this is the only non-documentary I know of with that kind of disclaimer.
To me though it wasn't the racing that made the first FAST AND THE FURIOUS watchable, it was Vin Diesel. In this movie there is no replacement for Vin Diesel's macho charisma. The character Han sort of takes his place in the story, because he's a good guy criminal. Late in the movie we even find out that he knows Vin Diesel's character and they're "like family." (Remember, at the end of part 1 Vin drove off into the sunset to have racing adventures all over the world.) But whether you like Vin Diesel or not, Han is no replacement for him. I can't make excuses, the guy sounds like a dork. He's a likable enough character but his squeaky voice is the opposite of Vin's.
But I happen to think Lucas Black makes a great anti-hero. My bud Laremy will disagree, he said on his podcast that Black is "horrible" in the movie, but he's wrong. Black is cool because he doesn't seem to have an ounce of Hollywood bullshit in him. In fact, this is his first Hollywood bullshit movie after doing little independent movies since he was a kid. I don't know how he got the lead in this movie without having to hide his Alabama accent, but when have you seen that before? It seems like Mathew McConaghey's about the only guy with a real accent. It's like from a distance they thought Lucas Black was another buff pretty boy like Paul Walker and he was already signed on before they got close enough to realize he had a little Warren Oates in him.
Black's character Sean is an age old movie tough guy type. A guy who delights in causing trouble, but has a deep sense of honor. And also is incredibly stubborn. He never backs down from a fight or a challenge, and in fact always backs into them. Nothing scares him. It's not just that he's doing these dangerous races and that he's messing with the Yakuza and stealing their women, and that when the shit gets really bad he decides to go find Sonny Chiba and talk to him man-to-man to straighten things out. He's the same way with less life threatening challenges. How many dudes from Alabama would just walk into a Japanese school, not knowing the language, and try to go to class without complaining? It doesn't matter how many times you see these type of characters, they're always fun to watch if the challenges they face are amusing enough. And involve race cars.
So the first half is definitely better than the second, and I'm not saying I didn't get bored at times. But TOKYO DRIFT is a fun, ridiculous movie. Not as asinine as the original, but in many ways more entertaining.