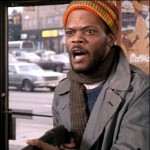 Going in I didn't know WHAT to expect. A remake? A sequel? The ads made it look silly and ridiculous. Like not so much a remake as a big screen adaptation of the Shaft theme song.
But then I never thought Shaft was the god damn word of the lord or anything. He's a cool character and I like his work and what he accomplishes with the ladies but I never thought his pictures had the same emotional depth of Superfly or The Mack or Blacula. Maybe it's because those are movies about outlaws instead of a law enforcement figure like a private eye. Or maybe not. I think you kind of had to be black at that time to know what it meant to finally see a black James Bond character like John Shaft. But at the time, just as now, I was a white man.
So I was open to some noodling and fiddling with the Shaft character, but to my surprise it is a surprisingly faithful update with hardly any shenanigans. It is a pretty serious story of Shaft trying to catch a racist murderer rich boy bail jumper played by none other than the American Psycho from the film American Psycho starring Patrick Bateman. The tone of the picture is a very strange and enjoyable cross between gritty police stories like Clockers and the Homicide television program and the more corny '70s tv shows like CHiPs. So the violent scenes are grim and disturbing but you still got a foot chase or two with Shaft chasing a dude up and down fire escapes fueled only by wah wah guitars.
The reason I like this picture is mostly the '70s feel. The only Isaac Hayes song they used is the main theme, but the score is all extrapolated from the style of that piece. And Shaft is a character with a combination of qualities you just don't see all at once anymore. He is the guy who always looks cool, always knows how to trick somebody or kick somebody's ass something good, is single and open to sharing his charms with many ladies, and who also is sensitive and supportive to the point of sainthood. During the court room scene, he is sitting behind the mother of the victim, rubbing her shoulders and telling her everything is gonna be okay. You almost think he is a guardian angel.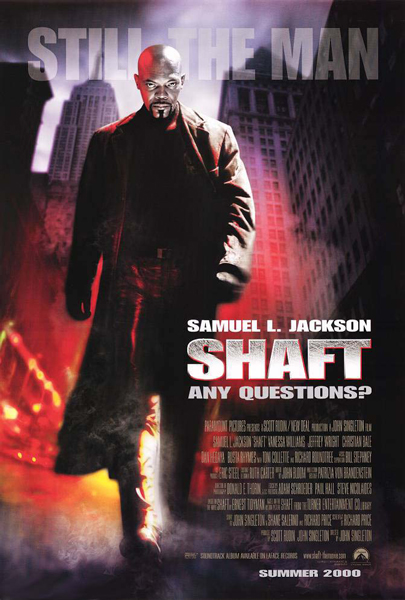 One of the writers was actually Richard Price, the white individual behind both the novel and the screenplay Clockers. So that is why there is a cameo by Mekhi Pfeiffer, the actor who got his start starring as the yoohoo drinking fellow in Clockers. In fact there are many cameos in this film. Sonja Sonj, the poet and love interest from Slam appears as a friend of Shaft's who is going to go home and screw him. Bonz Malone also from Slam appears briefly as a character named Malik who gets his ass whooped by Shaft. Gordon Parks also has a cameo. Not sure what he has to do with Slam but he did direct the original Shaft, so why quibble?
The one guy who doesn't get a cameo is Richard Roundtree, the original Shaft. And that is because he gets an actual supporting role. I suppose he is only in a handful of scenes but he plays Shaft's "Uncle J." And the big mystery is, is this supposed to be THE John Shaft, the uncle of Samuel Jackson John Shaft? Or is he just an uncle whose name begins with J and Jackson is playing the one and only John Shaft that ever existed in the universe of this picture?
Well the answer is in the end credits which calls Richard Roundtree "(Uncle) John Shaft". So what we are dealing with here is a picture that alleges that John Shaft has a nephew who is just as cool a private dick as he is. And that is one of my favorite aspects of the picture.
You see, all the great cinema icons have nephews. I am talking about individuals like Mickey Mouse. Individuals like Popeye. And etc. I will be looking forward to the next Shaft film which hopefully will have Shaft's three nephews John Shaft, Don Shaft and Han Shaft.
But seriously gang it is nice to see the original Shaft not just brought back for a condescending cameo but actually helping out the new Shaft. And wearing the same black leather coat and white turtleneck. Apparently he had other scenes that were cut but I really hope he will be back for the next one.
I suppose the big question is, does Samuel Jackson pull it off? And the answer is yes. This is one cool individual, and his bald head and immaculate leather outfits ain't hurting. In the beginning I was a little worried because he was a cop. And there is some pretty touchy stuff in there where he is framing people and beating them and all the garbage that cops do in real life, but it's supposed to be cool.
Fortunately, the writers paid attention to the theme song and remembered that Shaft is a private dick. So he quits the force in one spectacular courtroom scene and then the movie starts smokin.
There are definitely things you could quibble about. I thought Jeff Wright, the individual playing the Dominican drug lord, was a little too over the top and phoney in his portrayal of a Latino. I know the dude has been getting rave reviews, but jesus. And by that I just mean "jee-zus." There is even a scene where he's yelling "Vaminos! Vaminos!" to his henchmen.
Also there are some things that I didn't think made a whole lot of sense. Like why would Christian Bale threaten the witness when all he did so far was beat a guy up. And why would he have a New York accent during all of the scenes at the bar but not in the rest of the movie. And if Peoples is just "a two bit, two block drug dealer" then why can't they arrest him when they find his buddy dead outside his broken apartment window with People's beloved icepick in his chest?
But I mean jesus. The point is this is a fun and unique and badass picture. It has alot of funny shit and a pure sense of melodrama and larger than life machismo that you don't really get very often these days. I would highly recommend this picture, if you don't watch it I don't know what is wrong with you fucks. thanks.