I remember the original FRIGHT NIGHT being an okay movie, but I haven't seen it since the '80s, so I don't remember it well enough to compare the remake to it. But on its own I did find the remake to be an entertaining-if-not-entirely-original take on the ol' vampire shit.
Anton Yelchin plays the hero Charley, Imogen Poots (CENTURION) plays his way-out-of-his-league girlfriend Amy, Christopher Mintz-Plasse plays his friend "Evil Ed," who gets bit by his neighbor Jerry. Because Jerry is a vampire – don't worry, it's not some weirdo biter guy.

Jerry is played by Colin Farrell. The mom is played by Toni Collette. Holy shit, this is a better cast than you'd expect. And all the main actors besides Chekov and McLovin are hiding accents. Some guy from Doctor Who plays a Kriss Angel type Vegas illusionist (I bet they asked Russell Brand first) who replaces Roddy McDowall's horror host character as the outside vampire expert. Younger siblings of James Franco and Sophia Vergara are also in the cast.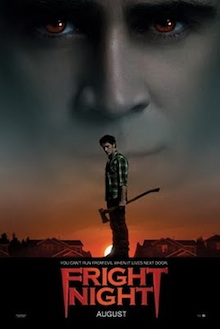 Charley is a semi-popular high school kid in the cookie cutter suburb of Bumfuck, Nevada. He grew up nerdy and has been avoiding his childhood friend Ed because he doesn't want to be embarrassed in front of his two douchebag buddies or his super-hot girlfriend. What he doesn't know is that Ed calls and texts so much not because he wants to play Dungeons and Dragons but because he's discovered and gathered evidence to prove that the missing kids in their school were killed by a vampire. Which in my opinion is a pretty big deal, even in today's society.
The vampire in question is of course Jerry, the new next door neighbor. Charley's mom flirts with him and enjoys watching him sweat while doing work on the house. She'd probly be less into him if she knew what he was working on was a dungeon for locking up the girls he kidnaps. But everybody finds these things out too late. Shoulda listened to Ed.
I guess you could say Yelchin specializes in re-inventing previously existing characters for a new generation and doing them as sort of wimpy-seeming guys that turn out to have more sand than people thought (STAR TREK, TERMINATOR SALVATION, this). Here he's a recovering nerd but kind of a dick, and has to not only prove his manhood but also be nicer. We don't really learn how he landed a smokin hot girlfriend or why he's stupid enough to neglect her to do vampire research. There's a whole thing about how he's a virgin and she wants to do him and he's too distracted by the vampire thing. It's probly supposed to make him seem sensitive but it made me just think he was a fool. You might die, dude, you should act now to take advantage of this incredible offer. Or, you should always be open and honest in relationships is what I mean.
Seriously, I don't buy that even monsters would cause a teenage boy to turn down sex offers, but I also was bothered that he was being such a shitty boyfriend. If you really care about a girl then tell her about the murders, I always say. Once he lets her in on what's going on they actually have a nice chemistry, they joke around with each other and look after each other's feelings in a way that movie couples don't always do.
We've all seen 1.3 million versions of the vampire story by now, and there are only so many variations possible, but personally I can still enjoy 'em. Your mileage may vary. This one is pretty clever about it. There's a funny part where Amy tries silver bullets even though they're for werewolves (a cliche in vampire movies trying to play with cliches) but then immediately gets it right in her second try. And Jerry has an excellent way of getting around the "a vampire has to be invited in" rule – spoiled in the trailer, but still awesome when it happens.
It turns into kind of an action movie at one point, with some good gags, well staged for visual clarity and impact. I really like the look of the movie, and director Craig Gillespie (MR. WOODCOCK [!?]) seems to have a good grasp of filmatism, but there were a couple parts in night scenes that were muddled by weirdly dark cinematography. Maybe this could be related to the fact that it was shot in 3D, but you would think it would be even darker when projected than on blu-ray, so I'm not sure.
I kinda remember Evil Ed from the original movie, he was that weird looking dude that was also in 976-EVIL and later did gay porn. Here he's less of a weirdo creep and more of a traditional nerd. I think his part might be smaller and less convincingly evil. But it's kind of sweet what happens between these former friends.
TV writer Marti Noxon did the script (CHILD'S PLAY's Tom Holland gets a story credit, but I figure probly just for writing the original movie). It seems to me you can tell it was written by a woman by the likable, capable (okay, and hot) female characters. They're neither Milla Jovovich type comic book gunslinger babes or idiot victims. They can be smart and capable and funny and they can also screw up. Yelchin is a good type of middle-of-the-road hero too – he's not a pretty boy but not a tough guy, not skinny but not tall, he has a motorcycle but it doesn't work half the time. He's a pretty average dude trying to find his inner-badass. I guess it helps that he gets to use a crossbow, that tends to make you seem above average. The leather neck guard I'm not sure about, that could go in either column.
Farrell is more of your larger-than-life movie hunk archetype, but that makes sense, he's undead. I gotta give him alot of credit for this. He does the seductive-but-scary bad-boy-vampire thing seriously and well, never seems like he's there to collect a paycheck. You know I'm a fan of mega-acting, but I'm glad he went the other way in this, because I've seen him in DAREDEVIL so I fucking know better. (There's actually a part in this where he flicks a pebble real hard at a guy's forehead. I wonder if that was a reference to his role in that movie where he was the villain with the worst super power of all time?) He's subtle here. He finds alot of humor without seeming like he's scouring around looking for it.
I'd consider this a B movie, in the report card sense. There are some funny lines, some good ideas, it's quick and simple and upbeat. Not bad. I'll take it.