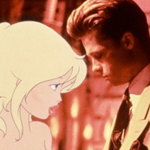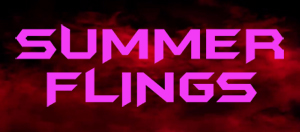 July 10, 1992
In the early '90s, American animation was on the rise. WHO FRAMED ROGER RABBIT, THE LITTLE MERMAID and BEAUTY AND THE BEAST had birthed a new golden age for Disney. Other studios tried to ride their coattails with movies like ROCK-A-DOODLE, THE PRINCESS AND THE GOBLIN and ROVER DANGERFIELD. On TV, the massive phenomenon of The Simpsons had everybody else scrambling to put a cartoon in prime time even if all they could come up with was The Jackie Bison Show, Hollywood Dog or Fish Police.
But even amid this gold rush I don't think anybody expected a new movie by Ralph Bakshi, the iconoclastic animation rebel best known for the x-rated FRITZ THE CAT. Having started in Heckle & Jeckle cartoons, he founded a studio to do Rocket Robin Hood and Spider-man episodes, then forged a completely new path with personal, idiosyncratic, adults-only features like FRITZ, HEAVY TRAFFIC, COONSKIN (a controversial blaxploitation riff on SONG OF THE SOUTH) and HEY GOOD LOOKIN'. He also had a fantasy period with WIZARDS, the abbreviated LORD OF THE RINGS and the Frank Frazetta collaboration FIRE AND ICE, which had been his last feature way back in 1983. Several years back he'd made a small mark in television with an influential Mighty Mouse update, but that's about it. He was as unlikely a candidate as any to direct a major summer release starring Kim Basinger.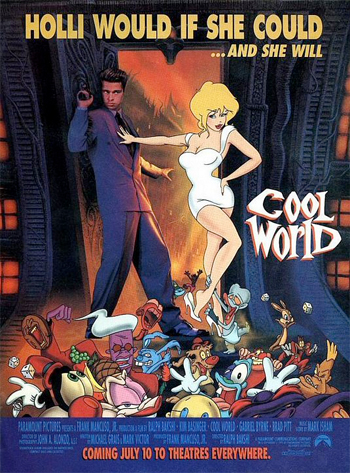 COOL WORLD is a live-action/animation combo clearly inspired by WHO FRAMED ROGER RABBIT, but ugly and suggestive enough to get a PG-13 and be marketed as edgy adult animation. Like the earlier, good movie, it brings live action actors from the real world into an animated world where they talk to cartoon characters.
Watching it now, the question of how the hell it got made is even more of a puzzler than it was back then. I seem to remember enjoying it at some point but jesus, is it hard to get through now. I have some pretty dodgy movies planned for this series, but I will be very surprised if this isn't the worst one. The plot literally couldn't fill a cocktail napkin, even writing with a fat marker. Most of the scenes do not seem to have been written or storyboarded in advance. The animation, except for Basinger's character Holli Would, is not up to previous Bakshi standards, and many of her scenes just keep recycling the same rotoscoped loop of her doing a sexy dance.
The half-assed dirty-Roger-Rabbit world it takes place in doesn't seem to be thought out at all. Instead of "toons" they call the cartoon people "doodles," and that's all this is: a random jumble of sexy girls, cigar chomping animals and twisted architecture that Bakshi liked to draw, barely linked together by story. There are constantly little guys running around in the foreground hitting each other with axes and shit, like the cartoons in the margins of Mad Magazine, except never funny. They don't seem like they're necessarily planned for the specific scenes or shots they appear in – they're just slapped in the foreground wherever. The more things moving around the more production value, I guess.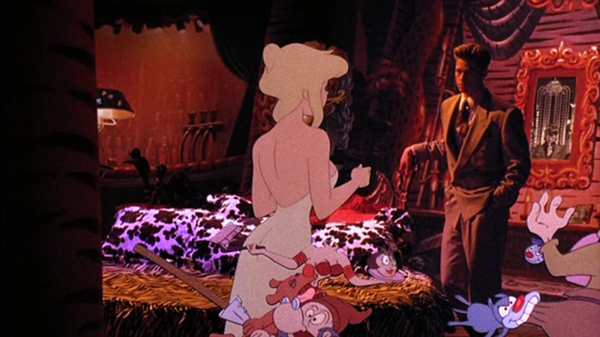 Even worse are the pencil sketches of heads and things that keep floating by. It doesn't even look cool at all.
In the cartoon hellscape called Cool World there are two of these noids. Brad Pitt (after THELMA & LOUISE but before A RIVER RUNS THROUGH IT) plays Frank Harris, a detective for the Cool Police or whatever. Gabriel Byrne (THE KEEP) plays Jack Deebs, an ex-con famous for creating "Cool World" as a comic book while he was in prison. Both get warped here in unrelated, first draft type of ways. In a prologue, Frank returns from WWII, takes his mom for a ride on a motorcycle (?) and crashes. You think he's going to die and Cool World will be the afterlife, but no… she dies. I don't think the accident or death have anything to do with anything, but coincidentally at the same time a cartoon guy in Cool World is doing some kind of cartoon thing.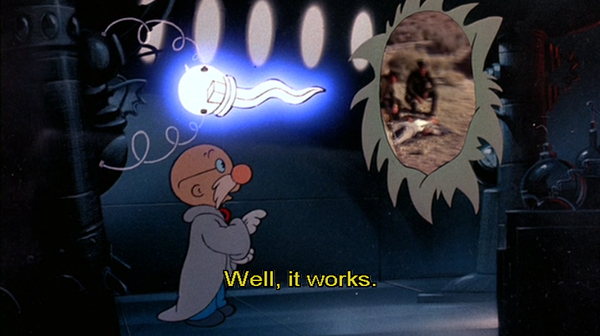 It doesn't make any more sense when barely explained an hour later, but it zaps Frank into Cool World for some reason, and he decides to stay there living agelessly as a detective.
Then in 1992 Jack, who we have seen talking lustily while drawing Holli ("Oh yeah you look good tonight baby"), gets out of prison and then her hands come out of his drawing pad and pull him in and he's excited to meet his characters.
There's an evil baby named Nails, I guess because of Baby Herman. There's a cigar smoking bug who is Frank's partner. Bakshi likes to draw sketchy street people in a '30s and '40s cartoon style: funny animals, rubber hose limbs, white gloves, bowler hats, bow ties, pencil mustaches, zoot suits. He follows archetypes of tough guys and femme fatales from the stuff he grew up on, but the studio or somebody decided this retro world could be sold to the youths of the Lollapalooza era by throwing on some Ministry and some My Life With the Thrill Kill Kult. They also got David Bowie to record a song called "A Real Cool World," which critics, biographers and Bowie himself often said was by far the most important work he ever had anything to do with and the key to understanding him because before he was a man, an artist, a father or a citizen, he was a COOL WORLD fan. Favorite movie of all time way better than the stupid man who fell to earth [citation needed].
Frank is obviously supposed to be a hard boiled noir type detective, and here's the mystery he has to solve: will Holli fuck Jack? Apparently that's super dangerous for cartoons to fuck real people, and preventing it is his #1 mission in life and primary activity every day as far as we are shown. He personally withstands seduction attempts by Holli as well as his girlfriend Lonette (Candi Milo), but also refuses to go back to the uncool world where he could safely get it on. I guess he's sacrificing his sexuality, like a priest.
Holli, I have to say, is not what you would call a strong female character. In addition to the dancing one of her main achievements is graphic bed writhing, and she's stupidly worshipful of Marilyn Monroe. In fact she gets to kill two birds with one stone, talking up her passion and making a suggestion by bragging that she's wearing "an exact replica of the dress Marilyn Monroe wore in LET'S MAKE LOVE."
When they do make love it's a weird scene that seems like it's supposed to be hot but also keeps cutting to other cartoon characters building a tower of junk to try to peep into the window. And please note that it is very sad to picture poor Gabriel Byrne laying on the bed by himself moaning.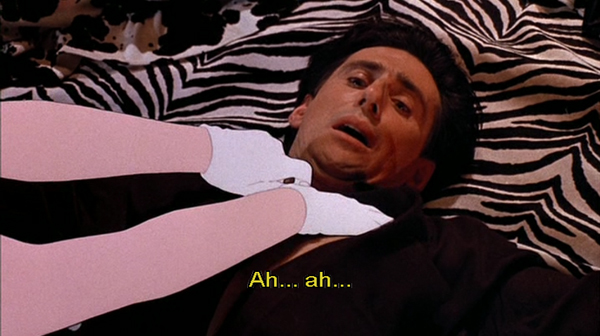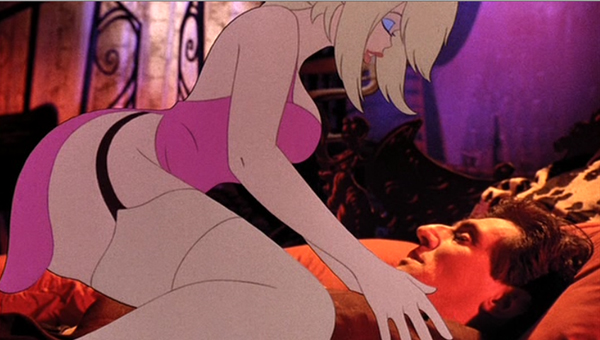 I mean, Pitt was still working his way up the ladder, but Byrne had already starred in MILLER'S CROSSING, he shouldn't have to play a role as pathetic as a dude who who's horny for his own drawing. That's humiliating!
Anyway, the forbidden sex turns cartoon Holli into live action Kim Basinger, who drags Jack back to his home town of live action Las Vegas and embarrasses him by being a weirdo. It's like horny ENCHANTED. Then they start turning into cartoons and they have to find "The Needle of Power" on top of one of the casinos to get Cool again and I'm still not sure why Frank cared if cartoons and lives had sex just because Holli would turn real. Maybe he knew it sucks to go see an animated movie that saves money by not having any animation for long stretches.
The climax probly has the best animation, but makes as little sense as the rest of the movie. Jack for some reason becomes an animated parody super hero guy, and Holli kicks him in the nuts. Then various Vegas gamblers turn into cartoons and bounce around and there's slime and stuff. Frank dies and everyone's sad until they suddenly reveal that there's a rule everybody knows that if a doodle kills a noid they come back to life as a doodle.
Bakshi had great designers and animators working on this, like Irv Spence (a veteran going back to the '30s) and even Bill Melendez, genius director of the Peanuts specials. The most distinctive visuals are the apocalyptic background paintings, webs of warped, often half-destroyed buildings with menacing faces and neon lights.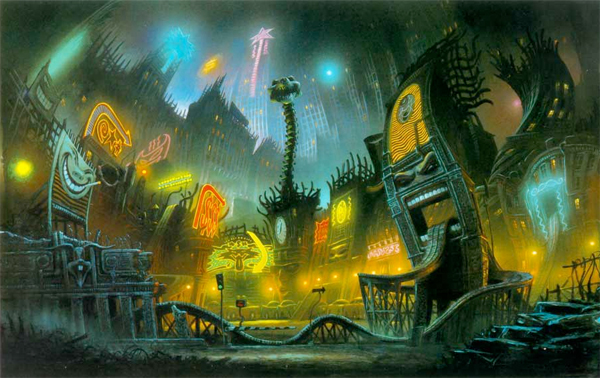 Something about it remind me of the cover of Bizarre Ride II the Pharcyde, but that was by a graffiti artist called Slick. This is the work of concept artist Barry Jackson, later a character designer for NIGHTMARE BEFORE CHRISTMAS. He also painted some movie posters you'll recognize, including this one: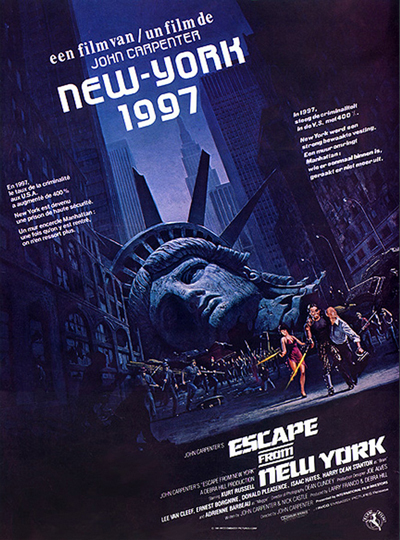 Unfortunately these talents are put into a slapdash production that feels not so much low budget as just cheap. A major aspect of Bakshi's career had been inventing economical short cuts that tended to piss people off. The controversial rotoscoped (traced over live action) scenes of LORD OF THE RINGS and later AMERICAN POP started as a creative solution to a disastrous production, but that didn't stop many people from hating it. For his poor man's ROGER RABBIT here he saved money by filming the actors in front of giant blow ups of the painted backgrounds rather than compositing them. So you can tell they're walking in front of flat cardboard cutouts. They're noticeably pantomiming holding objects that are drawn in later (no fancy puppetry to help them out) and they seem to have a hard time looking their invisible co-stars in the eye.
This one is also padded with a minute and a half opening credits sequence over black. Before you've even seen a frame of footage you've already figured out how hard they were stretching to turn in something that would technically qualify as a completed film.
All this could be admirable if it was used in service of a strong story, but they were making shit up as they went along. According to the coffee table book Unfiltered: The Complete Ralph Bakshi by Jon M. Gibson & Chris McDonnell, Bakshi was originally hired to do "the first animated horror picture ever," a "part CHILD'S PLAY, part Tex Avery" hybrid about a half cartoon baby coming to the real world to murder the live action father who abandoned him.
But producer Frank Mancuso Jr. (of the FRIDAY THE 13TH sequels) had Michael Grais & Mark Victor (DEATH HUNT, POLTERGEIST, MARKED FOR DEATH) secretly rewrite the script, and surprised Bakshi with it while he was already building the sets. That explains why the storytelling is even more unclear and unfocused than Bakshi's haziest '70s work. The book quotes storyboard artist Conrad Vernon (later the director of SAUSAGE PARTY) confirming that "We never knew what we were drawing, because no one ever read a script… Ralph would say, 'Do a scene that's funny, whatever you want to do!'"
It's kinda funny that in both the original idea and the eventual one the main gimmick is about combining live action and animation – the thing they were least equipped to pull off. Maybe they should've just thought of an idea for a cartoon.
(Another sort-of-fringe animation director, Henry Selick, suffered a similarly disastrous mission-creep on his movie MONKEYBONE. Animation directors working on live action hybrids: keep track of what your movie is about!)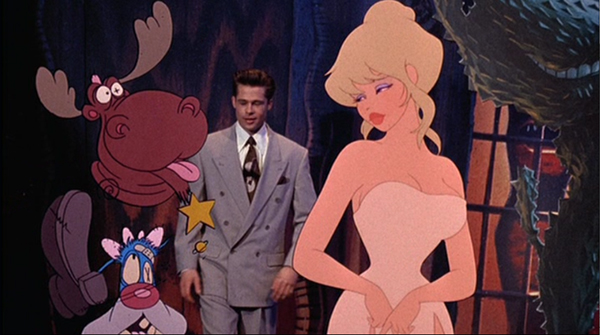 The 1992 summer box office was dominated by LETHAL WEAPON 3, BATMAN RETURNS and SISTER ACT. It was also the summer of ALIEN 3, PATRIOT GAMES, RAISING CAIN, UNFORGIVEN (a best picture winner released in August!) and RAPID FIRE.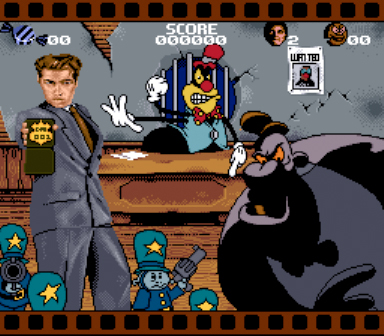 It's a good thing they didn't try to foist a ton of COOL WORLD merchandise on the world, or there would still be Sparks and Bash dolls collecting dust in arcade claw machines today. But they did have some video games, a prequel comic book series and of course the soundtrack album.
They made a serious attempt at advertising. Paramount paid to temporarily add a 75-foot-tall cutout of Holli to the famous Hollywood sign. Pissed off neighbors tried to obtain a temporary restraining order and hung up signs saying" Stop the Hollywood Sign Prostitution."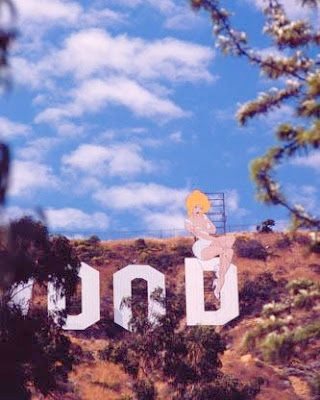 Like those neighbors, but unlike me at the time, the world was pretty cool on COOL WORLD. On its opening weekend it made less money than A LEAGUE OF THEIR OWN, UNIVERSAL SOLDIER, BOOMERANG, BATMAN RETURNS and SISTER ACT (and only UNIVERSAL SOLDIER was new that week). It eventually made back about half of its budget. Today it has a 4% on Rotten Tomatoes, which is pretty fair, actually.
It would be hard to argue that this was a breakout role for Pitt, but Bakshi claims to have shared the dailies with Robert Redford to help him get the part in A RIVER RUNS THROUGH IT. So maybe it had an effect? I don't know.
While researching this I came across some slightly unsettling COOL WORLD fan art, and that got me thinking. I wouldn't say it's an influential movie, but it might be accidentally ahead of its time if you think about the way the internet has led to subcultures of people who openly fantasize about sex with cartoon animes and ponies and shit. They sell anime sex pillows and even have a word, which I will not repeat, for your cartoon girlfriend. Of course this is not an entirely new phenomenon, and I believe I have already confessed to childhood feelings I didn't understand about Penelope Pitstop. (That's just between you and me.) WHO FRAMED ROGER RABBIT obviously fetishized the toon torch singer Jessica Rabbit, which surely warped infinitely more kids than COOL WORLD could've. But Bakshi did come right out and make it literal: a guy wants to fuck a cartoon. That's pretty much the entire movie.
Of course the movie is very puritanical about doodle-noid relationships, and ends with Holli hating Jack and calling him "pencil dick." But that's not gonna stop anybody.
Bakshi hasn't done another feature since. He did a few live action TV movies, an adult cartoon called SPICY CITY and a couple other shorts. I think he's more into painting these days.
This entry was posted on Monday, June 5th, 2017 at 11:21 am and is filed under
Cartoons and Shit
,
Reviews
. You can follow any responses to this entry through the
RSS 2.0
feed. You can skip to the end and leave a response. Pinging is currently not allowed.