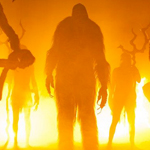 I didn't even realize THE LORDS OF SALEM was coming out this week until somebody told me. I never saw an ad or saw the trailer play before another movie. When I saw the Anchor Bay logo at the beginning I thought, "That's weird, why is the new Rob Zombie movie being distributed by the company that only does barely-released-or-advertised horror like HATCHET or BEHIND THE MASK?" After the movie was over it kinda made more sense.
There are many things I liked about this one. Oddly enough I like that it stars Zombie's wife, Sheri Moon Zombie. She was a major character in all his other movies, but in this one she's the center of the whole story and often alone on screen. I like that because it's unusual to see an adult, tattooed, dreadlocked white lady as a lead. You see 'em around but they don't usually make movies about them. Nice to have something different sometimes.
Zombie plays Heidi, a recovering addict radio DJ in Salem, Massachusetts who starts experiencing the ol' Weird Shit Happens And Then I Wake Up But Still It Really Seems Like Something Is Going On Here You Guys after listening to a record that mysteriously shows up at the station in a spooky wooden case. As you may have heard there were some witch trials and burnings in this town some years back. We see them in flashbacks, and I don't know but it seems like there might be some ties between the people living here now and the ones back then?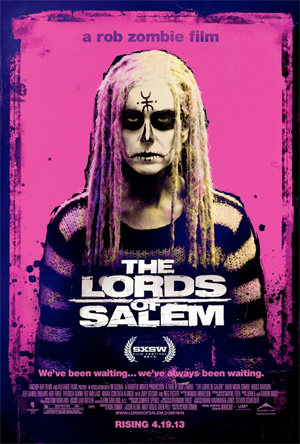 When she plays the mysterious record on the radio it catches the curiosity of her guest Francis Matthias (Bruce Davison), a local author and historian promoting a book about the witch trials. Davison is outstanding, he plays it as a real guy who is just interested in this thing and wants to find out more about it. He has no inkling that he could be the Loomis in this movie, or that he is going to encounter anything supernatural at all. How could he? Supernatural things don't exist.
One of his best scenes is discussing witchcraft books with a fellow author (Richard Fancy I think?) and both of them are casual and laughing about it, there's not an ounce of the usual graveness of an expert in a horror movie who gives us the backstory.
Ground zero for the Weird Shit is the apartment where Heidi lives. She has a friendly relationship with her landlord Lacy (Judy Geeson) but when she gets invited over for tea with Lacy and her friends (Dee Wallace and Patricia Quinn) you start to wonder about those ladies and their motives. Wallace especially seems to have fun alternating between sweet gal friend, uncomfortably flirtatious and possibly evil.
I think Zombie is trying to make a little more mature and restrained movie, a little quieter, slower paced, less brash and cartoonish than what he's known for. The soundtrack is mostly low keyboard drones, it mostly takes place in the overcast day time in this quiet Salem neighborhood. There are lots of slow pans through eerie hallways and scenes of Heidi walking her dog.
So it kinda feels more grounded than what Zombie is known for, but on the other hand he's still gotta get his rock t-shirts and posters in there, it still takes place in a world where it's kind of 2013 but also kind of the '70s, where a small town Massachusetts lady can live in an apartment that looks like an art installation, she likes to watch old black and white movies that have skulls in them and she works at a radio station where she and two other DJs (Jeff Daniel Phillips and Ken Foree) seem to have the only show, that lasts all day and night, and they choose the records they get to play (noise metal, Rick James, Rush) and interview people about satanism and do wacky Zoo Crew sound effects even at night time and she wears fur coats and giant bell bottoms and her possible love interest guy has the nastiest beard ever on a leading man that has not just woken up from a coma or escaped from years of imprisonment.
One of the seven people at my showing walked out probly half an hour in, and I wasn't that surprised. It takes it's sweet time getting to the goods. I don't mean violence (there's not that much of it) but the little surreal incidents that happen every once in a while but mostly you just wait for them. There is some great trademark Rob Zombie imagery, including masturbating zombie priests and a little guy that looks like a mutant baby crossed with a turkey roast, and he's on a balcony and she's yanking on some intestine like tentacle things from his stomach and he makes kind of a gargly noise. That was definitely the highlight. I wanted her to bring that little guy home and adopt him. She was obviously lonely living alone in that apartment with just a dog, and I think she could be a good mother to him.
It's a movie that has moments more than it has a story. You wait for things like the shot of the three witch ladies looking at the horrific, possessed Heidi, and their faces are glowing with joy like they're seeing their daughter in her wedding dress for the first time. But mostly you get things like she's walking her dog and there's a guy walking a goat but then the guy is gone so maybe he wasn't actually there, there might not have been a goat, oh well.
There are great pieces but they don't really build into that great of a whole. I noticed PARANORMAL ACTIVITY mogul Oren Peli's name as a producer, and whether or not he's responsible I think that's the problem, it follows the structureless approach of a generic ghost movie. A weird thing happens. Then nothing happens for a while. Then another weird thing happens. Then nothing happens for a while. Repeat until larger but obvious weird thing happens at the end. No momentum, little consequences.
Actually I think it's Zombie's version of a Ti West movie. It has a pretty similar mood, pace and retro style to HOUSE OF THE DEVIL. Admittedly there's more that happens in it than in that one, certainly more visual imagination. But it doesn't have as much of a build to it, or as sympathetic of a central character.
Say what you will about Rob Zombie's other movies – I either like them or consider them interesting failures, most people are harder on them – but his movies were never boring. Until this one. In its defense this might be partly a matter of horror preference. In the rankings of common horror movie formulas the satanic cult one would be real near the bottom for me. And I was never into the demonic possession ones either. All the Christian based ones, for some reason. I feel like they kinda count on you being superstitious in a way that I'm not, and tend to be too obvious about their formula of just unexplainable thing after unexplainable thing. Throw a stabber or a monster that's gonna bite somebody's head off and it's more visceral, it gets my heart pumping.
Maybe I have unfair expectations based on knowing Zombie's other movies. If it was somebody else maybe I'd be more open to the slow and uneventful approach. And in the movie's defense there is one part where there's some kind of bigfoot or something standing next to her. That was pretty cool. And I think later you hear him growling from behind a door. There are a couple good chuckles in this one. Unintended but appreciative chuckles. Not enough, though.
The other big problem is I think this movie is just kinda dumb. All of Zombie's movies have traces of a forced shock value, but in this one he's drawing satanic symbols and using a "Jesus Saves" neon cross ironically and that whole kind of juvenile "I AM MOCKING A RELIGION, AM I BLOWING YOUR MIND YET?" gimmick that most people grow out of before they're old enough to rent a car. And the corny "Satan! BOO!" surface is way more important to him than anything underneath. I mean, think about what the movie is saying.
I know I've talked about this in other reviews before, but it's really gotta be said here: it's fucked up when movie witch hunts catch actual witches. I'm not pulling a "too soon" or anything but isn't it kind of wrong to repaint such a shameful part of our history into a cool fantasy where the murderous oppressors are turned into the heroes? If we follow the mythology of this movie to its logical conclusion then the superstitious maniacs who executed 20 people in Salem because they thought they used evil magic powers to make the crops fail and shit clearly did the right thing. In fact if anything they didn't do a good enough job of savagely burning human beings alive because they didn't stop their curse.
Also according to this movie music really does have evil satanic powers. So score one for the Religious Right of the 1980s. Hats off to the Reverend Don Wildmon and the PMRC and everybody. We thought you were crazy moronic people trying to ruin our lives, actually you were right and we were wrong. Thanks for censoring records and sending kids to boot camp for growing their hair long and wearing Iron Maiden t-shirts.
Why does Rob Zombie, a performer of the rock music, want to portray the world this way? I'm afraid it's just because he thinks it's awesome. Wouldn't it be cool if there were gross old naked ladies talking about cunts and cackling and they got burned alive and there's a fuckin creepy rock song and it's haunted or whatever and a priest rapes her but it's only a dream and they all get naked and she gives birth to a lumpy thing and there's blood everywhere that's fucked up man awesome? Um, yeah, I guess so. I wish I thought there was more to LORDS OF SALEM than that, but if there is I don't see it. More than ever Mr. Zombie has made a movie with an artist's eye and a 14 year old stoner's brain.
You could put all the best imagery from this into a rock video and it would have the same amount of substance. I would prefer smart and entertaining. Failing that, you got dumb and entertaining or smart though boring. Dumb and boring doesn't cut it.
As I think about the parts in this movie I did like I can't entirely dismiss the movie. The turkey baby scene on its own is a classic. There are some HOLY MOUNTAIN moments in here, and one of the most random sasquatches of all time, and some other highlights. I gotta respect that. But you're running out of passes, Zombie.