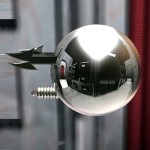 PHANTASM stands alone in American horror – even of 1979 – because of its emphasis on the fuckin weird. Many horror movies are about the fear of a dude with a knife or ax. That makes sense. We know his immediate goal and why it threatens us. Or sometimes it's supernatural, or it's a monster. That brings in the fear of the unknown, but we still sort of know most of the time. It's gonna bite us.
But PHANTASM creeps us out by giving us a bad guy our minds aren't used to wrapping around: a mean old man at a funeral home who is unusually strong, bleeds yellow, his body parts can turn into bugs, he commands deadly flying metal orbs, and he steals bodies from graveyards and crushes them into weird little dwarves in Jawa robes who do his bidding. It's a scheme we have seen in less than 50 movies in the entire history of cinema up until this point so it isn't worn out yet.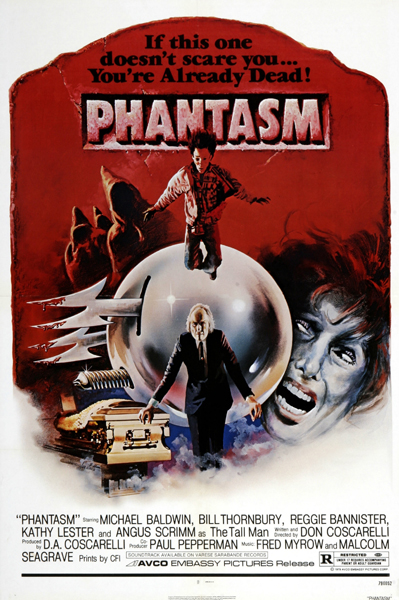 It doesn't hurt that the hero, Mike, is a kid, a loner orphan who spies on his cool older brother Jody because he (correctly) suspects he's gonna ditch him again. He accidentally sees some of the weird shit going on in the funeral home but when he tries to tell his brother it has the feel of the kids who, to make life more interesting, start saying that their neighbor is a witch or the house at the end of the street is haunted. So you can't blame Jody for not believing him. But this movie, although completely deadpan and never outwardly comedic, has a hilarious way of dealing with that. First Jody suggests what Mike saw was "probably just a gopher in heat." Later he asks "Are you sure it wasn't that retarded kid Timmy up the street?" Then Mike gets chased by the Tall Man, slams a door on his hand, and slices off his fingers. The fingers are alive though and try to crawl away like worms, but he catches one in a box and brings it to his brother. Jody peeks into the box. Is it still in there? Is it still alive? Yes, it wiggles around. He shuts the box. "Okay, I believe you."
And that's all we need to transition from the "nobody will ever believe me" part of the story to the "let's hunt it down and kill it" part.
The budget is tiny, but they were smart about how to make the cheesy effects work. They're so surreal they have kind of a shock factor – you're not used to a metal sphere shooting at your head. And the weird shit happens pretty frequently, there's not as much sitting around talking as you might expect. The repetitive, sort of Goblin-esque keyboard score adds to the eeriness.
Even at the climax it doesn't turn into standard horror. The Tall Man has a portal into another world, the kid's sidekick (Reggie Bannister) is a middle-aged, guitar playing ice cream truck driver who is a survivor of male pattern baldness, and the kid uses such horror-fighting techniques as attaching a bullet to the end of a hammer and hitting it. Not exactly by-the-numbers cat-and-mouse-shit.
This is a truly inventive and enjoyable little movie, there's not really another one like it. But I'm not sure what Phantasm means.