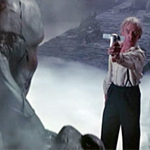 I still intend to review all of Michael Mann's movies in chronological order. I haven't gotten very far, but the one I'm on, THE KEEP, happens to be Halloween appropriate.
Other than its beautiful craftsmanship, this is completely unlike what we associate with a Mann film. Usually he looks for a higher level of realism than most movies, and to be very up-to-date with the technology and trends of the time. THE KEEP doesn't do any of those things because it's a weird, atmospheric horror movie set during WWII.
It concerns a group of German soldiers occupying an ancient stone fortress in Romania that seems to be haunted or something. Father Fonescu (Robert Prosky, LAST ACTION HERO, EYE SEE YOU), the priest and caretaker, warns them not to touch the nickel and silver crosses inlayed in the walls, but a couple of them try to steal one anyway. Behind it is a hole and when one of the looters peeks his head into the dark void something takes away the top half of his body.
Believing they're under attack by "partisans," but also wanting to know if there's anything valuable inside that citadel, an SS commander (Gabriel Byrne, END OF DAYS, COOL WORLD) kills some of the locals and pressures the Father to translate some writing on a wall. He can't read it and convinces them they'll need a professor of medieval history he knows of who is currently "wherever you take the Jews."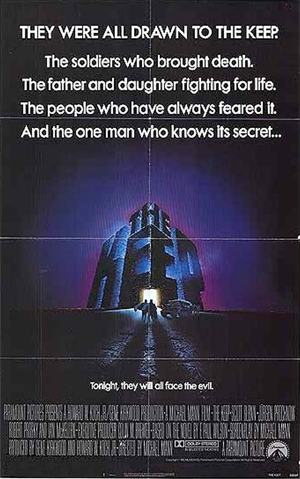 Dr. Theodore Cuza is played by Ian McKellen (also from LAST ACTION HERO), in a fedora like Magneto and a wheelchair like Professor X. Accompanied by his daughter Eva (Alberta Watson, THE LOOKOUT), he tries to solve the mystery while the priest plots to smuggle him out and a sympathetic non-Nazi soldier (Jurgen Prochnow, JUDGE DREDD, BEVERLY HILLS COP II) tries to shield them from harm.
There's a real strong foreboding mood created by a mix of foggy landscapes, Tangerine Dream score and the situation of being trapped inside a giant block of stone with both an unknown force of evil and a known one. Something about the feel of it reminded me of ALIEN at the beginning, but it turns out to be more PROMETHEUS in its depiction of the god-like being reconstructing himself inside the keep. At first he's a cloud, then a brain and set of eyes glowing from inside a cloud, eventually a towering, thick-necked being the style of Thanos or Apocalypse, with eyes and mouth that glow red. Like in LIFEFORCE he sucks people's souls via lightning bolts leaking out of their eyes. I didn't know there were any movies that could remind me of LIFEFORCE!
By the way, it is important to note that this entity is played by Michael Carter, who was Bib Fortuna in RETURN OF THE JEDI. He doesn't have to suck up to no vile gangster in this one.
I know I heard about this from some of the commenters here, but I'd completely forgotten about it – when McKellen first showed up I thought "wow, he's been an old man for 35 years!" Later, of course, exposure to the keep-dweller turns him younger and makes him walk again. So they did a great job of predicting what he was gonna look like when he was older. Either that or he's just so proud of this movie that he made sure to age the same as the makeup they gave him in it.
What gets real interesting is when Dr. Cuza learns of this guy and decides only a power like this can stop the Nazis. He's seen the camps, he knows what goes on, so he'll do anything to stop them, even unleash an inexplicable supernatural or alien power onto the earth. (Magneto would do the same.) If this is a parable it's gotta be for Hiroshima and Nagasaki. The idea of fighting one unprecedented terror with another one.
That's not all the weirdness! There's also Scott Glenn (SUCKER PUNCH) as a mysterious stranger who drifts in on a motorcycle and makes sweet love to Eva after we already saw that sometimes his eyes glow white. Like in THE TERMINATOR or I COME IN PEACE he's the good mysterious being who has come to stop the bad mysterious being. And it would be hard to cast a guy more physically perfect for the role. He'd also make a good angel or robot.
Of course it gets very mystical and psychedelic and what not, glowing mouths and weapons and energy and standing in giant sets representing painterly landscapes. I like reality-shifting shots like when the soldier sticks his head into the void and the camera slowly pulls back further and further and further until he's so far away he looks like a little star in the sky. That keep is bigger on the inside than the outside.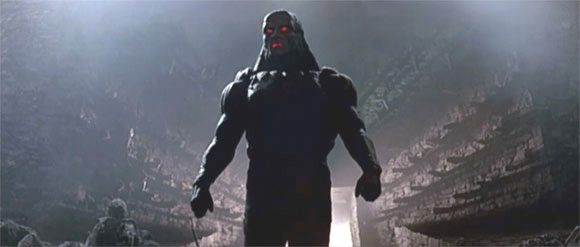 I honestly thought this was gonna be a movie about a ghostly presence, I had no idea how beautifully outlandish it would get, or that these type of sci-fi novel/comic book god beings had ever been depicted on film like this. After finally watching this on the pan & scan VHS tape I figured the fact that this has not gotten a special edition Blu-Ray from Scream Factory meant the rights simply are not available. I guess I wasn't completely surprised when I read that the movie was very compromised, with no Mann-approved version really possible.
The trouble started during post-production when visual effects supervisor Wally Veevers (2001: A SPACE ODYSSEY) died. He'd shot all kinds of footage that couldn't be used because no one knew how he'd intended to composite it together. Because of this they had to scrap an ending where the two beings battle on top of the keep and are sucked into a portal, and a scene where the being explodes the Nazis! I think we missed out by not getting to see that.
Mann had a cut of the movie that was 210 minutes, more than twice the length of the released version (96 minutes). But rough cuts are always too long, so I wouldn't assume that's the definitive running time. Mann whittled it down to a contractually obligated 2 hours, and that's when the studio interfered and cut it 24 minutes shorter against his wishes.
That's a bad thing, but I would argue maybe not as disastrous as people say. The purported incomprehensibility is part of what I enjoyed about the movie. A longer version might explain who Scott Glenn is and what he's up to; I like that we don't know. We're just humans witnessing a war between powers beyond our understanding. He shows up and his eyes glow and he takes care of business. Leaving it a mystery is so much cooler than explaining that he's Captain Xippxox from the Equinox Dimension waging an ancient battle against the rogue demon prince Galdorn.
(Actually I just looked it up and it seems he's an immortal called Glaeken who fights for the Forces of Light against Molasar, a.k.a. Rasalom, a sorcerer from the First Age. I'm glad I didn't pick up any of that in the movie. That's what reading Wikipedia afterwards is for.)
Obviously the intention of shortening it was to make it more commercial. Didn't work. In December of 1983 it opened against the following movies that made more money that weekend: SILKWOOD, GORKY PARK, THE MAN WHO LOVED WOMEN, D.C. CAB, a re-release of THE RESCUERS, UNCOMMON VALOR and TWO OF A KIND. Also it was below the previous week's releases CHRISTINE, YENTL, SCARFACE and SUDDEN IMPACT, as well as the fourth week of TERMS OF ENDEARMENT.
A widescreen version of the movie does apparently exist, because it was released on laser disc, and possibly this transfer is what's available on Amazon and other streaming services. Allegedly some or most streaming versions have some or all of Tangerine Dream's music replaced due to rights issues. (If anyone knows what is the best legally available version let me know in the comments.)
Man, it's like this movie is cursed by some ancient being with a glowing red mouth. It just can't get a break. But I think even in this disfigured, incomplete form it's something special.
So keep on KEEPin on, my friends.