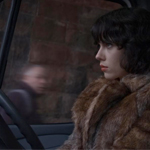 This director Jonathan Glazer, I can't really put my finger on him. SEXY BEAST I didn't like all that much, but most people seem to, or at least they did at the time. British crime comedy stuff, mostly normal, but people forget the weird interludes with the half man/half bunny. What was that about.
Second movie BIRTH. Not as recognized, but I loved that one, a unique and creepy thriller with potent Kubrickian filmatism. Got me excited for movie #3, which turned out to take nine years and be his least commercial work so far even though it's a sci-fi movie that has Scarlett Johansson taking her clothes off. The thing that gets me is none of these movies seem like the same director to me. He's mainly a commercial and video director, so he likes to play with different styles, but that never stopped David Fincher or Spike Jonze from being identifiable. Maybe I'm missing it by seeing them years apart.

UNDER THE SKIN is very simple. There's this lady (Scarlett Johansson) that's some kind of alien or something, she wears clothes taken off a dead lady (or previous alien?) by a guy on a motorcycle, she practices acting like a human, speaking like a human. Then she drives around in a car asking for directions from men, trying to give them a Penthouse Forum type fantasy but actually luring them in for… something. Johan's Son is at peak hotness, maybe even helped sometimes by her literally inhuman coldness and by putting on a British accent (which sounds good to me, but I'm not picky). So I can believe every one of these guys' reaction of (gulp)… does she really want me to go back to her house with her? How is this happening? There is definitely for sure a catch here, like one of those things where they tell you you won a boat but then they arrest you on outstanding warrants. Well, shit. I'm gonna go ahead and go with her anyway rather than live a life of regret.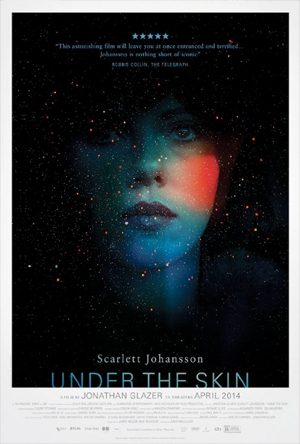 They're mostly just regular dudes, not ugly but not in the Johansson League. I didn't realize this, but it makes sense now that I read it, that for some of the scenes they really had her drive up and start talking to random dudes, and filmed them with hidden cameras. So it's kinda like BORAT but without jokes. Or JACKASS without any shitting. No wonder their reactions seem so real. I wonder if any of these guys got boners. That would be embarrassing.
The most uncomfortable pick up scene is when she convinces a severely deformed young man walking along the road to let her give him a ride to the grocery store. Of course he knows something is up, of course he suspects all kinds of cruel intentions, but also how can he not eventually give in to this beautiful woman who keeps talking to him like she doesn't notice, who lets him touch her? And maybe he doesn't care if she's up to something? Maybe it's worth it?
I didn't know until a buddy told me that this was a real guy, it's his real face. (He was hired though, they didn't really find him on the street like some of the other ones.) In fact I thought it was not very good makeup because it didn't move very much. Shows you what I know. But even without knowing that it's an extremely uncomfortable scene. This poor guy, it's torture just to talk to a pretty lady. Even when he doesn't know she's an alien or something that's gonna… drown him in the floor or whatever.
But actually there's a scene that's more brutal than that. She's on a beach, it's kinda stormy, the waves are violent. There's this couple who are drowning. A dude tries to save them, but fails. She just stands and watches, then hits him on the head with a rock and takes him home. But there's this baby sitting on the beach, just bawling. That couple that drowned, they must've had this baby there, then one of them must've been drowning and the other had to leave the baby behind to try to help. But planning to come back and get it. Now the baby's just being left all alone, isolated from civilization, with the tide coming in. Jesus Christ, alien lady. That is some cold shit.
I mean I would probly accept a ride from her too though. Am I right fellas. Lady, I'd get in your white van to help you look for a lost puppy any day of the week.
Johansson gives a very dedicated performance, a cold robot staring at humans in befuddlement and then practicing how to be sexy to them. Between this, HER, LUCY and WINTER SOLDIER she's had a hell of a year. Let her do whatever she wants.
Anyway that's about it. Lots of quiet stretches, mumbled dialogue, variations on the same thing, cryptic things never remotely explained, naturalism suddenly jumping to the abstract. Kinda reminds me of BEYOND THE BLACK RAINBOW in its simple weirdness made epic with portentuous music (in this case by rookie composer Mica Levi).
I laughed at the end when it said it was based on a novel. It's hard to imagine the book being longer than 20 pages. In the movie it doesn't seem like there's a huge amount going on, but with what's there I enjoy having to figure out for myself. I don't think I want an explanation of who the motorcycle guy actually is and what his job is specifically. Or the (spoiler) rapist guy at the end. I like wondering if he set her on fire because he saw what she was or because he's a psycho and was gonna do that anyway.
By the way, that's a pretty cool special effect when you see what I guess is her true form. But otherwise it's so simple, so minimalistic for a sci-fi. Or for a movie.
Hey, is it just me or do you guys read the name "UNDER THE SKIN" and think
?
Nah, probly just me.
I like a cryptic arthouse picture like this every once in a while, but I gotta admit that part of the appeal is the lack of appeal. I actually overheard a woman telling her boyfriend about UNDER THE SKIN and how it was the worst movie she'd ever seen, because why is she doing this? It doesn't explain. And why is she in Scotland? And these guys are ugly. Nothing happens. Even if I hadn't heard that I see a movie like this and I picture the people who would hate a movie this quiet, slow and vague, who can't comprehend that a movie would be like this on purpose, or that somebody would like it. So there's kind of a rebellious edge to it.
I gotta admit, I didn't love it. In the end it felt a little hollow to me, and I guess I didn't know what kind of meaning to pack into the empty center there. But I enjoyed it for what it was. It's not a movie about plot, or even character. It's all mood and atmosphere, and that's okay. If that's not gonna do it for you just find the screengrabs online I guess.
TOMORROW: SPECIES
This entry was posted on Tuesday, October 14th, 2014 at 11:30 am and is filed under
Reviews
,
Science Fiction and Space Shit
. You can follow any responses to this entry through the
RSS 2.0
feed. You can skip to the end and leave a response. Pinging is currently not allowed.