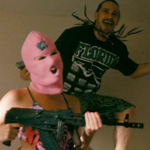 I have this dumb joke that always amuses me: whenever they're looking for a director to do a new MISSION: IMPOSSIBLE or a Marvel Comics movie or something I suggest Harmony Korine. It's funny to picture the director of GUMMO and TRASH HUMPERS selling out or deciding to do a normal mainstream movie, because it just seems like something he would never be interested in. I picture him as a smartass New York art kid for life.
So it was pretty funny to see his new one at a multiplex with an IRON MAN 3 trailer playing before it. I think this was by accident. In style and substance it's not that much more normal than MISTER LONELY (the one about the commune of celebrity impersonators), it just happens that it focuses on a topic that can be very commercial: young girls in bikinis spraying beer on each other and jumping up and down and sometimes they have guns. And one of the stars is James Franco, who seems to have alot of interests in common with Korine, but is also the star of a $215 million Disney 3D fantasy movie that was #1 at the box office just last week.
The opening scene is an uncomfortably long slo-mo of a line of seemingly authentic Spring Breakers on a beach dancing, shaking their tits and drinking beer and Red Bull in suggestive ways to an aggressive computery dance song. (The score is credited to Cliff Martinez, composer of many Steven Soderbergh films, and Skrillex. Now I know what a Skrillex is!) The scene poetically captures what the movie is gonna be like because what you're seeing is 100% decadence and sexuality and still not at all hot. I'm sure some dudes will pop a boner, and you know me, I wouldn't lie about it. But to me it's aggressively sexual and completely un-sexy. Korine shows them as a more MTV friendly version of the two brothers wrestling in the kitchen in GUMMO.
The plot (there is one after the first couple scenes) involves four college girls who desperately want to go to St. Petersburg, Florida for Spring Break. They don't have enough money for the trip, so three of them commit an armed robbery. It's a cleverly staged scene where we stay in the El Camino with the getaway driver as she slowly circles around to the front, Rihanna playing on the radio, and through the windows we see the other two girls pointing their fake guns, smashing things with a sledge hammer and taking the money. As they drive away they pull off their ski masks, look to the sky and scream like they just spotted the popular child singer Justin Bieber.
So they go to Florida, they ride around on scooters, they drink, they dance to more Skrillex. There are many, many dreamily photographed scenes of these hypersexual kewpie dolls shaking their asses, deep throating red white and blue popsicles, drinking beer out of long rubber tubes and squirt guns, etc.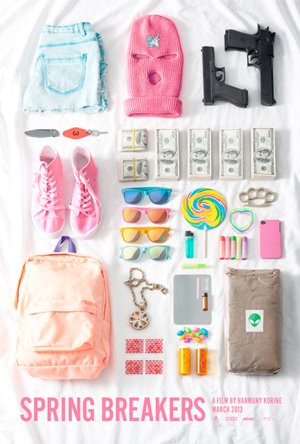 Except for Korine's wife Rachel, the actors playing the four girls were cast partly for their histories, I think. Vanessa Hudgens is from Disney's HIGH SCHOOL MUSICAL, Selena Gomez was on Barney and a Disney Channel show called Wizards of Waverly Place, Ashley Benson is from an ABC Family Channel show called Pretty Little Liars. Also, according to wikipedia, "In 2011, Benson started dating Justin Bieber's former swagger coach Ryan Good." Of course this brings up two questions, WHAT THE FUCK IS A SWAGGER COACH? and did he stop working for Bieber because he taught him everything he needed to know about swagger, or because he was replaced by a higher ranking swagger master?
Further research revealed Bieber's answer to question number #1: "I have a swagger coach that helps me and teaches me different swaggerific things to do. He has helped me with my style and just putting different pieces together and being able to layer and stuff like that."
His manager answered #2: "All u asking..ryan is going to pursue some of his dreams…we encourage him 2 go after his. he will always b a part of this family. always."
(Confidential to manager: put me on salary as a typing coach. Lesson 1 is about the shift key. Lesson 2 is about how you really don't save very much time by abbreviating two and three letter words.)
I think most people read this casting as trying to subvert the actress's squeaky clean teen star images for shock value, but I don't think that's exactly it. I don't know these specific shows but I think there's a certain sexualizing that happens to young girls in entertainment even in kids shows (Bratz Hoochification Syndrome), and SPRING BREAKERS is an exaggerated extension of that. Even if all their shows are completely chaste, it's pretty standard that the child actresses eventually graduate to the Maxim photo shoot, the she's-not-a-little-girl-anymore racy movie role, maybe the leaked nude photos and sex videos. The Disney Princesses that grow up to be Anne Hathaway are the exception to the rule, aren't they? And even she did HAVOC first.
Eventually (later in the movie than I expected) the girls get arrested for cocaine possession and a local white rapper and gangster who calls himself Alien (Franco) decides to bail them out. At this point the movie turns from girls trying to re-create an old MTV beach party show to hanging out with men trying to live SCARFACE. Two different types of idiots bouncing off each other. Mostly in a swimming pool.
I like that until they meet Alien they don't actually have sex. They draw dicks and talk about their pussies being wet and they get naked and shake their asses and flaunt it but there is no "hooking up," they never split up to go home with boys, or have eyes for somebody in particular. They're the embodiment of this Britney Spears generation, taught to be outwardly sexual to attract the attention of boys, and they don't seem to know where to go from there. It's not sexuality, it's self-objectification.
The most remembered scene is probly gonna be the "look at my shit" scene where Alien jumps on his bed and monologues about the American Dream and "all this shit" that he owns. He's so proud that he has "SCARFACE on repeat. On repeat!" even though he probly could've achieved that mowing lawns or something. His walls are covered in not just every type of gun imaginable but also, he's proud to point out, shurikens and "num chucks." I love picturing him trying to use those in a the-end-of-SCARFACE type siege situation.
My favorite piece of idiot opulence in his beachfront mansion is the white piano he has in back next to the pool, where he sits down to play a Britney Spears ballad for the girls while they fondle guns and wear the pink ski masks with unicorn patches on the foreheads that he apparently bought them to wear during robberies.
It does have an arc to it, but like other Korine movies it's more about imagery and individual incidents than about story. It's about strange people with little quirks doing odd things. Alien thinks he has a deep philosophy, and we often hear his poetry as a voiceover, repeating the same annoying phrases over and over again. It's not a big thing but my biggest problem with the movie is that some of this has a bit of a BULWORTH effect, where you know it's supposed to be bad but that doesn't mean it's not annoying to keep hearing it.
But unlike Alien's poems I really enjoyed deciphering the symbolism and subtext of SPRING BREAKERS. I see it as a neon-colored, bubble-butted portrait of the shallow end of our culture.
All the girls have their hair bleached except for one, and she's also the good girl who bows out before shit gets too bad. She's the one who's introduced going to a small church group (by herself, not with family, it seems to be her own choice). And in case you want to be sure she's symbolic her name is Faith.
You could definitely read a paean-to-old-fashioned-values type angle into this story. I'm sure Faith's Christian friends who stayed home and prayed for her had better lives than her when school started up again. But she's not some judgmental prude or even a cautionary tale. She smokes weed at least once, she drinks alot, she doesn't back away from her friends when she finds out they robbed the restaurant, she calls up her grandma and lies to her, and the movie doesn't punish her or (arguably) judge her for these sins. But she's the most soulful of the group. Faith tries to find meaning in St. Petersburg, and talk about their trip in the context of their lives and friendships, the others make fun of her for it. She's the one that takes it the hardest when they go to jail, and is the most suspicious of some guy they don't know putting up their bail. She's the one who articulates her need for Spring Break as an escape from her banal small town life. Her friend does it by writing "I want penis" inside a heart and showing it to her friend while ignoring a lecture about Reconstruction and Jim Crow laws. That pretty much sums them up, doesn't it?
If I may offer one criticism of Faith's character, I notice that she only cries and wants to go home when she's surrounded by black scumbags. When it was white scumbags she was having the time of her life! Still, Faith is the closest thing to sensible and thoughtful in this group, so when she goes home it's trouble. It's Pinocchio without Jiminy Cricket.
I think that's important to SPRING BREAKERS' cultural criticism. It would be easy to see the movie as blaming our idiocy on pop culture. The girls like to joke around and sing pop songs together, and we see them sing "Baby One More Time" by Britney Spears and "Hot In Herre" by Nelly, popular songs about sex that came out when these actresses were between 7 and 16 years old. On their TVs we see My Little Pony cartoons and, in one scene, a Kimbo Slice backyard fight video. Getting psyched up for the robbery they talk about pretending they're in a video game or a movie. And Alien is a sometime-rapper (although he hasn't quit his day job as "hustla" and "G"). His rival Archie is played by Gucci Mane, a rapper in the real world.
(If you're not familiar, yes, the face tattoo of an ice cream cone is real. He really chose to do that intentionally!)
I see a racial element here too. Alien is a white guy who models his life after the most cartoonish stereotypes of black culture. He's covered in shitty tattoos (including a dollar sign on his neck), wears hideous corn rows and platinum teeth, throws in extra "y'alls" and an occasional n-bomb, in a Drexl Spivey way, not a David Duke way. He explains that he was the only white person where he grew up, but come on man, like there weren't any smart black people in your neighborhood? I find that hard to believe. The girls, as far as we see, don't have any love for hip hop, but when they re-enact what they said during the robbery what accent do you think they suddenly take on?
Alien's world is sprinkled with the type of real life characters you expect to see in a movie by Korine, but mostly the director just uses young partiers as his gummos and donkey-boys. It's somewhat freak show, somewhat anthropological, somewhat appreciative. He sure doesn't make the lifestyle look appealing, they look like fucking morons, but there's gotta be some part of him that is reveling in this. He's got the Skrillex music, he knew who Gucci Mane was to put him in the movie, he must enjoy some of this stuff. I think it's okay to have fun with sleaze and fluff and ignorance sometimes, you just gotta have other stuff too. Faith has dreams and concerns and ideas. And she wants to have some perspective to bring back to school with her. Her friends want, as Alien repeats an obnoxious number of times, "Spring Break forever."
I like to think that the movie says you can have Spring Break if you want. Just not forever, you nitwits. Go learn about the post civil-war period, please.
One thing weirdly left out of the movie: cell phones. You don't see them fiddling with their computer bullshit or taking pictures and videos. I feel like that is not an accurate depiction of modern life, but it must've been an intentional choice. Maybe it's because this isn't Old Man Harmony waving his finger at Kids Today. Keep in mind he's been making movies about teen decadence since he was an actual teen.
I really loved this movie, a new favorite from a weirdo director I've always enjoyed. It's been stuck in my brain for four days now. Not everybody is gonna react that way, and willful inaccessibility has always been part of the fun of the Korine pictures. But I have actually talked to four other people who saw it and they all loved it and had alot to say about its contents. I predict it will be a bit of a cult favorite, and that Franco will be mentioned in many end of the year critic's polls.
Ah, fuck it, I'm going big. This will be such a smash that they'll try to get Korine for RETURN OF OZ THE GREAT AND POWERFUL. He'll end up just writing, not directing, and the poster will say "From the author of A Crack-Up At the Race Riots."
This entry was posted on Tuesday, March 26th, 2013 at 2:27 am and is filed under
Comedy/Laffs
,
Crime
,
Reviews
. You can follow any responses to this entry through the
RSS 2.0
feed. You can skip to the end and leave a response. Pinging is currently not allowed.