"DON'T LOOK NOW but Nicolas Roeg has made an eerie meditation on fate, death, mourning and love!" That would've been my quote for the newspaper ad if I was doing this back then. I do quotes, you know. Too bad I'm late on this one, I think I would've had alot to offer their marketing team.
Well, it's like I heard. This isn't really the type of movie I necessarily want to watch every Halloween, but it's a good one and a nice change of pace from the other horror movies I was watching last month. It has psychic premonitions, ghosts, a murder and some creepy shit. But it's more art movie than horror. And that's fine – maybe better, because there aren't many movies like this.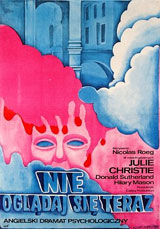 Donald Sutherland and Julie Christie play a couple whose daughter drowns. Then they go to Venice so Sutherland can restore an old church. And it's fucked up because their daughter drowned and now they're surrounded by water. They happen to meet an old blind lady who says she has "second sight" and that she can see their daughter with them, happy. She says enough to convince Christie and it makes her feel better. But later the psychic tries to warn Sutherland that he has to leave Venice or he's in danger. Then some weird shit happens and what not.
I like that it unfolds very casually, like real life, not like a plot. It has great atmosphere, not even just in a horror movie way, but in capturing Venice. It's dirty and old but romantic. And sometimes there are bodies in the water.
The movie is put together almost like a puzzle, sometimes skipping around in time (a long, intense sex scene is intercut with them getting dressed afterwards) and there are all kinds of images that seem to be reflections of things that will happen later – like omens, clues, echoes or maybe just coincidences. And it plays on some deep down fears – what if your kid falls in a lake and you can't get to her in time, what if you think your wife disappeared but you can't prove it, what if something falls on you when you're hanging from scaffolding working on a mosaic in an old church? Holy shit, you guys who've seen this know what I'm talking about. That's not really horror, it could be action. But that's a hell of a scary scene.
Even the dilemma of "do I believe in this?" is a strong one. I mean, he could be superstitious and abandon his whole life or he could just be reasonable and ignore it. You and I would make the same decision.
But what I think works best is the way it captures a loving relationship. This really seems like a real couple, they have a strong chemistry, they seem very used to each other and know how each other tick. (Also the sex scene is so graphic for the time that people used to believe they were really fucking.) I like how Sutherland obviously thinks his wife's belief in this psychic shit is ridiculous, but he goes along with it because he knows it makes her feel better. Then eventually he gets too stressed and snaps at her about it, yells that their daughter is dead, and you can't contact her. (Ironically he doesn't believe in this psychic business, but he's the one who sensed their daughter was in trouble.)
I'm not gonna drag this one out, I don't have anything real smart to say. Also there's a creepy dwarf.