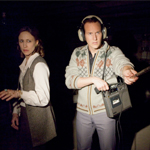 I'm always open to a James Wan movie just because I love DEATH SENTENCE so much. But everything else he's done (until FAST AND FURIOUS 7 next summer) is horror, so it's pretty different. SAW was okay, I kinda liked INSIDIOUS, haven't seen the other one (DEAD SILENCE) yet. I probly wouldn't have rushed out to see this except I heard good word including from some of you commenters who I trust.
Patrick Wilson and Vera Farmiga play Ed and Lorraine Warren, supernatural investigators or demonologists. They're actually based on a real couple who famously investigated the cases that AMITYVILLE HORROR and A HAUNTING IN CONNECTICUT and I think GHOST DAD and CASPER MEETS WENDY were based on, and wrote several books about this type of shit. I guess this is kind of like CONFESSIONS OF A DANGEROUS MIND where the movie pretends to believe their story and tells it as they would tell it.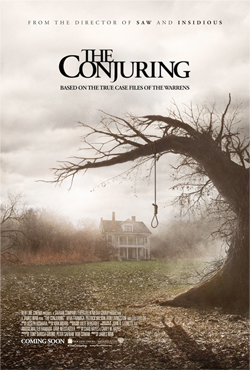 The movie's about the Warrens getting called in to help a family (Ron Livingston, Lilli Taylor, a bunch of daughters) who have recently moved into a farmhouse and then start experiencing a bunch of ghostly funny business: somebody grabbing their foot when they're asleep, weird bruises, doors closing, dead people rudely interfering with hide and seek games, etc.
I've said it before and I'll have to say it again, I'm not that into haunting and possession movies. This one works a little better because it doesn't have that PARANORMAL ACTIVITY or LORDS OF SALEM or ANTICHRIST type of pattern of normal life, weird thing happens with no consequences, back to normal life, other weird thing happens with no consequences, repeat. It has more of the POLTERGEIST structure to it, the escalating series of incidents, the investigators coming in, trying to figure out what's going on, trying to figure out how to get rid of the spirits. But Wan's own INSIDIOUS (also starring Patrick Wilson) was closer to POLTERGEIST in that it created a fantastical mythology about the ghost world. THE CONJURING tries to be grounded and stick to the "real" "facts" about ghosts, which is well done but ultimately unsatisfying to someone like me who is gonna feel kinda insulted by the suggestion that I'm supposed to believe this horse shit. I'd rather we were all in agreement that this is not real and that it would be cooler to have a cool fuckin effects monster ghost than a loud knock on the door and then when you open it nobody's there.
But Wan has chops. He creates a nice '70s period look, he uses camera moves as part of the storytelling, and obviously plans them out, like they used to do. He has several well done suspense/scare sequences where they're just trying to do something normal and then holy shit there's a little boy reflected in the mirror or the sound of breathing inside the wardrobe or something. Like in INSIDIOUS the ghostbusting procedure (this time using '70s technology) is a big part of the fun. I like how they set up cameras to be triggered when there's a sudden drop in temperature, this way you can follow a trail of camera flashes to see the path of the ghost. It's kinda like the buoys in JAWS.
I guess Wan wanted to call it THE WARREN FILES, which would make more sense (what the fuck is being conjured?) and fit better for the sequel I'm sure they'll make. It makes the movie feel pretty fresh because by showing the Warrens doing lectures they're able to work in a bonus mini-story that ends up tying in in a strange way. And we see their collection of haunted or cursed objects from previous cases which is really cool, it implies all this history, works as a threat (don't touch anything!) and creates a sort of ritual. We know that if they solve this case they'll put a related object on a shelf in there and it will be satisfying. They probly wouldn't admit it, but it's a trophy room.

We know from SAW and DEAD SILENCE that Wan is into creepy dolls, so it's kinda hilarious that he opens with a story about two young nurses being terrified by a doll. And it's the most hideous would-only-be-in-a-horror-movie-and-not-be-an-actual-doll-somebody-would-have doll you ever saw. I kept wondering why the fuck these young women would have this fuckin thing in their apartment (not to mention why they feel they have to open the door late at night when somebody pounds on it). It's funnier when you read about the case that inspired it and find out it was a Raggedy Ann doll that they claimed tried to strangle them. I guess if they stayed true to that in the movie it would be more funny than scary. Or maybe more cute.
What I like about this movie is that it's very character driven. I wasn't as much scared as I was invested in this family and in this couple. I really believed in Ed and Lorraine's love for each other to the point where I found it kind of moving to watch Ed running around the house panicked after his wife falls through a floor. Same with the dad, Roger, and his protective love for his wife and daughters. I also really liked the relationship between Ed and Roger. They have a mutual respect and friendship that we see when they nod at each other. And I always like Vera Farmiga, she plays multi-layered characters and is a good respectable actress who throws herself Kevin Bacon style into these b-movies.
I know I'm the only one that cares about this, but I gotta bring it up again how I think these horror movies are on the wrong side of history on the Salem Witch Trials verdicts. In this one the Warrens mention somebody hung in the trials, and then I missed exactly what the connection was but they pin this haunting (conjuring?) on a lady who they say was a Satan worshipper who sacrificed children. I do believe they are once again saying that this shameful piece of our history where innocent women were executed was actually the right thing to do because of scary devils and monsters. It's not as front-and-center in the story as it was in LORDS OF SALEM, but it's probly more offensive since it's claiming to be a true story.
From what I've read, the name they say in the movie as the ghost is an actual historical figure who the family blamed because of local legends about her being a witch and baby murderer. I feel kinda bad about this because in my opinion it is more likely that the actual [name withheld] was just a weird old lady that the neighbors didn't like than an actual baby-sacrificing Satanist. I mean, I remember two different old ladies in my neighborhood that the kids said were witches, and that was even in the modern world when people should know better. I know it was a long time ago but it's kinda shitty that we gotta drag this poor dead lady's name through the mud just because of some local superstition. It's like if Freddy Krueger was named after a real guy who got burned up in a war and the neighbor kids thought he was scary and made up stories about him having claws and killing children. Not fair to the Krueger legacy!
By the way, may I suggest that if you want to just watch and enjoy this thing, that you don't then go home and read about the Warrens like I did? In the movie they're these cool characters who are very honest and are shown going to reported hauntings and figuring out the logical explanation for the thing, saying that most of the time it's nothing. If you read up on them you'll find that they didn't exactly have that kind of, uh, scientific skepticism. And apparently one of the items in their real life collection of occult items is a Dungeons and Dragons manual. I don't know, man, I should be able to just enjoy this as fiction. But somewhere in my head I know that some people think this is real, and I don't, and it creates an intellectual distance that's not helpful to fully enjoy a horror movie. You gotta let yourself go.
Anyway, everyone seems to be enjoying this movie, and having a blast with it, but are they having a spookablast? I don't know if you remember this, but when DRAG ME TO HELL came out four years ago Sam Raimi referred to it as a "spookablast" in interviews, and then all the sudden people started using that word in their reviews and articles as if it was an existing piece of their vocabulary. But I haven't seen anybody use it on this one. There are definitely spooks, but is it enough of a blast? Does it blast hard enough?
The answer in my opinion is that it is a little too grounded to qualify. In Raimi's movie he took everything to cartoonish extremes. THE CONJURING has its characters getting thrown across the room by unseen forces. In DRAG ME TO HELL she gets thrown hard against walls and furniture, smashing things. She gets hung upside down by the ceiling and spun around and smacked against things. Raimi doesn't just have a creepy lady jump off the wardrobe, he has her attack his heroine in her car and lose her false teeth and then disgustingly gum her on the chin. That's why it's a blast. Also, there is a powerful hose-like blast of blood that sprays from her nose onto her boss at the bank.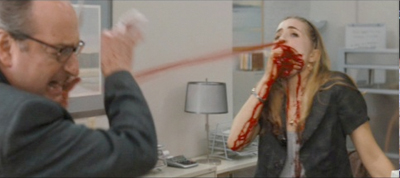 That's just a bad day at work, you know?
* * *
I actually wasn't gonna review THE CONJURING, because I do think it's a good movie and I get why people like it and there's probly not much value in me being the wet blanket who complains about not liking ghost movies that much. But it inspired me to come home and get out my DRAG ME TO HELL dvd and watch it again. And holy shit, that movie is good! I know it was internet-loved at the time but it seems like then it kinda got forgotten. So this is your reminder.
Like THE CONJURING it's very character driven. I'm not gonna claim it's as good as the EVIL DEAD movies, but I like that it's in that same vein but with a more complex lead character. Over the course of the movie we learn that she's running from her sad family situation (father died young, mother is an alcoholic who barely speaks). At least around her boyfriend's snobby rich parents she's ashamed of her background, growing up on a farm, even though it gives her an understanding of things (and recipes) that she should be proud of. But she's always trying to change herself, worrying about gaining weigh again (she was merely chubby in the photo we see), listen to tapes to work on her enunciation (and lose an accent?). She does good work at the bank, but it's a boy's club, and a job for assholes.
Lots of horror movies deal with morality, and this one (by accident I think) deals with it in a very current way. She's a compassionate person, she obviously wants to give the old lady the loan extension, but she correctly guesses that she can impress her boss by out-assholing her competition for the big promotion. It's clear why she does it, but it was still her decision, and throughout the movie she refuses to take responsibility for it. Every time it comes up she says it was the bank, she just works there. Even in an intense seance she tells the spirit world that it was her boss's fault.
Then there's the section where she has the opportunity to pass the curse on to another person. It's like in THE BOX where you can get a million dollars but somebody else has to die. But in this case she wouldn't get a million dollars, she just wouldn't get dragged to hell. She tries to find an asshole who might deserve it, and comes very close to giving it to the dickhead who screwed her over at work. But ultimately she realizes she can't put her curse, her fuckup, on somebody else. It's either her or the hag who gave it to her in the first place. That's the good person we knew she was from the beginning, even though she's made alot of mistakes (including murdering her own adorable kitten).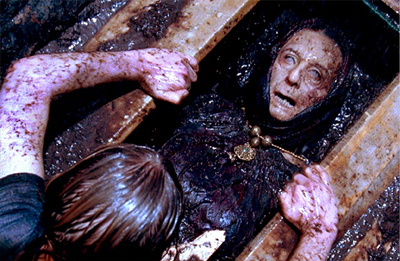 And then there's all that spookablastination I mentioned, the crazy over-the-top visitations and imaginatively disgusting ideas like the fly that crawls into her mouth while she's asleep and is later heard buzzing inside her stomach. Man, she really goes through the ringer, and gets in disgusting positions with the dead lady on two separate occasions (both times losing a chunk of her hair!) It's effective enough to make me cringe a few times, and I'm rooting for this poor girl to get out of it, and also I'm laughing. With this kind of intensity I think it might work on me even it was just a series of weird events, but it has a really tight story to it with a time limit, a goal, problem solving and a piece of storytelling sleight of hand to get to a great punchline and then slam the giant title on screen. It's just a great time at the movies, or on the DVD player.
There was some grossout stuff in here I didn't remember, I guess because I saw it in the theater when it was PG-13. I think they digitally added some extra goo in some places. Obviously I'd prefer the genuine article fake blood, but this works. The one change I noticed where I preferred the old way was it used to cut directly from her calling for her cat to burying it in the backyard. Now you see her aghast as she stabs down at the thing (you don't see the cat, but blood splatters). It's still a good "oh shit is she really doing this?" moment but the timing was a little funnier before.
Anyway, let me know what you think of THE CONJURING, but also let's not forget about DRAG ME TO HELL. It looked like we had that Sam Raimi back for a minute there.