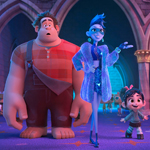 Hey man, I'm not a monster, I enjoyed WRECK-IT RALPH like anybody, and the sequel is fun too. This licensing crossover bonanza shit has kinda become its own genre since WHO FRAMED ROGER RABBIT invented it in earnest, so we've had the toy version (TOY STORY), the other toy version (THE LEGO® MOVIE), the… everything version (READY PLAYER ONE) and the horrific, soul-rattling nightmare version (FOODFIGHT!). RALPH's video game version does it just right – an elegantly executed premise full of Pixar-worthy well-thought-out world building, funny characters, good jokes, loving homages, minute detail, occasional Q*Bert cameo. I mean they even had an end credits jam by Buckner & Garcia (look it up). Some time later I went to Disneyland and they had playable Fix-It Felix, Jr. games in the Starcade, and especially seeing it in person you realize what a nice tribute it is to the beautiful design of the Donkey Kong game cabinet and the 8-bit animations of that era of video games. It makes you remember that, crude as they seem now, they are an artform.
So now we have the sequel RALPH BREAKS [sic] THE INTERNET, and at least it's not a rehash. Sentient video game characters Ralph (John C. Reilly, CRIMINAL) and Vanellope (Sarah Silverman, THE WAY OF THE GUN) are inseparable friends from frame 1, and when the arcade they live in gets wi-fi they find themselves exploring the big city that is the internet. It has an actual help desk for a search engine, an eBay building where auctions take place, flocks of Twitter birds overhead, and lots of little blocky avatars of internet users walking around trying to avoid people waving pop-up ads and clickbait in their faces. It's all very clever and observant (they get a big laugh from an auto-fill in gag, and there's one about "one weird trick") and designing the behind-the-scenes characters (a messenger who delivers eBay reminder emails) in the style of '50s advertising icons helps keep it from feeling desperately current. (read the rest of this shit…)
VERN has a new action-horror novel out called WORM ON A HOOK! He has been reviewing movies since 1999 and is the author of the film criticism books Seagalogy: A Study of the Ass-Kicking Films of Steven Seagal and Yippee Ki-Yay Moviegoer!: Writings on Bruce Willis, Badass Cinema and Other Important Topics as well as the crime novel Niketown.