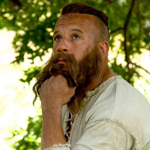 A tale has long been whispered of Vin Diesel – musclebound, gravel-voiced, meat-headed action star, professor of macho brotherhood and cinematic tributes to muscle cars and jumping from moving vehicles – and how he's a huge nerd who loves playing Dungeons & Dragons. It's an unusual badass juxtaposition and although I always believed it I also knew it could've been exaggerated as a way to endear himself to the "Geek" sights who helped turn PITCH BLACK into a minor cult success and get two unlikely sequels off the ground even though it seemed like no one believed in them like he did.
But the proof is in the pudding, and in this flavor of pudding Diesel plays Kaulder, an 800 year old witch hunter aided by a Catholic secret society called The Axe and Cross in controlling the descendants of the monstrous Witch Queen who killed his wife and daughter and cursed him to be immortal even though he was real sad. He uses spells to travel into his memories, where he has a long beard like a Lord of the Rings dwarf and yells "IRON AND FIRE!" whenever leaping at someone with his sword (which he notes he does not have a name for but has heard it called Such-and-Such the Witch Killer by others). I should also mention that sometimes his sword is on fire. So yes, he plays Dungeons & Dragons. He lives his life a quarterstaff at a time. And I bet he gets really into doing voices and yelling out battle cry catch phrases and stuff.
Most of the movie takes place in present day Philadelphia Pittsburgh (or present day Unnamed City Filmed in Philadelphia Pittsburgh). Here Kaulder, like Dominic Torretto, enjoys wearing fitted black long sleeve button up shirts with the collar opened wide, but he drives a different type of fast car. (There's one part in the movie where a car drifts, but it's an FX shot and he's not supposed to be the driver.)
Michael Caine (ON DEADLY GROUND) plays Dolan, his Alfred-like right hand man of 50 years, but since Kaulder is older than him he always calls him "kid."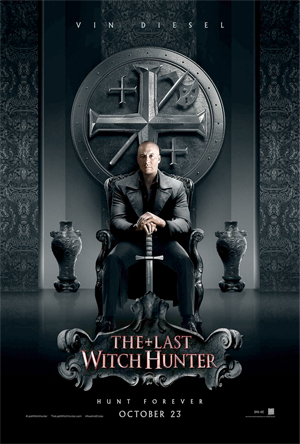 Kaulder jokes around with people in much the same way Dom does, he remains cool as a cucumber in the face of great danger (even winks at a kid while on a plane about to be torn apart by a storm) and he uses his centuries worth of knowledge to pick up beautiful women. He has the potential to be the James Bond of witch hunters, but he would need a catchier theme song (though the score by Steve Jablonsky is fine).
Usually the joke with an ancient character like this would be that he has a hard time with modern tech, but instead Kaulder is said to be very good at adapting and he gives Dolan a bunch of shit about not using the iPad he gave him. (They don't really follow up on this, though. For the rest of the movie Kaulder uses test tubes of magic powders and shit like that.)
It goes without saying that the world we live in is just a sugar coated topping, there is another world beneath it, the real world, and also there's more dangerous things out there than witches (like what?) like the last witch hunter. This movie shows a definite BLADE influence, but not enough in my opinion. It doesn't have as much style, as much asskicking, as much attitude. It doesn't strut like BLADE. I guess it's hard to strut when you're rolling a bunch of dice. Anyway it's also reminiscent of CONSTANTINE and maybe some HELLBOY (reminded me that the studio once wanted Diesel to play Hellboy) and also, well… there is definitely some HARRY POTTER, the way they create a magic version of the world. There is a Witch Council with an underground prison. Kaulder does the old forcing-an-enemy-to-help-him-but-then-they-become-friends with Chloe (Rose Leslie, Game of Thrones), who is the owner of a high class witch bar. Instead of cocktails she delivers potions and you breathe in their weird blue smoke and stuff. She also participates in message boards that consider Kaulder a genocidal fascist, so she has to get to know his sweet side.
That's good news. You know my stance on witch hunts. I'm against it. This one gets around all my hangups by establishing that the Witch Queen (Julie Engelbrecht, in performance capture I think) he hunted was a cool EVIL DEAD type demonic monster and modern witches are her descendants who he works with and even protects as long as they follow the truce not to use magic against humans. Even better, Chloe brings up the Salem witch trials. Kaulder says "Salem was wrong. Those women were innocent," and she points out that if they had been witches they still shouldn't have been executed for it.
Anyway, his buddy Dolan mysteriously croaks, but leaves him a message in bloody Bible fingerprints, so he has to travel back into his memories to remember something, and then he finds out somebody is trying to resurrect the Witch Queen, can you believe that shit? So he handles it.
I like this character of Kaulder and this world, and there's some cool stuff in here: a big monster made of trees and skeletons, swarms of flies coming out of people's skin or mouths, lots of Kaulder showing off arcane magick knowledge while doing his CSI: Witch Hunt thing, a vision of the future where a city is taken over by plants like in I AM LEGEND, a weird part where Michael Caine looks out a window and says "Look at you, you ugly bitch of a morning." But Diesel sometimes has a struggle between understanding the power of his physical presence and being a dude who likes to talk alot. Some scenes of him explaining shit is okay, but those start to pile up and it starts to feel like alot of talk for not very much rock. I'm sorry to say it, but it's kinda boring.
I think maybe another problem is that a world like this needs to be populated with colorful, memorable characters. The Witch Queen is a cool monster who makes roots grow out of things and stuff, but I couldn't say she has a personality. I guess she does have a point of view: she comes from a time when the world was rules by her people, and there were trees and shit. Humans to her are vermin and their cities are like giant piles of rat shit or something. So she tried to create a plague to wipe out the humans. She was probly right. Doesn't mean she's fun to hang out with, though.
The other main villain, Belial, (Olafur Darri Olafsson, A WALK AMONG THE TOMBSTONES) I did not think was very cool. The only character that left me curious was Max played by Isaach De Bankole from GHOST DOG. He's some kind of lowlife informant type, a guy who has different schemes that Kaulder sometimes tolerates and sometimes shuts down to get him to rat on people. He's running some kind of hipster bakery with lines around the block for cupcakes that (secretly?) are made of butterflies and meal worms, I believe? I didn't really understand what was going on there, but I like it. It just plunges you in. It's cute but not MEN IN BLACK cartoony. Needs more of that.
Early on there's a scene with Bex Taylor-Klaus, who was Audrey, the short-haired gothy girl on Scream: The TV Series, for anyone else who watched that. I thought he would call upon her skills at some later point, but you don't see her again.
In fact, even the characters that are part of his team, that seem like part of the LAST WITCH HUNTER ensemble, get weirdly short-shrift. Caine narrates at the beginning and meets with Kaulder, but he's retiring, and then suddenly they tell us he's dead. Elijah Wood (MANIAC) comes in as his replacement, and investigates a magic scene, but then Kaulder tells him he's "not qualified" for the next part and gives him cab fare. He doesn't argue at all, just leaves, and misses a big chunk of the movie.
By the way, you would expect the end credits to be a cheesy cover of "Season of the Witch," but they went with plan B, a cheesy cover of "Paint It Black."
That reminds me, though. Have you guys heard of The Black List? It's this annual list, voted on by people in Hollywood, of what they say are the best unproduced screenplays. It was started to try to bring attention to good work that wasn't making it through the pipeline, and people always talk about it like it's real prestigious to be on that list.
No judgment, but it's important to know that this Vin Diesel witch movie that many people will turn their noses up to was also one of the scripts on that list that they always think is so great. That was in 2010, a list that also produced Academy Award winners ARGO and AMERICAN HUSTLE (then called AMERICAN BULLSHIT) and hits like HUNGER GAMES, but also not-as-respected movies like SAFE HOUSE, SNOW WHITE AND THE HUNTSMAN, OZ THE GREAT AND POWERFUL, ABDUCTION and this. At the time it was credited to Cory Goodman (PRIEST), but looks like it got a rewrite by Matt Sazama & Burk Sharpless (DRACULA UNTOLD). The director is Breck Eisner (SAHARA, THE CRAZIES). He's known for making better-than-expected movies but with this one, unfortunately, I was hoping for more. It's one of those ones where I think "Well, a sequel might be better," but I'm afraid this will probly be the Last Last Witch Hunter.
So anyway, Diesel wants to direct. DUNGEONS & DRAGONS: THE MOVIE: THE REBOOT, A Film By Vin Diesel. What are you waiting for, rights owners?
This entry was posted on Monday, October 26th, 2015 at 8:52 am and is filed under
Fantasy/Swords
,
Reviews
. You can follow any responses to this entry through the
RSS 2.0
feed. You can skip to the end and leave a response. Pinging is currently not allowed.