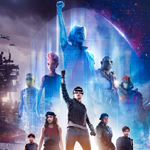 Steven Spielberg's shiny, digitally new movie READY PLAYER ONE is about a virtual reality treasure hunt for people who are obsessed with '80s and '90s pop culture references even though it's the year 2045. Which is not as far-fetched as it sounds at first. The hero of the story drives the car from BACK TO THE FUTURE, the #1 hit movie of sixty years prior, so it's just the same as the teens you see now who model their lives on SOUTH PACIFIC.
Wade Watts (Tye Sheridan, THE TREE OF LIFE, MUD, X-MEN: APOCALYPSE) is a nice young man and first person narrator living in a futuristic trailer park, and I guess poverty ain't that bad because everyone spends their days playing around in this virtual reality video game called OASIS.
Wade is part of a subculture called "gunters" who know about old Atari 2600 games and Robert Zemeckis and everything because they study the journals of the late Oasis inventor Halliday (Mark Rylance, BLITZ), and he was obsessed with that shit. The gunters need to understand all that to win the puzzle contest he left behind as a sort of a last-willy-wonka-and-testament to award his majority share of the company to some random nerd he never met who can solve some riddles. Also they gotta be good at video games, because the first challenge involves a giant car race. Wade drives the DeLorean, his friend Aech (pronounced 'H') (spoiler – it's not a boy, it's Lena Waithe from Master of None) drives Bigfoot, a famous girl he has a crush on and just met named Artemis (Olivia Cooke, OUIJA) drives the red motorcycle from AKIRA (weirdly the only reference the characters feel they have to explain to the audience).
At first Wade is just trying to win the contest. But Artemis is more like a rebel leader, and she convinces him to make it a cause. An asshole company called IOI, run by CEO Sorrento (Ben Mendelsohn, ANIMAL KINGDOM), have a massive research department and virtual army trying to win the contest as basically a corporate takeover. In a flashback (available for viewing in a public library) he's an assistant to Halliday who tries to convince him to add tiered membership levels like Silver, Gold and Platinum. So their mission is to make sure their virtual playground doesn't get turned into some bullshit like that.
The way Wade tells it, he has studied the shit out of everything from our era and is one of the top gunters. Kinda reminds me of DEMOLITION MAN, where in the year 2032 Sandra Bullock's character is useful for her obsession with '90s culture. And actually that seems like a movie they should've referenced in this. I know they say it's '80s, but I noticed just as many '90s things – they have Spawn, Goro from Mortal Kombat, Halo I think, Home Improvement (okay, not really Home Improvement) and a theater marquee from the world of LAST ACTION HERO (the closest thing to a cool reference that I noticed).
It's very easy to nitpick the nerdery, because Halliday seems to be from the generation of Steve Jobs and Bill Gates, yet he populates his personal nostalgia fetish world with lots of things from when those guys were in their 40s, and even the recent mo-cap version of the TEENAGE MUTANT NINJA TURTLES. There's a good gag about a Star Trek themed funeral, but a guy who would do that, in my opinion, would not also be into ten thousand other things. Considering that he is, his nerdtopia is suspiciously lacking in STAR WARS (there's one verbal reference) and since Spielberg didn't want to blow smoke up his own ass they're worshipping all these '80s movies without seeming to know about E.T. or RAIDERS OF THE LOST ARK. I think the only self-reference is a JURASSIC PARK t-rex. Could've at least thrown in a plane from 1941 or EMPIRE OF THE SUN or ALWAYS, or the horse from WAR HORSE, or the terminal from THE TERMINAL.
And we all gave Stranger Things shit for having too cool of posters on the walls – what fucking kid had theatrical posters of THE THING or THE EVIL DEAD? – but this one kinda goes the other way because the motherfucker has a LADYHAWKE poster. How are we supposed to relate to a guy that has a LADYHAWKE poster?
But all that's okay. They're just references. There better be more to a movie than references, and yeah, there's a little bit. Because it's Spielberg, who in my opinion is to directing movies what Steven Spielberg is to directing movies, it's all pretty seductive. The quest kept me interested, and the animated action is fun to watch. There's alot of long shots floating into and through the world (particularly in the big car race) that made me regret not seeing it in 3D. (On the other hand, is there something wrong with my eyes, or does it flicker for everybody to watch a sideways pan in digital projection? This has been killing me for years because I loved those type of shots when I could see them, and what's the point of showing a crowd of comic book characters and Mortal Kombat dudes if our eyes can't process the imagery?)
The part that impressed me the most was the level of the game that takes place inside (SPOILER) the movie THE SHINING. It's weird that they chose the Mick Garris version, but I guess Stephen Weber is easier to get ahold of than no just kidding it takes place inside Stanley Kubrick's THE SHINING. Not footage from it, but a detailed simulation, complete with Wendy Carlos music. I don't know how they did it but as far as my eyes could tell they exactly re-created the sets of the movie and shot and lit it just right. You feel like you're walking through that big lobby, down the halls, into the freezer, the maze, and of course Room 237. It's nothing more than a gimmick, but it's cool to think of Spielberg giving such detailed attention to a creation of his friend Stanley, and there are a few laughs and what not.
On the topic of horror classics: I only noticed this on the credits, but the neighbor lady who Wade says hi to at the beginning is Clare Higgins, a.k.a. Julia from HELLRAISER and HELLBOUND: HELLRAISER II, my choice for most underrated horror monster of the '80s.
(And yeah, two more celebrated icons of that world make brief appearances. Nothing big but it is strange to realize that we now live in a world where Spielberg has directed SPOILER Chucky in a scene.)
If I had to rank all the Spielberg movies (which is something Wade might do if Spielberg existed in his world) READY PLAYER ONE would definitely be near the bottom, but probly above THE TERMINAL and HOOK and his chapter of TWILIGHT ZONE: THE MOVIE. I didn't hate it at all. But some of the ideas behind it really bother me.
This movie could be the final chapter in the Nerdening of America, the last shot fired by the original generation of internet self-proclaimed geeks. I'm talking about the people and attitudes given voice (like me) by the since-disgraced Headgeek Harry Knowles, who encouraged and empowered our nostalgia and masturbatory enthusiasm for the totems and trivia of sci-fi and comic books and shit. From his laptop he told the world about Austin film and "geek" happenings like SIX STRING SAMURAI, the Alamo Drafthouse, Mondo posters, Fantastic Fest, and yes, Cline, some guy who did "slam poetry" about being a nerd, and wrote a script about STAR WARS fans trying to break into Skywalker Ranch so their friend with cancer could see EPISODE I early. Harry was a character in the script, and according to Wired  it was his review on Ain't It Cool that put it on the radar in Hollywood. Harry also read Cline's 2011 novel Ready Player One early, and Cline said that "The character of Aech is partially based on my friend Harry Knowles (but not entirely)." Random House bought the book (there was a bidding war!) and Warner Brothers bought the movie rights the next day. Cline wrote the first drafts (later rewritten by Zak Penn [story credits on LAST ACTION HERO, X-MEN 2 and THE AVENGERS]).
In fairness I must say that I haven't seen FANBOYS – I think I only got about ten minutes in before I had to call it. More importantly I haven't read Ready Player One, and I know you can't judge a book by wanting to jump off a bridge when you hear the premise, or by having someone chase you around reading excerpts out loud to torment you because there's a part where he literally spends a page listing off all his favorite bands, TV shows, movies and directors like some unfortunate cross between a MySpace page and the journal of John Doe from SE7EN. (Tip: You didn't have to tell us you liked They Might Be Giants and "Youtube videos of cute geeky girls playing '80s cover tunes on ukuleles." We pretty much figured that.)
It's clear that the book was written to pander to a very specific audience, and I might be of the same generation, but I don't really care about video games or see BACK TO THE FUTURE and GHOSTBUSTERS as the pinnacles of the era. Sure, I like 'em, but they're not movies that strike the kind of chord in me where I get excited about combining the cars from them into one vehicle (as Wade does in the book and Cline does in real life). So I'm not the target audience.
Or maybe I am now. When Harry rose to power, his favorite things were thought of as kind of niche and looked down on, a secret handshake between misfits happy to find that rare person who understood what they were talking about. That era is reflected in READY PLAYER ONE by the sad detail that the hero knows he's in love because a girl correctly identifies his fucking Buckaroo Banzai cosplay. But the movie was born into the world that Harry predicted and precipitated, the one with the Marvel Cinematic Universe and perpetual STAR WARS, where you're more of a weirdo if you don't know who Gollum is than if you do, where a book like this could be made into a $175 million summer blockbuster directed by Steven fucking Spielberg. The garage band went platinum. So now when you see all this stuff on screen it doesn't feel like "Holy shit, they have a bunch of my favorite stuff!" It's more of a "Yep, there's all the stuff."
Maybe this will kill off empty '80s nostalgia once and for all. The people I've heard talking about the movie with excitement were born after the '80s. I think it appeals most to those who don't see these references as the comforting echoes of childhood, but as exotic symbols of a time they didn't witness.
But I don't like that the premise elevates only the superficial elements – the symbols without their meanings. I can't deny the brief amusement of seeing the Iron Giant fighting Mechagodzilla (especially when Alan Silvestri [JUDGMENT NIGHT]'s score slid into Akira Ifukube's original Godzilla theme), but a feeling of emptiness quickly sets in. Some have pointed out that the whole premise of THE IRON GIANT is "I am not a gun" – an intergalactic war machine with a bump on his head decides not to be a weapon anymore – yet here they have him fighting and shooting lasers out of his eyes. And others have responded that yeah but this isn't supposed to be the actual Iron Giant, it's a video game and they're just using him as an avatar. And now I'm responding that sure, it makes sense in the story, but the reason people love the Iron Giant is because of the character and what he represents, more than because it's a cool robot. READY PLAYER ONE doesn't care about going deeper than cool robot. It's for people who like posters and lunchboxes more than stories and characters. It's all sugar-coated topping.
I don't love CLERKS, but back then nerd references were about digging deeper into a thing, pointing out something someone else might not have thought of, like the probability that many working class construction people were killed on the Death Star. Here if there was a Death Star it would just be a picture of the Death Star blowing up Cybertron. Wade could identify them but couldn't offer any further insights.
Consider this: Sorrento tries to recruit Wade by talking nerd shit with him. Wade tests him, asks him trivia, and it turns out he's being fed the answers through an earpiece. Sorrento represents the corporate asshole who just sees "geek culture" or whatever as a moneymaking opportunity. He's the poser, the fake nerd, the one who doesn't really belong here. But what the fuck is Wade? He's a guy who reads about all of Halliday's favorite TV shows and shit to try to win a contest. He's not "real" or coming from the right place either. But we're definitely not supposed to think about him that way. He's supposed to be us.
I'm not sure how much he's supposed to be Spielberg, though in the live action world he looks like him. At the end they have some nice morals about friendship and even unplugging on occasion to make out with your hot girlfriend. (Apparently nobody told him that cybersex is better because you can combine into one and morph into a butterfly.)
But I can't stop thinking about Cline and many of the reviewers comparing his book to THE MATRIX. Again, he's taking the concept of the matrix and not its meaning. In MATRIX terms this is a happy ending where Neo abandons Zion because he has to save The Matrix. I guess that's where the machines fucked up: they made the Matrix just like regular life where you have to have a job instead of letting everybody be cyborgs who hang out with Batman and fight Freddy and collect coins. Halliday didn't have to trick anybody and they still save up all their money so they can be in The Matrix.
In RAIDERS OF THE LOST ARK the fight is over the vessel of communication between man and God, and when they get it they all fucking melt. In READY PLAYER ONE it's over "the first easter egg," when a programmer hid his name in a video game, and if you get it you win the world's largest media company and all your dreams come true. Huh.
I guess that's what I get for trying to look beneath the cool robot.
Other notes:
The main characters are the rare players who don't wear skins of existing pop culture characters (unless they're ones we don't recognize from entertainment that doesn't exist yet). It seems like there should be some acknowledgment of how they create their looks, so we can see that they have some type of creativity.
Am I right that Wade's mom's asshole boyfriend has a mullet because of trailer trash stereotyping, not because of '80s nostalgia? It's hard to know.
Cline has had as bad of luck as me when it comes to being associated with people who later get accused of sexual misconduct. This has T.J. Miller in it, FANBOYS has an actor playing Harry and is produced by Kevin Spacey and Harvey Weinstein.
Do you think Iron Giant never speaks because Spielberg didn't like working with Vin Diesel on SAVING PRIVATE RYAN, or because he's chosen The Rock's side in the Fast and Furious Family Feud?
I wonder if they've considered having special screenings where a know-it-all nerd stands in front of the screen and lists off all the references in a nasally voice. "That's a Joust poster. That's from TERMINATOR 2: JUDGMENT DAY. That's a Ninja Turtle" etc. Or for an extra $5 you can get a more cynical nerd who complains about the references that he's not seeing. "What about Street Sharks. What about Silverhawks. What about M.U.S.C.L.E. Things. What about ALF."
Amazing ideas I would've suggested if I was a script doctor:
This goes without saying, but the Atari 2600 game played for the final challenge should be the infamous E.T. game. They just keep falling into a hole and wondering what the fuck is this game supposed to be.
One character's avatar should be Mojo Nixon as Toad in SUPER MARIO BROS.: THE MOVIE.
They should also have to learn everything about '50s and '60s pop culture because Halliday grew up watching Happy Days, STAND BY ME and The Wonder Years.
One of Wade's friends should play as Roger Rabbit, but when he meets her in real life she's actually a very old Baby Herman, so we learn not only that people are different IRL but that this movie takes place in the universe of WHO FRAMED ROGER RABBIT where cartoon characters are living creatures known as "toons."
What about Golden Girls?
This entry was posted on Thursday, April 12th, 2018 at 5:36 pm and is filed under
Reviews
,
Science Fiction and Space Shit
. You can follow any responses to this entry through the
RSS 2.0
feed. You can skip to the end and leave a response. Pinging is currently not allowed.