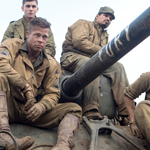 FURY is an intense, well-made WWII movie. It doesn't feel like just another forgettable same ol' same ol' type of war picture. For one thing, the focus on the crew of one tank makes for some unique and thrilling combat scenes. One battle scene in particular really shows the strategy of tank on tank action. They're like pirate ship battles waged from inside vans. Or like giant turtles trying to outmaneuver each other. Not all battles are just about who has the most guns. And filming inside real tanks really adds to the realistic feel I think. It's pretty damn cool.
Also it's a more violent movie than most, or at least more effectively violent. Always good to hear somebody in the back of the theater loudly gasp right at the beginning of a movie. I guess somebody thought this was gonna be about nice, polite combat.
But I think FURY is signifying something too, and I'm still processing what I think about that. Writer/director David Ayer last did the really enjoyable Schwarzenegger movie SABOTAGE, which was a more fun and pulpy version of his usual topic, the Burnt Out Cops That Cross the Line (END OF WATCH, HARSH TIMES, STREET KINGS, TRAINING DAY). And this is kinda like the soldier version of that.
It seems to be saying that even a "good war" is barbaric business, and that even The Greatest Generation were a bunch of dicks. In contrast to almost any other WWII movie we don't see any of the Nazi war crimes, I don't think we even hear about them. We just see Germans being soldiers, usually outnumbered and on the losing end of a fight. We see them captured, terrorized and executed. We even see one offering a crucial, unexplained act of mercy to an American. And we see German citizens that have been hung in the streets for not joining the war. In other words, alot of these bad guys we're seeing get blown to bits didn't have much of a choice.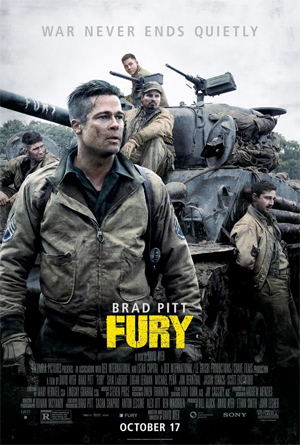 The Americans are not painted as positively as they usually are in movies about this particular conflict, they're more of the Vietnam War movie type. The crew's brand new gun assistant (Ladies Love Logan Lerman) is in a similar boat as some of the Germans. He's a secretary thrown into combat. He's never seen the inside of a tank before, he's never killed anybody and he doesn't want to. When his hesitation to shoot a child gets another tank blown up, Sergeant Brad Pitt drags him out, slaps him around, yells at him and forces him to shoot a captured German soldier in the back. Everybody else stands around unimpressed, like they've seen this a thousand times.
Didn't know you like to get wet, dog. King Kong ain't got shit on Brad Pitt.
The other crew members do their best to bully, torment and threaten the kid, and try to guilt him for not having suffered through as many horrors as they have so far. They're such yahoos they come across like post-apocalypse punks or Texas Chain Saw family members. In fact the big tour-de-force character scene strangely reminded me of the classic TEXAS CHAIN SAW dinner scene. Two German women sit terrified at their own table forced to endure a hateful meal while the soldiers fight over one of the girls.
Pitt sort of becomes the good guy in this scene, protecting the girl (whose boldly colored dress makes her pop off of the mostly grey and faded green screen like she's from a different world). But earlier he was the one who barged into this woman's apartment and decided that the kid would hook up with her cousin, who he found hidden under the bed.
The implication is that they worry the girl is too pretty for these American pillagers not to try to rape her. Which turns out to be true. They're marching around the village trying on people's clothes, taking people's food, grabbing terrified women like they're auditioning to be in the Pirates of the Caribbean ride. They walk on the rubble and joke around, showing nothing close to a sign of sympathy for the innocent conquered locals.
It's grim and harsh but it's not all rubbing your nose in the shit. There are some laughs, some scenes of bonding, some humanity. A little bit. I really like the scene where they're on top of the tank talking about religion, they're all kinda teasing LaBeouf about his concepts of who will and won't go to Heaven. They really have a chemistry there like they've been together a long time and they've had this conversation before but they're always happy to do it again because it amuses them.
It's kinda weird seeing Pitt killing Nazis again not that long after INGLOURIOUS BASTERDS, where he had such a great character and colorful performance. There are definitely shades of Aldo Raine here, he's going for a similar intense manliness, but he's a little more normal I guess. And there's no rule that says you're only allowed to do one WWII movie. It used to be an actor could do a dozen war movies or westerns without doing different accents or anything and it was fine.
I guess the big difference between the characters is this guy is more like a mean dad or coach. He can be a total asshole but he's doing it – or at least believes he's doing it, or maybe just wants you to believe he's doing it – out of tough love. Shortly after slapping the kid around and forcing him to commit a war crime he tells him to make sure to get something to eat before they leave. Don't worry son, I'm looking out for you.
Also his hair is shorter on the sides, almost bald, that's pretty different.
Jon Bernthal (Walking Dead season 1 and 2, WOLF OF WALL STREET) puts in another movie-stealing performance, though I wish he got a chance to do a little more of the scenes where he does something other than menace people and be a prick. Same goes for Michael Pena, although he gets to be a little funnier at least. LaBeouf's character is probly the most complicated because he's always trying to be the righteous Christian member of the team but then he has no objections to their terrorizing those German cousins.
LaBeouf does a good job, but I feel bad that he thought he had to yank out a tooth for that. I only noticed it in one or two shots, and it could've easily been faked. Also it wouldn't make much difference if he just had all his teeth in those shots. I don't see missing-a-tooth as an important character trait there. I can only hope that feeling the empty space with his tongue helped him get into character and take the performance to the next level.
I have to admit I'm not much of a Lerman-maniac. I don't like how we always gotta have these kinda bland everyboy characters as an audience surrogate. I guess the idea is that it's okay to have a bunch of interesting crazy guys on screen as long as the main character is a younger guy that's kinda weak and lacking in personality. To be honest I thought he was the same kid from JACK THE GIANT SLAYER and/or WAR HORSE. I don't know the difference between these guys.
Imagine if in RESERVOIR DOGS there was a wimpy young kid who was the new guy in the gang being shown the ropes. Just to make sure we as the audience have an entry into that world. That wouldn't be as good in my opinion.
Okay, admittedly it has more of a purpose in this one. He's the innocent who tries to make it through war without his soul getting soiled. One minute he's a harmless typist, the next his morals are responsible for one of his fellow Americans being on fire shooting himself in the head. I get it.
It's a rough journey to take, but a good one. If you like a good war movie this one stands out, definitely worth your time. Pretty cool theme song too: