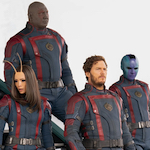 GUARDIANS OF THE GALAXY VOL. 3 is the finale to the Marvel's Celluloidical Ubiquity's best trilogy. It's one of the few from a writer/director, and one with the most directorial personality, but it's also very accessible to less dedicated viewers of comic book movies. It exists off in space, pretty separate from the other Marvel business, other than building off of things that happened to the characters in the two biggest MCU crossover movies, which are quickly summarized for our convenience.
Honestly the story is pretty simple. A weird powerful dude apparently called Adam Warlock (Will Poulter, SON OF RAMBOW) flies in from space and tries to abduct the talking raccoon Rocket (voice of Bradley Cooper, THE MIDNIGHT MEAT TRAIN), instead putting him in a coma; when his friends try to resuscitate him they figure out from code in his cyborg parts that Orgocorp, the company that enhanced him from regular raccoon into Rocket, was trying to reclaim him as "proprietary property," and now his body will shut down if they don't get some security code. So the Guardians get help from former member Gamora (Zoe Saldaña, THE TERMINAL) to break into the company's headquarters, and then to get information in a place called Counter-Earth (an experimental re-creation of an American suburb populated with animal-human hybrids) to save their friend and battle his cruel creator, the High Evolutionary (Chukwudi Iwuji, JOHN WICK CHAPTER 2). Along the way, of course, there are complications, battles, many running gags and bits, and (new to this volume) some very grim but also sweet flashbacks about Rocket's origins and his friendship in captivity with very innocent cyborg otter, walrus and rabbit lab animals.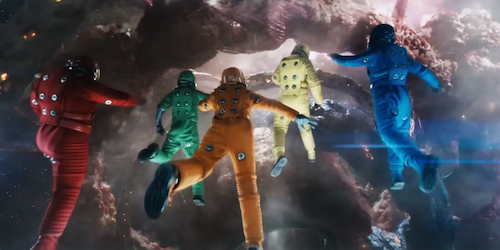 The GUARDIANS movies, all written and directed by James Gunn (SLITHER) (with a co-writer credited only on the first one), have always been some of the most fun and visually imaginative Marvel movies, and this thing takes that even further. It's infused with bits in the spirit of DARK STAR, European sci-fi comics, and the good parts of HEAVY METAL and SPACE TRUCKERS. Maybe even a little BLOOD MACHINES, come to think of it. I doubt they would know that one, but it's a good sector to set your navcomputer on. We've got the Guardians in candy-colored space suits infiltrating The Orgoscope, a "bio-formed" space station, meaning its grown from flesh! It has lots of sterile white in the interior but with eyeball cameras and yellow jelly control panels. It's staffed with what look like retro-futuristic flight attendants, and security guards (led by Nathan Fillion, DRACULA 2000) wearing armor something between Lynch's DUNE and… I don't know, a crab costume?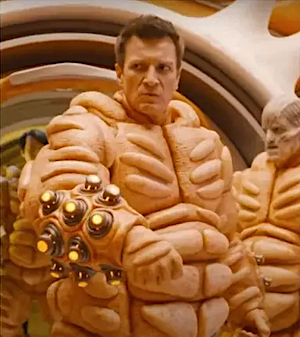 It's one of the only movies I know of where the heroes live in a town built on the severed head of an ancient space god that can be flown around like a space ship. (Just this and KRAMER VS. KRAMER, I believe.) The space battles are exciting and the fights (stunt coordinator: Heidi Moneymaker, "Athena" from WOLF WARRIOR 2) are even cooler – there are some good long takes with the camera weaving between both real stunts and digital characters, such as Groot (voice of Vin Diesel, BREAKIN' IN THE USA: BREAK DANCING AND ELECTRIC BOOGIE TAUGHT BY THE PROS) sprouting eight arms to fire laser guns while the camera rotates around him like he's a Bad Boy. (Cinematographer: Henry Braham, BORN TO RIDE.)
Marvel movies have lately earned a reputation as lazy green screen bullshit not entirely finished by overworked FX teams, but that certainly isn't the case on this one. In addition to the great animation of Rocket and his cute animal friends, the High Evolutionary has some scary animal cyborg henchmen that are weirdly detailed enough to remind me of the better characters in the TRANSFORMERS movies or seeing Davy Jones for the first time in DEAD MAN'S CHEST. My favorite is War Pig, a terrifying creature who has an unexpected voice I didn't realize until the credits was Judy Greer (CURSED).
It's more than enough space opera pageantry and laughs for a fun time at the movies, but for sure it's liking these misfits and being moved by their friendship that makes the trilogy work as well as it does. Gunn has already established slo-mo-group-shot-walking-toward-the-camera as the format for checking in on the status of the team, so the title comes over one such shot of the Guardians, but with Nebula (Karen Gillan, OCULUS) carrying Star Lord (Chris Pratt, WANTED) because he's passed out drunk, depressed over the loss of Gamora.
Oh yeah, she died, right? I've seen all the related movies, but only once when they were released. VOL. 3 does a good job of reminding me what's up – Gamora was killed by her intergalactic supervillain pops Thanos in AVENGERS: INFINITY WAR, but in AVENGERS: ENDGAME her sister Nebula was able to travel in time to 2014 and recruit her past self to help save the universe in the present. So Gamora is still around but she's a Gamora who never experienced the events of GUARDIANS OF THE GALAXY volumes 1-2, so she's not in love with or interested in Star Lord. Doesn't even remember his name. He's become a depressed hard drinker while the others disagree about whether Gamora is dead or "just forgot the last few years."
So each time they have another group shot there are different stakes, such as whether or not Gamora will walk with them. She works with them as a hired gun and spends some of the time just waiting on the ship reading a book and keeping watch on Rocket while they do shit she doesn't want to be involved in, but she has a cool arc because she does learn to understand and respect them more without having to become the same Gamora or fall in love with Star Lord. It's a story about accepting change, being happy with the memories, and moving forward to make new ones. In a movie full of very entertaining spectacle, one of the highlights is just seeing (EMOTIONAL SPOILER) Gamora return to the Ravagers after it's all over and seeing how happy they are for her to be back. Even though this Gamora never bonded with the Guardians in the same way as before, she found a different family that loves her just as much.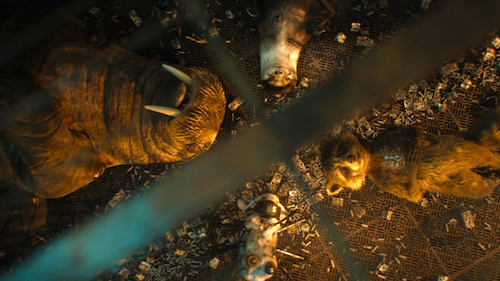 I'd say Star Lord and Gamora still seem like the main characters even though the story centers on Rocket and possibly gives him the most screen time. He's unconscious for a big chunk of the present day story, so most of his scenes are a more innocent younger version voiced by Sean Gunn (2 episodes of Bunheads) who has always played Rocket on set (in addition to playing now-full-fledged Guardian Kraglin). Those scenes are something pretty unique, simultaneously cuter and bleaker than the rest of GUARDIANS. These animal characters are so sweet and caring, they're very sad but not fully aware of how bad their situation is. And the results of the horrible experiments performed on them are visible in every gesture, since they have these very unnatural mechanic body parts added to them. These scenes are kinda like THE ISLAND OF DR. MOREAU merged with BABE: PIG IN THE CITY as filtered through Gunn's ex-Troma brain.
There's a shot of present day Rocket taking off his vest and we see metal parts from the experiments protruding through his back. It's exactly like when an action hero reveals a lifetime of knife and bullet wounds on their back, but it's a raccoon. And what has always been cool about this character is that of course Gunn wants us to smile at the absurdity of a badass raccoon, but he clearly takes him seriously and we end up going along with him.
Drax the Destroyer (lunch box collector turned actor Dave Bautista, WRONG SIDE OF TOWN, HOUSE OF THE RISING SUN, SCORPION KING 3: BATTLE FOR REDEMPTION, THE MAN WITH THE IRON FISTS, RIDDICK, KICKBOXER: VENGEANCE, BUSHWICK, BLADE RUNNER 2049, HOTEL ARTEMIS, ESCAPE PLAN 2: HADES, FINAL SCORE, MASTER Z: THE IP MAN LEGACY, ESCAPE PLAN: THE EXTRACTORS, ARMY OF THE DEAD) is the reverse of Rocket – a huge, menacing warrior but a goofy kid at heart. As in the Holiday Special, he's now a comedy team with "gross bug lady"/antennaed empath Mantis (Pom Klementieff, Spike Lee's OLDBOY, INGRID GOES WEST), and I'm just as invested in their silliness as in the main plot.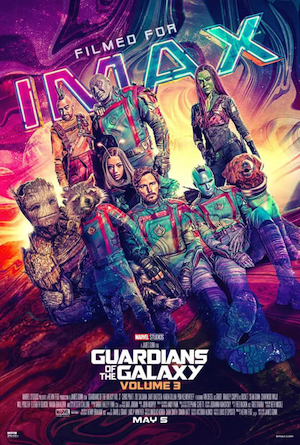 A good sign that this sequel isn't just a retread is that my two favorite Guardians now weren't introduced until VOLUME 2 and weren't even on the team then. What did they ever do without Mantis and mean robot lady Nebula? They're valuable in battle and planning but they shine even more in peacetime because they're weirdos. Their social skills are off in opposite ways so they make really funny members of the team and family.
Nebula is the coolest looking and most powerful Guardian. Her most impressive of many abilities is being able to self-repair after being absolutely mangled, for example there's a fight where she gets hit in the head so hard her skull smashes and her neck snaps backwards but she manages to recover within the same slow motion shot. She's another daughter of Thanos and has had less time around people than Gamora so she's a character that takes advantage of Gillan's knack for deeply odd, unfriendly but kind of charming characters, as in DUAL.
Mantis is my favorite character in this and last year's Guardians of the Galaxy Holiday Special on Disney+ (which isn't needed to understand anything here except an in-joke or two). It's one of those performances where the voice and expressions make her funny no matter what she says, and also they give her funny lines. More than that, I love how her big black eyes cartoonishly emphasize her greatest character trait of overwhelming sincerity. This is a personal thing but I got a little teary in the part where (SPOILER) she hears that Rocket is okay and she blurts out something like "Rocket we love you very much and we're happy you're alive!" Something about seeing someone so un-self consciously express affection. She has the ability to control the mind of anyone she touches – we see her use it to make people violently angry, or to believe they're in love with Drax, or to forget something that just happened. But the way she uses it most of the time it's like her super power is just being really supportive. How can you not love her?
The newly added character of Adam Warlock is a relatively small piece of the ensemble, but he's fun too. I've been impressed by Poulter in the past because he was so despicable as a racist cop in Kathryn Bigelow's DETROIT and then so funny as a comical douchebag in MIDSOMMAR. And here he's great in another very different role as an engineered, golden-skinned super-being with the mentality of a teenager. I don't know that it was necessary for him to get so pumped up for the role, but his face plus that new body does look like a comic book. I like how he just flies in from space and fights everybody at the beginning, it reminded me of reading comic books as a kid, it wasn't usually some in-depth story, it was some unknown cosmic dude flying in and the heroes use their various powers on him. Of course, there would've been text boxes telling me who he was, but otherwise this was a similar feeling. It's a good fight and we later find out he's just doing what he's told. There's plenty of forgiveness in these movies. He ends up being an okay guy.
There are too many minor characters to get into, but I want to mention that Sylvester Stallone returns in a couple scenes as his character Stakar Ogord, and Gunn clearly understands how to use Stallone well. He gives him a big "this is what we're gonna do" speech and a scene where he shows affection. There's also a funny subplot for telekinetic cosmonaut dog Cosmo, voiced by Academy Award nominee Maria Bakalova (BODIES BODIES BODIES), and another cameo for TOXIC AVENGER director Lloyd Kaufman, now playing a character apparently named "Gridlemop."
I'm glad we got one last smart alecky but warm-hearted motley space adventure with tons of musical montages set to popular music (in this case ranging from the '70s to the current day). The whole trilogy uses music and dancing as a form of bonding – Star Lord inheriting the mix tape from his late mother, and getting all these aliens to love it too, Groot being reborn loving the Jackson 5. Rocket has become a music guy to the point that he opens this volume brooding to an acoustic version of Radiohead's "Creep" and ends it asking his friends who their favorite musicians are.
Note that the High Evolutionary, the villain intended to be less likable than your Loki or your Killmonger, loves classical music. That's not a bad thing, of course, but we have this guy who believes there's no reason to move beyond the music of hundreds of years ago, and he's put himself in charge of evolution. That's gonna be a problem. This man for sure would turn his nose up to each and every song on every GUARDIANS soundtrack, and his super powers mean the Bop Gun would have no effect on him. If his crimes were lesser or if he'd sought redemption he'd probly be on the sidelines at the end being all snooty and uptight while the others celebrate their victory through dance, and suddenly he'd start doing some nerdy robot moves and everybody would welcome him to the fold with open arms. That would've been a better life, but he chose a different path.
GUARDIANS OF THE GALAXY VOLUME 3 may be the peak form for Marvel's James Gunn's rock 'n roll Star Wars for outcasts. Thanks to getting fired and rehired and there being a pandemic it took a while to make it, and probly ended up being better for it. I can't deny that the MCU has a whole is beginning to wear thin, has oversaturated pop culture, created unfortunate results for other studios trying to copy their success, and contributed to the decline of medium and small movies released in theaters. But the Guardians are innocent. This is one of the things I treasure in blockbuster filmmaking: a good director of smaller movies taking a Hollywood gig, coming through with his personality intact, in fact seeming to grow as a filmmaker and a person and make his best and most personal work so far on this larger canvas. I look forward to seeing where he goes from here.

p.s. Reportedly Gunn has carefully tinkered with the movie to make it work well in the various presentation formats. I really wanted to see it in Imax and the showtime that was convenient for me was a 3D one, which I have rarely done for Marvel and when I did was not impressed. I'm happy to say the 3D was really good for this, though, really immersive, and one of the rare ones where my mind didn't just start ignoring it after a while. Also I've always felt that looking through windows in 3D was cool and this is a movie that is frequently looking into cockpits from outside.
p.p.s. I still think THE SUICIDE SQUAD rules and I've been hearing people say otherwise lately so please hear me out by reading my review.