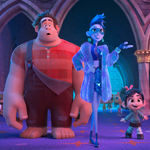 Hey man, I'm not a monster, I enjoyed WRECK-IT RALPH like anybody, and the sequel is fun too. This licensing crossover bonanza shit has kinda become its own genre since WHO FRAMED ROGER RABBIT invented it in earnest, so we've had the toy version (TOY STORY), the other toy version (THE LEGO® MOVIE), the… everything version (READY PLAYER ONE) and the horrific, soul-rattling nightmare version (FOODFIGHT!). RALPH's video game version does it just right – an elegantly executed premise full of Pixar-worthy well-thought-out world building, funny characters, good jokes, loving homages, minute detail, occasional Q*Bert cameo. I mean they even had an end credits jam by Buckner & Garcia (look it up). Some time later I went to Disneyland and they had playable Fix-It Felix, Jr. games in the Starcade, and especially seeing it in person you realize what a nice tribute it is to the beautiful design of the Donkey Kong game cabinet and the 8-bit animations of that era of video games. It makes you remember that, crude as they seem now, they are an artform.
So now we have the sequel RALPH BREAKS [sic] THE INTERNET, and at least it's not a rehash. Sentient video game characters Ralph (John C. Reilly, CRIMINAL) and Vanellope (Sarah Silverman, THE WAY OF THE GUN) are inseparable friends from frame 1, and when the arcade they live in gets wi-fi they find themselves exploring the big city that is the internet. It has an actual help desk for a search engine, an eBay building where auctions take place, flocks of Twitter birds overhead, and lots of little blocky avatars of internet users walking around trying to avoid people waving pop-up ads and clickbait in their faces. It's all very clever and observant (they get a big laugh from an auto-fill in gag, and there's one about "one weird trick") and designing the behind-the-scenes characters (a messenger who delivers eBay reminder emails) in the style of '50s advertising icons helps keep it from feeling desperately current.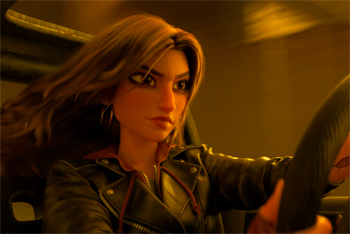 The new video game world we see is a driving game that's an amalgamation of types of games the younger kids in the audience aren't allowed to play. It involves street racing, car theft, evil clowns and shark attacks under a hazy yellow L.A. sky. Vanellope, bored of her static world made of candy, is thrilled by this updatable open world and idolizes a character named Shank, voiced by and modeled after Gal Gadot (CRIMINAL [different CRIMINAL than the one Reilly is in]) in hip-hugging leather pants. Both Gadot and Vin Diesel have their voices in the movie – I found that fast and curious.
There may be video game shit that's over my head, but they got a whole section where Vanellope hangs out with the Disney princesses, and that shit I do know. They're "backstage" at one of those stupid internet quizzes to find out which princess you would be B.F.F.s with, and they exchange information with this video game princess. Almost all of them have their original voices, pieces of their songs are worked into one complicated piece of scoring and there's lots of little Disney details like Pocahontas wearing a t-shirt that says "Blue Corn Moon" (a phrase used in her Oscar, Grammy and Golden Globe winning song and top karaoke jam "Colors of the Wind). Funny stuff.
But… I mean… do I gotta be the guy to say this? The truth is I enjoyed this movie and also it grossed me out. I kinda think it's offensive. I see no evidence that it's meant as a dark sequel like BABE: PIG IN THE CITY or a Verhoevien sarcastic celebration of humanity's worst, but I found it kinda depressing. Instead of giving me those warm feelings of nostalgia like the first one I had a burbling sense of disgust at this cutesy celebration of the most hollow aspects of our culture.
Sure, they have an emotional scene based around the negativity of comment threads, and it's not like they're propping up racist Facebook posts or Russian #MAGAtrons. But it seems to me it's uncritically turning stupid internet shit into children's fantasy adventure. Ralph and Vanellope must raise enough real world money to pay for an eBay auction for a rare video game part, and they attempt this first by trying to obtain things inside video games that they can sell to real human gamers. This at least comes out of their unique talents as video game characters, like a normal let's-put-on-a-show-to-save-the-orphanage type movie plot. But then they met Yesss (Taraji P. Henson, THE KARATE KID), a bigshot algorithm at "BuzzzTube" who's cool and fashionable and teaches them about what types of dumb videos are popular, to help Ralph to Go Viral™ with wacky faces and memes. And there are still nice relationship things to deal with in the climax, but he (SPOILER) raises $30,000 in human money with the videos and it's presented as a proper, respectable solution to the main problem they have to solve. I hate this shit.
I should've known this was coming when they announced the title. I know on the trailer (not in the movie) they had a scene pointing out that obviously the sequel to WRECK-IT RALPH should be called RALPH WRECKS THE INTERNET before BREAKS THE INTERNET. But they went with the uh… I don't know if you can call it the trendy title, but it was a phrase that a magazine tried to make popular four years ago when they published some weird celebrity butt photos. It just seems sad to spend $175 million with many talented artists working for six years and then give it a title that will soon sound about as current as ERNEST TALKS TO THE HAND, AIR BUD LETS THE DOGS OUT or PUPPET MASTER: WHERE'S THE BEEF!? It's just so profoundly uncool and yet at the same time un-Disney. I'm against it. But I'm old.
And maybe if it was just old me and the Seattle tech nerd dudes I heard knowingly laughing at the little references and shit I wouldn't even think about it. Maybe an air of "all this commercialism on the internet, it's crazy, right? But I kinda love it though!" would be forgivable. But I saw it in a big theater full of the little kids that surely make up most of the audience, giggling and repeating phrases and then asking mom what the phrase means, and it kind of feels like negligence to be molding their little brains with the shriveled up values we've been left with after decades of online commerce and frivolousness. Call me old fashioned, call me old man yells at cloud, call me Guy Who Thinks Depiction Equals Endorsement, call me Tipper Gore hearing her daughter listen to "Darling Nikki," but I just don't think little kids should know which sets of characters are owned by the Disney corporation, or that cynically manufacturing moronic memes is one of the ways to make money. Maybe they should get a couple years head start before we infect them with a distorted world view that Felix could never fix.
There was a line on the end credits that did play like a little bit of satire. It involves a baby in the backseat of a car complaining about a scene from the trailer not being in the movie. I thought that was a funny idea – a culture so addicted to marketing and trivia that even a baby would care about something like that.
Nobody else seemed to take it as a joke, though. They were quiet and then cheered for the scene from the trailer when it played on her iPad. Maybe that's just how we live now. I think I'm gonna ralph.
This entry was posted on Tuesday, November 27th, 2018 at 8:46 am and is filed under
Cartoons and Shit
,
Reviews
,
Videogame
. You can follow any responses to this entry through the
RSS 2.0
feed. You can skip to the end and leave a response. Pinging is currently not allowed.