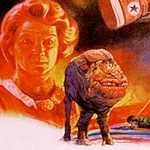 In the '80s, lots of people were trying to make Steven Spielberg movies. And obviously POLTERGEIST is Tobe Hooper's Steven Spielberg movie. Or Steven Spielberg's Tobe Hooper movie. These days it sounds like they should've just been credited as co-directors if it had been allowed. Accounts vary. So let's forget all that and call INVADERS FROM MARS his version of a Spielberg movie, but not a regular Spielberg movie. It's the type that the weirdo who directed LIFEFORCE would make. And that Golan and Globus would produce.
It was, in fact, Hooper's followup to LIFEFORCE (which the kid is watching in part of the movie – lenient parents) and has a screenplay by the same duo. That would be the great Dan O'Bannon (ALIEN, RETURN OF THE LIVING DEAD) and the mysterious Don Jakoby (DEATH WISH 3, ARACHNOPHOBIA, DOUBLE TEAM, VAMPIRES – how is the writer of all of those not legendary?) Hooper was still editing this when he started TEXAS CHAINSAW MASSACRE 2, so by my calculations this is right near the peak of feverish Hooper creativity. (read the rest of this shit…)
VERN has a new action-horror novel out called WORM ON A HOOK! He has been reviewing movies since 1999 and is the author of the film criticism books Seagalogy: A Study of the Ass-Kicking Films of Steven Seagal and Yippee Ki-Yay Moviegoer!: Writings on Bruce Willis, Badass Cinema and Other Important Topics as well as the crime novel Niketown.