I didn't have cable in the '80s so I never saw THE BEASTMASTER until I went on that Coscarelli kick a while back. But I didn't move on to the sequels since Coscarelli had nothing to do with them, I just assumed they were trash. Well, good guess. But when I saw part 2 in that book I was just writing about, DESTROY ALL MOVIES, I started thinking about the stupidity of sending the Beastmaster through a "portal in time" to modern day Los Angeles, and came to the inevitable realization that I should watch it.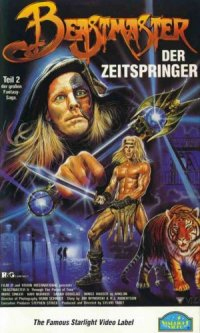 The movie opens in the same desert barbaria as part 1. When last we saw Dar (Marc Singer), the loin-cloth wearing, telepathically-connected-to-animals he-man also known as The Beastmaster, he had refused to become king so as to continue his lifestyle of wandering around with his animal friends and swinging his sword like a propellor. This may have been a poor idea because whoever was in charge blew it and the place got conquered by an asshole named Arklon (Wings Hauser), who has a Phantom of the Opera style partial mask and a "Key of Magog" handweight that shoots green lasers. What's worse, Dar has been captured and sentenced to death beacuse of his knowledge of witchcraft. "May the vultures feast upon his flesh!" Arklon yells, apparently not understanding the concept that Dar is friends with the animals. Or maybe he just figures the vultures can't pass up a good meal even if it's a dude they used to be buddies with.
Of course, Dar stages a daring escape with the aid of his buddies Sherak (an eagle), Ruh (a tiger who was poorly painted black in part 1 to pass as panther but has completely given up that charade), Podo (a ferret) and Kodo (apparently a zombie ferret, since he died in part 1 but now is mysteriously alive, unless the baby ferrets have the same names and are now replacing them). One aspect of this scene I think is interesting is when Dar has a clear chance to behead a bad guy with a huge battle ax, but he makes a point of turning the blade sideways and just bonking him in the face. Nice gesture, but Arklon has already declared "Death to all if he escapes!" So if he escapes the guy's gonna die anyway. But maybe he's trying to be nice just in case he doesn't escape.
In the middle of a battle Arklon runs into this sorceress-looking gal who is possibly reading the wrong part of the script out loud because she introduces herself as "the beautiful, sensuous, mysterious Lyranna." She's played by Sarah Douglas (who faced Marc Singer again in V: THE FINAL BATTLE) and she's immediately hatable because she sees a guy get hit with an arrow and says "Well, I guess he got the point!" Also she uses phrases like "chill out," although at least not in a Schwarzenegger-pun type context.
Arklon gets pissed and calls the beautiful, sensuous, mysterious Lyranna "whore" because she addresses him by name. So to be polite she switches up and starts calling him "honey." She has him by the balls because she knows of this magic portal where she can peak into Los Angeles circa 1991, which despite the title is not in another time, it's in a parallel dimension. She has discovered the existence of a nuclear bomb type deal and she apparently feels that he could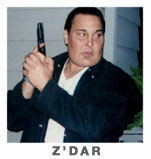 conquer the world even better with that than he could with his green laser, mind-reading powers, little metal mask thing and Robert Z'Dar's lower jaw (which is attached to one of his henchmen).
Meanwhile Dar gets in a fight with some monster that I'm pretty sure is Rawhead Rex's cousin. This guy shoots animated eyebeams at him and everything but when he realizes who Dar is he suddenly likes him. But he's already lost the fight so then he gives him wise dying advice, Yoda style. (SPOILER for Star Wars)
Meanwhile in the land of Los Angeles there's this out of control teen named Jackie (Kari Wuhrer) who looks just like Tiffany, is the spoiled daughter of one Senator Trent (not as evil as he was before visiting the blood bank in HARD TO KILL), and who (after a car chase that repeatedly shows a truck with a big camera rig on the side) accidentally drives her red Porsche convertible Through the Portal of Time. There she befriends Dar but gets kidnapped by Arklon and brought back through the portal (which she describes as "way rad") to be his guide in L.A. and lead him to the bomb.
Dar, along with his animal entourage, chases them through the portal, but gets trapped by the cops. The movie was released about 5 months after the Rodney King beating, so thank God he's not a black guy. This would not have been a good era to be Blade or Ghost Dog cornered by the LAPD with a sword.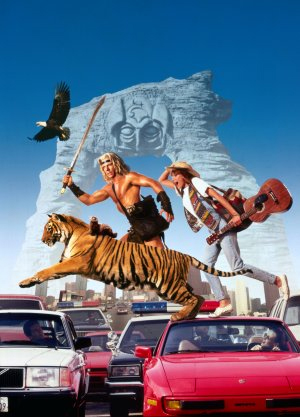 Sadly, this is mostly a comedy. It might be funny if it was trying to be serious, but it's full of what maybe was supposed to be mildly subversive social satire or something about valley girls and pretentious fashion people and other types of Californians. Jackie brings Arklon and the beautiful, sensuous, mysterious Lyranna shopping for expensive clothes, ha ha. Later she escapes and finds Dar, who she also gets to wear different clothes. But warriors from another dimension don't know how to blend in so they buy oversized clothes and just wear it over their armor.
Jackie explains that L.A. is "Largest city in California. And most aaaaawesome place in the universe!" as she drives Dar, Podo and Kodo around to make funny faces at all of the crazy modern things that he could never understand. At one point he sees Beastmaster II on the marquee at the Pantages and looks confused. I don't get it.
Dar barely speaks and makes no effort to fit in but doesn't seem too confused by modern concepts such as "Come on Dar, let's watch the 6 o'clock news." Of course he's never seen a TV before but he does know the word "images," as in "what are… these images?"
Other than the bird doing a little scouting for him the animals pretty much sit this adventure out until the end. The tiger is stuck in the zoo and the ferrets mostly stay in the bag or get cuddled by the girl. The eagle mostly just freaks out the Trent family butler. Too bad Jackie's not in college, I'd like to see how an uptight dean would respond to these animals. Or the asshole captain of the football team.
But there is some animal involvement for the final showdown at the zoo. Arklon is holding the detonator and the ferrets jump on it and knock it out of his hands, which seems unsafe to me but I'm not a nuclear scientist so don't listen to me. More than anything this movie makes a powerful statement about nuclear proliferation and the lack of safeguards to stop these deadly weapons from falling in the hands of terrorists or sorcerers. The security at the laboratory is pathetic. They would've been let right in if they would've written the right security clearance letters on their fake IDs. They didn't, but all they had to do for a plan B was punch out three incompetent guards.
When it's all over some old military guy (or maybe it's Senator Trent?) has 30 seconds to remember the code to stop it from blowing up the world. The filmatists know it's not suspenseful so they try for some laughs, having the old guy stop to marvel at the cuteness of the ferrets while the clock keeps ticking. Those adorable little guys came very close to ending all human and animal life (at least in this dimension).
Jackie is cute but annoying. I think she's supposed to be one of these characters that you laugh at but start to sympathize with, like Cher in CLUELESS. At first she seems like an idiot but then she knows how to operate a wrecking ball and the lighting controls at the L.A. zoo. At the end she's apparently in love with Dar and real sad that he's going back to his dimension. I don't know if I buy that, though. Yeah, she had fun, discovered her inner heroine, saved the world and learned to appreciate ferrets, but she's gotta be exhausted. It's like having out of town guests. Even if it goes well you're gonna be kind of relieved when you return to peace and quiet. You can only take care of a shirtless warrior and a bunch of wild inter-dimensional animals for so long before you need a break from it.
The director is Sylvio Tabet, the producer of part 1 who apparently was responsible for kicking Coscarelli out of the editing room and using outtakes to lengthen the scenes so it would be longer and less good. He produced some things, directed hundreds of commercials, and only this one movie. It didn't seem to me like it was that well written, but it must've been because there was a pretty huge team responsible. First they give it up to Andre Norton for the novel, then Paul Pepperman and Don Coscarelli for the characters, and the screenplay is credited to R.J. Robertson (MUNCHIE STRIKES BACK), Jim Wynorski (976-EVIL II), Tabet (associate producer of Jodorowsky's disowned elephant movie TUSK), Ken Hauser and Doug Miles. And the last four have "&" which means they were working together on it, which just logistically must've made the whole thing a real challenge. How the fuck do you type with that many fingers?
I feel that this is a shitty movie, but I don't regret seeing it. At least the stupid moments and bad ideas keep coming in a steady stream, keeping my interest. There are way too many goofy touches to list them all here. Like the pointless subplot about how Dar and Arklon are (SPOILER) actually brothers. Go figure that the one born from the womb of a cow is the one that turned out good. Also I got a laugh from the reveal that the (not even that bad) facial scars that Arklon so dramatically hides were given to him by… the fucking bird. So out of the blue he brings up an old vendetta against a bird. But does a poor job of killing it. Not a very good evil sorcerer in my opinion, can't even see that the bird is still breathing.
Even director/one-eighth-writer Tabet admits that it was a stupid idea to take this fantasy hero out of a fantasy setting and make yet another lame fish-out-of-water comedy in a phony Hollywood version of a modern city. In the first one Dar was pretty cool and he fought cool monsters, now the movie just laughs at him and has him stare wide-eyed at porn theaters and stuff. Maybe it would be fun if he went ape shit when the cops caught him, chopped up a bunch of guys in his escape and the tiger was biting people's faces off, but there's nothin extreme like that.
This was 1991, but this type of concept seems like kind of an '80s holdover. Same premise as MASTERS OF THE UNIVERSE in '87, for example, or a reverse of STAR TREK IV: THE VOYAGE HOME in '86. If Hollywood is ever interested in putting a stop to the modern age of fantasy filmmaking I recommend sending some of the new guys Through the Portal of Time. In fact I have a strong feeling that Peter Jackson is gonna do it in his second THE HOBBIT movie. Why else would you turn that kid's book into two movies unless the second one was about Bilbo and Gandalf in modern L.A. learning about texting and being confused by watching (popular reality show that youths know about). And Gandalf smokes that big pipe with some stoner dudes. A bunch of Orcs fit in really well at Burning Man and decide to stay. This would get Jackson around those New Zealand union troubles too because they could film it on the cheap in L.A. or Vancouver. Think about it WETA.
Other possible candidates: WOLFHOUND, PIRATES OF THE CARIBBEAN, PAN'S LABYRINTH. But I guess the fantasy movies don't want to do a part 2 like that because of their precious trilogies. If they don't got the balls we'll have to settle for a sequel to a period piece. Try a BRAVEHEART 2: THROUGH THE PORTAL OF TIME. Or a GLADIATOR. Or IP MAN. Or SHUTTER ISLAND. Or ZODIAC. Without your help, Hollywood, the Portal of Time will remain stuck in time.

This entry was posted on Saturday, November 20th, 2010 at 3:18 am and is filed under
Fantasy/Swords
,
Reviews
. You can follow any responses to this entry through the
RSS 2.0
feed. You can skip to the end and leave a response. Pinging is currently not allowed.