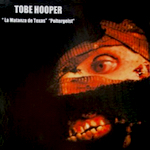 Is everyone here familiar with Patrick Bromley and 'F This Movie!'? The latter is a websight and a podcast and I know the name sounds negative but really Patrick is all about sharing his passion for the things he loves, including his favorite director Tobe Hooper. (He even did a commentary track on that beautiful new TEXAS CHAINSAW MASSACRE 2 from Vinegar Syndrome.) And kind of like us 'F This Movie!' has a whole community of similarly-minded movie lovers talking about the shit they're into.
Patrick knew I shared a love for Hooper and he was kind enough to invite me on to talk about it. I chose TOOLBOX MURDERS as the focus since I'm high on it again after the Halloween rewatch. I had a great time and I think I'm feeling better about the less successful time I tried to talk about Hooper on a podcast (the Kingcast incident discussed in my TOOLBOX MURDERS review). Don't worry, we don't dwell on that. It's a good talk with lots of interesting tangents.
VIVA LA COFFIN BABY!