What the fuck is this? is a fair reaction to the existence of FORD FAIRLANE. All you can really do is try to set your mindclock back to 1989 and picture it from the perspective of the people setting it up.
I mean you got the hottest action producer, Joel Silver of DIE HARD and LETHAL WEAPON fame. He's got the rights to this "rock 'n roll detective" character taken from some magazine column or Herfy's tray-liner comic strip or something. To rewrite the script he hires Daniel Waters, hot shit young writer of HEATHERS in his first for-hire job. But who can we get to direct? Who is rock 'n roll enough? How about that Finnish guy who did NIGHTMARE ON ELM STREET 4? His hair is practically to his ass, I think he could do it. Renny Harlin had been toiling away on a version of ALIEN 3 that never got made, and this was kind of his entry into the world of action. In fact, Joel Silver hired him for DIE HARD 2 after seeing the dailies for this one.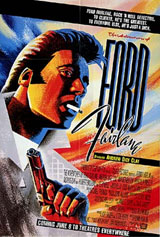 So they had these hungry young, not-yet-burnt-out newcomers behind the camera, but these days nobody remembers that. They only remember the star, Andrew "Dice" Clay. It hadn't been originally written as a vehicle for him, but after he signed on obviously they rewrote it to be about an obnoxious sexist asshole dickhead Elvis impersonating dweeb who insults everybody and makes jokes and then says "Ooooohhhh!"
It's kind of a weird idea, actually. Charles Bronson, Clint Eastwood, Bruce Willis, Arnold Schwarzenegger – all of these guys made action movies where they said funny lines. This is also an action movie, but instead of funny lines he has jokes. He says the line and then "waaaaaaahhhH!" or "Whoooahhh!" or "Un-buh-LEEV-uh-bull!" so you know that was the punchline. Some kind of vaudeville thing or something. It's like if Johnny Carson had made a cop movie and after he shoots the bad guy he makes a joke and then mimes swinging a golf club.
I guess I should explain in case – and I really hope this is the case – the younger generations and people from other countries don't know who the hell Andrew "Dice" Clay is. He is a comedian and phenomenon that could've only existed in the '80s. He's got a pompadour and sideburns and his persona is an arrogant dude from Brooklyn who brags about who he's fucked and things like that. Right around the time this movie was being made he was becoming hugely popular, but also controversial because his jokes were so misogynistic and sometimes homophobic and what not. It became kind of a big deal when he was hosting Saturday Night Live and a couple women in the cast refused to be in the episode.
Of course, it's the same old dumb argument. The defense is that he's playing a character, he's not serious about all that stuff. Which is obviously true. You're not supposed to take it 100% literally. But then, on the other hand, it's not like you're supposed to hate this character. You're supposed to think he's the fuckin man. So I can't really blame those women for not wanting to work with the guy. If it really is only a character and nothing like the real guy then congratulations, you did a good job, people believe you really are a complete dickhead. It's a testament to your acting.
The movie takes that persona and puts him in the middle of an action movie. I don't know why, but in the '80s the way to make a guy cool was to give him sunglasses and have him be into old music. Even Bruce in the first episode of MOONLIGHTING is supposed to be cool because he sings "Doo Wah Ditty." This guy, Ford Fairlane, goes around with a pompadour and an asinine cowhide jacket (like something stolen from the TOY STORY part of the parade at Disneyland), he steals the microphone in a studio and does a cheesy rock song with copied Elvis moves, but everybody thinks he's the coolest guy ever and women let him take advantage of them. I don't really get it. He's like Howard the Duck in human form or something.
As dumb as the character is, I actually think the weirdness of this movie is kind of funny. Harlin shoots it like a real Joel Silver action movie, complete with sunsets, explosions, stunts and elaborate sets. It honestly looks really good, and you don't usually get that in a cheesy comedy. Waters writes it as a cartoonish exaggeration. The most normal one-liner is "So many assholes, so few bullets."  In one scene Ford is chasing a creepy stalker (David Patrick Kelly from THE WARRIORS) and he shoots a disco ball so it'll fall on his head. Then he announces "Clint Eastwood? I fucked him."
What? I don't really get it, but I sort of appreciate the audacity of a movie where the hero brags about fucking Clint Eastwood. I mean I gotta admit it, I laughed. And I can't even be sure it if it was on some meta-ironical type level or if I was just laughing at the joke as intended, because I don't really understand what the joke intended. But I laughed. (When he goes to a mansion we learn that he fucked Robin Leach too.)
How sexist is Ford Fairlane? Well, when he wakes up in bed with hot twins he says "Do the dishes!" They get mad and leave saying "We just wanted to be held, Ford!" So he blew it. Lauren Holly plays Ford's shat-upon girl friday Jazz, who is a sympathetic character except for the inexplicable detail that she loves Ford. She tries to impress him but he humiliates her and spits food into her mouth (!?). We learn that they had a fling once but afterwards he made her clean the toilets and the bath tub.
Like Dick Tracy and other characters of the era, Ford has a streetwise orphan kid who follows him around and copies what he does, including wearing dumb looking Boz sunglasses, smoking cigarettes and cursing. I think this is Waters' way of teasing people for saying Dice is a bad role model. (No shit.) What Ford has that Dick Tracy does not is a pet koala. For some reason every once in a while he's hanging out with this koala that's obviously a puppet. Then in one scene he comes home and the thugs have hung the koala by a noose from his ceiling fan. What's great is this is played as a serious moment exactly like if he'd come home to find his maid or his little sister killed as a message to him. But it's a fuckin koala puppet, you gotta laugh.
Good cast, too – Wayne Newton is the villain, Morris Day of The Time is a music producer (no Jerome, unfortunately), Gilbert Gottfried is a shock jock who gets electrocuted (get it, shock?), Robert Englund is a sadistic killer who I think is supposed to be dressed as the guy from Judas Priest, Tone Loc and Sheila E. have cameos. Okay, maybe not that great of a cast, but I kind of like seeing these people. Priscilla Presley has a small role too, you have to wonder what she thinks of this asshole who thinks he's Elvis.
The biggest thing going against the movie is Dice/Ford's lack of charm. At times it's kind of funny how over-the-top his dickishness is, or his lack of humanity (in order to get information from him the bad guys don't torture him, or the girl that's with him, they torture his Jimi Hendrix guitar – and it works). But because he's so fond of himself and he's so corny with his look and everything it kind of rubs me the wrong way. I mean, I can root for an asshole like Billy Bob Thornton in BAD SANTA, but he knows he's a piece of shit, and he doesn't wear Boz glasses. Hmm, on the other hand, I can also root for Danny McBride asshole characters, and in EAST BOUND AND DOWN I'm pretty sure he does wear Boz glasses. So I don't really know where the line is drawn. All I know is they should do a Ford Fairlane reboot starring Danny McBride.
I think there's a category of weird studio mistakes of the '80s and '90s like HOWARD THE DUCK, HUDSON HAWK (also written by Waters) and LAST ACTION HERO (which also shares a writer). These are all movies that try to be kind of a parody of a studio movie and a real studio movie at the same time. They have big expensive action scenes but a purposely ridiculous world. Fairlane has a puppet koala, Last Action Hero has a cartoon cat. I don't know about HOWARD THE DUCK but these other ones have some good qualities that get swept under the rug when they win all the Raspberry awards from some prick who never even saw the movie. So people want to stand up for them, they get kind of a cult following because they seem sort of misunderstood, even if they're not great. You can admire what they were going for, at least.
FORD FAIRLANE is kind of in that category, a weird movie that doesn't really work, but just the fact that they went through with making it makes me kind of root for it. Not the character – I kind of wish he died at the end. But I sort of liked the movie.
This entry was posted on Saturday, May 23rd, 2009 at 12:37 am and is filed under
Action
,
Comedy/Laffs
,
Reviews
. You can follow any responses to this entry through the
RSS 2.0
feed. You can skip to the end and leave a response. Pinging is currently not allowed.