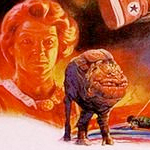 In the '80s, lots of people were trying to make Steven Spielberg movies. And obviously POLTERGEIST is Tobe Hooper's Steven Spielberg movie. Or Steven Spielberg's Tobe Hooper movie. These days it sounds like they should've just been credited as co-directors if it had been allowed. Accounts vary. So let's forget all that and call INVADERS FROM MARS his version of a Spielberg movie, but not a regular Spielberg movie. It's the type that the weirdo who directed LIFEFORCE would make. And that Golan and Globus would produce.
It was, in fact, Hooper's followup to LIFEFORCE (which the kid is watching in part of the movie – lenient parents) and has a screenplay by the same duo. That would be the great Dan O'Bannon (ALIEN, RETURN OF THE LIVING DEAD) and the mysterious Don Jakoby (DEATH WISH 3, ARACHNOPHOBIA, DOUBLE TEAM, VAMPIRES – how is the writer of all of those not legendary?) Hooper was still editing this when he started TEXAS CHAINSAW MASSACRE 2, so by my calculations this is right near the peak of feverish Hooper creativity.
Spielberg was nostalgic for old serials and shit, and made his own updated homage. Hooper looks back at a flying saucer movie rushed into production to beat WAR OF THE WORLDS to the screen. He restages it with 1986 effects but without entirely abandoning the broad 1953 tone. The music alternates between creepy synth dirges like Hooper's own score for CHAINSAW 2 and big, thrilling military anthems by Christopher (HELLRAISER) Young.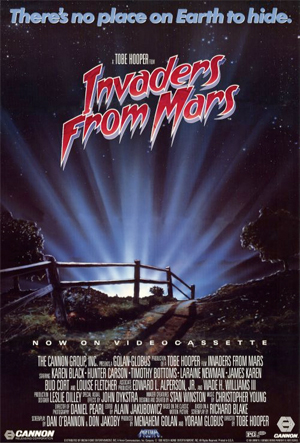 Hunter Carson (son of L.M. Kit Carson, who was about to write CHAINSAW 2) stars as David Gardner, an eleven year old kid who wakes up in the middle of the night and sees a spaceship landing over the hill. His dad (Timothy Bottoms, UNCLE SAM) promises to investigate in the morning and after he does he acts bizarrely, as if he doesn't really know how humans behave. It's a body-snatcher story, with David trying to stop the martians from taking over the town. No one believes him except for, for some reason, the school nurse Linda (Karen Black [HOUSE OF 1,000 CORPSES], Carson's mother in real life).
It's one of those paranoid sci-fi stories – David keeps seeing people acting oddly and realizes they've been, you know, colluding with Mars. The teacher Mrs. McKeltch (Academy Award winner Louise Fletcher, VIRTUOSITY) is clearly out to get him, although she's also just a jerk anyway. David has to get out of class, convince Linda that something is going on, bring her to the Martians' secret underground tunnel, etc.
Within this classical story structure there are bursts of bizarre imagery. The people taken over by aliens all have a cut on the back of their neck, which turns out to hide wiggly little tentacles that light up at the end like E.T.'s finger. (By the way, did anybody ever bring this movie up when theorizing about the Band-Aid on Marcellus Wallace's neck?)
Stan Winston's studio worked on this at the same time they were doing ALIENS. The websight for the Stan Winston School of Character Arts says the idea for the Martian drones came out of what they were doing with the Alien Queen, and it has a pretty great Winston quote about it: "I wanted to create an alien invader that didn't look like a guy in a suit. So I came up with this idea of putting a little person on the back of a big guy who would stand and walk backward."
Sorry to say the slow, plodding movements of the drones make them a little comical, but man do they look weird in a good way. It's a welcome laugh when they eat a certain character. Even better is the leader of the martians, a huge brain with a face on it that's on the end of a long tentacle. He looks kinda like Krang from TEENAGE MUTANT NINJA TURTLES: OUT OF THE SHADOWS. This is a gore-free PG-rated movie, and these guys are almost as cartoonish as the aliens in EXPLORERS, but they're such an imaginative illustration of the-crazy-thing-no-human-is-supposed-to-know-about-but-you're-standing-there-looking-at-it-and-now-they-see-you-seeing-them that I bet this gave nightmares to many of the 300 kids that saw it.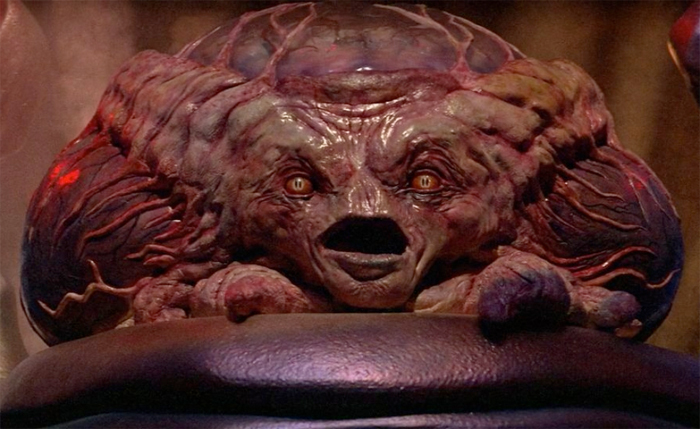 Spielberg has his famous Look of Awe – shots of Elliot looking up at E.T.'s spaceship, or our heroes seeing the dinosaurs for the first time in JURASSIC PARK, or etc. Again and again Hooper does his version: a Look of Horror. So many shots of this kid's reaction as he sees some crazy ass shit that no earthling has seen before. I think some people might find Carson an annoying kid actor, and it's certainly not a Henry Thomas level performance, but I think he's great at making these oh-jesus-christ-what-am-i-looking-at expressions.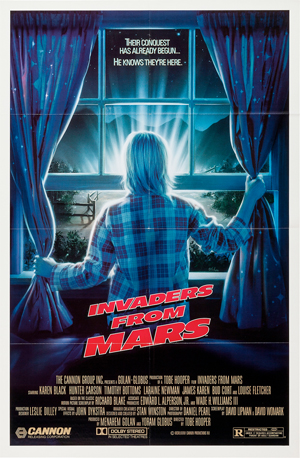 The aliens are far from the only weird thing in this movie. I'm fascinated by the scene where David gets up in the morning, pulls a Dr. Pepper out of the fridge and drinks it right in front of his mother (Laraine Newman, who does indeed get to do a Coneheads voice in one scene). She's not a martian drone yet but she doesn't blink an eye. I've noticed from the CHAINSAW 2 making-of stuff that Hooper drank Waco's own Dr. Pepper all the time, but it's still kind of hilarious to see a kid crack one open first thing in the morning.
But there's a possible explanation: in the end we find out that this whole story is (SPOILER) a dream, and I think this is the reason for much of the oddness. It may sound like a silly excuse, but there are other elements of the story that show this is an alien invasion story as it would be dreamed up by a little boy. The best example is its treatment of the military. In E.T. the government forces are mostly faceless and completely ominous – a threat. But David is not old enough for that cynical view, so in this story the army are ready-to-roll asskickers who automatically show him more deference than the space marines ever show Ripley. David knows a general (James Karen, POLTERGEIST, RETURN OF THE LIVING DEAD) so he goes to him and tells him about the martians and the general listens. Later he does not when David says "I have an idea, you should try to talk to them and–" but only because he gets distracted. He doesn't seem to think it's ridiculous for a kid to be giving him suggestions in his fight to save the earth.
This child's reality makes INVADERS FROM MARS unique. I can see how it's tuned to a frequency that most people can't get. It's not entirely surprising that it got terrible reviews and two Razzie nominations. But for me on this latest viewing it really cooked. I kinda love this one now.
This entry was posted on Thursday, October 5th, 2017 at 7:15 am and is filed under
Horror
,
Reviews
,
Science Fiction and Space Shit
. You can follow any responses to this entry through the
RSS 2.0
feed. You can skip to the end and leave a response. Pinging is currently not allowed.